The private lives of Virginia Woolf and Vanessa Bell
Snapshots of Bloomsbury is more or less the photograph albumns of Virginia Woolf's family. Virginia Woolf herself is rightly celebrated as a writer of 'sensibility' – of matters spiritual, cerebral, artistic, and philosophical. Yet she was also very conscious of modern technology. She wrote about motor cars, the cinema, the underground, the radio, and even flying (though he had never been in an aeroplane). And she was also an enthusiastic amateur photographer, as was her sister Vanessa Bell. They had inherited an interest in photography from their great aunt Julia Margaret Cameron, the famous Victorian photographer and the photo albumns of their father Leslie Stephen.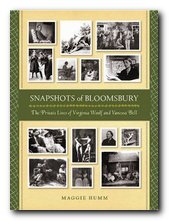 From 1890 onwards the Kodak portable camera was both heavily promoted and enthusiastically taken up by female amateurs. Virginia and Vanessa took the photographs, developed them, printed them, and mounted them in albumns. And the Stephen sisters were not alone in their activity. Many of the other Bloomsbury Group luminaries took portraits of each other.
In her scholarly introduction to this collection Maggie Humm does her best to interpret them as biographical records of Virginia Woolf's psychologically traumatic life history – but what she says is not at all convincing. She fortunately redeems these theoretical self-indulgences with two excellent contextual essays outlining both Virginia Woolf's and Vanessa Bell's relationship to the modernist movement in the arts between 1905 and the 1930s.
The book includes (and catalogues) the Monks House family albumns – though there are more photographs in other collections. There's a great deal of the theory of photography in the preamble, but what will interest most people is who appears in the pictures, and what they tell us about the Bloomsbury Group and their lives.
Strictly speaking, the answer is not much that we didn't already know, but there are some interesting social revelations, especially when seeing so many everyday snaps gathered together in one place.
For instance, there is a strange tension between clothed and unclothed bodies. People cluster on summer beaches engaged in sun-bathing – but dressed in three piece tweed suits, hats, pullovers, and thick woollen socks. Yet at the same time there is a cult of nudity, with innumerable children and even the doomed Everest mountaineer George Mallory (Duncan Grant's lover) photographed stark naked.
It's also worth noting how non-snobbish the photos are in the sisters' choice of subjects. The collection includes many pictures of household servants dressed in their everyday working clothes.
The best photographs are those which we already know quite well – Woolf's portraits taken by Man Ray and G. Beresford – but there's also an excellent double portrait of Duncan Grant and John Maynard Keynes taken by Vanessa Bell.
There's a great deal of lounging around in deck chairs, smoking pipes, and occasional appearances by E.M. Forster, T.S. Eliot, Vita Sackville-West, and Ethel Smyth (the lesbian composer who fell in love with Virginia Woolf) It's also interesting to see that as the years progressed Leonard and Virginia Woolf, like many other close couples, began to look like each other.
So, there are no surprises or dramatic revelations here, but this is an elegantly produced collection which makes a useful contribution to the peripheral cultural record of a rich period in Britain's artistic history.

Buy the book at Amazon UK

Buy the book at Amazon US
© Roy Johnson 2011
---
Maggie Humm (ed), Snapshots of Bloomsbury, London: Tate Publishing, 2006, pp.228, ISBN: 1854376721
---
More on biography
More on the Bloomsbury Group
Twentieth century literature
---