tutorial, commentary, study resources, plot, and web links
Souls Belated was first published in the collection of stories The Greater Inclination (1899). It was one of the first of many stories Edith Wharton wrote on the subject of divorce. She did not dissolve her own marriage to her husband Edward ('Teddy') Wharton until much later in 1912, but the subject was very much a live social issue at that time. Indeed she wrote a comic version of divorce and its consequences in another story The Other Two published in 1904.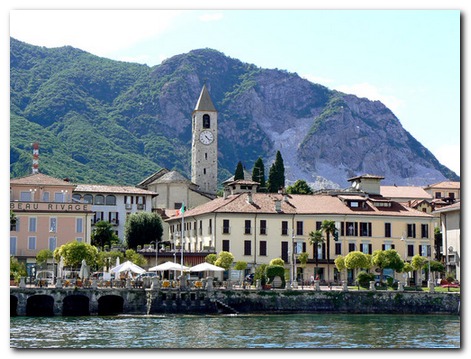 ---
Souls Belated – critical commentary
The principal irony in Souls Belated is that an American man and his married but not-yet-divorced lover are travelling in Europe where they meet an English couple who are doing the same thing. Not a great deal is made of this parallel except that it emphasises how those people who flout the conventions of upper-class society are forced to move outside it. Both couples are hiding from the censure of their social group in a country where they are not so well known.
Lydia is escaping from the stifling conventions of upper-class New York (which models itself on traditional English snobberies and social distinctions). She thinks these restrictions destroy an individual's possibility of intimacy with another person. Later, in an apparent volte face, she comes to think that ironically upper-class marriage actually helps people to stay emotionally apart from each other because of the social obligations it entails – 'children, duties, visits, bores, relations'.
She knows that conventional upper-class marriage is stifling; she wishes to live freely with the man she loves; but she can only do so by staying outside polite society, or by being married to him – because that society will not tolerate any other form of arrangement between individuals. She is unable to find a solution to her dilemma, and that is possibly why the story ends with her problem and her relationship with Ralph Garrett unresolved.
---
Souls Belated – study resources

Edith Wharton Stories 1891-1910 – Norton Critical – Amazon UK

Edith Wharton Stories 1891-1910 – Norton Critical – Amazon US

Souls Belated – eBook format at Project Gutenberg

Souls Belated – AudioBook format at Gutenberg

Souls Belated – paperback edition

A Historical Guide to Edith Wharton – Amazon UK

The Cambridge Introduction to Edith Wharton – Amazon UK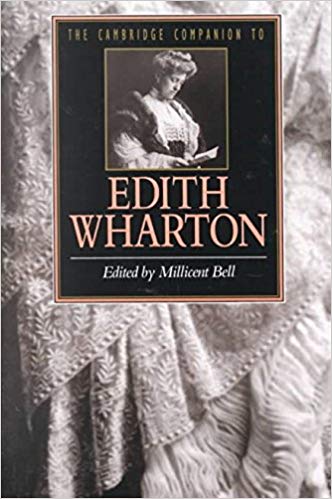 ---
Souls Belated – plot summary
Part I   Lydia Tillotson has been oppressed and bored by her marriage to a very conventional New York businessman, who still lives with his controlling mother. She has fallen in love with Ralph Garrett and left her marriage to live freely with him, away from American society. Whilst in Italy she receives notice that her husband has filed for divorce. Garrett thinks they should follow society's conventions and get married. She argues that they should preserve the purity of their relationship by remaining single.
Part II   They stay in a hotel in the Italian lakes where social life is very strictly controlled by snobbish upper-class English visitors, notably Lady Susan Condit. The social group within the hotel have already ostracised a newly arrived couple, the Lintons.
Part III   Lydia is approached privately by Mrs Linton, who reveals that she is in fact Mrs Lodge, travelling incognito and carrying on an intrigue with Lord Trevanna. She has guessed that Lydia is in a similar position and threatens to reveal the fact unless she helps her.
Part IV   When Lydia reveals this to Ralph, he informs her that Mrs Cope has just received a message containing what is presumed to be her divorce, and has left the hotel precipitately. Lydia reverses her views and thinks that marriage is a good institution, but only for keeping people apart – because it forces them to busy themselves with social duties. She also argues to Ralph that because she loves him, she needs to leave him.
Part V   Next day she leaves the hotel early in the morning and goes down to the lakeside steamer. Ralph watches her from his room – but she turns back and doesn't leave.
---
Principal characters
| | |
| --- | --- |
| Lydia Tillotson | a married American woman |
| Ralph Gannett | her lover, an American would-be writer |
| Mr Linton | an English guest at the hotel – actually Lord Travenna (22) |
| Mrs Linton | an English grande dame guest at the hotel – actually Mrs Cope |
| Lady Susan Condit | an English social arbiter at the hotel |
---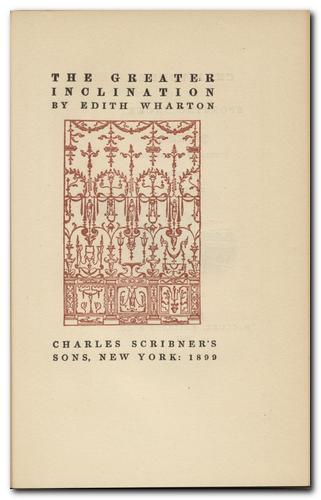 first edition – cover design by Berkeley Updike
---
Further reading
Louis Auchincloss, Edith Wharton: A Woman of her Time, New York: Viking, 1971,
Elizabeth Ammons, Edith Wharton's Argument with America, Georgia: University of Georgia Press, 1982, pp.222. ISBN: 0820305138
Janet Beer, Edith Wharton (Writers & Their Work), New York: Northcote House, 2001, pp.99, ISBN: 0746308981
Millicent Bell (ed), The Cambridge Companion to Edith Wharton, Cambridge: Cambridge University Press, 1995, pp.232, ISBN: 0521485134
Alfred Bendixen and Annette Zilversmit (eds), Edith Wharton: New Critical Essays, New York: Garland, 1992, pp.329, ISBN: 0824078489
Eleanor Dwight, Edith Wharton: An Extraordinary Life, New York: Harry N. Abrams, 1994, ISBN: 0810927950
Gloria C. Erlich, The Sexual Education of Edith Wharton, California: University of California Press, 1992, pp.223, ISBN: 0520075838
Susan Goodman, Edith Wharton's Women: Friends and Rivals, UPNE, 1990, pp.220, ISBN: 0874515246
Irving Howe, (ed), Edith Wharton: A collection of Critical Essays, London: University of North Carolina Press, 1986,
Jennie A. Kassanoff, Edith Wharton and the Politics of Race, Cambridge: Cambridge University Press, 2004, pp.240, ISBN: 0521830893
Hermione Lee, Edith Wharton, London: Vintage, new edition 2008, pp.864, ISBN: 0099763516
R.W.B. Lewis, Edith Wharton: A Biography, New York: Harper and Rowe, 1975, pp.592, ISBN: 0880640200
James W. Tuttleton (ed), Edith Wharton: The Contemporary Reviews, Cambridge: Cambridge University Press, 1992, pp.586, ISBN: 0521383196
Candace Waid, Edith Wharton's Letters from the Underworld, London: University of North Carolina Press, 1991,
Sarah Bird Wright, Edith Wharton A to Z: The Essential Reference to Her Life and Work, Fact on File, 1998, pp.352, ISBN: 0816034818
Cynthia Griffin Wolff, A Feast of Words: The Triumph of Edith Wharton, New York: Perseus Books, second edition 1994, pp.512, ISBN: 0201409186
---
Video documentary
---
Other works by Edith Wharton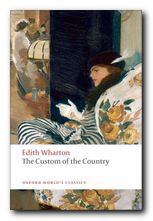 The Custom of the Country (1913) is Edith Wharton's satiric anatomy of American society in the first decade of the twentieth century. It follows the career of Undine Spragg, recently arrived in New York from the midwest and determined to conquer high society. Glamorous, selfish, mercenary and manipulative, her principal assets are her striking beauty, her tenacity, and her father's money. With her sights set on an advantageous marriage, Undine pursues her schemes in a world of shifting values, where triumph is swiftly followed by disillusion. This is a study of modern ambition and materialism written a hundred years before its time.


Buy the book from Amazon UK


Buy the book from Amazon US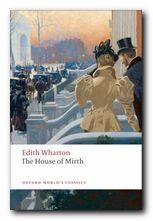 The House of Mirth (1905) is the story of Lily Bart, who is beautiful, poor, and still unmarried at twenty-nine. In her search for a husband with money and position she betrays her own heart and sows the seeds of the tragedy that finally overwhelms her. The book is a disturbing analysis of the stifling limitations imposed upon women of Wharton's generation. In telling the story of Lily Bart, who must marry to survive, Wharton recasts the age-old themes of family, marriage, and money in ways that transform the traditional novel of manners into an arresting modern document of cultural anthropology.


Buy the book from Amazon UK


Buy the book from Amazon US
---
Edith Wharton – web links
Edith Wharton at Mantex
Biographical notes, study guides to the major novels, tutorials on the shorter fiction, bibliographies, critiques of the shorter fiction, and web links.
The Short Stories of Edith Wharton
This is an old-fashioned but excellently detailed site listing the publication details of all Edith Wharton's eighty-six short stories – with links to digital versions available free on line.
Edith Wharton at Gutenberg
Free eTexts of the major novels and collections of stories in a variety of digital formats – also includes travel writing and interior design.
Edith Wharton at Wikipedia
Full details of novels, stories, and travel writing, adaptations for television and the cinema, plus web links to related sites.
The Edith Wharton Society
Old but comprehensive collection of free eTexts of the major novels, stories, and travel writing, linking archives at University of Virginia and Washington State University.
The Mount: Edith Wharton's Home
Aggressively commercial site devoted to exploiting The Mount – the house and estate designed by Edith Wharton. Plan your wedding reception here.
Edith Wharton at Fantastic Fiction
A compilation which purports to be a complete bibliography, arranged as novels, collections, non-fiction, anthologies, short stories, letters, and commentaries – but is largely links to book-selling sites, which however contain some hidden gems.
Edith Wharton's manuscripts
Archive of Wharton holdings at the Beinecke Rare Book and Manuscript Library
© Roy Johnson 2014
---
Edith Wharton – short stories
More on Edith Wharton
More on short stories
---