writing skills guide for coursework and examinations
Robert Barrass begins this guide Students Must Write with the important observation that students are judged largely on the quality of what they write. It is therefore very much in their interests to sharpen their writing skills for all forms of academic work. He starts from basics, covering taking notes in lectures, and how writing about something helps you to understand and remember it. His advice is punctuated with well-chosen quotations from famous writers, indicating that they struggle too. They write, re-write, plan, edit, scrap drafts, and treat writing as a process. It's not a one-off action. He analyses examples of slack writing and shows both the weaknesses and how they might be overcome.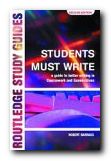 There's also a chapter on words – choosing items of vocabulary to make your writing more effective. To support this he adds some wonderfully useful lists of misused words, circumlocutions and malapropisms – but they are somewhat buried inside the chapters when I think they could have been highlighted to greater effect.
There is a particularly good chapter on how to deal with numbers, diagrams, graphs, charts, and tables. This includes such nice points as the order of presenting the slices of a pie chart – clockwise, starting from the largest at noon. [Bet you didn't know that!]
His tips on exam technique are sound enough – as is his advice on longer pieces of work such as dissertations and reports. He even covers writing letters – applying for that job after you have graduated. And he ends with tips on using word-processors, a few words on punctuation, and a brief guide to spelling and how to overcome some of the common problems.
This is a book for people who want a general stroll through the process of language and writing. It moves from one topic to another in a casual manner. There is a downside and an upside to this approach. The downside is its weakness in terms of organisational rigour. But the upside is that it might make some of the issues of writing less intimidating for the very students to whom this book is addressed.
© Roy Johnson 2005

  Buy the book at Amazon UK

  Buy the book at Amazon US
---
Robert Barrass, Students Must Write: A Guide to Better Writing in Coursework and Examinations, London: Routledge, third edition, 2005, pp.232, ISBN: 0415358264
---
More on study skills
More on writing skills
More on online learning
---