100 great ideas and practical habits on student life
There are lots more guidance books on study skills than there used to be. In the past it was assumed you would pick up the necessary skills as you went along, or by some sort of mystical osmosis. It's good that educational institutions have been forced to make themselves more transparent – but there's still a long way to go, which is what makes books like How to be a Student helpful for would-be students. It would be useful for anyone entering further or higher education.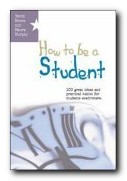 This spells out what's required at a really basic and practical level. Making sure you turn up to your lectures for instance, and what to do when you get there. Learning about the complexities of plagiarism, and how to develop your own voice when writing essays. How to deliver presentations with confidence and style. Everything is spelt out in short, clear manageable chunks, so there is nothing which should overwhelm the people who the book is aimed at.
And it's not all study skills. The authors also cover topics such as dealing with periods of boredom and knowing when it's time to teak a break; preventing small problems from growing to become big obstacles; plus dealing with finance and not letting money problems get in the way of your studies.
The good thing about this book is that it's based on real life and it deals with the actual problems many students face. There's advice about phoning home, drinking, personal relationships, dealing with boredom, coping with bureaucracy, and even what to eat to feel better.
They cover writing skills, reading skills, revision and exam skills too – but these are taken alongside all the other personal issues as sources of potential worry and uncertainty which these guidance notes seek to dispel.
If you need advice on all these topics written in a manner which is friendly and non-patronising manner, this is a good place to start.
© Roy Johnson 2005

Buy the book at Amazon UK

Buy the book at Amazon US
---
Sarah Moore and Maura Murphy, How to be a Student, Maidenhead: Open University Press, 2005, pp.138, ISBN: 0335216528
---
More on study skills
More on writing skills
More on online learning
---