guide to good usability and web design principles
Jeffrey Zeldman is one of the new generation of writers on web strategy and design. His new book Taking Your Talent to the Web aims to help traditional designers move beyond HTML into the new possibilities of style sheets and XHTML. But this isn't a practical guide – full of HTML code and suggestions for page design. It's a carefully structured essay of thoughtful reflections on how the Web actually works, and how you can enhance your designs. It's aimed at those people with Web sites who want to improve them; at designers who want to offer more functionality to their clients; and at anybody who wants to engage with Web developments using the most advanced techniques available.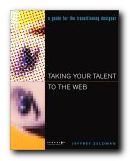 His overall message is that designers must learn to work within limits, must accept compromise, must learn to accept constant change. He is a great believer in The Liquid Page – designs which can flow to fit any browser and screen size. His approach is very similar to Jeffrey Veen, whose The Art and Science of Web Design comes from the same stable.
After discussing the foundations of good design and usability, he spends the middle section of the book dealing with branding, marketing, and working in a design team. These chapters are not nearly so interesting as those in which he tackles the technology. Once he gets back to creating good pages, the temperature rises again.
He is very reassuring on the issue of making the transition from HTML via XHTML to XML. He offers a clear guide to style sheets, showing how to take advantage of this technology to control the appearance of pages – without running foul of browsers. He admits however that until browsers fully support style sheets, designers will continue to use tables to control layout.
There's an extended discussion of font control. His advice is quite unequivocal – in style sheets the font size should be specified in pixels. This is followed by a short but reassuring introduction to JavaScript. I liked the fact that he puts his emphasis on practical applications, showing how it can be used. And he finishes with a quick review of Java, scaled vector graphics (SGV) and Flash.
It should also be said that he writes in a lively, amusing style which makes some of the more technical passages easier to digest. In fact I think he gets the balance of coding details and web strategies just right – giving you enough information to try out his ideas straight away. This is an attractive book which offers support and encouragement to designers who want to make their sites more usable and more effective.
© Roy Johnson 2005
---
Jeffrey Zeldman, Taking Your Talent to the Web, Indianapolis (IN) : New Riders, 2001, pp.426, ISBN: 0735710732
---
More on web design
More on technology
More on digital media
---