short stories of Gothic horror and the macabre
Tales of Mystery and Imagination is the name often given to collections of Poe's stories. Edgar Allan Poe is celebrated as the originator of several types of short story – the tale of Gothic horror, the science fiction story, the detective story, the tall tale, the puzzle, and the literary hoax. In fact he was preceded in some of these by E.T.A. Hoffmann, but his influence has been much more widespread, and interestingly, given this influence, he was the first well-known American author to earn his living through writing – though this did not prevent him dying in poverty and neglect (dressed in somebody else's clothes).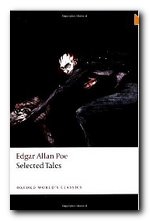 He often starts a story with a philosophic reflection, and the central purpose of the story is to illustrate the idea. But what makes them so striking and memorable is that the idea is both articulated via the narrator's anguished state of mind and encapsulated in a vivid image – going down in a sinking ship; suffering torture in the Spanish Inquisition; a premature burial; and a heart which continues to beat even after a brutal murder. These are images of the Gothic that have kept the horror movie industry fuelled with content for almost the last hundred years.
Very little is overtly dramatized in Poe stories. Characters rarely engage in conversation. Everything is in the grip of a narrator who is normally relating events at emotional fever pitch. "I was sick – sick unto death … why will you say I am mad … tomorrow I die, and to-day I would unburthen my soul." These are the voices of existential anxiety we have come to know via Dostoyevski, Nietzsche, and Kafka.
In his stories lots of things happen twice. A man is stranded on a doomed ship, which is struck by another bigger vessel and takes him into the Abyss. A man has a beautiful wife who falls ill and dies. When he remarries, his second wife goes the same way. Another man has a wife who dies giving birth to a girl – who becomes a replica of her mother, and dies the same way. The women in his stories do not last long. Even if they start out as beautiful young maidens, they tend to become sickly, they fade, they die, and are entombed. In one of his most famous doppelganger stories, the protagonist William Wilson is pursued throughout his debauched life by another man who looks exactly the same, and is also called William Wilson. You don't need a brass plaque on your front door to realise that these are stories of split personality, of guilty conscience, of the duality of being.
Poe is perhaps most celebrated as the inventor of the detective story. In The Murders in the Rue Morgue his super-intellectual hero Auguste Dupin solves an almost impossibly difficult problem (murder in a locked room) by what appears to be a combination of acute observation and pure reason. He is presented with the same eyewitness accounts as the police, but outsmarts them by superior logic. (Actually, Poe cheats slightly by having Dupin locate extra clues).
But Poe is less interested in dramatizing the solution to a crime than exploring the misconceptions that make things seem mysterious or puzzling in the first place'. Dupin spends most of his time explaining why the Prefect of the Parisian police cannot solve crimes because his thinking is trammelled in convention. Despite all the improbabilities of the plot (windows with hidden spring catches, an Ourang-Utang with a cutthroat razor) the tale established a formula for the detective story which has survived to this day.
In terms of the Gothic tradition, Poe piles one effect upon another – entombment, necrophilia, ruined abbeys, murder, alcohol and drugs. Nothing is spared in his quest to express intensity of emotion and horror of effect. In one of the other famous pieces in this collection, 'The Fall of the House of Usher', Poe combines themes of incest, premature burial, and a decaying mansion that ends up split asunder and collapsing into its own moat. All the stories cry out for interpretation, and it is to his credit that despite what are often seen as moments of dubious excess (rotting corpses, a protagonist who extracts all his wife's teeth before she is dead) they continue to yeild up meaning to a succession of readings even today – more than one hundred and fifty years after they were first written.

Buy the book at Amazon UK

Buy the book at Amazon US
© Roy Johnson 2011
---
Edgar Allan Poe, Selected Tales, Oxford: Oxford University Press, 2008, pp.338, ISBN: 0199535779
---
More on literature
More on the novella
More on literary studies
More on short stories
---