a toolkit for writing skills in further and higher education
No matter what subjects students engage with in further and higher education, they will be required to produce written work on which they will be assessed. This could be the formal academic essay, a lab report, a project, a case study, or even a reflective journal. Teaching Academic Writing is designed to assist subject lecturers and writing skills tutors whose job it is to help students develop their written work and grasp the conventions of academic argument and expression.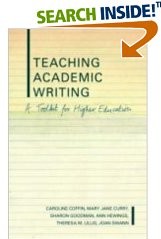 The need for this assistance has arisen as larger and larger numbers of students enter F & HE – often from non-traditional backgrounds, and sometimes with `English as a second language. The authors (a group of tutors from the Open University) start off by suggesting that teachers should make explicit the writing tasks they set for students. It can no longer be assumed that students will already know what an academic essay requires them to do – or that they will pick up the idea as they go along.
Next comes making them conscious of the appropriate academic register, as well as eradicating grammatical errors. There's no quick fix for this: it requires a lot of intensive marking and supportive feedback. But I was surprised they didn't spot the time-saving device of putting guidance notes on line.
However, their suggestions on pre-writing (notes), brainstorming, and planning should be useful as tools for teaching students that almost no form of successful writing comes fully-formed, straight from the head of the writer.
At a time when modular degrees are becoming more popular, it's important that students are aware of the differing conventions which obtain in various subjects. These can vary from the 'hard evidence' required in sciences to the 'well-informed opinion' which is accepted as persuasive argument in the arts. Somewhere in between are the social sciences which attempt to combine the two. Once again, they argue very sensibly that these conventions should be made explicit to students if they are to have any chance of succeeding in their work.
They also show examples of such work and offer exercises which are designed to raise students' awareness of what's required. The close examination of a case study in business studies reveals the particular difficulty of writing for two audiences at the same time.
The next chapter deals explicitly with the issue of assessment. Once again the advice is to make the assessment criteria clear to both students and tutors alike. And their advice on providing feedback on assessed work is excellent. It would be good to see the marking pro-formas and guidance notes in more widespread general use.
However, what they don't take into account is the important factor that making assignments thoroughly is a time-intensive activity, and many tutors can skimp on this part of their duties because they know their work will not be closely monitored. Moreover, since much direct teaching and assignment marking in F & HE is now done by hourly paid post-graduates, they are place in the invidious position of working for the rates of a domestic cleaner, exploiting themselves in order to stay in employment. [This is a subject close to my heart, which I discuss in my own book on Marking Essays.]
They finish with a first rate chapter on academic writing in an electronic environment. This covers all the digital tools available – from word-processors and email, to conferencing and discussion forums, and online writing laboratories (OWLs) and the strategies by which materials located on line can be evaluated for their usefulness.
Tutors at any level of F & HE would do themselves a favour by rehearsing the issues raised in this book. It might be written by what is almost a committee, but it's got a collective's combined experience written into it.
© Roy Johnson 2005
---
Caroline Coffin et al, Teaching Academic Writing, London: Routledge, 2003, pp.175, ISBN 0415261368
---
More on study skills
More on writing skills
More on online learning
---