tutorial, commentary, study resources, and web links
The American first appeared as a twelve part serial in The Atlantic Monthly 1876-1877. It was then published as a single volume in May 1877. The text was extensively revised when James came to re-publish the novel as part of the 1907 New York Edition of his collected works. So the story exists in two slightly different versions – although the outcome of events is the same in both cases.
In 1888, when James entered his period of theatrical aspirations, he was persuaded to adapt the novel for the stage. In this version he both emphasised the melodramatic aspects of the story and gave it a new (happy) ending.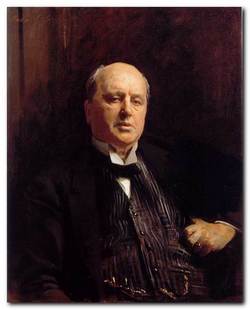 Henry James – portrait by John Singer Sargeant
---
The American – critical commentary
America and Europe
Henry James is well know for exploring the theme of relations between Europe and America. He was born and bred in America, but was educated in Europe, and spent most of his adult life living there – eventually becoming an English citizen as an act of solidarity during the first world war.
The first (and more successful) part of the novel features what appears at first glance to be a symbolic clash between two cultures. Newman is a young, tall, and successful American who represents democratic principles, a free market economy, and a positive engagement with society in general. He is plain-spoken, honest and slightly unsophisticated, but rich enough to buy whatever he desires.
However, he is at a distinct disadvantage when confronted by the Bellegarde family and their particular form of European culture. They are cripplingly snobbish, old-fashioned, and take their adopted aristocratic principles to an almost ludicrous degree.
However, it is worth noting that their claims to medieval heritage are quasi-bogus, having been acquired via marriage. They are also keen to prop up the family finances via marriage – but they draw the line at allowing a connection with 'commerce'.
Actually, when James was revising the novel for the New York Edition of his works in 1907, thirty years after its first appearance, he changed his mind about the Bellegarde's motivation. He felt that rather than rejecting Newman's money on the grounds of its origins in commerce, they would have grabbed at it. But by then it was too late for any such radical changes.
Weaknesses
The main problem with the novel is that whilst the first half is a tasteful, witty, and elegant account of Newman's confrontation with French society and his romantic engagement with Claire de Bellegarde, the second part of the novel descends into melodrama.
There is also very little connection between the main story and the occasional sub-plot of Noemie Nioche and her father. Noemie herself is a ruthless (and successful) social climber who eventually reaches the lower rungs of the very family that rejects Newman. She is last seen in the company of Lord Deepmere when Newman visits London. But no serious parallels between the two narrative strands are ever established, although Noemie's success can be seen as an ironic counterpart to Newman's failure to achieve his aims.
It could also be argued that Noemie is a connecting thread in the relationship between Newman and Valentin a relationship strongly tinged with homo-erotic overtones. Newman is attracted to Noemie as a character of social interest, and Valentin is attracted to her as a lively antidote to his stifling family. But neither of their interests are as strong as the attractio they feel for each other.
There is also a character introduced half way through the novel – the reverend Benjamin Babcock – who plays no part in the story at all, and he disappears from it just as suddenly as he first appears.
James often ended his novels on a note of ambiguity or uncertain resolution (one thinks of The Bostonians or The Portrait of a Lady) but he does not rely on creaking plot devices such as a duel, a murder, and a death-bed revelation. His more successful novels have outcomes which proceed logically and develop naturally out of the realistic events they contain.
---
The American – study resources

The American – Oxford World Classics – Amazon UK

The American – Oxford World Classics – Amazon US

The American – Penguin Classics – Amazon UK

The American – Penguin Classics – Amazon US

The American – Cliff's Notes – Amazon UK

The American – Kindle edition

The American – eBooks at Project Gutenberg

The Cambridge Companion to Henry James – Amazon UK

The Essential Henry James Collection – Kindle edition (40 works)

The Prefaces of Henry James – Introductions to his tales and novels

The American – Notes on editions (Library of America)

Henry James at Wikipedia – biographical notes, links

Henry James at Mantex – tutorials, biography, study resources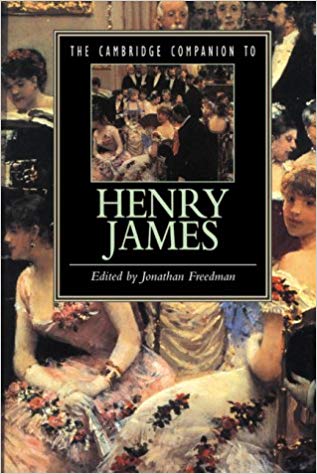 ---
The American – plot summary
Christopher Newman is a successful American businessman touring Europe. He meets Noemie Nioche and her father in the Louvre, where he buys her painting and arranges to have French lessons. He then meets an old friend Tom Tristram and reveals that he is giving up business and planning to explore the best that Europe has to offer. He befriends Mrs Tristram and tells her of his desire to marry. She introduces him to the beautiful widow Claire de Bellegarde, the Countess de Cintre.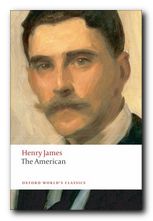 Newman learns French from the bankrupt M.Nioche each day and commissions more pictures from Noemie so that she can create a dowry for herself. He then takes off and travels for several months, returning to Paris where Claire is under pressure from her family to marry for money for a second time. She had previously been unhappily married to an older man at the behest of her family, who coveted his pedigree and his money.
Newman revisits the family Bellegarde and despite their social reserve and snobbishness he is permitted to visit them. He is subsequently befriended by Claire's younger brother Count Valentin, who envies Newman's freedom to act at will. Newman reveals to him that he wants to marry his sister.
Newman proposes to Claire, who tells him she does not wish to re-marry, but asks for more time to consider his offer. He is interviewed by the Bellegarde family, who ask him about his wealth. He spars with them, stands his ground, then introduces Valentin to Noemie and M. Nioche in the Louvre.
Newman is summoned to a family dinner where they patronise and insult him, though finally granting him permission to ask Claire to marry him. From that point, Newman visits the family home regularly, despite its frigid social atmosphere. He is encouraged by the elderly English servant Mrs Bread who has served the household for forty years. She urges him.to be patient, and to take Claire away from her family,
After waiting the six months she has asked of him, Newman renews his offer of marriage, and Claire accepts him. He wishes to celebrate with a party, but the family insist on holding one first. Meanwhile, Valentin has fallen enamoured of Noemie, who has become more attractive but is a mercenary social climber.
Newman is the centre of attention at Mme de Bellegarde's grand society ball. Lord Deepmere, a distant English cousin, passes some mysterious news to Claire and her mother.
Newman tries to persuade Valentin to accept his offer of a new commercial start in America. Valentin is on the point of doing so when he picks a quarrel with one of Noemie's admirers at the opera and a duel is precipitated.
When Newman calls to see Claire he is suddenly told by her family that she is not allowed to marry him after all. They object to Newman because of his commercial background. He is about to follow Claire to the family's country estate when he receives a note that Valentin has been injured.
He travels to Switzerland where the duel has taken place. Valentin is dying of a gunshot wound. Newman reluctantly tells him of the family's perfidy, whereupon Valentin reveals that there is a skeleton somewhere in the family's cupboard that he can use against them.
Following Valentin's death and burial at the family's estate near Poitiers, Newman goes to see Claire and renews his plea that they marry. She tries to explain why she cannot, then reveals that she is to become a nun, to escape from the pressures of her family.
Newman revisits Mme de Bellegarde and her elder son Urbain and appeals to them to change their minds. When they refuse, he threatens to unearth the family's guilty secret – but they still do not yield. So Newman arranges an interview with Mrs Bread who recounts (at great length) the story of Mme de Bellegarde killing her sick husband. However, shortly before his death he has given to Mrs Bread a letter revealing the truth of his wife's treachery. Mrs Bread gives the letter to Newman.
Newman returns to Paris, savouring his 'thunderbolt' of evidence, and Mrs Bread joins him as his housekeeper. He visits the Carmelite nunnery where Claire is immured, then confronts the family with his evidence. They try to bribe him, but he refuses. He then seeks to relay his news in society – choosing a Duchess who he met at the Bellegarde's party, but he is met with a wall of polite small talk.
At Mrs Tristram's suggestion he then retreats to London, where he bumps into Noemie Nioche with Lord Deepmere. Struggling to overcome his sense of loss and being wronged, he travels back to America, but feels alien amongst his own people – so he returns to Paris.
He visits the even more secluded nunnery to which Claire has been transferred, then feels his need for revenge on the family evaporate. He burns the incriminating letter and leaves Paris for ever.
---
The American – principal characters
| | |
| --- | --- |
| Christopher Newman | a financially successful American bachelor of 42, ex civil war |
| Noemie Nioche | an amateur painter |
| M. Nioche | her bankrupt father, who wears a wig |
| Tom Tristram | a flaneur, Newman's ex civil war friend |
| Mrs Elizabeth ('Lizzie') Tristram | his plain 'unfinished' wife |
| Claire de Bellegarde | Comtesse de Cintre – an upper-class divorcee of 28 |
| Count Valentin de Bellegarde | her younger brother of 25 |
| Benjamin Babcock | an American vegetarian minister |
| Mme de Bellegarde | dowager head of the family – the daughter of an English Earl, from Wiltshire |
| Marquis Urbain de Bellegarde | her eldest son |
| Marquise de Bellegarde | his wife |
| Mrs Bread | aged English retainer with 40 years service |
| Lord Deepmere | Mme de Bellegarde's Anglo-Irish cousin – bald, 34, missing teeth |
| Stanislas Kapp | German admirer of Noemie who shoots Valentin in the duel |
---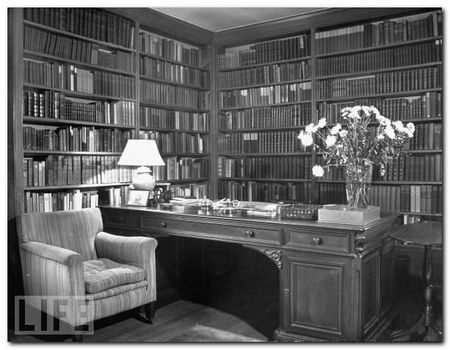 Henry James's study
---
Further reading
Biographical

Theodora Bosanquet, Henry James at Work, University of Michigan Press, 2007.

Leon Edel, Henry James: A Life, HarperCollins, 1985.

Philip Horne (ed), Henry James: A Life in Letters, Viking/Allen Lane, 1999.

Henry James, The Letters of Henry James, Adamant Media Corporation, 2001.

Fred Kaplan, Henry James: The Imagination of Genius, Johns Hopkins University Press, 1999

F.O. Matthieson (ed), The Notebooks of Henry James, Oxford University Press, 1988.
Critical commentary

Elizabeth Allen, A Woman's Place in the Novels of Henry James, London: Macmillan, 1984.

Martha Banta (ed), New Essays on The American, Cambridge: Cambridge University Press, 1987

Ian F.A. Bell, Henry James and the Past, London: Palgrave Macmillan, 1993.

Millicent Bell, Meaning in Henry James, Cambridge (MA): Harvard University Press, 1993.

Harold Bloom (ed), Modern Critical Views: Henry James, Chelsea House Publishers, 1991.

Kirstin Boudreau, Henry James's Narrative Technique, London: Macmillan, 2010.

Oscar Cargill, The Novels of Henry James, New York: Macmillan, 1961.

Roger Gard (ed), Henry James: The Critical Heritage, London: Routledge, 1968.

Tessa Hadley, Henry James and the Imagination of Pleasure, Cambridge: Cambridge University Press, 2009.

Barbara Hardy, Henry James: The Later Writing (Writers & Their Work), Northcote House Publishers, 1996.

Richard A. Hocks, Henry James: A study of the short fiction, New York: Twayne Publishers, 1990.

Colin Meissner, Henry James and the Language of Experience, Cambridge University Press, 2009

John Pearson (ed), The Prefaces of Henry James, Pennsylvania State University Press, 1993.

Ruth Yeazell (ed), Henry James: A Collection of Critical Essays, Longmans, 1994.
---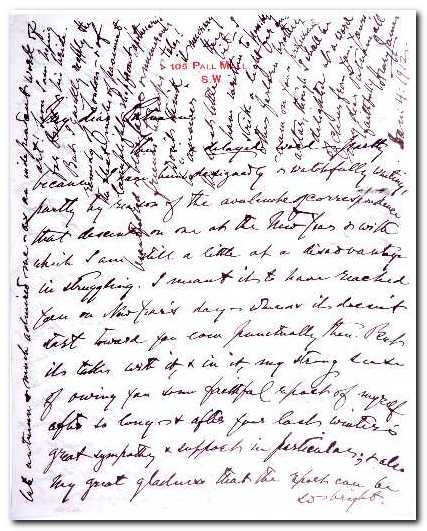 a Henry James manuscript
This is an example of what's called 'criss cross' writing. To save paper, and because the postal service once charged by the sheet, many people wrote their letters in two directions on the page, perpendicularly to each other. It was not unusual to use both sides of the page, and thus get four pages of writing onto one sheet of paper.
The writing is not so difficult to read as you might imagine. We are accustomed to reading English language from left to right and from top to bottom on the page. Writing going in another direction becomes like 'wallpaper' in the background.
---
Other work by Henry James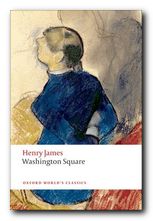 Washington Square (1880) is a superb early short novel, It's the tale of a young girl whose future happiness is being controlled by her strict authoritarian (but rather witty) father. She is rather reserved, but has a handsome young suitor. However, her father disapproves of him, seeing him as an opportunist and a fortune hunter. There is a battle of wills – all conducted within the confines of their elegant New York town house. Who wins out in the end? You will probably be surprised by the outcome. This is a masterpiece of social commentary, offering a sensitive picture of a young woman's life.


Buy the book from Amazon UK


Buy the book from Amazon US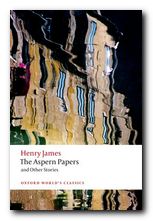 The Aspern Papers (1888) is a psychological drama set in Venice which centres on the tussle for control of a great writer's correspondence. An elderly lady, ex-lover of the writer, seeks a husband for her daughter. But the potential purchaser of the papers is a dedicated bachelor. Money is also at stake – but of course not discussed overtly. There is a refined battle of wills between them. Who will win in the end? As usual, James keeps the reader guessing. The novella is a masterpiece of subtle narration, with an ironic twist in its outcome. This collection of stories also includes three of his accomplished long short stories – The Private Life, The Middle Years, and The Death of the Lion.


Buy the book from Amazon UK


Buy the book from Amazon US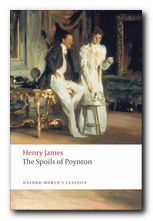 The Spoils of Poynton (1896) is a short novel which centres on the contents of a country house, and the question of who is the most desirable person to inherit it via marriage. The owner Mrs Gereth is being forced to leave her home to make way for her son and his greedy and uncultured fiancee. Mrs Gereth develops a subtle plan to take as many of the house's priceless furnishings with her as possible. But things do not go quite according to plan. There are some very witty social ironies, and a contest of wills which matches nouveau-riche greed against high principles. There's also a spectacular finale in which nobody wins out.


Buy the book from Amazon UK


Buy the book from Amazon US
---
Henry James – web links

Henry James at Mantex
Biographical notes, study guides, tutorials on the Complete Tales, book reviews. bibliographies, and web links.

The Complete Works
Sixty books in one 13.5 MB Kindle eBook download for £1.92 at Amazon.co.uk. The complete novels, stories, travel writing, and prefaces. Also includes his autobiographies, plays, and literary criticism – with illustrations.

The Ladder – a Henry James website
A collection of eTexts of the tales, novels, plays, and prefaces – with links to available free eTexts at Project Gutenberg and elsewhere.

A Hyper-Concordance to the Works
Japanese-based online research tool that locates the use of any word or phrase in context. Find that illusive quotable phrase.

The Henry James Resource Center
A web site with biography, bibliographies, adaptations, archival resources, suggested reading, and recent scholarship.

Online Books Page
A collection of online texts, including novels, stories, travel writing, literary criticism, and letters.

Henry James at Project Gutenberg
A major collection of eTexts, available in a variety of eBook formats.

The Complete Letters
Archive of the complete correspondence (1855-1878) work in progress – published by the University of Nebraska Press.

The Scholar's Guide to Web Sites
An old-fashioned but major jumpstation – a website of websites and resouces.

Henry James – The Complete Tales
Tutorials on the complete collection of over one hundred tales, novellas, and short stories.

Henry James on the Internet Movie Database
Adaptations of James's novels and stories for the cinema and television – in various languages. Full details of directors and actors, production features, film reviews, box office, and even quizzes.
© Roy Johnson 2013
---
More on Henry James
More on literature
More on the novella
More on literary studies
More on short stories
---