web design strategies – for the present and the future
Jeffrey Veen is a webmaster who put the pages of avant-garde magazine WIRED onto the Net, and he went on to have something of a best-seller with his first book – HotWired Style: Principles of Building Smart Web Sites. The Art and Science of Web Design is his follow-up, and if anything, it's even better. Be warned though. It's not a practical HTML manual, with lots of advice about how to write web pages. It's a study of how the Web works, why it works how it does, and what strategies serious users ought to adopt to make it work for their benefit.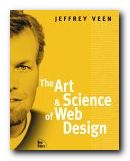 He starts from a simple premise. Any graphic designers creating attractive printed pages know that they must have a comprehensive knowledge of their tradition. This means they should know the principles of good layout, modern print technology, paper, inks, and the full range of resources for translating their ideas from one medium into another. They are in fact drawing on a design tradition which is nearly six hundred years old.
If that is the case, web designers need to know how their own (new) medium works – and he sets out to make it clear. He starts with a history of the Web, and how its content has always been separated from its appearance. We all know about the constraints and limitations of HTML coding – but now there are style sheets to give us more control. And he shows how this can be done.
In fact he is what might be called a radical traditionalist. He believes that you must respect the fact that web visitors bring notions of navigation and structure from the other sites they have visited. You can introduce novelties onto your site – but these should be subtle, and they absolutely must keep the user's needs in mind at every click of the mouse.
There are some wonderful in-depth analyses of major sites, showing how they have managed to keep user's needs in mind, even when building their information from huge databases. Yahoo and Amazon come out well – because they create fast downloading pages which give visitors what they want.
On browsers and speed he is quite uncompromising. You must check your pages in as many browsers as possible, and you must eliminate all superfluous coding so that users get what they are looking for immediately. There's a fascinating page of screenshots from a competition for high quality homepages – all created within a size of 5Kb maximum.
The other central feature of his argument is an interesting notion of what he calls 'liquid' pages. He argues that designers ought to stop worrying about the exact appearance of the layout and graphic features of their pages. Instead they should design so that the page will flow into any browser, on any screen size, set at any resolution.
And he shows how it can be done. There is a wonderful example, reduced to only a few lines of code, showing how style sheets and a clever use of font specifications can be used to create paragraphs which will look good in any browser.
Finally, he presents the idea of what he calls 'object oriented publishing'. This is creating dynamic websites using templates, stylesheets, and information stored in databases so that the work of the designer is minimised. This part is more technically demanding, but he keeps jargon and coding to a minimum.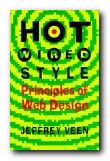 It's written in an engaging, accessible style. You can try out his ideas immediately, and he gives an account of the way modern web technology works which is inspiring and enthusiastic. This is a very impressive follow-up to his earlier best-seller HotWired Style, and even though it will be of most use to those who already have web sites, anybody with an interest in web design will find something of interest in what he says. It's going straight onto the Highly Recommended list at this site, and then after fiddling with some code, the first thing I'm going to do is read the book again.
© Roy Johnson 2002

Buy the book at Amazon UK

Buy the book at Amazon US
---
Jeffrey Veen, The Art & Science of Web Design, Indianapolis (IN): New Riders, 2001, pp.259, ISBN 0789723700
---
More on web design
More on technology
More on digital media
---