tutorial, commentary, study resources, and web links
The Aspern Papers (1888) comes in the middle years of Henry James's development as a writer. Disappointed by the reception of his recent novels The Bostonians and The Princess Cassamassima, he intensified his exploration of the long story, the 'tale', and the novella. He was also exploring the relationship between authors, readers, and literary reputations. The story first appeared in The Atlantic Monthly and was then published in book form later the same year.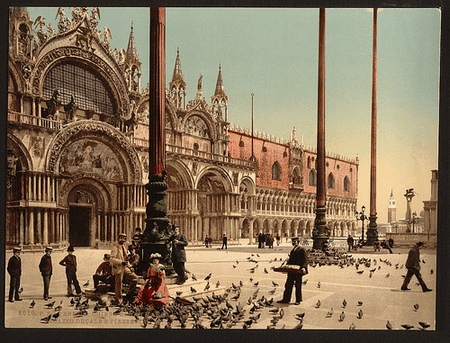 Venice – St Mark's Square
---
The Aspern Papers – critical commentary
The Novella
Henry James described The Aspern Papers as a 'tale' – but then he used that term for most of his fiction which was not obviously in the novel genre. It seems to me that this piece of work qualifies as a novella by the normal criteria for distinguishing between the novella and the long short story – and the short novel for that matter.
Unity of place
The whole of the drama takes place in one location – Venice. The narrator is already there when the story begins. The first pages are used to say how he got there, and the suppositions upon which his quest is based. In fact the location is further concentrated by the fact that he goes to lodge in the same palazzo as the two other principal characters – Juliana Bordereau and her niece Miss Tina.
Much of the drama takes place in this one building, with the principals spying on each other and conducting their occasional conversations in the garden that the narrator has used as the pretence for his being there. Following the midnight debacle in Juliana's room, he leaves the location for twelve days, but returns to the original scene for the denouement.
Unity of character
There are only three important figures in the drama, and they are all living in the same building. Juliana is intent on protecting her privacy against the narrator's intrusiveness, and extracting maximum pecuniary advantage from him in terms of rent. She does this by making herself absent, which causes him maximum frustration. The narrator has his single-minded quest for the 'papers', and wishes to deceive Juliana and Miss Tina, who herself has a slender hope of ensnaring the Narrator out of some native sense of survival.
There is also tension between the two women. Juliana seems to have prematurely imprisoned Miss Tina in her Venetian seclusion. Tina certainly does everything within her limited powers to clutch at the Narrator as a possible saviour. And Juliana wishes to put Miss Tina forward to the Narrator, in order to extract an exorbitant rent from him which will go towards Tina's dowry.
Unity of action
In temporal terms the action is spread over a number of months – but it is unified in the sense that nothing else is introduced to dilute its dramatic effect. The drama is concentrated upon the interlocked issues of the Narrator's desire for the papers, Juliana Bordereau's double strategy of thwarting his plans whilst extracting money from him, and Miss Tina's plight as a pawn in the struggle between them.
Unity of atmosphere
The topographical 'atmosphere' is provided by occasional descriptions of Venice (the canals, the old houses) – but it is the psychological atmosphere which is more important. This is generated by two principal factors. The first is the tension which exists between the Narrator's desire to locate the 'papers' and Juliana's stubborn refusal to co-operate, which thwarts his ambition.
The second is the tension created by the Narrator's naive account of events. He obviously doesn't fully comprehend what is happening, and he is unable to see his own crass and blundering behaviour, even though he is recounting it. The reader therefore is offered what the critic Wayne Booth called the pleasure of 'collaboration with the author'.
---
The Aspern Papers – themes
Privacy and Revelation
The Narrator is a critic and biographer whose work is to delve into the private life of his subject and reveal to the world whatever discoveries he thinks important. But the papers he seeks are private communications between Aspern and Juliana Bordereau, which might contain information she does not wish to reveal – either about herself or Aspern. The Narrator is dramatically intrusive into the situation he finds in Venice.
Juliana aand Tina Bordereau are very private people who have lived in seclusion and isolation for many years, and it is very obvious that Juliana is hostile to the Narrator's intrusion – even though she wishes to profit from it. Miss Tina is habituated to solitude, but it seems that she may welcome a release from the situation in which she finds herself.
The Narrator violates their privacy by proposing himself as their lodger, and he then procedes to spy on them in his attempt to locate the papers. He conceals his intention, lies to them about his reasons for being there, and even invents a false identity for himself. However, the two women in their turn spy on him in order to uncover his true motives and intentions.
Juliana Bordereau maximises her sense of privacy by avoiding all contact with the outside world. She bandages her eyes and wears a green eye shield – which is very significantly removed on the occasion of her catching out the Narrator as he attempts to pry into her room at night.
Fear of marriage
This is one of many Henry James stories which features a bachelor, often middle-aged, threatened by the prospect of single women with marriage in mind. In this case Juliana Bordereau actively promotes her niece as a lure to the Narrator, and Miss Tina herself tempts him with access to the papers if he were to become 'a relation'.
But the Narrator's account of Miss Tina should leave us in no doubt what his response will be. He consistently describes her in misogynistic terms as frowzy and unappealing, a prematurely aged drab – except when he changes his mind and decides to accept her proposal. Then she becomes 'younger; she was not a ridiculous old woman'. But when she rejects him she immediately becomes 'a plain dingy elderly person' again.
In other words, his narrative objectivity is not something we as readers can rely upon, and we have yet another example of James exploring a theme which pervaded the latter part of his life – to marry or not? – a question whose psychological significance he did not seem to recognise in himself but which he dramatised in many of his works.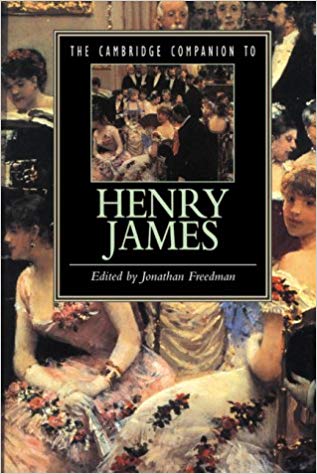 ---
The Aspern Papers – study resources

The Complete Works of Henry James – Kindle edition – Amazon UK

The Complete Works of Henry James – Kindle edition – Amazon US

Complete Stories 1884—1891 – Library of America – Amazon UK

Complete Stories 1884—1891 – Library of America – Amazon US

The Aspern Papers – Oxford World Classics – Amazon UK

The Aspern Papers – Oxford World Classics – Amazon US

The Aspern Papers – Wordsworth Classics – Amazon UK

The Aspern Papers – Penguin Classics – Amazon UK

The Aspern Papers – eBook formats at Project Gutenberg

The Aspern Papers – audioBook version at LibriVox

The Cambridge Companion to Henry James – Amazon UK

Henry James at Wikipedia – biographical notes, links

Henry James at Mantex – tutorials, biography, study resources
---
The Aspern Papers – full length opera adaptation
In this version Juliana Bordereau is transformed into an opera singer, and Jeffrey Aspern into a composer.
Composed by Dominick Argento (1987)
---
The Aspern Papers – plot summary
An unnamed American biographer and literary scholar specialises in the work of Jeffrey Aspern, a celebrated early nineteenth century American poet. He learns from John Cumnor, a colleague in London, that Juliana Bordereau, a woman with whom Aspern had a romantic liaison years ago, is still alive and living in Venice in seclusion. Cumnor has written seeking permission to view any of Aspern's 'papers' which might still be in her possession, but he has been rebuffed by Tina Bordereau, her niece who lives with her.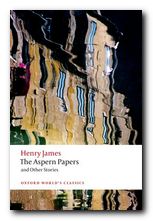 Believing that Juliana will be in possession of valuable letters and personal memorabilia, the narrator assumes a false identity and persuades the two women to take him as a lodger in their large but neglected Venetian palazzo. Not daring to reveal his true intent of gaining access to the papers, he agrees to pay an exorbitant amount to rent a suite of rooms.
But the two women live in a state of extreme isolation, and the narrator becomes frustrated in his attempts to make contact with them and win their confidence. Juliana Bordereau is an old and very private woman, but she wishes to secure both a dowry and a potential husband for her plain middle-aged niece before she herself dies.
A battle of wills develops between the three principal characters. Juliana refuses to discuss anything to do with her past, but puts forward her niece. The narrator feels sorry for Tina Bordereau, but eventually manages to persuade her to help him. He reveals his interest in the 'papers' and even his real name, and Tina promises to do what she can to help him.
When Juliana falls ill and is thought to be dying, the narrator takes advantage to go into her room at night with the intention of looking for the papers – but he is caught in the act by Juliana herself, who collapses with fright at the intrusion.
The narrator flees Venice in embarrassment , but when he returns he discovers that Juliana has died, without leaving a will. Tina reveals that Juliana had hidden the papers in her bed, but she feels that she cannot show them to the narrator out of respect for her aunt's wish for privacy. However, she does suggest to him that he would have access to them by natural right if he were 'part of the family'. The narrator recoils from this oblique offer of marriage in horror.
The next day however he has changed his mind, and visits Tina to give his acceptance. She however tells him that she has burned the entire collection of letters and never wants to see him again.
---
The Aspern Papers – flim adaptation
Brace yourself. In this recent film version, the action has been transposed from Venice to Venezuela.
Directed by Mariana Hellmund (2010)
---
Principal characters
| | |
| --- | --- |
| I | the unnamed narrator, an American writer and biographer of Jeffrey Aspern |
| Mrs Prest | his old friend in Venice |
| John Cumnor | his fellow biographist and Aspern enthusiast in London |
| Jeffrey Aspern | a celebrated early nineteenth century American poet |
| Miss Juliana Bordereau | Aspern's former lover, an American living in seclusion in Venice |
| Miss Tina Bordereau | her niece |
| Pasquale | the Narrator's servant |
| Olimpia | Juliana Bordereau's servant |
---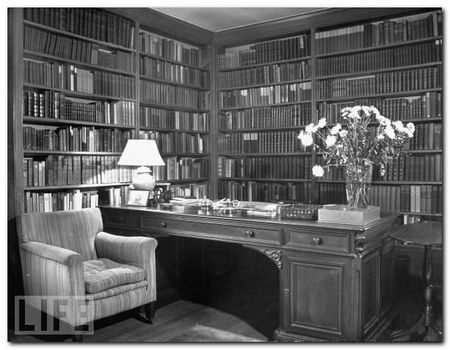 Henry James's study
---
Further reading
Biographical

Theodora Bosanquet, Henry James at Work, University of Michigan Press, 2007.

F.W. Dupee, Henry James: Autobiography, Princeton University Press, 1983.

Leon Edel, Henry James: A Life, HarperCollins, 1985.

Philip Horne (ed), Henry James: A Life in Letters, Viking/Allen Lane, 1999.

Henry James, The Letters of Henry James, Adamant Media Corporation, 2001.

Fred Kaplan, Henry James: The Imagination of Genius, Johns Hopkins University Press, 1999

F.O. Matthieson (ed), The Notebooks of Henry James, Oxford University Press, 1988.
Critical commentary

Elizabeth Allen, A Woman's Place in the Novels of Henry James London: Macmillan Press, 1983.

Ian F.A. Bell, Henry James and the Past, London: Palgrave Macmillan, 1993.

Millicent Bell, Meaning in Henry James, Cambridge (MA): Harvard University Press, 1993.

Harold Bloom (ed), Modern Critical Views: Henry James, Chelsea House Publishers, 1991.

Kirstin Boudreau, Henry James's Narrative Technique, Macmillan, 2010.

J. Donald Crowley and Richard A. Hocks (eds), The Wings of the Dove, New York: W.W. Norton and Company, 1978.

Victoria Coulson, Henry James, Women and Realism, Cambridge University Press, 2009.

Daniel Mark Fogel, A Companion to Henry James Studies, Greenwood Press, 1993.

Virginia C. Fowler, Henry James's American Girl: The Embroidery on the Canvas, Madison (Wis): University of Wisconsin Press, 1984.

Jonathan Freedman, The Cambridge Companion to Henry James, Cambridge University Press, 1998.

Judith Fryer, The Faces of Eve: Women in the Nineteenth Century American Novel, Oxford: Oxford University Press, 1976

Roger Gard (ed), Henry James: The Critical Heritage, London: Routledge, 1968.

Tessa Hadley, Henry James and the Imagination of Pleasure, Cambridge University Press, 2009.

Barbara Hardy, Henry James: The Later Writing (Writers & Their Work), Northcote House Publishers, 1996.

Richard A. Hocks, Henry James: A study of the short fiction, New York: Twayne Publishers, 1990.

Donatella Izzo, Portraying the Lady: Technologies of Gender in the Short Stories of Henry James, University of Nebraska Press, 2002.

Colin Meissner, Henry James and the Language of Experience, Cambridge University Press, 2009

John Pearson (ed), The Prefaces of Henry James, Pennsylvania State University Press, 1993.

Richard Poirer, The Comic Sense of Henry James, Oxford: Oxford University Press, 1967.

Hugh Stevens, Henry James and Sexuality, Cambridge University Press, 1998.

Merle A. Williams, Henry James and the Philosophical Novel, Cambridge University Press, 1993.

Judith Woolf, Henry James: The Major Novels, Cambridge University Press, 1991.

Ruth Yeazell (ed), Henry James: A Collection of Critical Essays, Longmans, 1994.
---
Other works by Henry James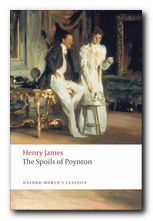 The Spoils of Poynton (1896) is a short novel which centres on the contents of a country house, and the question of who is the most desirable person to inherit it via marriage. The owner Mrs Gereth is being forced to leave her home to make way for her son and his greedy and uncultured fiancee. Mrs Gereth develops a subtle plan to take as many of the house's priceless furnishings with her as possible. But things do not go quite according to plan. There are some very witty social ironies, and a contest of wills which matches nouveau-riche greed against high principles. There's also a spectacular finale in which nobody wins out.


Buy the book from Amazon UK


Buy the book from Amazon US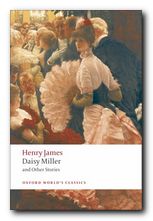 Daisy Miller (1879) is a key story from James's early phase in which a spirited young American woman travels to Europe with her wealthy but commonplace mother. Daisy's innocence and her audacity challenge social conventions, and she seems to be compromising her reputation by her independent behaviour. But when she later dies in Rome the reader is invited to see the outcome as a powerful sense of a great lost potential. This novella is a great study in understatement and symbolic power.


Buy the book from Amazon UK


Buy the book from Amazon US
---
Henry James – web links

Henry James at Mantex
Biographical notes, study guides, tutorials on the Complete Tales, book reviews. bibliographies, and web links.

The Complete Works
Sixty books in one 13.5 MB Kindle eBook download for £1.92 at Amazon.co.uk. The complete novels, stories, travel writing, and prefaces. Also includes his autobiographies, plays, and literary criticism – with illustrations.

The Ladder – a Henry James website
A collection of eTexts of the tales, novels, plays, and prefaces – with links to available free eTexts at Project Gutenberg and elsewhere.

A Hyper-Concordance to the Works
Japanese-based online research tool that locates the use of any word or phrase in context. Find that illusive quotable phrase.

The Henry James Resource Center
A web site with biography, bibliographies, adaptations, archival resources, suggested reading, and recent scholarship.

Online Books Page
A collection of online texts, including novels, stories, travel writing, literary criticism, and letters.

Henry James at Project Gutenberg
A major collection of eTexts, available in a variety of eBook formats.

The Complete Letters
Archive of the complete correspondence (1855-1878) work in progress – published by the University of Nebraska Press.

The Scholar's Guide to Web Sites
An old-fashioned but major jumpstation – a website of websites and resouces.

Henry James – The Complete Tales
Tutorials on the complete collection of over one hundred tales, novellas, and short stories.
© Roy Johnson 2011
---
More on Henry James
More on literature
More on the novella
More on literary studies
More on short stories
---