tutorial, commentary, study resources, plot, and web links
The Author of Beltraffio first appeared in magazine form in two issues of The English Illustrated Journal, for June—July 1884. It was then reprinted in book form the following year by Macmillan in England and Osgood in Boston (USA).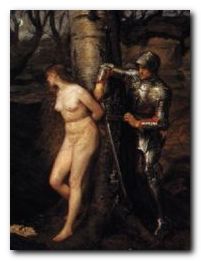 The Knight Errant – John Everett Millais
---
The Author of Beltraffio – critical commentary
Structure
The chronological structure and dramatic unity of the story are very strong, because the events of the tale take place in one location within the period of a two day weekend visit to the Ambient home. There is therefore a powerful continuity and sense of dramatic compression to commend the tale.
But this shaping is undermined by what seems like a shifting point of attention on James's part. Because the story is essentially in three parts, and the problem is that they are essentially different subjects which do not fit well together. The three parts are as follows:
the establishment of the narrator's character
the conflicts between Mr and Mrs Ambient
the death of their son
1. The first part of the story is quite a witty social comedy in which a naive and over-enthusiastic narrator goes in search of his literary hero. He finds him, and regards everybody in the Ambient household through glasses tinted by Pre-Raphaelite Renaissance romanticism. He wants to regard Ambient as a superhuman being, and does everything to convince himself that he is one.
But in fact Ambient behaves towards him just like an ordinary person. He is polite, welcoming, hospitable, but keep a certain distance. There is every reason to believe that the family are going to find the narrator's enthusiasm and his presence something of a bore. He is being set up by James as the over-intrusive fan.
2. But then the second strand of the tale begins to change the tone of the narrative. Mrs Ambient is unsympathetic to her husband's writing; she doesn't even read what he writes; and she has ideological views about the function of art which are at odds with those of her husband. The naive narrator becomes a spectator at this point – so the focus of attention switches away from him and centres upon the domestic conflict between husband and wife.
3. Then in the latter part of the story, attention is focused entirely on Mrs Ambient's erratic behaviour towards her son, the doctor's visits, and eventually the child's death. This is a long way from the light comedy of the story's opening, and in no way connected with it.
Literature that corrupts?
We are led to believe that Mrs Ambient disapproves of her husband's writing because it might even lead to corruption. And of course it is the combination of her reading Ambient's latest work, shutting out the doctor, and failing to give her son his medicine that leads to the boy's death.
If only by implication, we are being asked to accept some sort of connection between these elements here. A little information on the background to the story might help throw light on what was being implied.
James wrote in his notebooks that the germ of the story came to him through his friendship with James Addington Symonds and his wife. Symonds was an English art historian, and a poet who was part of the 'art for art's sake' movement at the end of the nineteenth century. This movement, which included writers such as Oscar Wilde, Walter Pater, and Algernon Charles Swinburne, advocated that true Art should be free of all didactic purpose. That is, it should not seek to teach people moral lessons.
Such is the first level of Mrs Ambient's differences with her husband – because she believes that art should have a moral purpose – and the clear implication from the little we know about Ambient's writings is that they singularly lack this feature. But there is more to it than that.
The art for art's sake philosophy was also a very bohemian movement, propounded by and associated with artists who led what were regarded as somewhat dissolute lives compared with the strict and rather puritanical norms advanced in Victorian England. These people read and associated with what were called 'decadent' poets and writers. They travelled to places such as France and Italy – which at that time was regarded as what we would now call 'sexual tourism'. That is the second strand of Mrs Ambient's differences with her husband and his works. But there is a third strand.
John Addington Symonds was also one of the first English authors to openly defend and even proselytise on behalf of male homosexuality. He was married, with a family, but had been educated at public (that is, private) school and Oxford University, which were the traditional all-male breeding grounds for homosexuality. He wrote in coded form in defence of 'Greek ethics' and 'soldier love'. It is not altogether surprising that his wife took a slightly less-than-enthusiastic view of these matters.
James obviously could not make these issues explicit at the time he was writing, but he was certainly aware of them. So – Mrs Ambient does have some grounds for thinking that her husband's writing might even corrupt his son – and it is all the more surprising that at the end of the story she has begun to read her husband's work – even the infamous Beltraffio.
---
The Author of Beltraffio – study resources

The Complete Works of Henry James – Kindle edition – Amazon UK

The Complete Works of Henry James – Kindle edition – Amazon US

Complete Stories 1884—1891 – Library of America – Amazon UK

Complete Stories 1884—1891 – Library of America – Amazon US

The Author of Beltraffio – Kindle edition

The Author of Beltraffio – Paperback edition – Amazon UK

The Author of Beltraffio – eBook versions at Gutenberg

The Cambridge Companion to Henry James – Amazon UK

Henry James at Wikipedia – biographical notes, links

Henry James at Mantex – tutorials, biography, study resources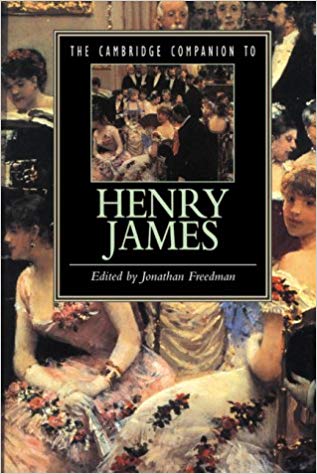 ---
The Author of Beltraffio – plot summary
Part I. A young American fan of the writer Mark Ambient visits him at his country house in Surrey. He interprets everything he sees there in terms of artistic romanticism. He praises the author to Ambient's own wife, who he sees as a figure from a painting by Reynols or Lawrence. She responds to him with a distinct lack of enthusiasm, saying that she is not at all artistic and doesn't even read what her husband writes.
Part II. The narrator interprets Ambient's sister negatively as a Renaissance figure from a painting by Rossetti, and attributes all sorts of unproven opinions and attributes to the two women. At dinner he encourages Ambient to 'talk', which he thinks of as the height of Art. Afterwards, the child is reported to be ill.
Gwendolen Ambient tells the narrator that her sister-in-law disapproves of Ambient's ideas as an influence on the child. When he talks further with Ambient, he takes the author's silences as 'an advance on intimacy'. Mrs Ambient confirms to him that she finds her husband's writing 'objectionable'.
Part III. Next day Gwendolen tells the narrator that Mrs Ambient thinks that books should have a moral purpose, and that she and her husband disagree over possible bad influences on the child. The narrator and Ambient walk in the countryside and discuss Ambient's work as an artist (largely in metaphors). Ambient reveals that differences between him and his wife are of an ideological (religious) nature. Over lunch the narrator cannot understand why Ambient is so tolerant of his wife. Gwendolen reveals that the young boy continues to be ill. Ambient gives the narrator pages from his latest book to read..
Part IV. Whilst Ambient goes to fetch a doctor, the narrator asks Mrs Ambient to read the pages from her husband's latest book – which she does later. It turns out that the boy has diphtheria. Mrs Ambient has been sitting up with him during the night, meanwhile reading Ambient's latest pages. She then dismisses the doctor and locks herself in the room with her son. Gwendolen thinks Mrs Ambient is deliberately bringing about the boy's death, but asks the narrator not to say anything. The child dies; Gwendolen retreats into a convent; then Mr and Mrs Ambient die too – though she has started to read her husband's work shortly before her death.
---
Principal characters
| | |
| --- | --- |
| I | the outer narrator, a young American enthusiast and fan of Ambient's work |
| Mark Ambient | an English author |
| Mrs Beatrice Ambient | his wife, who has different views |
| Dolcino | their beautiful young son |
| Gwendolen Ambient | Ambient's sister |
---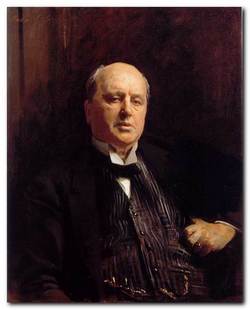 Henry James – portrait by John Singer Sargeant
---
Further reading
Biographical

Theodora Bosanquet, Henry James at Work, University of Michigan Press, 2007.

F.W. Dupee, Henry James: Autobiography, Princeton University Press, 1983.

Leon Edel, Henry James: A Life, HarperCollins, 1985.

Philip Horne (ed), Henry James: A Life in Letters, Viking/Allen Lane, 1999.

Henry James, The Letters of Henry James, Adamant Media Corporation, 2001.

Fred Kaplan, Henry James: The Imagination of Genius, Johns Hopkins University Press, 1999

F.O. Matthieson (ed), The Notebooks of Henry James, Oxford University Press, 1988.
Critical commentary

Elizabeth Allen, A Woman's Place in the Novels of Henry James London: Macmillan Press, 1983.

Ian F.A. Bell, Henry James and the Past, London: Palgrave Macmillan, 1993.

Millicent Bell, Meaning in Henry James, Cambridge (MA): Harvard University Press, 1993.

Harold Bloom (ed), Modern Critical Views: Henry James, Chelsea House Publishers, 1991.

Kirstin Boudreau, Henry James's Narrative Technique, Macmillan, 2010.

J. Donald Crowley and Richard A. Hocks (eds), The Wings of the Dove, New York: W.W. Norton and Company, 1978.

Victoria Coulson, Henry James, Women and Realism, Cambridge University Press, 2009.

Daniel Mark Fogel, A Companion to Henry James Studies, Greenwood Press, 1993.

Virginia C. Fowler, Henry James's American Girl: The Embroidery on the Canvas, Madison (Wis): University of Wisconsin Press, 1984.

Jonathan Freedman, The Cambridge Companion to Henry James, Cambridge University Press, 1998.

Judith Fryer, The Faces of Eve: Women in the Nineteenth Century American Novel, Oxford: Oxford University Press, 1976

Roger Gard (ed), Henry James: The Critical Heritage, London: Routledge, 1968.

Tessa Hadley, Henry James and the Imagination of Pleasure, Cambridge University Press, 2009.

Barbara Hardy, Henry James: The Later Writing (Writers & Their Work), Northcote House Publishers, 1996.

Richard A. Hocks, Henry James: A study of the short fiction, New York: Twayne Publishers, 1990.

Donatella Izzo, Portraying the Lady: Technologies of Gender in the Short Stories of Henry James, University of Nebraska Press, 2002.

Colin Meissner, Henry James and the Language of Experience, Cambridge University Press, 2009

John Pearson (ed), The Prefaces of Henry James, Pennsylvania State University Press, 1993.

Richard Poirer, The Comic Sense of Henry James, Oxford: Oxford University Press, 1967.

Hugh Stevens, Henry James and Sexuality, Cambridge University Press, 1998.

Merle A. Williams, Henry James and the Philosophical Novel, Cambridge University Press, 1993.

Judith Woolf, Henry James: The Major Novels, Cambridge University Press, 1991.

Ruth Yeazell (ed), Henry James: A Collection of Critical Essays, Longmans, 1994.
---
Other works by Henry James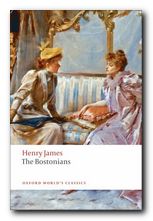 The Bostonians (1886) is a novel about the early feminist movement. The heroine Verena Tarrant is an 'inspirational speaker' who is taken under the wing of Olive Chancellor, a man-hating suffragette and radical feminist. Trying to pull her in the opposite direction is Basil Ransom, a vigorous young man to whom Verena becomes more and more attracted. The dramatic contest to possess her is played out with some witty and often rather sardonic touches, and as usual James keeps the reader guessing about the outcome until the very last page.

Buy the book at Amazon UK


Buy the book at Amazon US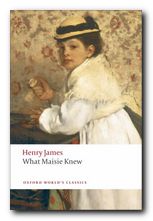 What Masie Knew (1897) A young girl is caught between parents who are in the middle of personal conflict, adultery, and divorce. Can she survive without becoming corrupted? It's touch and go – and not made easier for the reader by the attentions of an older man who decides to 'look after' her. This comes from the beginning of James's 'Late Phase', so be prepared for longer and longer sentences. In fact it's said that whilst composing this novel, James switched from writing longhand to using dictation – and it shows if you look carefully enough – part way through the book.


Buy the book at Amazon UK


Buy the book at Amazon US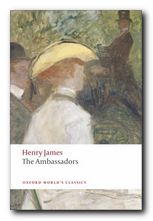 The Ambassadors (1903) Lambert Strether is sent from America to Paris to recall Chadwick Newsome, a young man who is reported to be compromising himself by an entanglement with a wicked woman. However, Strether's mission fails when he is seduced by the social pleasures of the European capital, and he takes Newsome's side. So a second ambassador is dispatched in the form of the more determined Sarah Pocock. She delivers an ultimatum which is resisted by the two young men, but then an accident reveals unpleasant truths to Strether, who is faced by a test of loyalty between old Europe and the new USA. This edition presents the latest scholarship on James and includes an introduction, notes, selected criticism, a text summary and a chronology of James's life and times.


Buy the book at Amazon UK


Buy the book at Amazon US
---
Henry James – web links

Henry James at Mantex
Biographical notes, study guides, tutorials on the Complete Tales, book reviews. bibliographies, and web links.

The Complete Works
Sixty books in one 13.5 MB Kindle eBook download for £1.92 at Amazon.co.uk. The complete novels, stories, travel writing, and prefaces. Also includes his autobiographies, plays, and literary criticism – with illustrations.

The Ladder – a Henry James website
A collection of eTexts of the tales, novels, plays, and prefaces – with links to available free eTexts at Project Gutenberg and elsewhere.

A Hyper-Concordance to the Works
Japanese-based online research tool that locates the use of any word or phrase in context. Find that illusive quotable phrase.

The Henry James Resource Center
A web site with biography, bibliographies, adaptations, archival resources, suggested reading, and recent scholarship.

Online Books Page
A collection of online texts, including novels, stories, travel writing, literary criticism, and letters.

Henry James at Project Gutenberg
A major collection of eTexts, available in a variety of eBook formats.

The Complete Letters
Archive of the complete correspondence (1855-1878) work in progress – published by the University of Nebraska Press.

The Scholar's Guide to Web Sites
An old-fashioned but major jumpstation – a website of websites and resouces.

Henry James – The Complete Tales
Tutorials on the complete collection of over one hundred tales, novellas, and short stories.
© Roy Johnson 2013
---
More tales by James
More on literature
More on the novella
More on literary studies
More on short stories
---