memoirs, commentary, and criticism
This is a collection of memoirs, commentary, and criticism – all of which relate to the Bloomsbury Group and its members – of whom it was said that they were 'a circle of friends who lived in squares and loved in triangles'. Many of the materials are available elsewhere – people's letters, diaries, and various published papers; but these are scattered sources, whereas here they are all shepherded into one single pen, with the title 'Bloomsbury' writ large at the entrance.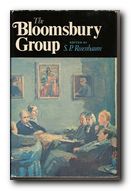 Characters reflect on each other – Virginia Woolf on her nephew Julian Bell, Duncan Grant on Virginia Woolf, Clive Bell on Roger Fry, David Garnett on E.M.Forster, and Leonard Woolf on Lytton Strachey.
Some of the materials are well known because they come from fairly accessible sources, such as Virginia Woolf's diaries, or Gerald Brenan's South from Granada (which contains the hilarious account of Lytton Strachey riding a donkey in the Alpujarras in southern Spain). But others are pieces you would not easily find elsewhere – such as essays from the Memoir Club.
There are also relatively scarce items, such as Adrian Stephen's first-hand account of the Dreadnought Hoax, and Vanessa Bell's memoir of Bloomsbury, as well better-known pieces as Maynard-Keynes' 'My Early Beliefs', which is an account of his youthful days at Cambridge with Bertrand Russell and Lytton Strachey, along with the Apostles under the influence of G.M. Moore.
Many of the longer pieces are written in defence of Bloomsbury, because (though it might seem odd now) it was under a considerable degree of negative criticism from the 1920s onwards. Some of that criticism is reproduced here, which makes the book all the richer for it. The objections of the Leavis camp have evaporated with the passage of time, but I think it's worth recalling them for the sake of historical perspective.
As a repository of social history it relies very heavily on extracts from Leonard Woolf's excellent Autobiography, but as a source for fans of Bloomsbury, this is a valuable resource.
© Roy Johnson 2002

Buy the book at Amazon UK

Buy the book at Amazon US
---
S.R. Rosenbaum (ed), The Bloomsbury Group: A Collection of Memoirs, Commentary and Criticism, Toronto: University of Toronto, 1975, pp.444, ISBN: 0802062687
---
More on biography
More on the Bloomsbury Group
Twentieth century literature
---