tutorial, commentary, study resources, and web links
The Bostonians was first published as a serial in The Century Magazine in 1885-1886, then as a three volume novel in February 1886. It is generally regarded at the high point of what is called the 'middle period' of Henry James' development as a novelist. He had re-visited America in the middle of the decade following the death of his parents; the novel is set in Boston and New York; and it clearly reflects some of his contemporary impressions on the nation, written as a native American. The novel as a matter of fact includes some rather touching reflections on the Civil War, which had only concluded twenty years before (and in which James had not participated). But its principal subject matter is 'The Woman Question' – that is, the conflict between traditional views of the role of women in society, and the views of suffragists and what today would be called supporters of women's liberation.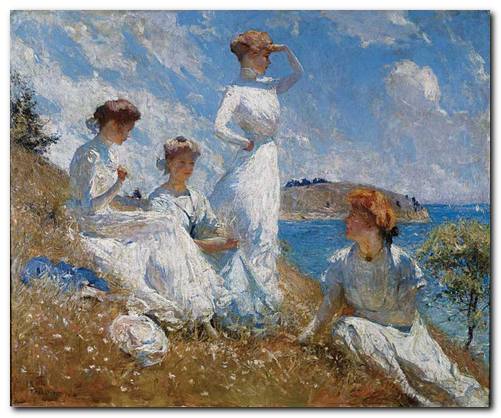 Summer in New England – Frank W. Benson (1862-1951)
---
The Bostonians – critical commentary
Narrative
Henry James uses third person omniscient narrative mode for the majority of the novel. That is, he knows all the events that take place and he reveals the inner feelings and thoughts of his characters. But from time to time he slips into a first person narrative mode to pretend that he has only a partial view of events.
I know not what may have been the reality of Miss Chancellor's other premonitions, but there is no doubt that in this respect she took Verena's measure on the spot.
He also comments on the narrative itself, revealing himself as the author.
If we were at this moment to take, in a single glance, an inside view of Mrs Burrage (a liberty we have not yet ventured on), I suspect we should find that she was considerably exasperated by her visitor's superior tone, at seeing herself regarded by this dry, shy, obstinate, provincial young woman as superficial.
Technically, this is a curious mixture of narrative modes – one moment claiming to know the innermost shifts in his characters' feelings, and the next moment feigning ignorance. It perhaps reflects the ambiguity and uncertainty that he increasing explored into his novels from this period onwards.
It is a very typical James narrative in being composed of a series of rather static tableaux. The locations of the action shift between Boston and New York, but the drama unfolds through a series of meetings where the focus of attention is largely on the psychological state of the characters.
Feminist politics
When the novel first appeared it was criticised by much of its American audience, largely on the grounds that James had satirised some well known figures. More than one hundred years later, these issues have faded, and it is possible to take a more balanced view of the reform movement that he portrays.
It is quite clear that the most active and senior women in the suffrage movement – Olive Chancellor and Mrs Farrage – are depicted negatively as vicious harpies. They are both more concerned with social control mechanisms and feeding their own egos than genuine concern for women as individuals. Even their male counterpart Selah Tarrant is revealed as a tin pot shaman – a bogus snake-oil salesman who virtually sells his own daughter.
But this negative picture is balanced by the positive characterisation of Doctor Prance and Miss Birdseye. Doctor Prance is a professional young woman who puts her own ego to one side in pursuit of her interest in medicine and science. And Miss Birdseye has a life history of genuine devotion to the cause. She has campaigned in the South for the abolition of slavery, and has taught negroes (as James calls them in the language of the period) to read and write.
It is significant that both Miss Birdseye and Dr Prance have friendly relations with Basil Ransom, whereas Olive Chancellor immediately takes a visceral dislike to him.
The Boston marriage
The other major issue in the novel is the relationship between Olive Chancellor and Verena Tarrant – and by implication their separate relationships with Basil Ransom. The term Boston marriage is used to describe two women living together, independent of financial support of a man.
Olive Chancellor has inherited wealth, so she is able to pay off Mr and Mrs Tarrant to take control of Verena and bring her to live under the same roof. However, contemporary readers do not need brass plaques on their doors to recognise that what James depicts on Olive Chancellor's part is a passionate lesbian desire for Verena.
Olive is totally possessive of Verena, and she has an equally passionate hatred of any potential rivals – particularly of men. She repeatedly admonishes Verena for not disliking men generically. Henry Burrage's interest in Verena is abhorrent to Olive, but not nearly as much as that of Basil Ransom. Olive is a general man hater, but in particular she sees the tall Mississippian as an erotic rival.
In fact the whole of the novel is an account of the psychological war between Olive and Basil for possession of Verena. Despite Basil's conservative (Neanderthal) views on the role of women, Verena is eventually attracted to him by what we might nowadays call his personal magnetism and his integrity. In the end she does submit to his wish for a woman who will give up her role in public life for an existence which is entirely domestic.
At the end of the novel she leaves with tears in her eyes which were 'not the last she was destined to shed'. So James leaves the triangular struggle between these characters as a surprising triumph for Basil Ransom, a failure for Olive Chancellor, but a very ambiguous resolution for Verena Tarrant.
The Civil War
Basil Ransom is from Mississippi, and has fought in the Civil War on the side of the Confederates – that is the slave-owning southern states. In fact his family has lost its property (and its slaves) because of the war – which is why Basil has taken up work in the legal profession and moved north to seek employment.
He clings to the aristocratic values of politeness, courtesy, and reactionary social values, and is clearly not suited to the world of commerce in which he finds himself. It is these views and attitudes which arouse the antagonism of (some of) the feminists, because their cause has its roots in the Abolitionist anti-slavery movement in which characters such as Miss Birdseye and Mrs Tarrant's family have been active
In one of the pivotal meetings of the novel Verena Tarrant takes him to look round Harvard University in Cambridge, just outside Boston. There in the Memorial Hall he looks on the names of those who have died on the opposite side.
The effect of the place is singularly noble and solemn … It stands there for duty and honour, it speaks of sacrifice and example, seems a kind of temple to youth, manhood, generosity. Most of them were young, all were in their prime, and all of them had fallen … For Ransom these things were not a challenge or a taunt; they touched him with respect, with the sentiment of beauty. He was capable of being a generous foeman, and he forgot, now, the whole question of sides and parties; the simple emotion of the old fighting-time came back to him, and the monument around him seemed an embodiment of that memory; it arched over his friends as well as enemies, the victims of defeat as well as the sons of triumph.
Henry James was himself from the northern states, and was eligible for conscription when the war began. But he rather conveniently developed a back problem ('that obscure hurt') when it was time to join the Unionist army.
---
The Bostonians – study resources

The Bostonians – Oxford World Classics – Amazon UK

The Bostonians – Oxford World Classics – Amazon US

The Bostonians – Everyman's Library Classics – Amazon UK

The Bostonians – Penguin Classics – Amazon UK

The Bostonians – Modern Library – Amazon UK

The Bostonians – DVD film version – Amazon UK

The Bostonians – eBook formats at Project Gutenberg

The Bostonians – CD audioBook version (unabridged) – Amazon UK

The Complete Works of Henry James – Kindle edition – Amazon UK

The Complete Works of Henry James – Kindle edition – Amazon US

Complete Stories 1884—1891 – Library of America – Amazon UK

Complete Stories 1884—1891 – Library of America – Amazon US

The Cambridge Companion to Henry James – Amazon UK

Henry James at Wikipedia – biographical notes, links

Henry James at Mantex – tutorials, biography, study resources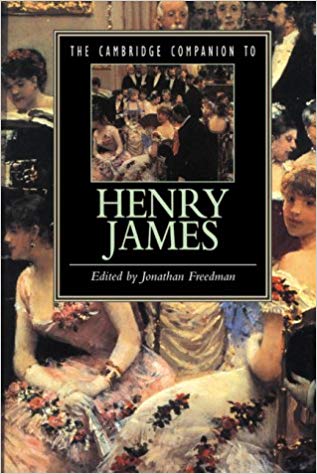 ---
The Bostonians – plot summary
In 1875 young Mississippian lawyer Basil Ransom is invited to visit his cousin Olive Chancellor in Boston. She is a feminist and radical social reformer, who takes him to one of their meetings where he encounter Verena Tarrant, an inspirational speaker. Olive immediately feels a passionate attachment to Verena. Basil likes her as an attractive young woman, but he thinks her 'inspirations' are dubious, and largely influenced by her father, who is a 'mesmeric healer' (and a complete fraud).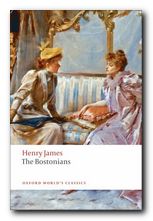 The relationship between Olive and Verena develops rapidly, encourages by Mrs Tarrant, who sees it as a source of social advantage. Mr ('Dr') Tarrant sees it as a potential source of income, which he conspicuously lacks. Olive is so possessive of Verena that she asks her to promise not to marry. Olive wants to control Verena for the cause of greater women's suffrage, but it is clear that she also wishes to control her emotionally. The journalist Matthias Pardon proposes to 'promote' Verena as a money-making attraction, but Olive refuses to allow it. He then proposes marriage instead, but Verena turns down his offer.
Olive then pays the Tarrants (who she dislikes intensely) a large sum to take Verena to live with her, which she does willingly, embracing the suffrage ideology which Olive promotes. However, whereas Verena thinks some men might be acceptable, Olive thinks that all men are not. The two women embark together on a trip to Europe.
Meanwhile, Basil Ransom has not done well in his legal business in New York. He is tempted by what appears to be Adeline Luna's hints of marriage. But when he hears that Verena has returned from Europe he goes to visit her in Boston.
She shows him around Harvard University, feeling that she is betraying the understanding she shares with Olive that men should be discouraged. Ransom patronises and insults her regarding woman's suffrage issues, but it is quite clear that he is deeply attracted to her. A great deal turns on whether their meeting will be revealed to Olive or not.
Ransom is invited to Verena's lecture at Mrs Burrage's house in New York, where he continues to clash ideologically with Olive, is ambushed by Adelina, and realises that he has fallen in love with Verena.
There are repeated scenes of conflict between Ransom and Olive as he contrives to meet Verena privately. Olive interrogates Verena regarding how much contact she has had with Ransom. Verena tells her everything – except the day she spent alone with him in Boston.
Mrs Burrage then summons Olive and asks her to support her son Henry's bid to marry Verena. Olive thinks that this might be less 'dangerous' (as she sees it) than an alliance with Basil Ransom.
Whilst Olive and Verena are in New York, Basil engineers a private meeting with Verena and persuades her to go for a walk in Central Park. There he reveals his literary ambitions to her, and despite their differences over the role of women in society, she becomes more sympathetic to him.
Some months later Basil goes to visit the two women whilst they are on summer holiday, preparing for a major public lecture by Verena. He reveals that he has had an article accepted, and proposes marriage to her.
Verena realises that she is in love with Basil, and is in great anguish regarding his offer, since it would involve her giving up her work as a public speaker. Olive is in even greater anguish, realising that she is in danger of losing Verena to 'the enemy'.
Just as Basil realises he is having an effect on Verena, Olive thwarts him by spiriting her away in collusion with her parents. Basil searches, but cannot find her. But he appears in Boston on the occasion of her major public lecture. His appearance there unnerves her, the lecture does not take place, which causes a scandal, and Basil leaves with Verena in tears.
---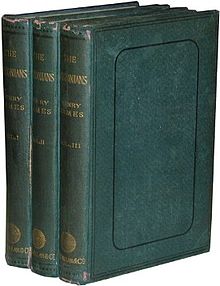 first edition published by Macmillan
---
The Bostonians – principal characters
| | |
| --- | --- |
| Basil Ransom | a lawyer from Mississippi, working in New York |
| Olive Chancellor | a feminist and reformer, living in Boston – Ransom's cousin |
| Mrs Adelina Luna | Olive's younger sister |
| Newton | Mrs Luna's son |
| Miss Birdseye | elderly supporter of women's causes |
| Mrs Farringer | feminist and demagogue |
| Amariah Farrinder | her husband |
| Dr Mary J. Prance | young boyish physician, lodging in same house as Miss Birdseye |
| 'Dr' Selah Tarrant | mesmeric healer and pious fraud |
| Mrs Tarrant | daughter of famous abolitionist |
| Verena Tarrant | their daughter – inspirational speaker – with bright red hair |
| Matthias Pardon | a young publicity-seeking journalist |
| Henry Burrage | art-collecting Harvard 'student' and admirer of Verena |
| Mrs Burrage | society woman – Henry's mother |
| Miss Catching | a librarian at Harvard University |
| Mr Filer | Olive Chancellor's lecture agent |
---
The Bostonians – film adaptation
Directed by Merchant-Ivory (1984)
Starring Christopher Reeve and Vanessa Redgrave

Watch full length movie
---
Further reading
Biographical

Theodora Bosanquet, Henry James at Work, University of Michigan Press, 2007.

F.W. Dupee, Henry James: Autobiography, Princeton University Press, 1983.

Leon Edel, Henry James: A Life, HarperCollins, 1985.

Philip Horne (ed), Henry James: A Life in Letters, Viking/Allen Lane, 1999.

Henry James, The Letters of Henry James, Adamant Media Corporation, 2001.

Fred Kaplan, Henry James: The Imagination of Genius, Johns Hopkins University Press, 1999

F.O. Matthieson (ed), The Notebooks of Henry James, Oxford University Press, 1988.
Critical commentary

Elizabeth Allen, A Woman's Place in the Novels of Henry James London: Macmillan Press, 1983.

Ian F.A. Bell, Henry James and the Past, London: Palgrave Macmillan, 1993.

Millicent Bell, Meaning in Henry James, Cambridge (MA): Harvard University Press, 1993.

Harold Bloom (ed), Modern Critical Views: Henry James, Chelsea House Publishers, 1991.

Kirstin Boudreau, Henry James's Narrative Technique, Macmillan, 2010.

J. Donald Crowley and Richard A. Hocks (eds), The Wings of the Dove, New York: W.W. Norton and Company, 1978.

Victoria Coulson, Henry James, Women and Realism, Cambridge University Press, 2009.

Daniel Mark Fogel, A Companion to Henry James Studies, Greenwood Press, 1993.

Virginia C. Fowler, Henry James's American Girl: The Embroidery on the Canvas, Madison (Wis): University of Wisconsin Press, 1984.

Jonathan Freedman, The Cambridge Companion to Henry James, Cambridge University Press, 1998.

Judith Fryer, The Faces of Eve: Women in the Nineteenth Century American Novel, Oxford: Oxford University Press, 1976

Roger Gard (ed), Henry James: The Critical Heritage, London: Routledge, 1968.

Tessa Hadley, Henry James and the Imagination of Pleasure, Cambridge University Press, 2009.

Barbara Hardy, Henry James: The Later Writing (Writers & Their Work), Northcote House Publishers, 1996.

Richard A. Hocks, Henry James: A study of the short fiction, New York: Twayne Publishers, 1990.

Donatella Izzo, Portraying the Lady: Technologies of Gender in the Short Stories of Henry James, University of Nebraska Press, 2002.

Colin Meissner, Henry James and the Language of Experience, Cambridge University Press, 2009

John Pearson (ed), The Prefaces of Henry James, Pennsylvania State University Press, 1993.

Richard Poirer, The Comic Sense of Henry James, Oxford: Oxford University Press, 1967.

Hugh Stevens, Henry James and Sexuality, Cambridge University Press, 1998.

Merle A. Williams, Henry James and the Philosophical Novel, Cambridge University Press, 1993.

Judith Woolf, Henry James: The Major Novels, Cambridge University Press, 1991.

Ruth Yeazell (ed), Henry James: A Collection of Critical Essays, Longmans, 1994.
---
Other works by Henry James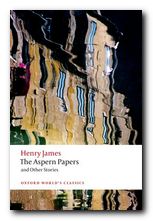 The Aspern Papers (1888) is a psychological drama set in Venice which centres on the tussle for control of a great writer's correspondence. An elderly lady, ex-lover of the writer, seeks a husband for her daughter. But the potential purchaser of the papers is a dedicated bachelor. Money is also at stake – but of course not discussed overtly. There is a refined battle of wills between them. Who will win in the end? As usual, James keeps the reader guessing. The novella is a masterpiece of subtle narration, with an ironic twist in its outcome. This collection of stories also includes three of his accomplished long short stories – The Private Life, The Middle Years, and The Death of the Lion.


Buy the book from Amazon UK


Buy the book from Amazon US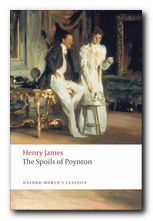 The Spoils of Poynton (1896) is a short novel which centres on the contents of a country house, and the question of who is the most desirable person to inherit it via marriage. The owner Mrs Gereth is being forced to leave her home to make way for her son and his greedy and uncultured fiancee. Mrs Gereth develops a subtle plan to take as many of the house's priceless furnishings with her as possible. But things do not go quite according to plan. There are some very witty social ironies, and a contest of wills which matches nouveau-riche greed against high principles. There's also a spectacular finale in which nobody wins out.


Buy the book from Amazon UK


Buy the book from Amazon US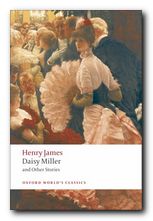 Daisy Miller (1879) is a key story from James's early phase in which a spirited young American woman travels to Europe with her wealthy but commonplace mother. Daisy's innocence and her audacity challenge social conventions, and she seems to be compromising her reputation by her independent behaviour. But when she later dies in Rome the reader is invited to see the outcome as a powerful sense of a great lost potential. This novella is a great study in understatement and symbolic power.


Buy the book from Amazon UK


Buy the book from Amazon US
---
Henry James – web links

Henry James at Mantex
Biographical notes, study guides, tutorials on the Complete Tales, book reviews. bibliographies, and web links.

The Complete Works
Sixty books in one 13.5 MB Kindle eBook download for £1.92 at Amazon.co.uk. The complete novels, stories, travel writing, and prefaces. Also includes his autobiographies, plays, and literary criticism – with illustrations.

The Ladder – a Henry James website
A collection of eTexts of the tales, novels, plays, and prefaces – with links to available free eTexts at Project Gutenberg and elsewhere.

A Hyper-Concordance to the Works
Japanese-based online research tool that locates the use of any word or phrase in context. Find that illusive quotable phrase.

The Henry James Resource Center
A web site with biography, bibliographies, adaptations, archival resources, suggested reading, and recent scholarship.

Online Books Page
A collection of online texts, including novels, stories, travel writing, literary criticism, and letters.

Henry James at Project Gutenberg
A major collection of eTexts, available in a variety of eBook formats.

The Complete Letters
Archive of the complete correspondence (1855-1878) work in progress – published by the University of Nebraska Press.

The Scholar's Guide to Web Sites
An old-fashioned but major jumpstation – a website of websites and resouces.

Henry James – The Complete Tales
Tutorials on the complete collection of over one hundred tales, novellas, and short stories.

Henry James on the Internet Movie Database
Adaptations of James's novels and stories for the cinema and television – in various languages. Full details of directors and actors, production features, film reviews, box office, and even quizzes.
© Roy Johnson 2011
---
More on Henry James
More on literature
More on the novella
More on literary studies
More on short stories
---