Alma Mahler was one of the most famous (some would say infamous) grandes dames of the first part of the twentieth century. She was rich, famous, gifted, and very glamorous in her younger years. And she had a penchant for artists, writers, and men of power that led to a succession of husbands and lovers. She was born in 1879 to a father who was a rather feckless painter and a mother who was an ex-singer. The family eventually became successful via some royal patronage that was common in the Hapsburg Empire at that time. But their rise in fortunes was cut short when the patron shot himself and her father died when she was quite young.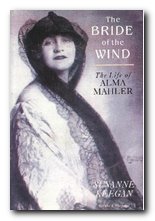 Alma was not close to her mother, and had no time at all for her younger sister. The remainder of her life seems to have been a search for powerful authority-figure substitutes for the father she had lost. As a young woman, obviously aware of her physical attractiveness, she had a series of chaste but coquettish relationships with older men. Her widowed mother married one of her father's artistic colleagues, and Alma mixed at her social ease in the Secessionist artistic circles that were established in Vienna towards the end of the nineteenth century.
One of her first serious connections was with Gustav Klimt, but the relationship was nipped in the bud by her mother, who disapproved of the liaison. When she began to develop her own interests in music in the form of song composition, she engaged the services of Alexander von Zemlinsky. She thought he was hideously ugly, but in order to become his student she flattered him by saying that he was 'becoming too attractive to her'.
This characteristic flirting would persist throughout her life. Nevertheless, she was on the point of giving herself to Zemlinsky when she met Gustav Mahler, a composer who was just on the point of becoming great. He proposed to her on their fourth meeting – on the condition that she give up all thought of her own musical ambitions for herself. There was only to be room for one musician in the Mahler household.
She submitted to this egoism, produced two children, yet kept her musical friendships with Zemlinsky and Pfitzner alive in order to maintain her self-respect. It's perhaps understandable that passages in this excellent biography dealing with her marriage to Mahler are dominated by the husband's professional difficulties and triumphs rather than her own development.
Gustav Mahler achieved great success in Europe and even America where the family lived for the part of each year. But Alma characteristically developed a sense of restless disaffection from her husband, and ended up having a nervous breakdown which called for a sanitorium 'cure'. [This is the era Thomas Mann deals with in his novel The Magic Mountain.]
Whilst taking the cure she met the architect Walter Gropius and started an affair with him. On return to Vienna she was prepared to equivocate between these two attachments, but Gropius upped the ante by writing to Mahler, saying that he wanted to marry his wife. Mahler was devastated, and suddenly found it in himself to support Alma's musical interests – but it was too late. He died shortly after this.
Gropius perhaps wisely, put his relationship with Alma on hold – and she meanwhile temporised with relationships with musician Franz Schrecker and biologist Paul Kammerer – then in 1912 met the artist Oskar Kokoshka.
Their's was a stormy love affair that lasted three years. Kokoshka wanted to marry her, but she resisted shackling herself to a poor and (then) unknown artist. They quarrelled a lot, and he was terribly jealous of her previous attachments, but he produced lots of important work, including his masterpiece The Bride of the Wind which gives this biography its title.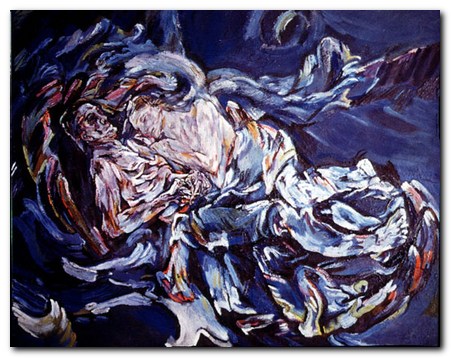 Kokoshka enlisted in the first world war, almost as a gesture of despair about their relationship; he was badly wounded, and whilst he was convalescing she married Gropius.
If the Gustav Mahler episode was not sufficient proof, her relationship with Kokoshka certainly demonstrates to power of Alma Mahler as an inspiring muse to great artists. It's interesting to note just how many of Kokoshka's great paintings were produced around this time.
However, with Gropius she seemed to have found a partner with whom she could find some semblance of emotional tranquillity. She was even eager to start another family with him, which they did in 1915, after a secret marriage. The outcome was her daughter Manon, who proved to be a tragic child who died of poliomyelitis whilst still young.
Gropius was himself called back into the war, leaving Alma to fall in love with the poet Franz Werfel who was ten years younger than her, and just at the start of his career. In 1918 Alma suffered the premature birth (with complications) of her fourth child Martin. Gropius was summoned from military duty on the assumption that the child was his. He discovered fairly rapidly that it was not.
There was a showdown between Gropius, Werfel, and Alma – but she refused to choose between them as husband and lover. Eventually, Gropius agreed to a divorce. He went on to establish the Bauhaus project: Werfel gradually abandoned poetry and wrote instead a series of commercially successful novels, all of which are now completely forgotten.
Alma now had everything she wanted, yet her life continued to be full of restlessness, distress, and antagonism with her daughter Anna, who was married several times, and had an affair with the writer Elias Canetti.
Alma eventually married Werfel, despite their political differences. He was a leftist with non-partisan sympathies for both the communists and the social-democrats: she was an arch conservative who admired Mussolini and was so anti-Semitic she even thought her own children were tainted by 'miscegenation'.
She rejoined the Catholic Church in 1932 and almost immediately started an affair with Father Johannes Hollnsteiner, a professor of theology – an affair that Werfel knew about and tolerated in exchange for a quiet life.
Fortunately, all these dubious goings on are surrounded in this biography by some first rate political mise en scene. There's a very readable account of the collapse of Austria and Vienna in particular amidst the competing factions of fascists, social-democrats, monarchists, and communists.
Despite her right-wing sympathies, when Austria was threatened by Germany in 1938 Alma had the good sense to transfer her money to Zurich, and she escaped with Werfel, ending up in the south of France along with many other European refugees at that time. Their escape route was the now familiar one of Marseilles to Perpignon on the Spanish border; over the Pyrenees in secret; then from Spain to Portugal, and a boat journey to freedom. It was a route travelled by many others, including Victor Serge, Walter Benjamin (who did not survive the suicide capsule he shared with Arthur Koestler), André Breton, Max Ernst, and Marcel Duchamp.
After a rapturous reception in New York Alma settled in California. As her fellow refugee Arnold Schoenberg put it she was 'exiled to paradise'. A comfortable home with a strictly Ayrian butler was established, from which she deemed the Allied forces fighting in Europe were 'weaklings and degenerates'. She thought Hitler was a 'superman' and claimed that the Red Cross facilities in the concentration camps were 'excellent'. When her husband died in 1945 she didn't even go to his funeral.
Yet after Werfel's death she seems to have lost her sense of purpose and direction. She sorted out his papers and wrote her own self-justifying autobiography And the Bridge is Love, and went to live in New York. There were some attempts to retrieve her property in post-war Austria, but when she visited her old home in Vienna it was in ruins. Even the marble had been ripped out to furnish nearby houses.
There was a quasi-reconciliation with her daughter Anna, who was so disoriented she didn't even know who had won the war. They were like characters at the end of Thomas Mann's novel Doktor Faustus. She lived until 1964, still drinking a bottle of Benedictine a day, then at the age of eighty-six the light went out on her life – and on the end of an era.

Buy the book at Amazon UK


Buy the book at Amazon US
© Roy Johnson 2012
---
Susan Keegan, The Bride of the Wind: The Life of Alma Mahler, London: Secker and Warburg, 1991, pp. 346, ISBN: 0670805130
---
More on biography
More on literary studies
More on the arts
---