Vienna – Strasbourg – Paris – Prague
The Play of the Eyes is the third volume of the memoirs of Elias Canetti, a trilogy which I have read with a growing sense of frustration. He was an amazingly clever, talented, and well-connected writer who at only twenty-six produced what has become a European modernist classic novel (Auto-da-Fé) he won the Nobel Prize for literature in 1981, and he was personally acquainted with some of the most prestigious artists of the modernist period of the early twentieth century – Karl Kraus, Bethold Brecht, Georg Groz, Robert Musil, Hermann Broch, Alban Berg – and yet he tells you almost nothing about them. Every attempt at a character sketch or an artistic evaluation is shrouded by either abstract generalizations, his own egoism – or both.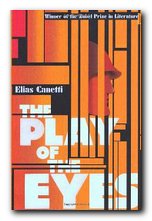 When Hermann Broch is given a chapter of his own we are presented with nothing except Canetti's own reactions to him, including the quite ridiculous notion that Canetti was able to detect Broch's secret method for penetrating insights into other people through his manner of breathing. When introducing the conductor Hermann Scherchen he ends up talking about his own play The Wedding, how powerfully moving it is, and how talented must be the writer who can create such moving effects. It is not surprising that he is somewhat unloved by most commentators.
He moves on to describe Alma Mahler (the composer's widow) and falls in love with her daughter Anna, a sculptor, through whom he meets her tutor Fritz Wotruba, who was considered one of the more avant-gard artists of the Vienna Sezession movement. He doesn't bother explaining what his wife Veza thought about his affairs with other women.
In fact there is very little by way of personal revelation of the kind you might normally expect in someone's memoirs. He makes no mention of his emotional life, which was very complex; there's nothing about his family, which was very important in the first volume, The Tongue Set Free; and it's not at all clear how he earned his living – or even if he earned it at all.
The most moving chapter is a description of the funeral of Manon, Alma Mahler's daughter from her second marriage to the architect Walter Gropius. Manon died of polio at the age of only eighteen, and the occasion was immortalized in the violin concerto Alban Berg wrote and dedicated 'To the memory of an angel'. Canetti manages to combine a heartfelt tribute to the girl with a fulsome picture of her grieving mother which is tinged with satire (Alma Mahler was well known for very theatrical public displays).
Even after his marriage and the publication of Auto-da-Fé in 1935, the long-running conflict with his mother continues just as intensely as it is described in the first two volumes. On a visit to her in Paris she predicts what will happen to him with amazing critical zeal and foresight:
She saw me surrounded by women, who would worship me for the 'misogyny' of Auto-da-Fé and long to let me chastise them for being women. She saw a fast-moving procession of bewitching beauties at my home in Grinzing, and in the end she saw Veza [his wife] banished and forgotten in a tiny apartment just like her own in Paris.
And sure enough, the very next chapter is a self-indulgent description of a nineteen year old girl fan throwing herself at him in a night club.
The general picture he creates of Viennese artistic circles is one of snobbery, one-upmanship, rivalries, and undisguised private enmities. This is mixed in his own case with a marked degree of self-loathing that seems to be endemic in Austrian culture (one thinks of the extreme case of Thomas Benhard).
He makes a laughing stock out of the biographer Emil Ludwig. Robert Musil cuts him dead for daring to mention the very name of Thomas Mann. Heimito von Doderer is reduced to a vain fool. No doubt all these people had character flaws: writers are not renowned for being models of virtue – but Canetti seems to relish negativity, just as he elevates his personal heroes into saints.
The book ends with his mother's death in 1937 – which is another quite moving chapter. Two years later he moved to live in Hampstead, London, a story which is taken up in the continuation to this grizzly but fascinating memoir, Party in the Blitz

Buy the book at Amazon UK

Buy the book at Amazon US
© Roy Johnson 2012
---
Elias Canetti, The Play of the Eyes, London: Granta Publications, 2011, pp.329, ISBN: 1847083552
---

Volume One of the memoirs — The Tongue Set Free

Volume Two of the memoirs — The Torch in My Ear

Volume Three of the memoirs — The Play of the Eyes

Volume Four of the memoirs — Party in the Blitz
---
Twentieth century literature
More on biography
---