authors, books, literary topics, and cultural issues
This Concise Companion to English Literature is a cut-down paperback version of Margaret Drabble's Oxford Companion to English Literature. It's based on the sixth edition, but it adds 500+ new entries on contemporary writers, 'women writers' and literary theorists. The main entries are thumbnail sketches of novelists, poets, and dramatists; but there are also entries representing philosophers, historians, scholars, critics, biographers, travel writers, and journalists.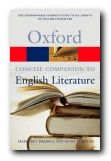 Topics covered include authors (from Abelard to Zola); literary genres (from the Absurd to yellow-backs); characters in fiction, drama, and poetry; famous works (Lawrence's Aaron's Rod to Max Beerbohm's Zuleika Dobson); famous literary places, and concepts in literary theory. There are bonuses, such as the occasional special mini-essays on topics such as biography, or detective, gothic, and historical fiction. It also explains literary genres such as free verse, the epic, metaphors, and naturalism.
It more or less reflects contemporary concerns: Sorley McLean and Marshall McLuhan get far less space than Bernard McLaverty.
The extras are entries on significant magazines such as Edinburgh Review and Atlantic Monthly; entries on deconstruction, folios and quartos; the Hogarth Press and Penguin Books; performance poetry and post-colonial literature.
There are also appendix lists of poets laureate, plus Nobel, Pulitzer, and Booker Man prizewinners for literature.
One useful feature is the potted plots of novels and dramas. I'm fairly sure I will be going back to that, having refreshed my memory of the sprawling plot of Malcolm Lowry's Under the Volcano.
For those of us who were denied a classical education, there's a generous outline of its main authors, texts, and characters – from Aristophanes and Aristotle to Virgil and Xenophon.
This is the sort of reference book which you will grab off the shelf the moment you see a name you don't recognise, when you want to check the date, the author, or the correct title of a work you see mentioned, or if you want to know about 'The Battle of Alcazar' (1594) or 'The Wreck of the Deutschland' (1875).
© Roy Johnson 2005

  Buy the book at Amazon UK

  Buy the book at Amazon US
---
Margaret Drabble and Jenny Stringer, The Concise Oxford Companion to English Literature, Oxford: Oxford University Press, 3rd edition, 2003, pp.752, ISBN: 0199214921
---
More on dictionaries
More on language
More on literary studies
More on grammar
---