Vita Sackville-West's best-selling novel
The Edwardians first appeared in 1930, and was a deliberate attempt on Vita Sackville-West's part to write a best-seller. The amazing thing is that like so many of the other things she did in her rich and unusual life, she succeeded. It sold 20,000 copies in its first two months, outstripping the success of her friend, lover, and fellow author Virginia Woolf. It's a story of the aristocratic milieu from which she herself sprang, and is a rich blend of sentimental nostalgia for a world which had almost disappeared by the time she came to write it, and a critical analysis of some of the reasons why that disappearance occurred.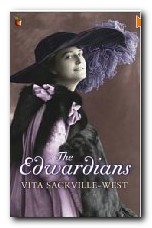 The principal characters are from a single grand family: Lucy a widowed baroness, Sebastian her young Duke-to-be son, his sister Viola, and the glamorous Lady Roehampton who becomes his mistress. But the main character is the Elizabethan house where they live – served by its small army of servants. What makes her account of the period artistically successful is that she divides the tensions in her own opinions between the various characters. All the positive portrayal of the Edwardian haute monde is given full force, but it is offset by the sceptical views of outsiders such as the explorer Leonard Anquetil who sees through the shallowness and pointlessness of the characters' lives.
The writing is elegant, well-paced, witty, and vocabulary-rich without being intimidating – all qualities which West's original publisher Leonard Woolf correctly predicted would make the book a best-seller. She's rather a playful narrator, speaking to the reader, or pretending that there are things which must be left unsaid, out of deference to propriety:
"It makes one's blood run cold, doesn't it, to think of the hands one's letters might fall into? I suppose it's a letter to …" and here she uttered a name so august that in deference to the respect and loyalty of the printer it must remain unrevealed.
West keeps the narrative very firmly in her own hands as an omniscient narrator. And at times she is given to brief apercus which are like a watered-down version of Proust. The explorer Anquetil reflects on his brief invitation to a weekend party at the Great House:
For his own part, he felt convinced that he would never see Chevron again; the incident would be isolated in his life; he was too active for England ever to hold him long, and already he had other plans in preparation, but the short incursion into this strangely segregated world had surprisingly enriched him, as one is enriched by any experience one had believed to be entirely outside the scope of one's sympathies, and which unexpectedly acquires a life of its own in a new reach of one's comprehension.
The only plot as such is the succession of affairs embarked on by Duke-to-be Sebastian as he vainly attempts to break free from the weight of tradition in which the House, the Estate, and family expectations gradually engulf him. A much larger issue is the conduct of the entire class itself, and how it tries to preserve itself through property, marriage, and inheritance. This is satirically presented, and is counterbalanced by a surprisingly sympathetic view of the new and rising forces of the Edwardian era which, together with the imminent debacle of 1914-18 would virtually wipe it off the map altogether.
The novel offers a wonderfully rich lesson in the social history of a bygone world: not only the fine details of social ranking below and above stairs, but such arcana as the distinctions between a carriage, a victoria, and a brougham as modes of transport, plus the social niceties of giving offence whilst appearing to be polite by proffering two or three fingers instead of the full five when shaking hands.
Vita Sackville-West was herself an aristocratic snob of the highest order, but this novel is proof positive that gifted authors can rise above the limitations of their own opinions to create a picture of the world which is rich, complex, and even capable of expressing values which they themselves do not hold. Highly recommended.
© Roy Johnson 2004

Buy the book at Amazon UK

Buy the book at Amazon US
---
Vita Sackville-West, The Edwardians, London: Virago, 2003, pp.349, ISBN 0860683591
---
More on Vita Sackville-West
More on the novella
More on literary studies
More on short stories
---