tutorial, critical commentary, plot, and study resources
All Passion Spent first appeared in 1931 under the imprint of the Hogarth Press, the independent publishing house run by Leonard Woolf and his wife Virginia. Vita Sackville-West had been Virginia Woolf's lover and they remained good friends, yet they were rivals in literary popularity. Readers today might be surprised to know that Vita Sackville-West's work around this time sold more copies than that of Virginia Woolf. Sackville-West had best-sellers with The Edwardians (1930) All Passion Spent (1931), and Family History (1932) all of which which portrayed English upper-class manners and life in a critical and often satirical manner.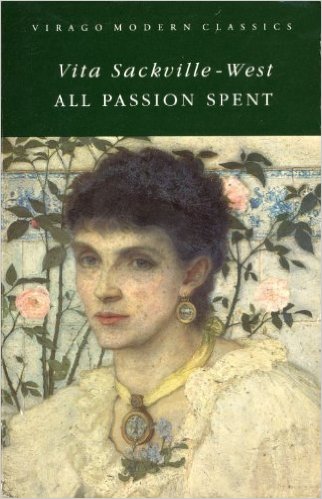 ---
All Passion Spent – critical commentary
Biographical interpretation
Two years before the publication of this novel Vita Sackville-West had suffered the emotional shock of losing her beloved home at Knole when her younger brother inherited the title of Baron Sackville-West on the death of their father. She was passionately attached to the ancestral home, which was known as a calendar home – with 365 rooms, 52 staircases, 12 entrances, and 7 courtyards. It was a disappointment, but the traditional laws of primogeniture meant that inheritance passed automatically to the eldest male heir – both property and title.
As a form of compensation for this disappointment, Vita Sackville-West and her husband Harold Nicolson bought the run down castle at Sissinghurst (Kent) and began its restoration into what is now a world-renowned country house and gardens. This experience might account for the issues of inheritance, property, and the attachment to particular houses that forms the substance of All Passion Spent.
Sackville-West is exploring the issues of spiritual empathy that Virginia Woolf had outlined in Mrs Dalloway (1925). Woolf's principal characters Clarissa Dalloway and Septimus Smith never meet each other, but their thoughts and attitudes are linked through a series of literary symbols and congruence of attitude, such that when Septimus-Smith commits suicide at the end of the novel, Clarissa Dalloway understands completely why he has done so.
Deborah, Lady Slane, and Mr FitzGeorge have a similar relationship – except the understanding is on his part. He had been struck by her (even 'fallen in love with her') as a younger woman when they met in India – he a rich young traveller, and she the wife of the Viceroy. Forty years later he meets her and in an amazing frank and revealing conversation explains how he understands the sacrifices she has made in her life – abandoning her aspirations to be a painter in order to become the wife of a politician.
FitzGeorge is a rich and spoilt bachelor who collects art objects, and Lady Slane is the wife of a very successful politician and diplomat, yet this scene is the artistic highpoint of the novel. Sackville-West does not supply any evidence as to how or why FitzGeorge should have this special insight into Lady Slane's personal 'tragedy' (after all, he is a crusty old private bachelor) but if we as readers are prepared to suspend our disbelief, this is a plea for intuitive understanding and sympathetic recognition of shared values that transcends gender, class, and age group.
This notion is reinforced by the concluding scene of the novel when Lady Slane's great grand-daughter reveals that she rejects the family's greedy and acquisitive values and wishes to be a musician. Lady Slane sees her own early life reflected in the girl's aspirations and feels reassured that this alternative, independent system of values is still alive – even though she dies at this point in the narrative.
Feminism
The feminist notions which pervade the novel should be easily apparent to most readers. Lady Slane has the glimmer of aspiration to an independent existence which comes to her as a young woman. She has the idea of becoming a painter. So far as we know, she does not make a single brush-stroke across a canvas – so there is no evidence that she is in possession of any creative potential: the whole idea goes unexamined. But this is not the point. Any such aspirations are completely ignored by the weight of family and social conventions which force her into a marriage.
Sackville-West does not take a simplistic attitude to this situation. Deborah Lee (to give Lady Slane her maiden name) does not love the man she marries, but she has a reasonably happy married life, has a large family, and is successful as wife to the Viceroy to India, but her socially unacknowledged personal ambition is rather like the grit in the oyster which produces the pearl that is her vision of an alternative life.
Satire
Sackville-West offers a vision of upper-class life that spares no criticism or satirical edge. The novel begins with a six page eulogy to the Earl of Slane who has just died, detailing his public service to parliamentary life in way that makes it quite clear he is a an unthinking nonentity who has done nothing in his life except what the tradition of his class laid before him.
Lady Slane has done the same thing during her lifetime, but the point of the novel is that she had the spark of something more creative within her. She has suppressed this impulse whilst raising her family, but she makes a bold move to express it at the end of her life when she has the opportunity, and she is happy to see the same seeds of creativity in her great-grand-daughter just before she dies.
This criticism of class attitudes extends to the whole Holland family. Lord Slane didn't even like his children and his wife only felt sympathetic to two of them – the eccentric bachelor Fay and the awkward visionary Edith. But the rest of their children, all conventionally married, are revealed as grasping and hypocritical toadies who pretend to be concerned for their ageing mother but actually do not want the responsibility of looking after her for entirely selfish reasons.
---
All Passion Spent – study resources

All Passion Spent – Paperback – Amazon UK


All Passion Spent – Paperback – Amazon US

All Passion Spent – (Kindle) – Amazon UK


All Passion Spent – (Kindle) – Amazon US

All Passion Spent – DVD – Amazon UK


All Passion Spent – DVD – Amazon US
---
All Passion Spent – chapter summaries
Part I
On the death of Henry Holland, the Earl of Slane, the members of his large family are faced with the problem of what to do with their elderly mother, whom they regard as rather simple-minded. They discuss the issue of inheritance in a greedy and competitive manner, all the time protesting their lack of self-interest. They pretend to welcome the responsibility of looking after their mother, which they all secretly wish to evade.
The elderly bachelor son Kay Holland has dinner with an old friend FitzGeorge, who knew Lady Slane in India. There are preparations for a funeral in Westminster Abbey, during which time the mother assumes an unusual degree of authority. After the funeral she suddenly announces that she wants to live in a little house in Hampstead she saw thirty years before – and she doesn't want any grand-children or her great-grand-children visiting. The family are all shocked – except Edith, who is delighted.
The mother gives away all her jewellery to her eldest son and his wife. She then travels by tube to Hampstead thinking about her late husband and how he didn't really like his children, except for Edith. She feels a quasi-mystic union with the empty and dilapidated house. The eccentric owner Mr Bucktrout has similar ideas to those of Lady Slane on enjoying old age and avoiding young people. He approves of her as a tenant and is almost reluctant to set the rent.
The family are horrified by the casual nature of this tenancy. Lady Slane and her maid Genoux get on well with the craftsman Mr Gersheron, and Mr Bucktrout begins to present Lady Slane with flowers. They discuss his theories about the imminent demise of the world.
She realises that she has lived at one remove from understanding the world, but now feels more relaxed about it. She rejects the idea of strife and competition, and wishes only to enjoy the support and comforting presence she feels with Mr Bucktrout and Mr Gershon.
Part II
Lady Slane luxuriates in the comfort and solitude of the house and its garden. She looks back on her life and examines the forces that have shaped it. As a girl of seventeen she had a romantic ambition to be a painter, but under family and social pressures she became engaged to Henry Holland. The preparations for their marriage were like an arcane ritual which left her completely puzzled.
At the time, she was not in love with Henry, and she was very conscious that he would continue to enjoy all the freedoms of masculine life, whilst she would gain nothing as a woman except the responsibility of being eternally on hand to look after him. Nevertheless, she felt that she could not escape the weight of expectations placed upon her.
Henry became a faithful and patronising husband, and she became a devoted wife, even though she sacrificed all her ambition to fulfil her role as a wife and mother. She now wonders about the foundation of her own individuality, as a separate entity to her husband, and she questions the relative values of the life he has offered her and the potential life that he has taken away from her. Apart from her favourites Kay and Edith she feels that all her other children belong to Henry.
Part III
Lady Slane lives in seclusion in the Hampstead house with her maid Genoux. Her relatives call infrequently and great-grandchildren are more or less forbidden. She receives a visit from Kay's friend Mr FitzGeorge who flatters her and brags about his collection of precious objects. He appreciates her almost as a work of art in her own right. He recalls their meeting in India and confesses that he fell in love with her, then moves on to criticise her husband. He reveals to her the truth about the sacrifice she has made in marrying. She admits that he is right, and they agree to remain friends.
Kay Holland notices that his friend FitzGeorge isn't at the club so often, and is glad that he has stopped asking for an introduction to Lady Slane. But then FitzGeorge suddenly dies, leaving his valuable collection of art objects to Lady Slane. The family members immediately assemble with offers to 'help' her, their covetousness and self-interest flimsily masked by a completely insincere pretence of concern. Lady Slane consults Mr Brooktrout and devises a plan to donate the treasures to the nation's museums.
The family are horrified. Lady Slane remains at a distance from them and keeps track of their doings via the services of a press-cuttings agency. Finally, she is visited by her great grand-daughter who bears her own name and wants to be a musician, rejecting the family's conventional values. The two of them share an appreciation of independently-generated values and an understanding of each other which spans the generations. Following this meeting of minds Lady Slane dies at the age of eighty-eight.
---
All Passion Spent – characters
| | |
| --- | --- |
| Henry Holland | the Earl of Slane, who has just died |
| Deborah, Lady Slane | his widow |
| Kay Holland | elderly son of the family, a bachelor |
| Mr FitzGeorge | his friend, a bachelor art collector |
| William Holland | another son, frugal and stingy |
| Lavinia | William's equally frugal wife |
| Genoux | Lady Slane's French maid |
| Mr Bucktrout | eccentric owner of the Hampstead house |
| Mr Gorshon | an eccentric craftsman and builder |
| Deborah Lee | Lady Slane's great-grand-daughter |
© Roy Johnson 2016
---
More on Vita Sackville-West
More on the novella
More on literary studies
More on short stories
---