concise guide to navigational and usability theory
Usability has so far been dominated by the work of Jakob Nielsen – but now there are new voices emerging. John Lenker recently set out his ideas on what he calls 'flowpaths', and now here comes Jesse James Garrett with The Elements of User Experience, which is his pitch on the essence of navigational clarity in web design. First he argues the case for user-centred design. All sites must be organised to make it easy for visitors to find what they want. He has had a diagram on his web site for some time now illustrating the point.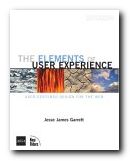 This book is an amplification of that basic concept. It's an idea that the user experience is enacted at five levels. These correspond to the way in which a site is constructed: Surface – Skeletal – Structure – Scope – Strategy. They represent each part of our engagement in a web site – from the buttons we press, the way they are arranged, the design of pages, the links between them, and how all aspects of a site are co-ordinated to deliver its essential purpose. He is wise enough to realise that everything does not easily fit into such convenient categories, but he then explores each level in depth.
First comes the strategy document – a concise statement of the project's objectives. He's very keen on clarifying aims, drawing up specifications, and making content inventories. The idea of all this is to prevent 'mission creep'.
Interestingly he doesn't pad his argument out with lots of examples, but concentrates on explaining each level of his basic concepts in depth. He has an easy style, and he avoids jargon.
He's very good on making subtle distinctions – between for instance information architecture and information design. And like many recent commentators, he argues the case for having multiple navigation systems. After all, why not give visitors to a site a variety of routes for getting from one place to another.
It's at this point that the book becomes most interesting – when he looks at the details of information architecture and shows how they must be related to what appears on the page. There's some excellent advice on using wireframes here for instance. These are the outline plans which show the underlying structure of a given page.
This is a clear and refreshingly concise account of planning, organising, and thinking through the design of a successful Web site. It's a book which gives an overview of site-building concepts, and it will appeal to site designers as well as to project managers and usability consultants.
© Roy Johnson 2003

  Buy the book at Amazon UK

  Buy the book at Amazon US
---
Jesse James Garrett, The Elements of User Experience, Indianapolis (IN): New Riders, 2003, pp.189, ISBN: 0735712026
---
More on information design
More on design
More on media
More on web design
---