tutorial, commentary, study resources, and further reading
The End of the Tether was written in 1902 and collected in Youth, a Narrative and Two Other Stories, published by William Blackwood in 1902. The other stories in the trio were Youth and Heart of Darkness.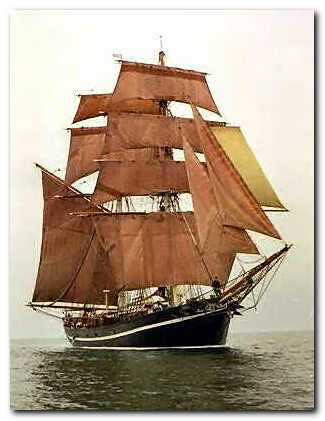 ---
The End of the Tether – critical commentary
Story – Tale – Novella – Novel?
This narrative is too long, complex, and rich in dramatic incident to be considered a story in the modern sense of that term. Not that Conrad generally considered his shorter fictions stories: he used the tern tales to describe them. And The End of the Tether might be considered a tale – except that the term tale as a literary category is elastic and ill-defined. It can be used for any sort of shapeless narrative that falls short of a full length novel.
The End of the Tether could almost be classified as a short novel. It has a central, fully-rounded protagonist in Captain Whalley, and the secondary characters of Massy, Sterne, and Van Wyk are all fully developed with convincing psychological motivations firmly anchored to the plot.
But it seems to me that the concentration of the main theme (money) and the dramatic unity of events lends the narrative to be classified as a novella. There are no decorative or superfluous passages here. Every event is strongly related to the overall effect.
It's true that there is no central image or symbol – unless it is the Sofala itself. It is owned by one man (Massy) who has financial problems of his own making, and it is captained by another (Whalley) who also has financial problems – caused partly by the international capitalist banking system, and partly by his obsessive desire to provide for his daughter.
The ship has faulty boilers which should have been replaced by its owner (but he has gambled away his money); the crew are a dubious collection of individuals, and one of them (a drunk) correctly predicts that the ship will be deliberately shipwrecked for the sake of the insurance money.
So the tragic hero figure (Whalley) is firmly related to the central symbol of the novella – a doomed ship which is on its last voyage. It is therefore entirely fitting in terms of the demands of dramatic unity that Whalley goes down with the ship.
The tragic hero
Whalley is a tragic hero in the classical sense that the very characteristics which make him noble and heroic – his desire to finance and protect his own daughter – are the very things that bring about his downfall. And he falls from a great height – the former captain of famous ships, with a fortune and with an island and a nautical passage named after him.
Whalley struggles to maintain his sense of honour and does the right thing for the ship and what he feels is an obligation to support his daughter – whilst he is yoked to an unscrupulous villain, a moral shirker, and a desperate antagonist who has one advantage over him: he can see what he is doing.
The main theme
Despite its setting as a maritime tale (like so many of Conrad's other works) the essential theme of this piece is money.
Whalley has amassed a fortune through hard work and honest dealing – but it is largely swallowed up by the collapse of a bank.
He had not been alone to believe in the stability of the Banking Corporation. Men whose judgement in matters of finance was as expert as his seamanship had commended the prudence of his investments, and had themselves lost much money in the great failure.
After selling the Fair Maid he is left with a lump sum of £500 and £200 for his daughter's dubious investment in the Australian lodging house. He is quite prudent with the £500, and ties it into the agreement with Massy for a fixed period, with strong protection clauses. But it does tie him to co-operation with a villain.
Massy on the other hand is entirely motivated by dreams of easy wealth. Having won the lottery once, he has become addicted to gambling, and his greed is such that he cannot believe that Whalley hasn't got more than the £500. Massy wants to exhort more money from him – not to promote their business ventures, but to fuel his gambling lust.
He is prepared to shipwreck the Sofala in order to claim the insurance (as its owner) and Whalley (as its captain) is eventually prepared to go down with his ship because he cannot face his incipient blindness, which deprives him of the very skill that made his fortune in the first place.
Conrad deploys a bitterly ironic twist when Captain Whalley puts into the pockets of his own jacket the very pieces of scrap iron Massy has used to deflect the ship's compass. Whalley knows that it is possible for bodies to resurface from the maelstrom of a sinking ship, and he does not want to survive his own watery grave.
---
The End of the Tether – study resources

The End of the Tether – Collector's Library – Amazon UK

The End of the Tether – Collector's Library – Amazon US

The End of the Tether – Kindle eBook

The End of the Tether – Penguin Classics – Amazon UK

The End of the Tether – Penguin Classics – Amazon US

The End of the Tether – Aeterna Editions – Amazon UK

The End of the Tether – Aeterna Editions – Amazon US

The End of the Tether – eBook versions at Project Gutenberg

Joseph Conrad: A Biography – Amazon UK

The Cambridge Companion to Joseph Conrad – Amazon UK

Routledge Guide to Joseph Conrad – Amazon UK

Oxford Reader's Companion to Conrad – Amazon UK

Notes on Life and Letters – Amazon UK

Joseph Conrad – biographical notes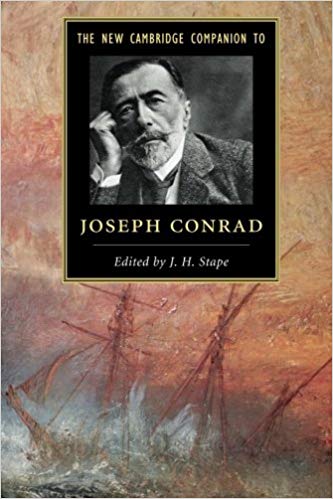 ---
The End of the Tether – plot summary
Part I. Henry Whalley is captain in charge of the Sofala which makes regular trade journeys on a fixed route in the Malay archipelago. He has previously been captain of a much bigger ship, the Condor, has made famous voyages, and has been fifty years at sea, with an honourable record. But he has lost most of his money in a banking crash.
Part II. Having married off his daughter, he retired with his own ship the Fair Maid. He is much given to reminiscence about his wife (now dead) who he regarded as a shipmate. He has given his daughter a large sum of money on her marriage to a man he thinks an unsuitable choice of husband.
He is planning what he will leave to her and her children when the bank wipes out his fortune. He realises that he will have to earn a living with the Fair Maid. But he discovers that all his old business contacts in the shipping world have gone – replaced by younger people he doesn`t know. Then his son-in-law becomes a wheel-chair invalid.
Whalley cuts back on his own personal expenditure in order to send money to his daughter, but then she asks him to send her £200 to become the landlady of a boarding hose – and he doesn`t have the money.
Part III. Whalley sells the Fair Maid, after which he has £500 to invest and £200 to send to his daughter. He moves into a cheap hotel and feels both homeless and bereft.He has spent all his life in command of ships, and now feels he has nothing. He also thinks that his daughter Ivy being landlady of a boarding house is a slur on his family`s reputation.
Part IV. He wonders what employment he might secure, and fears the consequences of breaking into his £500 life savings. On meeting a government official he thinks back to his earliest days in the port when it was quite undeveloped.
Part V. He meets Captain Elliot, master-attendant of the port who brags about his government connections and complains that having three daughters is a drain on his prospects. Elliot then reveals that the Sofala is looking for a captain. It is owned by George Massy its current engineer, who bought it with winnings from the Manilla lottery. It is currently losing trade, and Massy is spending all his money gambling. Elliot suggests that the only solution would be for Massy to locate a partner who could buy into the business.
Part VI. Whalley invests his £500 in the Sofala for three years and a sixth part of the profits, with a stipulation that if anything happens the money is paid back entirely to Ivy within three months. The narrative then rejoins the opening of the story as the Sofala approaches Batu Bera, and Whalley`s agreement (almost three years old) has six weeks left to run.
Part VII. Massy is a cantankerous owner who thinks everybody else is a fool and beneath his contempt. He bitterly resents Whalley being the ship's captain. The second mate Jack is a drunken loner whose occasional binges result in imprecations for all members of the Sofala crew past and present with the exception of Massy.
Part VIII. Whalley concentrates on the difficulty of getting the ship across the bar near their destination – and does so with very little depth to spare. Massy threatens to sack Whalley for incompetence. Massy has included a dismissal clause in their agreement for intemperance, and has been aggrieved to discover that Whalley does not drink at all. He also believes that Whalley must have lots more money and wants him to invest more in their joint venture.
Part IX. The ambitious and sneaky chief mate Sterne tries to get promotion from Massy by criticising Whalley. Sterne has been on the Sofala hoping to profit from what seems to him an odd state of affairs. Then when the ship is being navigated through an archipelago, he makes what he believes is an important discovery from which he might profit.
Part X. He arrives at his discovery via his peevish contemplation of Whalley and his loyal henchman, the native Serang – likening them to a whale and its pilot fish. Sterne thinks Whalley is perpetrating a giant fraud, motivated by greed, He thinks the Serang is secretly in charge and that Whalley is losing his sight. Sterne thinks it is time to act, but isnt sure what to do and cannot trust anyone else.
Part XI. Sterne confronts Massy and asks for the job of master of the Sofala. Massy is eaten up by his obsession with lottery numbers, buying tickets for which has brought about his financial downfall. He even resents the wages he has to pay his own crew. Most of all he resents Whalley and their agreement. The ship finally docks at Batu Bera and is met on shore by Mr Van Wyk.
Part XII. Former sailor Van Wyk has established a thriving tobacco plantation- but he relies on regular visits from the Sofala for news and supplies, including his mail. Because the ship is late, Van Wyk blames Massy, and Whalley goes to dinner at Van Wyk's house, hoping to placate him. Over the years the two naval men have got on well together: Whalley sees improvements everywhere, whereas Van Wyk is slightly more sceptical. Despite these differences, the two men are good friends.
Part XIII. Sterne has attempted to poison Van Wyk's mind against Whalley, hoping he will be sacked fromthe ship, leaving him to take over its captaincy. But Van Wyk thinks Sterne is a sneak and a trouble-maker. Over dinner, Whalley reveals to Van Wyk that he is going blind. He has been concealing the fact for the sake of the money he is going to send to his daughter.
Hoping to head off Sterne and protect his friend Whalley, Van Wyk visits the Sofala and suggests to Sterne that he might advance a loan and join Whalley for the ship's last trip under the agreement. Massy stays on board thinking about winning lottery numbers and listening to the second mate's drunken ramblings as he predicts that Massy will sink the old ship to collect the insurance money.
Part XIV. Massy harasses Whalley again to extend their partnership. He cannot believe that Whalley hasn't got more money than £500. Massy is motivated entirely by a desire for easy welth and even plans to gamble on the lottery with a winning number that has come to him in a dream. Whalley meanwhile worries about getting the £500 to his daughter.
Massy plans a shipwreck and plants scrap iron in his coat next to the ship's compass during a night watch. Whalley discovers the coat just as the ship strikes a reef. The crew escape in lifeboats. Feeling he has lost everything, Whalley transfers the scrap iron into his own coat and goes down with the ship.
At the following inquest no blame is attached to Whalley. Massy goes off with the insurance money to gamble in Manilla, and Ivy receives a letter confirming that her father is dead.
---
Joseph Conrad – video biography
---
The End of the Tether – principal characters
| | |
| --- | --- |
| Henry Whalley | experienced sea captain and widower |
| Ivy | his daughter |
| Captain Ned Elliot | master-attendant of port |
| George Massy | engineer and owner of the Sofala |
| Sterne | scheming first mate on the Sofala |
| Jack | drunken second mate on the Sofala |
| Mr Van Wyk | a Dutch ex-naval tobacco planter |
---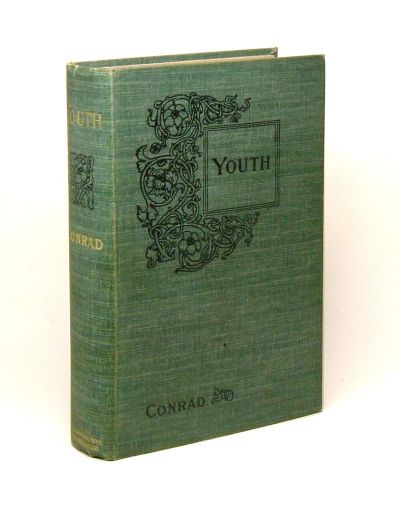 first edition, Blackwood 1902
---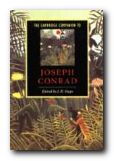 The Cambridge Companion to Joseph Conrad offers a series of essays by leading Conrad scholars aimed at both students and the general reader. There's a chronology and overview of Conrad's life, then chapters that explore significant issues in his major writings, and deal in depth with individual works. These are followed by discussions of the special nature of Conrad's narrative techniques, his complex relationships with late-Victorian imperialism and with literary Modernism, and his influence on other writers and artists. Each essay provides guidance to further reading, and a concluding chapter surveys the body of Conrad criticism.


Buy the book at Amazon UK


Buy the book at Amazon US
---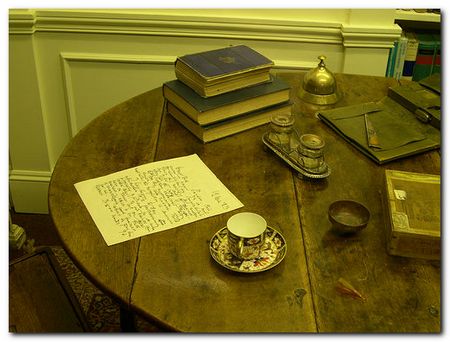 Joseph Conrad's writing table
---
Further reading

Amar Acheraiou Joseph Conrad and the Reader, London: Macmillan, 2009.

Jacques Berthoud, Joseph Conrad: The Major Phase, Cambridge: Cambridge University Press, 1978.

Muriel Bradbrook, Joseph Conrad: Poland's English Genius, Cambridge: Cambridge University Press, 1941

Harold Bloom (ed), Joseph Conrad (Bloom's Modern Critical Views, New York: Chelsea House Publishers, 2010

Hillel M. Daleski , Joseph Conrad: The Way of Dispossession, London: Faber, 1977

Daphna Erdinast-Vulcan, Joseph Conrad and the Modern Temper, Oxford: Oxford University Press, 1991.

Aaron Fogel, Coercion to Speak: Conrad's Poetics of Dialogue, Cambridge, Mass: Harvard University Press, 1985

John Dozier Gordon, Joseph Conrad: The Making of a Novelist, Cambridge, Mass: Harvard University Press, 1940

Albert J. Guerard, Conrad the Novelist, Cambridge, Mass: Harvard University Press, 1958

Robert Hampson, Joseph Conrad: Betrayal and Identity, Basingstoke: Macmillan, 1992

Jeremy Hawthorn, Joseph Conrad: Language and Fictional Self-Consciousness, London: Edward Arnold, 1979

Jeremy Hawthorn, Joseph Conrad: Narrative Technique and Ideological Commitment, London: Edward Arnold, 1990

Jeremy Hawthorn, Sexuality and the Erotic in the Fiction of Joseph Conrad, London: Continuum, 2007.

Owen Knowles, The Oxford Reader's Companion to Conrad, Oxford: Oxford University Press, 1990

Jakob Lothe, Joseph Conrad: Voice, Sequence, History, Genre, Ohio State University Press, 2008

Gustav Morf, The Polish Shades and Ghosts of Joseph Conrad, New York: Astra, 1976

Ross Murfin, Conrad Revisited: Essays for the Eighties, Tuscaloosa, Ala: University of Alabama Press, 1985

Jeffery Myers, Joseph Conrad: A Biography, Cooper Square Publishers, 2001.

Zdzislaw Najder, Joseph Conrad: A Life, Camden House, 2007.

George A. Panichas, Joseph Conrad: His Moral Vision, Mercer University Press, 2005.

John G. Peters, The Cambridge Introduction to Joseph Conrad, Cambridge: Cambridge University Press, 2006.

James Phelan, Joseph Conrad: Voice, Sequence, History, Genre, Ohio State University Press, 2008.

Edward Said, Joseph Conrad and the Fiction of Autobiography, Cambridge Mass: Harvard University Press, 1966

Allan H. Simmons, Joseph Conrad: (Critical Issues), London: Macmillan, 2006.

J.H. Stape, The Cambridge Companion to Joseph Conrad, Cambridge: Cambridge University Press, 1996

John Stape, The Several Lives of Joseph Conrad, Arrow Books, 2008.

Peter Villiers, Joseph Conrad: Master Mariner, Seafarer Books, 2006.

Ian Watt, Conrad in the Nineteenth Century, London: Chatto and Windus, 1980

Cedric Watts, Joseph Conrad: (Writers and their Work), London: Northcote House, 1994.
---
Other writing by Joseph Conrad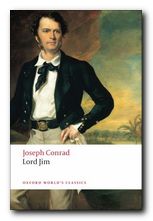 Lord Jim (1900) is the earliest of Conrad's big and serious novels, and it explores one of his favourite subjects – cowardice and moral redemption. Jim is a ship's captain who in youthful ignorance commits the worst offence – abandoning his ship. He spends the remainder of his adult life in shameful obscurity in the South Seas, trying to re-build his confidence and his character. What makes the novel fascinating is not only the tragic but redemptive outcome, but the manner in which it is told. The narrator Marlowe recounts the events in a time scheme which shifts between past and present in an amazingly complex manner. This is one of the features which makes Conrad (born in the nineteenth century) considered one of the fathers of twentieth century modernism.


Buy the book from Amazon UK


Buy the book from Amazon US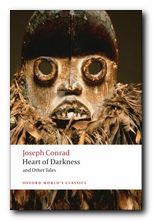 Heart of Darkness (1902) is a tightly controlled novella which has assumed classic status as an account of the process of Imperialism. It documents the search for a mysterious Kurtz, who has 'gone too far' in his exploitation of Africans in the ivory trade. The reader is plunged deeper and deeper into the 'horrors' of what happened when Europeans invaded the continent. This might well go down in literary history as Conrad's finest and most insightful achievement, and it is based on his own experiences as a sea captain. This volume also contains 'An Outpost of Progress' – the magnificent study in shabby cowardice which prefigures 'Heart of Darkness'.


Buy the book from Amazon UK


Buy the book from Amazon US
© Roy Johnson 2013
---
Joseph Conrad web links
Joseph Conrad at Mantex
Biography, tutorials, book reviews, study guides, videos, web links.
Joseph Conrad – his greatest novels and novellas
Brief notes introducing his major works in recommended editions.
Joseph Conrad at Project Gutenberg
A major collection of free eTexts in a variety of formats.
Joseph Conrad at Wikipedia
Biography, major works, literary career, style, politics, and further reading.
Joseph Conrad at the Internet Movie Database
Adaptations for the cinema and television – in various languages. Full details of directors and actors, production notes, box office, trivia, and quizzes.
Works by Joseph Conrad
Large online database of free HTML texts, digital scans, and eText versions of novels, stories, and occasional writings.
The Joseph Conrad Society (UK)
Conradian journal, reviews. and scholarly resources.
The Joseph Conrad Society of America
American-based – recent publications, journal, awards, conferences.
Hyper-Concordance of Conrad's works
Locate a word or phrase – in the context of the novel or story.
---
More on Joseph Conrad
Twentieth century literature
Joseph Conrad complete tales
---