tutorial, commentary, study resources, plot, and web links
The Given Case first appeared in Scribner's Magazine in June 1899, and later the following year in the collection of stories The Soft Side (1900) published by Methuen.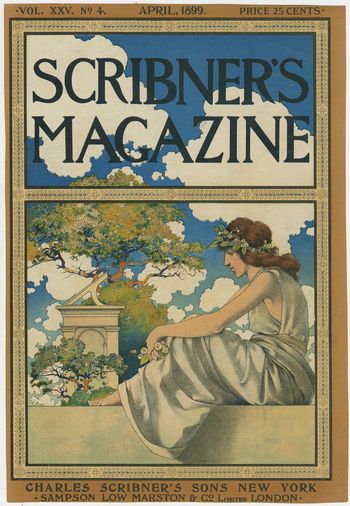 ---
The Given Case – critical commentary
Structural symmetry
The story is beautifully structured using a number of exactly symmetrical elements, with subtle differences between them. Two women have been engaged in relationships with two single men. Both women are formally committed to other men. Mrs Despard is married, but her husband is absent and estranged. Miss Hamer is engaged to Mr Grove-Steward, who is also absent, serving abroad.
It must be taken on trust that these two women have 'encouraged' the two single men – which is a Victorian euphemism for 'flirting'. The two men now wish to marry them – which is at least a way of legitimising their relationships. As an additional feature of symmetry, each of the men appeals to the other's lover for help in assisting their causes.
Colonel Despard returns to maintain the appearance of his marriage (it would seem) but not its substance. Mr Grove-Steward returns because he is alarmed by rumours of Miss Hamer's behaviour which reach him in India. He wishes to preserve the contract he has made to marry her.
The story presents two essentially different responses to a similar social dilemma. To what extent does 'flirting' oblige participants to what now might be called 'put up or shut up'? Mrs Despard dislikes her husband more than ever, but she sacrifices her lover for the security of an empty marriage to a man she does not love.
Miss Hamer on the other hand pities the distress she sees in her fiancé Grove-Steward, but sacrifices him for the sake of her new lover. This is certainly what James intended from his Notebook entry on this story:
I have the suggestion found in the Frenchman's article in the Fortnightly Review about the opposition of the view of the Française and the Anglaise as to the responsibility incurred by a flirtation: one thinking of the compensation owed (where the man is really touched), the other taking the exact line of backing out. 'It's serious' – they both see – but the opposed conclusion from that premise. This seems to me exactly treatable in my small compass.
The given evidence?
Despite the strengthening effect of this complex structure, the story has a central weakness – in that none of the 'encouragement' the two women have given their admirers has been dramatised. Thus we as readers have no way of knowing if the claims made by the two men claims are justified or not. We are being asked to take on trust that flirtation of some kind has gone on.
But even in a drama as small scale as this, the important social issues of breaking off an engagement or sacrificing oneself to a dead marriage can only be properly comprehended and appreciated if we know more details of the feelings and circumstances which have led up to them. It could be said that this is one of James's tales which ought to have been longer in order to fulfil its own ambitions.
---
The Given Case – study resources

The Complete Works of Henry James – Kindle edition – Amazon UK

The Complete Works of Henry James – Kindle edition – Amazon US

Complete Stories 1898—1910 – Library of America – Amazon UK

Complete Stories 1898—1910 – Library of America – Amazon US

The Cambridge Companion to Henry James – Amazon UK

The Given Case – HTML version at The Ladder

Henry James at Wikipedia – biographical notes, links

Henry James at Mantex – tutorials, biography, study resources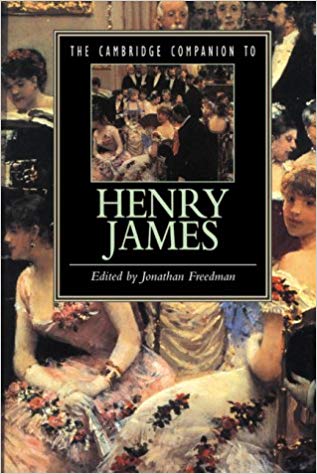 ---
The Given Case – plot summary
Part I. Barton Reeve is in love with a married woman, Mrs Kate Despard, who is estranged from her husband. He complains to a friend Margaret Hamer that Mrs Despard has encouraged his attentions, but not enough to divorce her husband. He appeals to Miss Hamer to help him.
Part II. At a country house weekend party Philip Mackern makes an appeal to Mrs Despard regarding his passion for Miss Hamer, who is engaged to Mr Grove-Steward, a government officer serving in India. She reproaches him for his rash conduct, they argue, and she refuses to help him.
Part III. Reeve meets Miss Hamer and her sister Mrs Gorton in Hyde Park, Miss Hamer reports that Mrs Despard does indeed like Reeve. He once again chafes at her not being prepared to leave her husband. He accuses her of being 'afraid'.
Part IV. Mrs Despard summons Mackern to reveal to him that Mr Grove-Steward is returning early from India, where news of Miss Hamer's behaviour has reached him. Mackern wants to marry MIss Hamer, but Mrs Despard thinks that would be disastrous.
Part V. Mrs Despard complains to Miss Hamer that her husband has unexpectedly returned and asked for a reconciliation, which she does not want. She admits she has behaved badly by encouraging Reeve. Miss Hamer reveals that she might continue her relationship with Mackern.
Part VI. Reeve visits Mrs Despard and insists that she owes it to him to accept his offer of marriage. She admits she has made a mistake in encouraging him, but that she feels she must stay with a husband who she dislikes more than ever. They part company very painfully.
Part VII. Mackern goes to Mrs Gorton's to speak to Miss Hamer. Mrs Gorton wants him to leave and reproaches him for compromising her sister's reputation. But Mackern insists he has a right to present his case. When Miss Hamer arrives it's to say that her fiancé cannot understand or tolerate her behaviour – and that she pities him. The implication is that she will now accept Mackern's offer.
---
Further reading
Biographical

Theodora Bosanquet, Henry James at Work, University of Michigan Press, 2007.

F.W. Dupee, Henry James: Autobiography, Princeton University Press, 1983.

Leon Edel, Henry James: A Life, HarperCollins, 1985.

Philip Horne (ed), Henry James: A Life in Letters, Viking/Allen Lane, 1999.

Henry James, The Letters of Henry James, Adamant Media Corporation, 2001.

Fred Kaplan, Henry James: The Imagination of Genius, Johns Hopkins University Press, 1999

F.O. Matthieson (ed), The Notebooks of Henry James, Oxford University Press, 1988.
Critical commentary

Elizabeth Allen, A Woman's Place in the Novels of Henry James London: Macmillan Press, 1983.

Ian F.A. Bell, Henry James and the Past, London: Palgrave Macmillan, 1993.

Millicent Bell, Meaning in Henry James, Cambridge (MA): Harvard University Press, 1993.

Harold Bloom (ed), Modern Critical Views: Henry James, Chelsea House Publishers, 1991.

Kirstin Boudreau, Henry James's Narrative Technique, Macmillan, 2010.

J. Donald Crowley and Richard A. Hocks (eds), The Wings of the Dove, New York: W.W. Norton and Company, 1978.

Victoria Coulson, Henry James, Women and Realism, Cambridge University Press, 2009.

Daniel Mark Fogel, A Companion to Henry James Studies, Greenwood Press, 1993.

Virginia C. Fowler, Henry James's American Girl: The Embroidery on the Canvas, Madison (Wis): University of Wisconsin Press, 1984.

Jonathan Freedman, The Cambridge Companion to Henry James, Cambridge University Press, 1998.

Judith Fryer, The Faces of Eve: Women in the Nineteenth Century American Novel, Oxford: Oxford University Press, 1976

Roger Gard (ed), Henry James: The Critical Heritage, London: Routledge, 1968.

Tessa Hadley, Henry James and the Imagination of Pleasure, Cambridge University Press, 2009.

Barbara Hardy, Henry James: The Later Writing (Writers & Their Work), Northcote House Publishers, 1996.

Richard A. Hocks, Henry James: A study of the short fiction, New York: Twayne Publishers, 1990.

Donatella Izzo, Portraying the Lady: Technologies of Gender in the Short Stories of Henry James, University of Nebraska Press, 2002.

Colin Meissner, Henry James and the Language of Experience, Cambridge University Press, 2009

John Pearson (ed), The Prefaces of Henry James, Pennsylvania State University Press, 1993.

Richard Poirer, The Comic Sense of Henry James, Oxford: Oxford University Press, 1967.

Hugh Stevens, Henry James and Sexuality, Cambridge University Press, 1998.

Merle A. Williams, Henry James and the Philosophical Novel, Cambridge University Press, 1993.

Judith Woolf, Henry James: The Major Novels, Cambridge University Press, 1991.

Ruth Yeazell (ed), Henry James: A Collection of Critical Essays, Longmans, 1994.
---
Other works by Henry James
---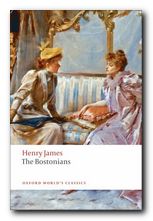 The Bostonians (1886) is a novel about the early feminist movement. The heroine Verena Tarrant is an 'inspirational speaker' who is taken under the wing of Olive Chancellor, a man-hating suffragette and radical feminist. Trying to pull her in the opposite direction is Basil Ransom, a vigorous young man to whom Verena becomes more and more attracted. The dramatic contest to possess her is played out with some witty and often rather sardonic touches, and as usual James keeps the reader guessing about the outcome until the very last page.

Buy the book at Amazon UK


Buy the book at Amazon US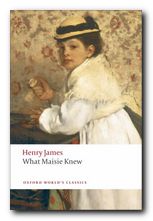 What Masie Knew (1897) A young girl is caught between parents who are in the middle of personal conflict, adultery, and divorce. Can she survive without becoming corrupted? It's touch and go – and not made easier for the reader by the attentions of an older man who decides to 'look after' her. This comes from the beginning of James's 'Late Phase', so be prepared for longer and longer sentences. In fact it's said that whilst composing this novel, James switched from writing longhand to using dictation – and it shows if you look carefully enough – part way through the book.


Buy the book at Amazon UK


Buy the book at Amazon US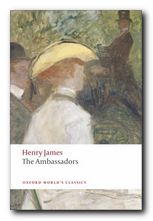 The Ambassadors (1903) Lambert Strether is sent from America to Paris to recall Chadwick Newsome, a young man who is reported to be compromising himself by an entanglement with a wicked woman. However, Strether's mission fails when he is seduced by the social pleasures of the European capital, and he takes Newsome's side. So a second ambassador is dispatched in the form of the more determined Sarah Pocock. She delivers an ultimatum which is resisted by the two young men, but then an accident reveals unpleasant truths to Strether, who is faced by a test of loyalty between old Europe and the new USA. This edition presents the latest scholarship on James and includes an introduction, notes, selected criticism, a text summary and a chronology of James's life and times.


Buy the book at Amazon UK


Buy the book at Amazon US
Henry James – web links

Henry James at Mantex
Biographical notes, study guides, tutorials on the Complete Tales, book reviews. bibliographies, and web links.

The Complete Works
Sixty books in one 13.5 MB Kindle eBook download for £1.92 at Amazon.co.uk. The complete novels, stories, travel writing, and prefaces. Also includes his autobiographies, plays, and literary criticism – with illustrations.

The Ladder – a Henry James website
A collection of eTexts of the tales, novels, plays, and prefaces – with links to available free eTexts at Project Gutenberg and elsewhere.

A Hyper-Concordance to the Works
Japanese-based online research tool that locates the use of any word or phrase in context. Find that illusive quotable phrase.

The Henry James Resource Center
A web site with biography, bibliographies, adaptations, archival resources, suggested reading, and recent scholarship.

Online Books Page
A collection of online texts, including novels, stories, travel writing, literary criticism, and letters.

Henry James at Project Gutenberg
A major collection of eTexts, available in a variety of eBook formats.

The Complete Letters
Archive of the complete correspondence (1855-1878) work in progress – published by the University of Nebraska Press.

The Scholar's Guide to Web Sites
An old-fashioned but major jumpstation – a website of websites and resouces.

Henry James – The Complete Tales
Tutorials on the complete collection of over one hundred tales, novellas, and short stories.
© Roy Johnson 2013
---
More tales by James
More on literature
More on the novella
More on literary studies
More on short stories
---