tutorial, commentary, study resources, plot, and web links
The Glimpses of the Moon was first published in 1922 by D. Appleton and Company. It is one of the least well known of Edith Wharton's full length novels – perhaps with good reason. It takes a subject she had written about many years previously in her short story The Reckoning (1902) – in which two characters draw up what we would now call a 'pre-nuptial agreement' and then have to live with its consequences.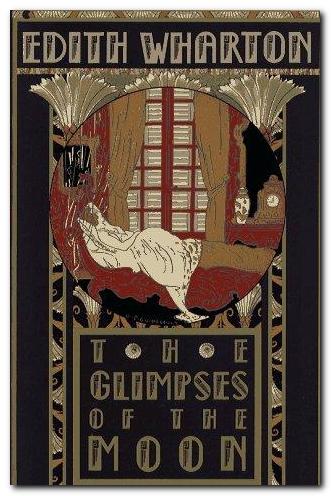 ---
The Glimpses of the Moon – critical commentary
It is worth noting that the essential subject of the novel (or the donnée as Henry James would call it) had already been used by Edith Wharton in a short story written twenty years earlier. Two people of limited means arrange a marriage of convenience on the understanding that they will agree to a divorce if a better prospect emerges for either of them at a later date. The short story version of this theme in The Reckoning is tightly constructed narrative in a triptych of scenes – the agreement, how it came about, and its consequences.
In the case of The Reckoning the motivation is to preserve a sense of individual autonomy within the constraints of a monogamous bond, but in The Glimpses of the Moon the motivation is financial – since neither Nick nor Susy has sufficient funds for long term survival within the social set amongst whom they wish to mix.
The Glimpses of the Moon is almost the opposite of the tightly constructed story. It is a long, rambling, and repetitive novel, with the dramatic situation stretched to breaking point and beyond. Nick and Susy separate quite early in the story. Their rationale for living independently is plausible enough, as are the temptations of the alternative partners who seek their favours. Susy has her friend the ultra-rich Earl of Altringham begging at her feet, and Nick is courted by the plain-but-intelligent heiress Coral Hicks. But the indecision, the 'will-they, won't-they' , and the endless impediments which are placed in the way of any resolution – all drag on far too long, as if Wharton were trying to fill out the pages of a three volume Victorian serial novel.
Once the dramatic tension between Nick and Susy has been established, there's rather a lot of uncertainty in the psychological motivation of the protagonists. Susy and Nick both doubt, suspect, and then forgive each other in a way which is credible in terms of human uncertainty, but does not make for a very satisfactory narrative.
This major weakness is compounded by the conclusion to the story line which is as rushed as it is improbable. We are asked to believe that two people who have spent the previous eighteen months living in a Venetian palace and on board a luxury yacht, suddenly find personal satisfaction staying in a provincial French boarding house for a weekend whilst looking after someone else's five children.
This fairy tale resolution is simply not plausible, and it is brought about with no serious consideration for the important issues of the preceding narrative – in particularly that of money. Susy may well be prepared to give up cashmere shawls and dinners at the Hotel Luxe, but we know perfectly well that Nick's couple of published articles will not be enough to live on. It is not enough to assume that they have had a change of heart in their attitudes to money and their place in society. They have no more means of economic survival than they had at the outset of the novel.
---
The Glimpses of the Moon – study resources

The Glimpses of the Moon – New York Review Books – Amazon UK

The Glimpses of the Moon – New York Review Books – Amazon US

Edith Wharton Collected Stories – Norton Critical – Amazon UK

Edith Wharton Collected Stories – Norton Critical – Amazon US

The Glimpses of the Moon – Kindle version at Amazon

A Historical Guide to Edith Wharton – Amazon UK

The Cambridge Introduction to Edith Wharton – Amazon UK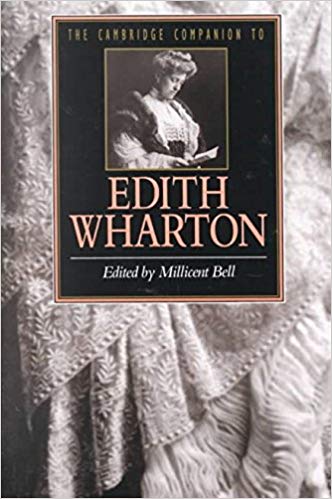 ---
The Glimpses of the Moon – plot summary
Chapter I.   Nick and Susy Lansing are on honeymoon, living in a borrowed villa on Lake Como. She is poor but socially ambitious, and a hanger-on amongst rich fellow Americans. She reflects on how her initial relationship with Nick was criticised socially and led to a split from him.
Chapter II.   Nick is talented but has no money, and he feels an affinity with Susy as a poor outsider. When they meet up again at the home of some unfashionable but artistic friends, she proposes to him a marriage of convenience. They will scrape together some money, live off their friends for a year or so, and agree to divorce if anything better comes along for either of them.
Chapter III.   After a month in Como they are forced to move on to Venice. Nick is prepared to make realistic sacrifices, but wonders if Susy will be capable of doing the same. She organises their transfer to Venice with opportunistic sharp practice, attempting to take with them some expensive cigars provided by their host, Charlie Strefford.
Chapter IV.   In Venice, the owner's wife (Ellie Vanderlyn – a friend) has left her child behind, plus some letters to her husband to be posted on secretly, whilst she is absent with a lover. There is an explicit request attached that this be hidden from Nick. Susy feels morally compromised, but needs to stay somewhere for the summer.
Chapter V.   Small differences and secrecies begin to put a distance between Nick and Susy. After some weeks they are joined at the Palazzo by Charlie Strefford. He pumps Susy for information, but she merely reminds him about the terms of her marriage contract with Nick, about which Strefford is understanding but sceptical.
Chapter VI.   The summer goes on. Nick has begun to write a 'philosophic romance'; Ellie Vanderlyn does not return as scheduled; and they are joined in Venice by the Mortimer Hickses, who are rich but unfashionable and unsuccessful, despite their yacht and an entourage.
Chapter VII.   Nick begins to find new and deeper happiness in his 'work' and his life with Susy, and he hopes they can stay in Venice for the rest of the summer. However, when more of their friends begin to visit, he puts his writing on one side.
Chapter VIII.   Ellie Vanderlyn suddenly returns , and since her husband might shortly appear it is important that her earlier absence not be revealed. Susy confides in Strefford that Nick should not find out that their stay in Venice was based on a plot to deceive Nelson Vanderlyn.
Chapter IX.   Vanderlyn arrives, but is only en route to join his mother somewhere else. Nick resumes his writing and meets Coral Hicks in a church, where they discuss archeology. When Ellie Vanderlyn departs for another assignation, she thanks Nick for his 'co-operation' in the deceit of her husband, which shocks Nick.
Chapter X.   Nick demands that Susy reveal the whole story of the deception to him. He argues that it is dishonourable. Susy claims that she did it to keep them both together. The question of the marriage 'pact' is re-opened in a painful manner.
Chapter XI.   Nick goes out alone, leaving Susy to dine with Strefford and others. They go out afterwards to a party at the Hicks' Palazzo, but Susy goes home alone. She finds a letter from Nick waiting for her, to say that he has gone to Milan for a couple of days to think things through.
Chapter XII.   In fact he goes on to Gerona, where he meets Mr Buttles who is leaving employment with the Hicks entourage because of an unrequited passion for Coral. Nick also reads of an accident which has made Strefford into the Earl of Altringham, one of the richest men in England. He writes to Susy, honouring their agreement and offering her up to Strefford, then leaves on an extended cruise of the Augean with the Hicks entourage
Chapter XIII.   Susy retreats to the house of a friend at Versailles which she thinks will be empty, but finds its owner Violet Melrose at home promoting the reputation of painter Nat Falmer. Susy is terrified that Nick has abandoned her, but she receives a message from Strefford.
Chapter XIV.   When they meet in Paris Strefford discusses her situation sympathetically, but then offers to marry her. When she refuses, he also offers to lend her money. She refuses this too, and says she will wait to see if she hears from Nick.
Chapter XV.   Whilst in Paris she goes to see Grace Falmer, who is very pleased with her husband's sudden success and who presents a very positive picture of married life. Susy procrastinates over making any plans, and resisting Violet Melrose's attempts to bribe her into staying to look after the Falmer children.
Chapter XVI.   Nick is enjoying a sabbatical break on board the Hicks's yacht, hoping to hear from Susy, who does not write to him. Coral Hicks suggests that he take son Buttle's old job as secretary to her father. Nick reads in the paper that Strefford and Susy are socialising in England.
Chapter XVII.   Susy is alone in London, waiting to join Strefford and oppressed by the meanness of boarding house life. She meets Ursula Gillow, who invites her to stay at her home, so as to distract her husband). Susy reluctantly accepts, because she will meet Strefford there.
Chapter XVIII.   In Paris Susy meets Ellie Vanderlyn who snobbishly patronises her. Susy defends herself by revealing her situation in full. Ellie tells her she is getting rid of her husband Nelson for the super-rich Borkheimer. The two women quarrel over social morals.
Chapter XIX.   Strefford visits Paris to receive Susy's answer to his proposal of marriage. She realises that the world she wishes for can only be gained by the wealth of the people she dislikes. Strefford flaunts his wealth and takes her to an exhibition which includes some of his own family's art. treasures.
Chapter XX.   The Hicks are in Rome, having befriended an archeologist-Prince who is travelling with his mother. They pretend to be democratic and outsiders, but in fact they are sponging off the Hicks on behalf of themselves and their friends. Nick perceives that they are angling for a financial union with Coral to 'replenish' the family coffers. Nick feels that he himself has no future.
Chapter XXI.   Susy remains with Strefford, promising to look into a formal divorce from Nick. But she becomes more critical of Strefford. At the lawyer's suggestion, she reluctantly writes to Nick, having so far failed to communicate with him.
Chapter XXII.   When Strefford reveals that he let off his villa in Como to Ellie and her lover, Susy feels contaminated by the deception, even though (or maybe because) she was implicated in it herself. She tells Strefford she is not the right woman for him.
Chapter XXIII.   On her way back to her hotel she meets Nelson Vanderlyn, who is in Paris for his divorce from Ellie.He takes a cheerful matter-of-fact attitude to his situation, but secretly he is a broken man. Susy writes a letter of renunciation to Strefford, and begins to reflect on the deeper issues of shared experience and understanding that keep people together in a marriage.
Chapter XXIV.   Nick meanwhile has written to Susy agreeing to a divorce, and he feels dissatisfied being a patronised employee of the Hicks. The wealthy Coral Hicks offers herself to him as she prepares to be married to the Prince, but he declines the offer, whilst respecting and even admiring her.
Chapter XXV.   Susy is looking after the Falmer's children in Passy whilst their parents are in Italy – and quite enjoying the challenge. Strefford has been dismissed, but he tries to cling on. Nick agrees to come to Paris to see the lawyers.
Chapter XXVI.   Nick arrives, intending to go back and marry Coral, but his head is full of Susy. He goes to Passy and sees her at the door – but at that very moment Strefford arrives and is admitted.
Chapter XXVII.   Strefford re-asserts his plea to Susy, but she holds him off, and feels that Nick might be nearby (which he is). She writes to him, requesting a meeting, to which he sceptically agrees.
Chapter XXVIII.   They meet and talk without revealing their true feelings for each other, or the changes in their circumstances. – and so part without any resolution. Susy realises that she has had another lesson in what true love is – and feels that it is now too late.
Chapter XXIX.   Next day Susy is preparing to leave when Nick arrives – and suddenly everything is clarified between them with very little discussion. They decide to go away for a couple of days, taking the Falmer children with them.
Chapter XXX.   The excursion is a fairy-tale success. Nick has had some articles published, and they put all the events of the recent past behind them.
---
Principal characters
| | |
| --- | --- |
| Nick Lansing | clever but poor and unsuccessful |
| Susy Lansing (neé) Branch | his new wife, poor and ambitious |
| Ursula Gillow | her rich and successful friend |
| Fred Gillow | Ursula's husband |
| Ellie Vanderlyn | another rich and successful friend of Susy's |
| Nelson Vanderlyn | a US banker based in the UK |
| Charlie Strefford | English friend of the Lansings who becomes Earl of Altringham |
| Mortimer Hicks | rich American yacht owner |
| Coral Hicks | his intellectual but unattractive daughter |
| Mr Buttles | polyglot secretary to Hicks |
| Nat Fulmer | an American painter |
| Grace Fulmer | his wife – a violinist |
| Violet Melrose | 'a wealthy vampire' |
---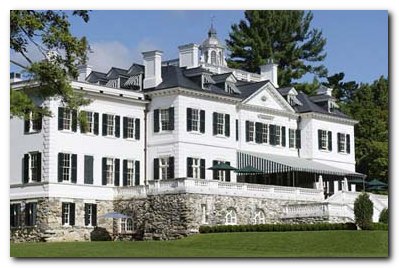 Edith Wharton's 42-room house – The Mount
---
Further reading
Louis Auchincloss, Edith Wharton: A Woman of her Time, New York: Viking, 1971,
Elizabeth Ammons, Edith Wharton's Argument with America, Georgia: University of Georgia Press, 1982, pp.222. ISBN: 0820305138
Janet Beer, Edith Wharton (Writers & Their Work), New York: Northcote House, 2001, pp.99, ISBN: 0746308981
Millicent Bell (ed), The Cambridge Companion to Edith Wharton, Cambridge: Cambridge University Press, 1995, pp.232, ISBN: 0521485134
Alfred Bendixen and Annette Zilversmit (eds), Edith Wharton: New Critical Essays, New York: Garland, 1992, pp.329, ISBN: 0824078489
Eleanor Dwight, Edith Wharton: An Extraordinary Life, New York: Harry N. Abrams, 1994, ISBN: 0810927950
Gloria C. Erlich, The Sexual Education of Edith Wharton, California: University of California Press, 1992, pp.223, ISBN: 0520075838
Susan Goodman, Edith Wharton's Women: Friends and Rivals, UPNE, 1990, pp.220, ISBN: 0874515246
Irving Howe, (ed), Edith Wharton: A collection of Critical Essays, London: University of North Carolina Press, 1986,
Jennie A. Kassanoff, Edith Wharton and the Politics of Race, Cambridge: Cambridge University Press, 2004, pp.240, ISBN: 0521830893
Hermione Lee, Edith Wharton, London: Vintage, new edition 2008, pp.864, ISBN: 0099763516
R.W.B. Lewis, Edith Wharton: A Biography, New York: Harper and Rowe, 1975, pp.592, ISBN: 0880640200
James W. Tuttleton (ed), Edith Wharton: The Contemporary Reviews, Cambridge: Cambridge University Press, 1992, pp.586, ISBN: 0521383196
Candace Waid, Edith Wharton's Letters from the Underworld, London: University of North Carolina Press, 1991,
Sarah Bird Wright, Edith Wharton A to Z: The Essential Reference to Her Life and Work, Fact on File, 1998, pp.352, ISBN: 0816034818
Cynthia Griffin Wolff, A Feast of Words: The Triumph of Edith Wharton, New York: Perseus Books, second edition 1994, pp.512, ISBN: 0201409186
---
Other works by Edith Wharton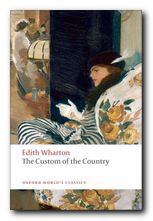 The Custom of the Country (1913) is Edith Wharton's satiric anatomy of American society in the first decade of the twentieth century. It follows the career of Undine Spragg, recently arrived in New York from the midwest and determined to conquer high society. Glamorous, selfish, mercenary and manipulative, her principal assets are her striking beauty, her tenacity, and her father's money. With her sights set on an advantageous marriage, Undine pursues her schemes in a world of shifting values, where triumph is swiftly followed by disillusion. This is a study of modern ambition and materialism written a hundred years before its time.


Buy the book from Amazon UK


Buy the book from Amazon US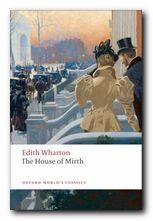 The House of Mirth (1905) is the story of Lily Bart, who is beautiful, poor, and still unmarried at twenty-nine. In her search for a husband with money and position she betrays her own heart and sows the seeds of the tragedy that finally overwhelms her. The book is a disturbing analysis of the stifling limitations imposed upon women of Wharton's generation. In telling the story of Lily Bart, who must marry to survive, Wharton recasts the age-old themes of family, marriage, and money in ways that transform the traditional novel of manners into an arresting modern document of cultural anthropology.


Buy the book from Amazon UK


Buy the book from Amazon US
---
Edith Wharton – web links
Edith Wharton at Mantex
Biographical notes, study guides to the major novels, tutorials on the shorter fiction, bibliographies, critiques of the shorter fiction, and web links.
Edith Wharton at Gutenberg
Free eTexts of the major novels and collections of stories in a variety of digital formats – also includes travel writing and interior design.
Edith Wharton at Wikipedia
Full details of novels, stories, and travel writing, adaptations for television and the cinema, plus web links to related sites.
The Edith Wharton Society
Old but comprehensive collection of free eTexts of the major novels, stories, and travel writing, linking archives at University of Virginia and Washington State University.
The Mount: Edith Wharton's Home
Aggressively commercial site devoted to exploiting The Mount – the house and estate designed by Edith Wharton. Plan your wedding reception here.
Edith Wharton at Fantastic Fiction
A compilation which purports to be a complete bibliography, arranged as novels, collections, non-fiction, anthologies, short stories, letters, and commentaries – but is largely links to book-selling sites, which however contain some hidden gems.
Edith Wharton's manuscripts
Archive of Wharton holdings at the Beinecke Rare Book and Manuscript Library
© Roy Johnson 2014
---
More on Edith Wharton
More on the novella
More on literary studies
More on short stories
---