tutorial, characters, resources, video, further reading
The Golden Bowl (1904) comes as the climax of James' late period. His writing is mannered, baroque, complex, and focused intently on the psychological relationships between his characters. There is very little 'plot' here in the conventional sense. The bowl in the title is a gift from one couple to another – but there's a lot more to it than that of course. It will not be giving away too much of the story to say that it concerns an American heiress as she becomes aware of the secret affair between her new husband and her father's young wife. As usual in many of James's great novels, much of the drama is fuelled by relations between Europe and America (his 'International' theme) by class, social mobility, and by sex and money.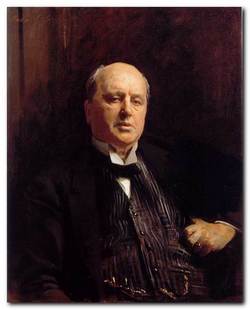 Henry James – portrait by John Singer Sargeant
---
The Golden Bowl – plot summary
Prince Amerigo, an impoverished but charismatic Italian nobleman, is in London for his marriage to Maggie Verver, only child of the fabulously wealthy American financier and art collector, Adam Verver. Amerigo meets Charlotte Stant, a former mistress who he didn't marry because both of them were seeking to marry into money. They go shopping for a wedding present for Maggie. They find a curiosity shop where the Jewish shopkeeper offers them an antique gilded crystal bowl. But the rather anti-Semitic Prince declines to purchase the bowl because he suspects it contains a hidden flaw.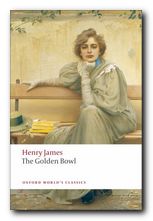 After Maggie's marriage she is afraid that her father has become lonely. She persuades him to propose to Charlotte, unaware of the past relationship between Charlotte and Amerigo. Adam's proposal is accepted, and soon after the wedding, Charlotte and the Prince find themselves thrown together because their respective spouses seem more interested in their father-daughter relationship than in their marriages. The Prince and Charlotte finally consummate an adulterous affair.
Maggie eventually begins to suspect Amerigo and Charlotte. This suspicion is intensified when she accidentally meets the shopkeeper and buys the golden bowl. Uncomfortable with the high price she paid for the bowl, the shopkeeper visits Maggie and confesses to overcharging her. At Maggie's home he sees photographs of Amerigo and Charlotte. He tells Maggie of the pair's shopping trip on the eve of her marriage and their intimate conversation in his shop. (They had spoken Italian, but he happens to understand the language.)
Maggie now confronts Amerigo, and then begins a secret campaign to separate the Prince and Charlotte while never letting her father know of their affair. She lies to Charlotte about not having anything to accuse her of, and she gradually persuades her father to return to America with his wife. Amerigo appears impressed by Maggie's delicate diplomacy, after he had previously regarded her as rather naive and immature. The novel ends with Adam and Charlotte about to depart for America, while Amerigo can "see nothing but" Maggie and embraces her.
---
Study resources

The Golden Bowl – Oxford World Classics – Amazon UK

The Golden Bowl – Oxford World Classics – Amazon US

The Golden Bowl – Wordsworth Classics – Amazon UK

The Golden Bowl – Wordsworth Classics – Amazon US

The Golden Bowl – Penguin Classics – Amazon UK

The Golden Bowl – Norton Critical Editions – Amazon UK

The Golden Bowl – eBook versions at Project Gutenberg

The Golden Bowl – etext of the 1909 edition

The Golden Bowl – audioBook at LibriVox

The Cambridge Companion to Henry James – Amazon UK

Henry James – biographical notes

The Golden Bowl – Merchant-Ivory film site

Henry James at Wikipedia – biographical notes, links

Henry James at Mantex – tutorials, web links, study resources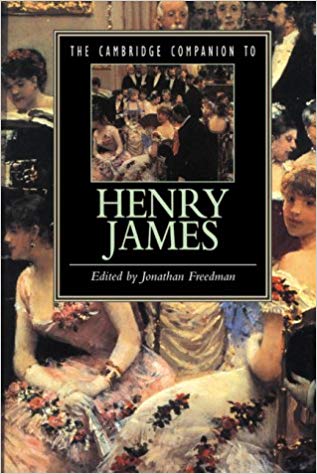 ---
The Golden Bowl – characters
| | |
| --- | --- |
| Adam Verver | an American multi-millionaire art collector |
| Maggie | his loving daughter |
| Prince Amerigo | an impoverished Italian nobleman |
| Charlotte Stant | an impoverished friend of Maggie |
| Fanny Assingham | an inquisitive friend of the family |
| The Colonel | her easy-going husband |
---
The Golden Bowl – film version
2000 film adaptation
Merchant-Ivory pull out all the stops in their repertoire for creating lush period detail. Costumes, furniture, jewellery, and art objects all help to recreate a convincing fin de siècle atmosphere. The inclusion of original film footage from early last century adds tremendously to the period flavour. Nick Nolte plays the American millionaire Adam Verver, Kate Beckinsdale his daughter Maggie, and Uma Thurman the poor but scheming Charlotte. James Fox and Angelica Huston in supporting roles provide added depth. There is an odd use of 'chapter' titles – "Adam Verver's rented castle" – which one associates more with the eighteenth century than the early twentieth, and as in their other productions, the sex is far more explicit than in the original. James implies: Merchant-Ivory shows.

See reviews of the film at the Internet Movie Database
---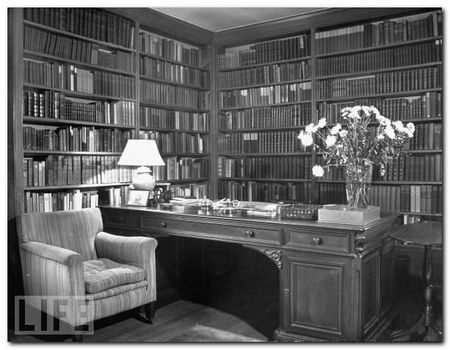 Henry James's study
---
Further reading
Biographical

Theodora Bosanquet, Henry James at Work, University of Michigan Press, 2007.

F.W. Dupee, Henry James: Autobiography, Princeton University Press, 1983.

Leon Edel, Henry James: A Life, HarperCollins, 1985.

Philip Horne (ed), Henry James: A Life in Letters, Viking/Allen Lane, 1999.

Henry James, The Letters of Henry James, Adamant Media Corporation, 2001.

Fred Kaplan, Henry James: The Imagination of Genius, Johns Hopkins University Press, 1999

F.O. Matthieson (ed), The Notebooks of Henry James, Oxford University Press, 1988.
Critical commentary

Elizabeth Allen, A Woman's Place in the Novels of Henry James London: Macmillan Press, 1983.

Ian F.A. Bell, Henry James and the Past, London: Palgrave Macmillan, 1993.

Millicent Bell, Meaning in Henry James, Cambridge (MA): Harvard University Press, 1993.

Harold Bloom (ed), Modern Critical Views: Henry James, Chelsea House Publishers, 1991.

Kirstin Boudreau, Henry James's Narrative Technique, Macmillan, 2010.

J. Donald Crowley and Richard A. Hocks (eds), The Wings of the Dove, New York: W.W. Norton and Company, 1978.

Victoria Coulson, Henry James, Women and Realism, Cambridge University Press, 2009.

Daniel Mark Fogel, A Companion to Henry James Studies, Greenwood Press, 1993.

Virginia C. Fowler, Henry James's American Girl: The Embroidery on the Canvas, Madison (Wis): University of Wisconsin Press, 1984.

Jonathan Freedman, The Cambridge Companion to Henry James, Cambridge University Press, 1998.

Judith Fryer, The Faces of Eve: Women in the Nineteenth Century American Novel, Oxford: Oxford University Press, 1976

Roger Gard (ed), Henry James: The Critical Heritage, London: Routledge, 1968.

Tessa Hadley, Henry James and the Imagination of Pleasure, Cambridge University Press, 2009.

Barbara Hardy, Henry James: The Later Writing (Writers & Their Work), Northcote House Publishers, 1996.

Richard A. Hocks, Henry James: A study of the short fiction, New York: Twayne Publishers, 1990.

Donatella Izzo, Portraying the Lady: Technologies of Gender in the Short Stories of Henry James, University of Nebraska Press, 2002.

Colin Meissner, Henry James and the Language of Experience, Cambridge University Press, 2009

John Pearson (ed), The Prefaces of Henry James, Pennsylvania State University Press, 1993.

Richard Poirer, The Comic Sense of Henry James, Oxford: Oxford University Press, 1967.

Hugh Stevens, Henry James and Sexuality, Cambridge University Press, 1998.

Merle A. Williams, Henry James and the Philosophical Novel, Cambridge University Press, 1993.

Judith Woolf, Henry James: The Major Novels, Cambridge University Press, 1991.

Ruth Yeazell (ed), Henry James: A Collection of Critical Essays, Longmans, 1994.
---
Other works by Henry James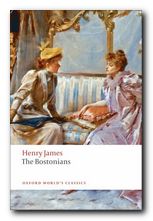 The Bostonians (1886) is a novel about the early feminist movement. The heroine Verena Tarrant is an 'inspirational speaker' who is taken under the wing of Olive Chancellor, a man-hating suffragette and radical feminist. Trying to pull her in the opposite direction is Basil Ransom, a vigorous young man from the South to whom Verena becomes more and more attracted. The dramatic contest to possess her is played out with some witty and often rather sardonic touches, and as usual James keeps the reader guessing about the outcome until the very last page.

Buy the book at Amazon UK


Buy the book at Amazon US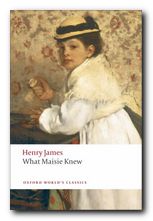 What Masie Knew (1897) A young girl is caught between parents who are in the middle of personal conflict, adultery, and divorce. Can she survive without becoming corrupted? It's touch and go – and not made easier for the reader by the attentions of an older man who decides to 'look after' her. This comes from the beginning of James's 'Late Phase', so be prepared for longer and longer sentences. In fact it's said that whilst composing this novel, James switched from writing longhand to using dictation – and it shows if you look carefully enough – part way through the book.

Buy the book at Amazon UK


Buy the book at Amazon US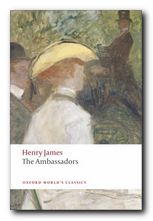 The Ambassadors (1903) Lambert Strether is sent from America to Paris to recall Chadwick Newsome, a young man who is reported to be compromising himself by an entanglement with a wicked woman. However, Strether's mission fails when he is seduced by the social pleasures of the European capital, and he takes Newsome's side. So a second ambassador is dispatched in the form of the more determined Sarah Pocock. She delivers an ultimatum which is resisted by the two young men, but then an accident reveals unpleasant truths to Strether, who is faced by a test of loyalty between old Europe and the new USA. This edition presents the latest scholarship on James and includes an introduction, notes, selected criticism, a text summary and a chronology of James's life and times.


Buy the book at Amazon UK


Buy the book at Amazon US
---
Henry James – web links

Henry James at Mantex
Biographical notes, study guides, tutorials on the Complete Tales, book reviews. bibliographies, and web links.

The Complete Works
Sixty books in one 13.5 MB Kindle eBook download for £1.92 at Amazon.co.uk. The complete novels, stories, travel writing, and prefaces. Also includes his autobiographies, plays, and literary criticism – with illustrations.

The Ladder – a Henry James website
A collection of eTexts of the tales, novels, plays, and prefaces – with links to available free eTexts at Project Gutenberg and elsewhere.

A Hyper-Concordance to the Works
Japanese-based online research tool that locates the use of any word or phrase in context. Find that illusive quotable phrase.

The Henry James Resource Center
A web site with biography, bibliographies, adaptations, archival resources, suggested reading, and recent scholarship.

Online Books Page
A collection of online texts, including novels, stories, travel writing, literary criticism, and letters.

Henry James at Project Gutenberg
A major collection of eTexts, available in a variety of eBook formats.

The Complete Letters
Archive of the complete correspondence (1855-1878) work in progress – published by the University of Nebraska Press.

The Scholar's Guide to Web Sites
An old-fashioned but major jumpstation – a website of websites and resouces.

Henry James – The Complete Tales
Tutorials on the complete collection of over one hundred tales, novellas, and short stories.

Henry James on the Internet Movie Database
Adaptations of James's novels and stories for the cinema and television – in various languages. Full details of directors and actors, production features, film reviews, box office, and even quizzes.
© Roy Johnson 2010
---
More on Henry James
More on literature
More on the novella
More on literary studies
More on short stories
---