tutorial, commentary, study resources, plot, and web links
The Impressions of a Cousin first appeared in magazine form in The Century Magazine for November—December 1883. It was then reprinted in book form amongst Tales of Three Cities in England and America by Osgood of Boston in 1884.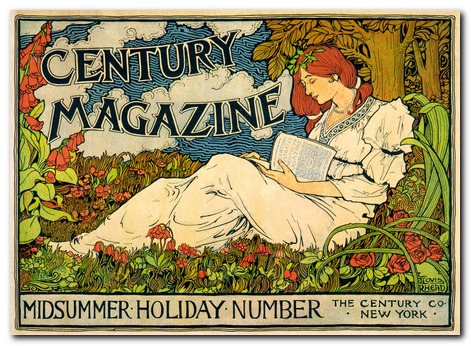 ---
The Impressions of a Cousin – critical commentary
The unreliable narrator
The story is fairly obviously one of James's versions of the unreliable narrator. Catherine Conduit is our only source of information, and James gives the reader every reason to mistrust her reliability.
She conceals her own identity for the first part of the story; she contradicts herself in her account of events, gets dates wrong, breaks her promises, and singularly fails to understand Mr Caliph and his intentions. At one point she even says that what she has written in her own journal to be wrong.
She also fails to register Adrian's romantic interest in her, and she misunderstands the relationship between Eunice and Mr Caliph.
But the problem is that her lack of reliability does not seem to be linked to any hidden or alternative account of events. That is, nothing is hidden behind her mistakes or ignorance in the way that the governess in The Turn of the Screw reveals her own baleful influence on events whilst protesting her innocence and good intentions.
As readers, we do not have any alternative account of events by which to calibrate the truth.
Anti-Semitism
Mr Caliph is one of the most fully-rounded examples of a Jew in James's oeuvre – and a figure who is likely to create a sense of discomfort in most contemporary readers. The narrator Catherine describes him in what we now are likely to see as a set of stereotypes:
rather ugly; but with a fine, expressive, pictorial ugliness … I have an intimate conviction that he is a Jew … I see that in his plump, white face … in the very rings on his large pointed fingers … I don't think he looks like a gentleman
She calls him 'Haroun-al-Raschid' – from One Thousand and One Nights (though the historical original was an Arab) and feels humiliated at being corrected by him.
And Mr Caliph lives up to the stereotype: he misappropriates the funds put into his trust and brings financial ruin to the person whose interests he is supposed to be protecting. Moreover we are led to believe that when he miraculously restores the missing money he does so at the expense of his own step-brother, whose personal fortune suddenly disappears at the end of the tale.
The implication is that he has sacrificed it either to protect his step-brother or out of a sense of honour towards Eunice. So Adrian – who has a different non-Jewish father than Mr Caliph – acts honourably in his own inheritance to pay for his Jewish step-brother's malfeasance.
The account of Mr Caliph is given entirely from Catherine's point of view, and James provides no correctives to her opinions, except the fact that she clearly misjudges people.
Structure
There is nothing in the theory or practice of the 'tale' (or the short story) to suggest that all narratives must be properly concluded with every thread of the drama neatly resolved. But even with these tolerances.taken into account, The Impressions of a Cousin ends in a state of dissipated irresolution.
Two characters, Adrian and Catherine, suddenly change their locations from America to Italy; two potential marriages come to nothing; Eunice is still in contact with Mr Caliph, a man who has abused the role of trustee of her inheritance for his own ends; and nothing in the relationships between the principal characters has been resolved.
These very lose ends mean that the essential subject of the story remains undefined. The story is not fundamentally a study of Eunice, her inheritance, and her possible choice of marriage partner. It is not a tale of Adrian Frank and his preference for a woman who describes herself as 'poor, plain, unloved and unloveable'. And it is not an account of Mr Caliph and his financial machinations.
This leaves only Catherine Conduit herself as the possible focus for the story, and she seems no wiser or more insightful at the end of the story than she does at the beginning. She has lost the favour of her cousin Eunice and is back drifting around Italy with no object in mind.
---
The Impressions of a Cousin – study resources

The Complete Works of Henry James – Kindle edition – Amazon UK

The Complete Works of Henry James – Kindle edition – Amazon US

Complete Stories 1874—1884 – Library of America – Amazon UK

Complete Stories 1874—1884 – Library of America – Amazon US

The Impressions of a Cousin – paperback edition – Amazon UK

The Impressions of a Cousin – paperback edition – Amazon US

The Impressions of a Cousin – original text

The Cambridge Companion to Henry James – Amazon UK

Henry James at Wikipedia – biographical notes, links

Henry James at Mantex – tutorials, biography, study resources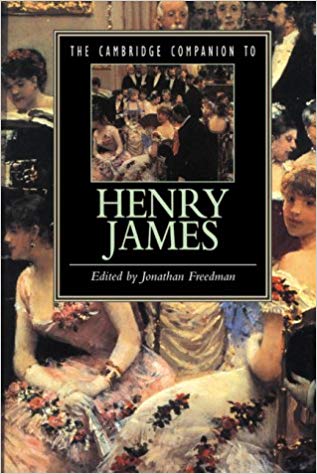 ---
The Impressions of a Cousin – plot summary
Part I
The narrative takes the form of a diary kept by Catherine Conduit, a woman who 'sketches'. She has recently returned from Europe to live in New York, where she finds the city too 'rectangular' to inspire artistic creation. She is housed by her rich young cousin Eunice.
Catherine is slightly frustrated (yet tolerant) of her cousin's lack of social enterprise. Eunice is rather restrained and conservative in her behaviour for a girl of twenty-one. She is due to inherit her mother's property plus money from her father – all of which is looked after by a sole trustee, Mr Caliph.
Catherine is visited by Adrian Frank, Mr Caliph's step-brother, who asks a lot of questions about Eunice. Catherine teases him and feigns ignorance of his apparently romantic intentions towards Eunice.
Catherine's socialite friend Mrs Ermine urges Eunice to spend lots of her to-be inherited money on luxuries and to make a public demonstration of her wealth. Eunice refuses to do so.
Catherine and Eunice receive a visit from Mr Caliph, with whom Catherine is very impressed – though she is concerned that he appears to be Jewish. Mr Caliph suggests that Eunice should get married and asks them to be kind to his step-brother Adrian.
Mr Caliph makes further social calls on the two women, but never discusses business. Catherine would like to check on Mr Caliph's background and reputation, but is held back by fears that this might cast aspersions on his reputation.
Mrs Ermine meets Mr Caliph and finds him wonderfully captivating. Despite his age and appearance, she suggests to Eunice that she should marry him.
Mr Caliph arrives again with an enormous bunch of roses for Catherine and asks to speak to Eunice privately. Mrs Ermine assumes that he is proposing to Eunice, and insults Catherine regarding the gift of the roses. Catherine is increasingly suspicious of Mr Caliph's delay in dealing with the matter of Eunice's trust.
Mr Caliph sends roses to Mrs Ermine too.
Adrian dines with Eunice and Catherine, who 'pities' him but describes him positively. Adrian talks to Eunice about Catherine, who he thinks is attractive.
Catherine meets Adrian in Central Park. His step-brother Mr Caliph has been encouraging him to pay court to Eunice, with whom he is not in love. Catherine says she cannot help him, and she seems completely oblivious to the financial motivation behind this match-making.
Adrian becomes a daily visitor and pays attention to both Eunice and Catherine.
Part II
Adrian discusses his hesitation about proposing to Eunice with Catherine, who then receives a visit from Mr Caliph who wants her help in urging Adrian's union with Eunice. Adrian has his own property, and Mr Caliph makes the argument for an 'arranged' marriage. Once again, Catherine is suspicious of his motives, even though she appears to be completely blind to the financial implications of his plans. She is also attracted to him.
The two women move to Cornerville on the Hudson, where Catherine starts painting again. Catherine tells Eunice about Mr Caliph's and Adrian's plans, but Eunice reveals that she has already refused an offer of marriage from Adrian. Mrs Ermine still believes that Mr Caliph wants to marry Eunice.
Eunice reveals to Catherine that she is worried about money, but will not hold Mr Caliph to account. Catherine writes to Mrs Ermine for help, but Eunice forbids her to send the letter and swears her to secrecy regarding money matters. Catherine believes that Eunice must therefore be in love with Mr Caliph.
Catherine continues worry about the extent of what seem to be Eunice's financial losses, and thinks that Eunice's acceptance of what looks like Mr Caliph's swindling must be an act of love. Meanwhile, Mrs Ermine prepares a lavish garden party which Eunice will hold (and pay for).
Mrs Ermine piles on the expenditure in party preparations. Eunice worries about what she will say to Mr Caliph, who has been invited. Adrian returns to New York for a few days.
At the garden party Catherine advises Mr Caliph to resolve Eunice's financial affairs. They argue, and Mr Caliph repeats his wish that his step-brother should marry Eunice. Mrs Ermine thinks that Mr Caliph has proposed to Eunice.
Eunice falls seriously ill and wants to be left alone. Adrian returns from New York and proposes to Catherine, who refuses him but is very flattered by the offer. She urges him to marry Eunice, and reveals that Eunice is now 'poor' because of his brother's mismanagement. She promises him her 'devotion' if he will rescue Eunice.
Eunice eventually recovers, and it transpires that all her money affairs are now in order. Adrian (who is suddenly 'poor') leaves for Europe, and when Catherine hears he is in Rome, she goes there. Catherine writes to Adrian saying that she will marry him if Mr Caliph ever marries Eunice, who cuts off relations with Catherine.
---
Principal characters
| | |
| --- | --- |
| Catherine Conduit | the narrator, third cousin to Eunice |
| Eunice | a rich orphan of twenty-one |
| Mr Caliph | Eunice's trustee, an old family friend |
| Adrian Frank | Mr Caliph's younger step-brother |
| Mrs Lizzie Ermine | a society busybody and bore |
---
Further reading
Biographical

Theodora Bosanquet, Henry James at Work, University of Michigan Press, 2007.

F.W. Dupee, Henry James: Autobiography, Princeton University Press, 1983.

Leon Edel, Henry James: A Life, HarperCollins, 1985.

Philip Horne (ed), Henry James: A Life in Letters, Viking/Allen Lane, 1999.

Henry James, The Letters of Henry James, Adamant Media Corporation, 2001.

Fred Kaplan, Henry James: The Imagination of Genius, Johns Hopkins University Press, 1999

F.O. Matthieson (ed), The Notebooks of Henry James, Oxford University Press, 1988.
Critical commentary

Elizabeth Allen, A Woman's Place in the Novels of Henry James London: Macmillan Press, 1983.

Ian F.A. Bell, Henry James and the Past, London: Palgrave Macmillan, 1993.

Millicent Bell, Meaning in Henry James, Cambridge (MA): Harvard University Press, 1993.

Harold Bloom (ed), Modern Critical Views: Henry James, Chelsea House Publishers, 1991.

Kirstin Boudreau, Henry James's Narrative Technique, Macmillan, 2010.

J. Donald Crowley and Richard A. Hocks (eds), The Wings of the Dove, New York: W.W. Norton and Company, 1978.

Victoria Coulson, Henry James, Women and Realism, Cambridge University Press, 2009.

Daniel Mark Fogel, A Companion to Henry James Studies, Greenwood Press, 1993.

Virginia C. Fowler, Henry James's American Girl: The Embroidery on the Canvas, Madison (Wis): University of Wisconsin Press, 1984.

Jonathan Freedman, The Cambridge Companion to Henry James, Cambridge University Press, 1998.

Judith Fryer, The Faces of Eve: Women in the Nineteenth Century American Novel, Oxford: Oxford University Press, 1976

Roger Gard (ed), Henry James: The Critical Heritage, London: Routledge, 1968.

Tessa Hadley, Henry James and the Imagination of Pleasure, Cambridge University Press, 2009.

Barbara Hardy, Henry James: The Later Writing (Writers & Their Work), Northcote House Publishers, 1996.

Richard A. Hocks, Henry James: A study of the short fiction, New York: Twayne Publishers, 1990.

Donatella Izzo, Portraying the Lady: Technologies of Gender in the Short Stories of Henry James, University of Nebraska Press, 2002.

Colin Meissner, Henry James and the Language of Experience, Cambridge University Press, 2009

John Pearson (ed), The Prefaces of Henry James, Pennsylvania State University Press, 1993.

Richard Poirer, The Comic Sense of Henry James, Oxford: Oxford University Press, 1967.

Hugh Stevens, Henry James and Sexuality, Cambridge University Press, 1998.

Merle A. Williams, Henry James and the Philosophical Novel, Cambridge University Press, 1993.

Judith Woolf, Henry James: The Major Novels, Cambridge University Press, 1991.

Ruth Yeazell (ed), Henry James: A Collection of Critical Essays, Longmans, 1994.
---
Other works by Henry James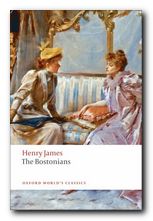 The Bostonians (1886) is a novel about the early feminist movement. The heroine Verena Tarrant is an 'inspirational speaker' who is taken under the wing of Olive Chancellor, a man-hating suffragette and radical feminist. Trying to pull her in the opposite direction is Basil Ransom, a vigorous young man to whom Verena becomes more and more attracted. The dramatic contest to possess her is played out with some witty and often rather sardonic touches, and as usual James keeps the reader guessing about the outcome until the very last page.

Buy the book at Amazon UK


Buy the book at Amazon US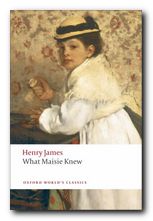 What Masie Knew (1897) A young girl is caught between parents who are in the middle of personal conflict, adultery, and divorce. Can she survive without becoming corrupted? It's touch and go – and not made easier for the reader by the attentions of an older man who decides to 'look after' her. This comes from the beginning of James's 'Late Phase', so be prepared for longer and longer sentences. In fact it's said that whilst composing this novel, James switched from writing longhand to using dictation – and it shows if you look carefully enough – part way through the book.


Buy the book at Amazon UK


Buy the book at Amazon US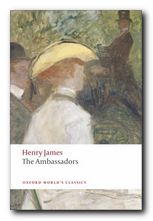 The Ambassadors (1903) Lambert Strether is sent from America to Paris to recall Chadwick Newsome, a young man who is reported to be compromising himself by an entanglement with a wicked woman. However, Strether's mission fails when he is seduced by the social pleasures of the European capital, and he takes Newsome's side. So a second ambassador is dispatched in the form of the more determined Sarah Pocock. She delivers an ultimatum which is resisted by the two young men, but then an accident reveals unpleasant truths to Strether, who is faced by a test of loyalty between old Europe and the new USA. This edition presents the latest scholarship on James and includes an introduction, notes, selected criticism, a text summary and a chronology of James's life and times.


Buy the book at Amazon UK


Buy the book at Amazon US
---
Henry James – web links

Henry James at Mantex
Biographical notes, study guides, tutorials on the Complete Tales, book reviews. bibliographies, and web links.

The Complete Works
Sixty books in one 13.5 MB Kindle eBook download for £1.92 at Amazon.co.uk. The complete novels, stories, travel writing, and prefaces. Also includes his autobiographies, plays, and literary criticism – with illustrations.

The Ladder – a Henry James website
A collection of eTexts of the tales, novels, plays, and prefaces – with links to available free eTexts at Project Gutenberg and elsewhere.

A Hyper-Concordance to the Works
Japanese-based online research tool that locates the use of any word or phrase in context. Find that illusive quotable phrase.

The Henry James Resource Center
A web site with biography, bibliographies, adaptations, archival resources, suggested reading, and recent scholarship.

Online Books Page
A collection of online texts, including novels, stories, travel writing, literary criticism, and letters.

Henry James at Project Gutenberg
A major collection of eTexts, available in a variety of eBook formats.

The Complete Letters
Archive of the complete correspondence (1855-1878) work in progress – published by the University of Nebraska Press.

The Scholar's Guide to Web Sites
An old-fashioned but major jumpstation – a website of websites and resouces.

Henry James – The Complete Tales
Tutorials on the complete collection of over one hundred tales, novellas, and short stories.
© Roy Johnson 2013
---
More tales by James
More on literature
More on the novella
More on literary studies
More on short stories
---