encyclopaedia of writing skills + exercises and examples
Don't be misled by the title. This book is neither little nor brown. It's a reference guide to all aspects of academic writing that its authors say will "answer almost any question you have about writing…find out how to get ideas, punctuate quotations, search the Internet, cite sources, or write a resumé". That's a bold claim, but in almost one thousand densely packed pages, I think they live up to it. The Little, Brown Handbook has become a classic style guide over its many editions.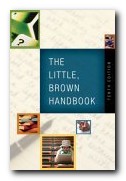 Fowler and Aaron start with the standard academic essay and its requirements, then cover grammar, punctuation, spelling, sentence construction, vocabulary, and research. However, these simple headings belie the richness of the material they provide. The latest edition takes full account of computers and the Internet for writing and research, advice for users of English as a second language, plus the latest (1998) MLA guidelines.
It actually starts with a chapter on critical thinking and reading, then puts its emphasis on writing as a process of development, drafting, and revising. These sections act as a thorough course in essay-writing techniques, from formulating ideas to revising, editing, and proofreading the final drafts.
It's full of handy hints. They suggest for instance the use of two-column reading journal – left column for summaries, and an empty right column which will "beckon you to respond" with critical notes. Every point is illustrated with examples, and there are exercises at the end of each chapter [though you have to work out the answers for yourself].
This is a book that could be used for reference ["Where does the comma go?"] as a teaching aid ["Work through exercises 4 and 5"] or as a source of self-instruction [Outliners and how to use them in generating structure]. For students, there are some very useful examples of revised drafts, tips on essay introductions and conclusions, the generation and substantiation of arguments, and recognising fallacies of argument. For tutors, they make suggestions for coursework.
The section on sentence construction is also an introduction to the basics of English Language and grammar. Like many other guides of its kind, it assumes that readers need to know about 'prepositional phrases', 'subordinating conjunctions', and 'restrictive apositives'. Every single case and difficulty is listed, to the point of exhaustive completeness. The problem is that it might not be easy for students to locate the case they require from index entries which read 'Commas – with conjunctive adverbs and transitional expressions'.
After sections on grammatical correctness, it goes on to questions of taste, style, and conventions in language-use. This embraces choosing the appropriate word, being concise, eliminating dross, and extending one's vocabulary. The vexed issue of spelling is explained with all its common exceptions, and the latter part of the book discusses meta-issues such as planning a research project, using the Internet to good effect, evaluating sources, the traditional skills of taking notes, and the latest MLA conventions on text citation. At the end, there are sections on writing under exam conditions, business writing (with plenty of examples) and appendices on page layout, document design, oral presentations, and writing with a computer. These latter sections will be of interest to more advanced users.
For students, there are some very useful examples of sample research papers and an examination essay – not only the complete text, but a running commentary on the right-hand page explaining points of detail and commenting on structure, format, citation, and the handling of secondary sources. They even include revised drafts and notes made in the composition of the papers. This is an excellent resource, and just about the closest you could get to live tuition in the subtleties of academic writing.
This may be a book that will appeal more to course tutors, instructors, and librarians than to the students it is written for, but for anyone concerned with the development of writing skills Fowler and Aaron cover all (and I mean all) the details. It might be an expensive investment, but if you're teaching writing skills it's the most comprehensive resource I've ever come across, and if you're just starting your academic career, it will see you through to post-graduate studies and beyond.
© Roy Johnson 2009

  Buy the book at Amazon UK

  Buy the book at Amazon US
---
H. Ramsey Fowler and Jane E. Aaron, Little, Brown Handbook, (7th edn) New York: Longman, 11th edition 2009, pp.992, ISBN: 0205734960
---
More on study skills
More on writing skills
More on online learning
---