tutorial, commentary, study resources, and web links
The Middle Years (1893) first appeared in Scribner's Magazine when Henry James was only a comparatively young man of fifty. Yet the story reveals a profound concern with artistic achievement as the summation of a life's work.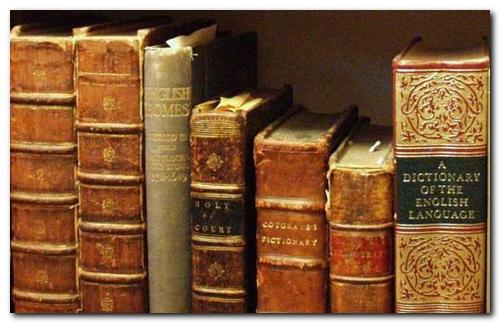 The Middle Years
Towards the end of his life Henry James began to write stories which explored issues of biography, critical reputation, and public manifestations of literary life. Like many other writers he kept a tight control over his own image in the public eye, and eventually burnt all his most private papers so that nothing untoward would slip through to damage his posthumous reputation.
In The Aspern Papers (1888) a biographer seeking access to the private correspondence of a great writer is thwarted by the author's former lover; The Abasement of the Northmores (1900) deals with an situation in which a posthumous collection of letters ironically reveal a lack of substance in the life of a public figure; and The Figure in the Carpet (1896) presents a distinguished novelist sending literary critics on a wild goose chase by the claims he makes for the work he leaves behind.
---
The Middle Years – critical commentary
The meaning of the story
At face value the meaning of the story is simple enough. After a lifetime's achievement a distinguished novelist realises that he has finally reached a level of artistic creation towards which he has always striven. He wishes that this were rather a starting point, from which he could develop the potential he feels in himself. But for that he would need what he calls 'a second age, an extension'.
That is, he wishes to live longer in order to achieve more. And he does not wish his posthumous reputation to be based on what he regards as an 'unfinished' career. But he is in ill health, and despite the ministrations of two doctors, it is obvious that he is fading rapidly.
Fortunately, Doctor Hugh reassures him that he has achieved greatness, and he dies realising that life does not permit a 'second age'. An artist's achievement is the sum of his life's work created during his one opportunity to live. He sums up the situation in a memorable expression:
"We work in the dark — we do what we can — we give what we have. Our doubt is our passion and our passion is our task. The rest is the madness of art."
There are some beautiful passages in the story where James evokes a touching sense of fading powers and the feeling of a life slipping away under the pressure of illness. Dencombe's feelings are also subtly mingled with his creative perception of what is going on around him. He fictionalises the Countess and her retinue as they appear before him on the Bournemouth sea front:
Where moreover was the virtue of an approved novelist if one couldn't establish a relation between such figures? the clever theory for instance that the young man was the son of the opulent matron and that the humble dependent, the daughter of a clergyman or an officer, nourished a secret passion for him.
His suppositions are mildly incorrect, but they show the creative force of his imagination still at work, even though life is slipping away from him.
Another reading
Knowing what James was to write in the later parts of his career, it is difficult to escape the sense that the story is a sort of homo-erotic wish-fulfilment. Dencombe is an older single man and a writer whose wife and child have died. Doctor Hugh is a younger, charming, and very attentive admirer. The first result of their meeting is that Dencombe faints and 'lost his senses altogether'.
On recovering, the first thing he thinks of is 'Doctor Hugh's young face … bent over him in a comforting laugh'. Doctor Hugh flatters him during his subsequent ministrations, reassuring him that he is not old 'physiologically'. He says this whilst knowing as a physician that Dencombe is dangerously ill.
They both share a distinctly negative attitude towards women. Dencombe has already seen the Countess in a satirical manner: 'the exorbitant lady, watching the waves, offered a confused resemblance to a flying machine that had broken down'. And he sees Miss Vernham in an even more negative light: 'some figure … in a play or novel, some sinister governess or tragic old maid. She seemed to scan him, to challenge him, to say out of general spite 'What have you to do with us?"
He attributes to Miss Vernham the malign intention of helping Doctor Hugh to ingratiate himself with the Countess so that she can marry him after he inherits her money. But Doctor Hugh is even more forthright: he simply thinks Miss Vernham is 'mad'.
Doctor Hugh then forfeits the chance of such fortunes by sacrificing himself for the sake of his feelings for Dencombe. He has an 'infatuation' for his work. 'I gave her up for you. I had to choose' he tells the writer.
At this declaration Dencombe once again falls into a faint, from which he revives to say ambiguously to the young doctor, who is kneeling at the bedside, with his head 'very near' to the pillow, 'The thing is to have made someone care'. Doctor Hugh's response of 'You're a great success' is made 'putting into his voice the ring of a marriage-bell'.
In biographical terms even Dencombe's final realisation can be seen as a form of coded acceptance of unconsummated desire. James was attracted to men and was sceptical about women – despite having females as close friends. But the conflict between his desire and his moral scheme of things produced conflicts that could only be resolved by the passive acceptance that Dencombe's death suggests.
It is interesting to note that The Middle Years was the title James gave to his autobiographical reminiscences which were published in 1917, the year after his death. He dictated the text during the autumn of 1914 without notes of any kind. But by that time he had come to realise the nature of his own sexuality, and had indeed begun to act upon it, making him, as Harold Nicolson observed, a 'late-flowering bugger'.
---
The Middle Years – study resources

The Complete Works of Henry James – Kindle edition – Amazon UK

The Complete Works of Henry James – Kindle edition – Amazon US

Complete Stories 1892—1898 – Library of America – Amazon UK

Complete Stories 1892—1898 – Library of America – Amazon US

The Middle Years – Oxford World Classics edition – Amazon UK

The Middle Years – Oxford World Classics edition – Amazon US

The Middle Years – Kindle eBook edition

The Middle Years – eBook formats at Project Gutenberg

The Cambridge Companion to Henry James – Amazon UK

Henry James at Wikipedia – biographical notes, links

Henry James at Mantex – tutorials, biography, study resources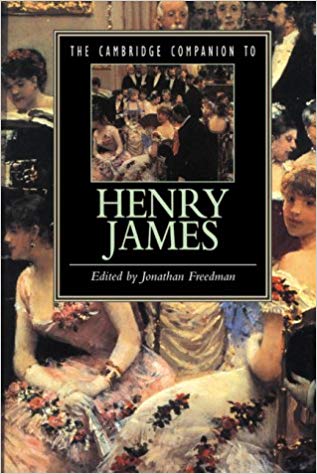 ---
The Middle Years – plot summary
Dencombe, a middle-aged novelist is taking a rest cure in Bournemouth following a recent illness. He feels depressed by a sense of fading powers, but when looking over an early copy of his latest novel The Middle Years realises that it is a good piece of work. He wishes he could have a 'second' writing career to build on the achievement of his first.
He meets young Doctor Hugh, a great admirer of his works, who is travelling in medical attendance on a Countess and her paid companion Miss Vernham. When Dencombe has another attack of illness, Dr Hugh befriends him and comforts him, realising his true identity. He reassures the novelist that he will 'live'.
As Dencombe is convalescing, he is visited by Miss Vernham, who asks him to curtail his close association with Doctor Hugh, because the Countess demands complete fidelity and attention. She reveals that the Countess is expected to leave her money to Doctor Hugh, and Dencombe speculates that Miss Vernham will therefore subsequently wish to marry him.
The Countess and Miss Vernham return to London, where the Countess suddenly dies. Doctor Hugh then visits Dencombe to reveal that he has not been left anything, but he is buoyed up by a positive review of the novel. As Dencombe slips towards death he realises that there is to be no 'second chance', but Doctor Hugh reassures him that the fruits of his 'first (and only) chance' will make his reputation live on.
---
Principal characters
| | |
| --- | --- |
| Dencombe | elderly widower and novelist |
| Dr Hugh | young medical advisor to the Countess |
| The Countess | a rich dowager |
| Miss Vernham | paid companion to the Countess |
---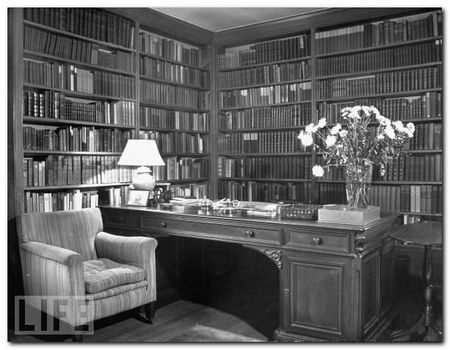 Henry James's study
---
Further reading
Biographical

Theodora Bosanquet, Henry James at Work, University of Michigan Press, 2007.

F.W. Dupee, Henry James: Autobiography, Princeton University Press, 1983.

Leon Edel, Henry James: A Life, HarperCollins, 1985.

Philip Horne (ed), Henry James: A Life in Letters, Viking/Allen Lane, 1999.

Henry James, The Letters of Henry James, Adamant Media Corporation, 2001.

Fred Kaplan, Henry James: The Imagination of Genius, Johns Hopkins University Press, 1999

F.O. Matthieson (ed), The Notebooks of Henry James, Oxford University Press, 1988.
Critical commentary

Elizabeth Allen, A Woman's Place in the Novels of Henry James London: Macmillan Press, 1983.

Ian F.A. Bell, Henry James and the Past, London: Palgrave Macmillan, 1993.

Millicent Bell, Meaning in Henry James, Cambridge (MA): Harvard University Press, 1993.

Harold Bloom (ed), Modern Critical Views: Henry James, Chelsea House Publishers, 1991.

Kirstin Boudreau, Henry James's Narrative Technique, Macmillan, 2010.

J. Donald Crowley and Richard A. Hocks (eds), The Wings of the Dove, New York: W.W. Norton and Company, 1978.

Victoria Coulson, Henry James, Women and Realism, Cambridge University Press, 2009.

Daniel Mark Fogel, A Companion to Henry James Studies, Greenwood Press, 1993.

Virginia C. Fowler, Henry James's American Girl: The Embroidery on the Canvas, Madison (Wis): University of Wisconsin Press, 1984.

Jonathan Freedman, The Cambridge Companion to Henry James, Cambridge University Press, 1998.

Judith Fryer, The Faces of Eve: Women in the Nineteenth Century American Novel, Oxford: Oxford University Press, 1976

Roger Gard (ed), Henry James: The Critical Heritage, London: Routledge, 1968.

Tessa Hadley, Henry James and the Imagination of Pleasure, Cambridge University Press, 2009.

Barbara Hardy, Henry James: The Later Writing (Writers & Their Work), Northcote House Publishers, 1996.

Richard A. Hocks, Henry James: A study of the short fiction, New York: Twayne Publishers, 1990.

Donatella Izzo, Portraying the Lady: Technologies of Gender in the Short Stories of Henry James, University of Nebraska Press, 2002.

Colin Meissner, Henry James and the Language of Experience, Cambridge University Press, 2009

John Pearson (ed), The Prefaces of Henry James, Pennsylvania State University Press, 1993.

Richard Poirer, The Comic Sense of Henry James, Oxford: Oxford University Press, 1967.

Hugh Stevens, Henry James and Sexuality, Cambridge University Press, 1998.

Merle A. Williams, Henry James and the Philosophical Novel, Cambridge University Press, 1993.

Judith Woolf, Henry James: The Major Novels, Cambridge University Press, 1991.

Ruth Yeazell (ed), Henry James: A Collection of Critical Essays, Longmans, 1994.
---
Other works by Henry James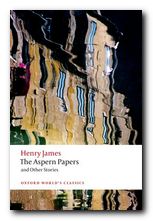 The Aspern Papers (1888) is a psychological drama set in Venice which centres on the tussle for control of a great writer's correspondence. An elderly lady, ex-lover of the writer, seeks a husband for her daughter. But the potential purchaser of the papers is a dedicated bachelor. Money is also at stake – but of course not discussed overtly. There is a refined battle of wills between them. Who will win in the end? As usual, James keeps the reader guessing. The novella is a masterpiece of subtle narration, with an ironic twist in its outcome. This collection of stories also includes three of his accomplished long short stories – The Private Life, The Middle Years, and The Death of the Lion.


Buy the book from Amazon UK


Buy the book from Amazon US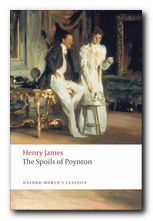 The Spoils of Poynton (1896) is a short novel which centres on the contents of a country house, and the question of who is the most desirable person to inherit it via marriage. The owner Mrs Gereth is being forced to leave her home to make way for her son and his greedy and uncultured fiancee. Mrs Gereth develops a subtle plan to take as many of the house's priceless furnishings with her as possible. But things do not go quite according to plan. There are some very witty social ironies, and a contest of wills which matches nouveau-riche greed against high principles. There's also a spectacular finale in which nobody wins out.


Buy the book from Amazon UK


Buy the book from Amazon US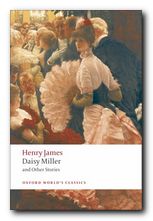 Daisy Miller (1879) is a key story from James's early phase in which a spirited young American woman travels to Europe with her wealthy but commonplace mother. Daisy's innocence and her audacity challenge social conventions, and she seems to be compromising her reputation by her independent behaviour. But when she later dies in Rome the reader is invited to see the outcome as a powerful sense of a great lost potential. This novella is a great study in understatement and symbolic power.

Buy the book from Amazon UK


Buy the book from Amazon US
---
Henry James – web links

Henry James at Mantex
Biographical notes, study guides, tutorials on the Complete Tales, book reviews. bibliographies, and web links.

The Complete Works
Sixty books in one 13.5 MB Kindle eBook download for £1.92 at Amazon.co.uk. The complete novels, stories, travel writing, and prefaces. Also includes his autobiographies, plays, and literary criticism – with illustrations.

The Ladder – a Henry James website
A collection of eTexts of the tales, novels, plays, and prefaces – with links to available free eTexts at Project Gutenberg and elsewhere.

A Hyper-Concordance to the Works
Japanese-based online research tool that locates the use of any word or phrase in context. Find that illusive quotable phrase.

The Henry James Resource Center
A web site with biography, bibliographies, adaptations, archival resources, suggested reading, and recent scholarship.

Online Books Page
A collection of online texts, including novels, stories, travel writing, literary criticism, and letters.

Henry James at Project Gutenberg
A major collection of eTexts, available in a variety of eBook formats.

The Complete Letters
Archive of the complete correspondence (1855-1878) work in progress – published by the University of Nebraska Press.

The Scholar's Guide to Web Sites
An old-fashioned but major jumpstation – a website of websites and resouces.

Henry James – The Complete Tales
Tutorials on the complete collection of over one hundred tales, novellas, and short stories.

Henry James on the Internet Movie Database
Adaptations of James's novels and stories for the cinema and television – in various languages. Full details of directors and actors, production features, film reviews, box office, and even quizzes.
&copy Roy Johnson 2012
---
More tales by James
More on literature
More on the novella
More on literary studies
More on short stories
---