themes and developments in English Literature 1910-1940
Although writers such as Virginia Woolf, James Joyce, D.H. Lawrence, and E.M. Forster produced their work almost a hundred years ago, we still class their work as 'modernism'. That's because they made such a radical break with the preceding century, and the fact is that some of their experiments have not been surpassed in the literature produced since.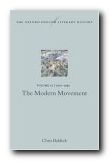 Chris Baldick's comprehensive study sketches in the social, linguistic, and aesthetic background of the period, then groups his discussion of examples according to literary forms – short stories, drama, poetry, and the novel. He naturally highlights the major figures – Joyce, Woolf, Lawrence, Eliot – but his other concern is to show the traditional literary culture out of which the modernist experiment emerged at the beginning of the last century.
This involves consideration of writers such as Arnold Bennett, Somerset Maugham, and now almost-forgotten figures such as Dornford Yates, Aldous Huxley, and Elizabeth Bowen who were very successful in their own time.
The Modern Movement ranges broadly, covering psychological novels, war poems, detective stories, 'light reading', essays, biography, satire (Waugh, Huxley, Lewis, Isherwood) children's books, and other literary forms evolving in response to the new anxieties and exhilarations of twentieth-century life. He also introduces chapters which focus on themes such as Childhood, the Great War, and Sexuality.
He's particularly well informed on what's often called 'the writer and the marketplace' – that is, the financial realities which lie beneath the occupation of authorship. He knows who earned most (Arnold Bennett) he reveals which writers were subsidised by rich patrons (Joyce of course, as well as others who were subsidised by wealthy spouses). I was amazed to learn that D.H. Lawrence not only made a lot of money out of the privately published Lady Chatterley's Lover but that he went on to make even more by investing it in stocks and shares on Wall Street.
One small feature comes off nicely. Each chapter is preceded by a list of new words which came into currency at the time, and they always seem to emerge earlier than you would guess – blurb, umpteen, back-pack, and tear-jerker for instance.
He even includes an interesting presentation of theories of the novel – which involves consideration of first and third person narration. This ties in the connections between the nineteenth and twentieth centuries, and lays out the groundwork for the central chapters on Joyce, Woolf, Lawrence, and Forster.
Baldick interprets all the major works of these writers – Howards End, Mrs Dalloway, Ulysses, Women in Love – in a way that makes you feel like immediately reading them again. But en route he takes time to look at the lesser-known works of the period, such as Love on the Dole, Elizabeth Bowen's The Death of the Heart, Dorothy Richardson's Pilgrimage, and Aldous Huxley's Chrome Yellow, and novels by Naomi Mitchison, Robert Graves, and Sylvia Townsend Warner.
I remember reading Walter Allen's The English Novel and Tradition and Dream many years ago, and this is a similar experience. Authors, novels, books, and ideas jump off every page, and anybody with an appetite for literature will feel a terrific urge to follow up on the suggestions he holds out.
There's a very good collection of further reading at the back of the book. These entries combine biographical notes on the author, together with available editions of their major works, plus secondary studies and criticism.
This is the fifth volume to be published in the Oxford English Literary History series. It can be read continuously as an in-depth study of the period, or used as a rich source of reference.
© Roy Johnson 2004

  Buy the book at Amazon UK

  Buy the book at Amazon US
---
Chris Baldick, The Modern Movement, Oxford: Oxford University Press, 2004, pp.477, ISBN: 0198183100
---
More on literature
More on the novella
More on literary studies
More on short stories
---