95 ways to enhance technology-based learning
I've been teaching online learning courses almost as long as they have existed, and I know that both course designers and students need as much support as they can get. This book is aimed at the tutors and course designers and has the sole aim of helping them make the experience of learning on line more interactive, more enjoyable, and more effective. There are two in-built problems with online courses. Schools, colleges, and universities (to say nothing of commercial enterprises) want to eliminate expensive tutor-contact time, and make courses available any hour of the day. But anything beyond elementary lessons requires students to produce work which is assessed by a live tutor – who needs to be paid for reading on screen or on paper. That's the first problem: it's not easy to teach complex issues and subjects on a computer screen.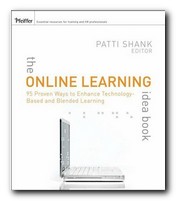 The second is that making online courses truly interactive is an expensive business. Confronting students with rich learning experiences usually ends up requiring Flash animations, specially shot video footage, or interactive games of one kind or another – all of which are costly to produce. Faced with these problems, many teachers end up doing nothing more than sticking their lecture notes online in the form of downloadable Word files.
This book is a collection of techniques and strategies which have been tried out by practising teachers – who are confident enough to give their names and the web addresses of their own materials. Suggestions start at a point even before formal learning begins, with ideas for 'learning agreements and 'study schedules' which students sign up to and which hopefully keep them on track and up to date. Some struck me as mildly utopian, but I liked the 'eLearning Portfolio', which would undoubtedly be useful.
The next section deals with learning via social interaction – collaborative projects and team-working – then what follows naturally from that, learning via discussion. The guidance 'rules' for forum postings are sound – though in my experience it's quite difficult to enforce these without seeming over-controlling.
For completely individual learners working in isolation, the suggestions include visual diaries, email biographies, shared bookmarks, 'visiting' expert speakers (using podcasts), the 'mini quest' (which I would call a 'small project') blogs, and peer editing.
Synchronous learning activities rely heavily on chat, instant messaging, and pre-arranged forums. The main thrust in the suggestions made here are to enable participants to feel comfortable interacting with each other.
When it comes to self-assessment exercises we are into puzzles and games, flash cards, drag-and-drop activities, and multiple choice questions. But be warned – these can be expensive, unless you use off-the-shelf templates.
The latter part of the book deals with the actual structure, design, and navigation systems of online courses. This offers templates to cut down on design time, tips for maximising usability, and ideas for creative design – including some very funny clips at www.zefrank.com.
One interesting feature in my reading of this book was that ideas for one learning strategy or technique would come to me whilst I was busy reading about suggestions for something completely different.
Two things are for certain: the range of suggestions is amazing, and you're sure to find something amongst them which will appeal to you. The editor Patti Shank has wisely stuck to a very tight formula for presenting these ideas. None takes up more than three pages, including screenshots, and the authors are even asked to show how their ideas can be adapted for other uses. This is a boon for online course designers.
© Roy Johnson 2007
---
Patti Shank (ed) the Online Learning idea book, San Francisco: John Wiley, 2007, pp.354, ISBN: 0787981680
---
More on online learning
More on technology
More on digital media
More on web design
More on computers
---