essays on jazz musicians and jazz history
This latest addition to the distinguished Oxford Companion series comes with an encomium from record producer George Avakian: "No book on jazz has ever attempted the scope of this monumental collection of 60 studies by 59 writers. [It] is both a reference work for the scholar and a rewarding book to be dipped into by the casual reader." Edited by composer, educator, and saxophonist Bill Kirchner, The Oxford Companion to Jazz is both impressive and slightly disappointing.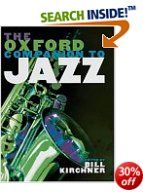 The essays are uneven in quality, there are several typographical errors, some of the black and white photographs are poorly reproduced, there are no 'Notes on Contributors', and the eye-straining 'Selected Bibliography' and 'Index of Names and Subjects' are not accompanied by a discography – although several essays are, in effect, record reviews. But this stout Companion has more strengths than weaknesses, and is a valuable addition to jazz literature. Kirchner's contributors include such notable critics and musicians as Dan Morgernstern, Gunther Schuller, Patricia Willard, Bill Crow, Digby Fairweather, and Richard M. Sudhalter. There are also essays from Loren Schoenberg, Dick Katz, Mike Zwerin, Lewis Porter, Brian Priestly, Will Friedwall, Scott De Veaux, Max Harrison and Ted Gioia.
The topics covered range from 'African Roots of Jazz' (Samuel A. Floyd, Jr.) and 'European Roots of Jazz' (William H. Youngren) – which present two opposing views of the same topic. Extended essays also cover such neglected subjects as 'The Jazz Age, Appearances and Realities' and 'Big Bands and Jazz Composing and Arranging after World War II'.
There are chapters dealing with jazz styles – such as ragtime, swing, bop (an excellent piece by De Veaux), third stream, and fusion – and the locations of jazz – New Orleans, New York, California, and Kansas City. Even Europe, Japan, Canada and Australia are exhumed and examined.
Acknowledged jazz masters (and mistresses) receive individual (and sometimes overlapping) evaluations: Bessie Smith, King Oliver, Jelly Roll Morton, Sidney Bechet, Bix Beiderbecke, Duke Ellington, Coleman Hawkins, Lester Young; Ella Fitzgerald, Billie Holiday and Sarah Vaughan (in a perceptive essay by Patricia Willard). There are also chapters on the modern masters Charlie Parker, Miles Davis, Thelonious Monk, Charles Mingus, and John Coltrane – though 'cutting edge' instrumentalists and vocalists of the past two decades receive short (or no) shrift.
Separate entries on the instruments of jazz offer some revealing insights – Michael Ullman on the clarinet, Gunther Schuller on the trombone, Don Heckman on the saxophone, Randy Sandke on the trumpet, Bill Crow on the bass, Burt Korall on the drums, Neil Tesser on 'The Electric Guitar and Vibraphone in Jazz: Batteries Not Included'. There are also several essays on pianists.
In one of the best essays, 'Jazz Improvisation and Concepts of Virtuosity', David Demsey explains that 'in a great soloist's repertoire, every tune is like a familiar subject of conversation: although fresh ideas are always emerging, the language needed to communicate them has a consistency for each individual.'
He then applies this observation to the recorded work of masters ranging from Louis Armstrong to Ornette Coleman. He makes a good point in his suggestion that:
It is in the solitude of the practice room – 'the woodshed' – where, for even the most inexperienced student and the legendary jazz master alike, the basic elements of form and harmony are ingrained, new melodies or voice-leading pathways are learned, and experiments are made in rhythmic manipulation.
The Oxford Companion to Jazz, like the music and musicians it celebrates, is hugely enjoyable but best taken in measured doses. Holding this massive tome open takes two hands. If, as the editor hopes, it also sends (or introduces) the serious or casual reader to the recorded performances of the artists discussed, so much the better.
© John White 2005

Buy the book at Amazon UK

Buy the book at Amazon US
---
Bill Kirchner (ed), The Oxford Companion to Jazz, Oxford: Oxford University Press, 2005, pp.864, ISBN: 019512510X
---
More on music
More on media
More on lifestyle
---