definitions and an encyclopedia of musical matters
Actually this is what should be called (for the want of a better term) a dictionary of classical music, because it does not seek to cover all musical genres. Entries run from the note A to the Polish soprano Teresa Zylis-Gara, and include major (and minor) composers plus their works, famous performers and conductors, characters from operas, musical concepts and genres, musical instruments, and even mini-essays on topics such as 'Electronic Music'.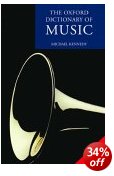 It's as up-to-date as one could expect for a work of reference of this kind. There are 12,500 entries on all aspects of the subject, and topics stretch from music of the twelfth and thirteenth centuries to potted biographies of contemporary composers such as Judith Weir and performers such as Cecilia Bartoli. I checked against (for instance) George Benjamin (b. 1960) and Thomas Adès (b. 1970) – and both of them had entries.
Its one nod towards 'popular' music is to include mention of song composers such as Irving Berlin and Cole Porter. For anyone interested in music, whether as a student, concert-goer, record collector or Radio 3 listener, it is a welcoming book – in which the author shares his enthusiasm for the obvious as well as the obscure. To give a very typical illustrative example, the section on American composer John Adams runs as follows:
Adams, John (Coolidge) (b Worcester, Mass, 1947). Amer. composer, conductor, and clarinetist. Studies Harvard Univ. and comp. with Kirchner, Del Tredici, and Sessions. Head, comp. dept. San Francisco Cons. 1972-82. Comp-in-res., San Francisco SO 1979-85. One of minimalists, he has deliberately forged an eclectic idiom which borrows from most of the major 20th cent. composers and from jazz. Comps.:

OPERAS: * Nixon in China (1984-7) ; The * Death of Klinghoffer (1990-1); I was looking at the ceiling and then I saw the sky, mus. th. (1994-5); Doctor Atomic (2003-5).

ORCH.: Common Tones in Simple Time (1980); Shaker Loops, str. (1983); Harmonielehre (1984-5); Tromba lontana (1986); Short ride in a fast machine (1986); The Chairman Dances (1987); Fearful Symetries (1988); Eros Piano, pf, orch. or chamber orch. (1989); Chamber conc. (1991); El Dorado (1991); vn. conc. (1993).

VOICE(S) & ORCH. OR ENS.: Christian Zeal and Activity, spkr. on tape., ens. (1973); Grounding, 3 solo vv., instr., elec. (1975); Harmonium, ch., orch. (1980); Grand Pianola Music, 2 sop., 2 pf., small orch. (1981-2); The Wound Dresser, bar., orch. or chamber orch. (1988).

CHAMBER MUSIC: Pf. quintet (1970); American Standard, unspecified ens. (1973).

PIANO: Ragamarole, (1973); China Gates, (1977); Phrygian Gates, (1977).

TAPE ONLY: Onyx, (1975); Light Over Water, (1983).
The entire body text is set in Times New Roman, which for works of reference is a little unfashionable these days – but which I felt was sympathetic to the subject of classical music.
This latest revised edition has been supplemented with 1,000 new entries; lists of composers works have been brought up to date; and the entries now also include musical directors, critics, producers, and designers. Whether we call it 'classical' music or anything else, everything you might wish to know about it is covered here. [It's also now available in a slightly abridged paperback edition.]
© Roy Johnson 2012

Buy the book at Amazon UK

Buy the book at Amazon US
---
Michael Kennedy, The Oxford Dictionary of Music, (revised edition) Oxford: Oxford University Press, sith edition, 2012, pp.976, ISBN: 0199578109
---
More on music
More on media
More on lifestyle
---