tutorial, commentary, study resources, and web links
The Papers (1903) is an astonishingly prophetic story. It might have been written in 2013, rather than a hundred years earlier. James deals with all the unsavoury features now associated with contemporary media – cynical journalism, image manipulation, empty celebrity culture, and what we now call 'spin doctoring' – but he shows it all alive and working smoothly only two years after the death of Queen Victoria. In fact the opening of the story is unusually bitter in tone, and James quite clearly ventilates his low opinion of 'the papers' as he collectively designates them. Yet very unusually (for James) the story has a happy ending.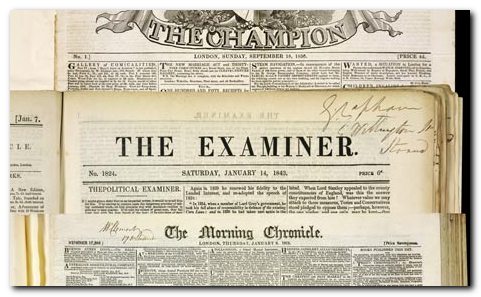 The Papers
---
The Papers – critical commentary
Except for the technological devices of email and mobile phones, this story has all the elements of contemporary journalism, celebrity culture, and media manipulation.
1. Journalists construct news stories out of non-events to satisfy the public appetite for scandal, sensationalism, and dramatic news. Some of Beadel-Muffett's puffs are satirised to an almost farcical extent, such as his opinions regarding flowers at funerals or the announcement of his presence at insignificant public events. But the creation and manipulation of news is depicted with pinpoint accuracy, operating over one hundred years ago.
2. Celebrities are created out of nothing by the same means – journalists filling newspapers with promotional articles masquerading as news items. The pathetic Mortimer Marshall is swollen with pride at Howard's article which does nothing more than describe a visit to his home.
3. News develops and is reported at a very fast rate. In the period the story is set, there were morning and evening newspapers, with supplementary lunch-time editions. This was the norm well into the 1960s. Speculations regarding Beadel-Muffet's whereabouts are expressed in a metaphor of organic growth:
Theories and explanations sprouted at night and bloomed in the morning, to be overtopped at noon by a still thicker crop and to achieve by the evening the density of a tropical forest.
4. Unsuccessful or insignificant social and cultural events are given the 'oxygen of publicity'. That is, favourable reviews or mentions are produced in order to create artificial ratings of approval.
5. People with money but with no talent or achievement are promoted as successful celebrities – such as Beadel-Muffet and Mortimer Marshall. This is the early twentieth-century version of Hello magazine culture.
6. There is a very close connection between politics and the press. Beadel-Muffet is a member of parliament (even though he hasn't spoken in the House for years) and Howard Bight has successfully kept his name in front of the public, even though he has done nothing of any significance.
---
The Papers – study resources

The Complete Works of Henry James – Kindle edition – Amazon UK

The Complete Works of Henry James – Kindle edition – Amazon US

Complete Stories 1898—1910 – Library of America – Amazon UK

Complete Stories 1898—1910 – Library of America – Amazon US

The Papers – Oxford World Classics – Amazon UK

The Papers – Oxford World Classics – Amazon US

The Papers – read the story on line

The Cambridge Companion to Henry James – Amazon UK

Henry James at Wikipedia – biographical notes, links

Henry James at Mantex – tutorials, biography, study resources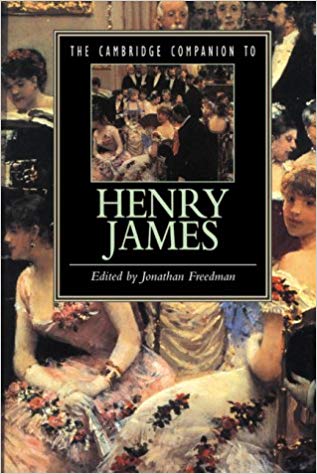 ---
The Papers – plot summary
Howard Bight is a cynical but successful young journalist with a talent for promoting the interests of would-be celebrities by placing trivial gossip articles in the newspapers. His friend Maud Blandy aspires to do the same but lacks experience and success. They discuss the case of Sir A.B.C. Beadel-Muffet KCB, MP, who is widely publicised via the reporting of completely inconsequential events.
Beadel-Muffet has become engaged to Mrs Chorner, who objects to the publicity attached to his name. Howard offers to help Maud and suggests that she interview Mrs Chorner, which she does, providing her with a faint glimmer of success. Both of them are also besieged by Mortimer Marshall, a would-be dramatist who is desperate for publicity.
When Maud expresses her disappointment at not succeeding more rapidly, Howard offers to marry her, but she does not accept his offer. He writes an empty promotional article about Mortimer Marshall, but increasingly feels that such work is demeaning and worthless.
Suddenly Beadel-Muffet disappears. Howard tempts Mortimer Marshall into an unscrupulous trap, suggesting that he could gain publicity by offering explanations for Beadel-Muffet's disappearance. Maud suspects that Howard knows something about the case he is not revealing – even the possibility that Beadel-Muffet might be dead. She searches her conscience over their activities and feels increasingly uneasy.
It is then announced that Beadel-Muffet has committed suicide in a German hotel. Howard by this time is tiring of the whole affair, but suggests to Maud that she interview Mrs Chorner again whilst the scandal is at its height. Maud fears that Howard's part in publicising Beadel-Muffet's name will come to light in the police inquiry. She interviews Mrs Chorner but does not make use of the results.
Still suspecting that Howard is withholding information, they discuss revealing what they both know – but suddenly Beadel-Muffet reappears. The collapse of the whole scandal confirms both Howard and Maud that this form of journalism is sordid and unrewarding. They agree to both give it up, and she accepts his marriage proposal after all.
---
Principal characters
| | |
| --- | --- |
| Howard Bight | a successful young London journalist |
| Maud Blandy | his friend, a 'suburban young woman' |
| Sir A.B.C.Beadel-Muffet KCB, MP | a nonentity who has not spoken in the House for years |
| Mrs Chorner | his would-be fiancée – rich but ugly |
| Mortimer Marshall | would-be dramatist desperate for publicity |
---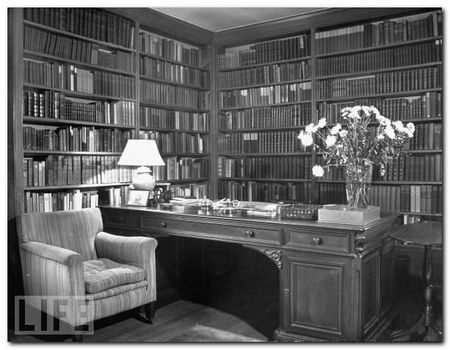 Henry James's study
---
Further reading
Biographical

Theodora Bosanquet, Henry James at Work, University of Michigan Press, 2007.

F.W. Dupee, Henry James: Autobiography, Princeton University Press, 1983.

Leon Edel, Henry James: A Life, HarperCollins, 1985.

Philip Horne (ed), Henry James: A Life in Letters, Viking/Allen Lane, 1999.

Henry James, The Letters of Henry James, Adamant Media Corporation, 2001.

Fred Kaplan, Henry James: The Imagination of Genius, Johns Hopkins University Press, 1999

F.O. Matthieson (ed), The Notebooks of Henry James, Oxford University Press, 1988.
Critical commentary

Elizabeth Allen, A Woman's Place in the Novels of Henry James London: Macmillan Press, 1983.

Ian F.A. Bell, Henry James and the Past, London: Palgrave Macmillan, 1993.

Millicent Bell, Meaning in Henry James, Cambridge (MA): Harvard University Press, 1993.

Harold Bloom (ed), Modern Critical Views: Henry James, Chelsea House Publishers, 1991.

Kirstin Boudreau, Henry James's Narrative Technique, Macmillan, 2010.

J. Donald Crowley and Richard A. Hocks (eds), The Wings of the Dove, New York: W.W. Norton and Company, 1978.

Victoria Coulson, Henry James, Women and Realism, Cambridge University Press, 2009.

Daniel Mark Fogel, A Companion to Henry James Studies, Greenwood Press, 1993.

Virginia C. Fowler, Henry James's American Girl: The Embroidery on the Canvas, Madison (Wis): University of Wisconsin Press, 1984.

Jonathan Freedman, The Cambridge Companion to Henry James, Cambridge University Press, 1998.

Judith Fryer, The Faces of Eve: Women in the Nineteenth Century American Novel, Oxford: Oxford University Press, 1976

Roger Gard (ed), Henry James: The Critical Heritage, London: Routledge, 1968.

Tessa Hadley, Henry James and the Imagination of Pleasure, Cambridge University Press, 2009.

Barbara Hardy, Henry James: The Later Writing (Writers & Their Work), Northcote House Publishers, 1996.

Richard A. Hocks, Henry James: A study of the short fiction, New York: Twayne Publishers, 1990.

Donatella Izzo, Portraying the Lady: Technologies of Gender in the Short Stories of Henry James, University of Nebraska Press, 2002.

Colin Meissner, Henry James and the Language of Experience, Cambridge University Press, 2009

John Pearson (ed), The Prefaces of Henry James, Pennsylvania State University Press, 1993.

Richard Poirer, The Comic Sense of Henry James, Oxford: Oxford University Press, 1967.

Hugh Stevens, Henry James and Sexuality, Cambridge University Press, 1998.

Merle A. Williams, Henry James and the Philosophical Novel, Cambridge University Press, 1993.

Judith Woolf, Henry James: The Major Novels, Cambridge University Press, 1991.

Ruth Yeazell (ed), Henry James: A Collection of Critical Essays, Longmans, 1994.
---
Other works by Henry James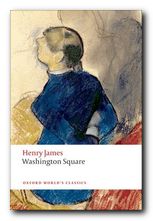 Washington Square (1880) is a superb early short novel, It's the tale of a young girl whose future happiness is being controlled by her strict authoritarian (but rather witty) father. She is rather reserved, but has a handsome young suitor. However, her father disapproves of him, seeing him as an opportunist and a fortune hunter. There is a battle of wills – all conducted within the confines of their elegant New York town house. Who wins out in the end? You will probably be surprised by the outcome. This is a masterpiece of social commentary, offering a sensitive picture of a young woman's life.


Buy the book from Amazon UK


Buy the book from Amazon US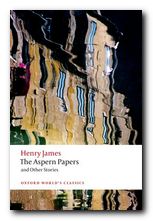 The Aspern Papers (1888) is a psychological drama set in Venice which centres on the tussle for control of a great writer's correspondence. An elderly lady, ex-lover of the writer, seeks a husband for her daughter. But the potential purchaser of the papers is a dedicated bachelor. Money is also at stake – but of course not discussed overtly. There is a refined battle of wills between them. Who will win in the end? As usual, James keeps the reader guessing. The novella is a masterpiece of subtle narration, with an ironic twist in its outcome. This collection of stories also includes three of his accomplished long short stories – The Private Life, The Middle Years, and The Death of the Lion.


Buy the book from Amazon UK


Buy the book from Amazon US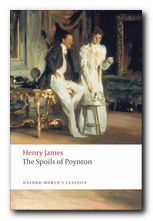 The Spoils of Poynton (1896) is a short novel which centres on the contents of a country house, and the question of who is the most desirable person to inherit it via marriage. The owner Mrs Gereth is being forced to leave her home to make way for her son and his greedy and uncultured fiancee. Mrs Gereth develops a subtle plan to take as many of the house's priceless furnishings with her as possible. But things do not go quite according to plan. There are some very witty social ironies, and a contest of wills which matches nouveau-riche greed against high principles. There's also a spectacular finale in which nobody wins out.


Buy the book from Amazon UK


Buy the book from Amazon US
---
Henry James – web links

Henry James at Mantex
Biographical notes, study guides, tutorials on the Complete Tales, book reviews. bibliographies, and web links.

The Complete Works
Sixty books in one 13.5 MB Kindle eBook download for £1.92 at Amazon.co.uk. The complete novels, stories, travel writing, and prefaces. Also includes his autobiographies, plays, and literary criticism – with illustrations.

The Ladder – a Henry James website
A collection of eTexts of the tales, novels, plays, and prefaces – with links to available free eTexts at Project Gutenberg and elsewhere.

A Hyper-Concordance to the Works
Japanese-based online research tool that locates the use of any word or phrase in context. Find that illusive quotable phrase.

The Henry James Resource Center
A web site with biography, bibliographies, adaptations, archival resources, suggested reading, and recent scholarship.

Online Books Page
A collection of online texts, including novels, stories, travel writing, literary criticism, and letters.

Henry James at Project Gutenberg
A major collection of eTexts, available in a variety of eBook formats.

The Complete Letters
Archive of the complete correspondence (1855-1878) work in progress – published by the University of Nebraska Press.

The Scholar's Guide to Web Sites
An old-fashioned but major jumpstation – a website of websites and resouces.

Henry James – The Complete Tales
Tutorials on the complete collection of over one hundred tales, novellas, and short stories.

Henry James on the Internet Movie Database
Adaptations of James's novels and stories for the cinema and television – in various languages. Full details of directors and actors, production features, film reviews, box office, and even quizzes.
© Roy Johnson 2012
---
More tales by James
More on literature
More on the novella
More on literary studies
More on short stories
---