tutorial, commentary, study resources, and web links
The Picture of Dorian Gray (1890) Oscar Wilde's version of the Gothic horror story, has entered popular consciousness even amongst people who have not actually read the novel. His central image of a secret 'portrait in the attic' is frequently used as a metaphor in cases where people seem to be rather unnaturally preserving their youthful looks.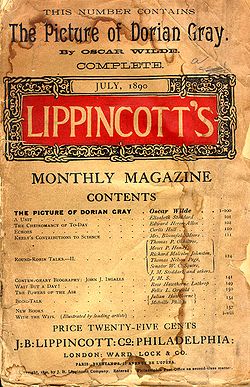 The novel is also packed full of witty epigrams and paradoxes (usually expressed by the character Lord Henry Wotton) which Wilde re-used in the stage plays that made him famous. Within twelve months of publishing Dorian Gray he was at the height of his fame as a writer, a wit, and a dandy. And within another three years he was in jail – convicted of having commited acts of 'gross indecency' with other men in private – providing a wonderful example of the claim made in his essay The Decay of Lying (1891), that "Life imitates Art more than Art imitates Life".
The Picture of Dorian Gray was first serialised in Lipincott's Monthly Magazine (Philadelphia) starting in the issue for July 1990. But this version was Bowdlerised by the magazine editors without Wilde's knowledge. He subsequently revised the text for its publication as a one-volume novel by Ward, Locke and Company in 1891.
---
The Picture of Dorian Gray – critical commentary
The Double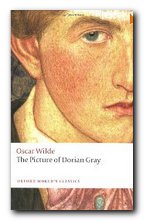 The 'double' theme gets an interesting twist here. Instead of two human beings we have a human and a painting – a work of art. They start out looking identical. The portrait is an accurate record of Dorian's beauty as an eighteen year old young man. But as time passes, Dorian remains the same, whilst the portrait ages and acts as a reflector of the sins that Dorian commits.
In most instances of the double, one character acts as the alter-ego of the other or commits acts on behalf of the other. But in Dorian's case, he actually commits the acts himself, whilst the portrait internalises their effects. (It is also interesting that so few of his debaucheries are recorded.)
Structure
The narrative was first published in thirteen chapters as a serial in Lippincott's monthly magazine, and later as twenty chapters in one volume. The additional matter for the first book publication does not add anything substantial.
The narrative essentially falls into two parts, with a two chapter bridge between them. Part one establishes Dorian's desire for eternal youth, his relationship with Sibyl which turns out badly, the mysterious changes to the portrait, and his decision to lock it away in the attic.
The bridging section in which almost twenty years pass is filled with an account of Dorian's cultural tastes for decadent writers and his passion for collecting ornate embroidery and obscure musical instruments. During this period he establishes a social reputation for debauchery.
Part three deals with his downfall. First he commits murder, blackmails his friend, and then is pursued by Sibyl Vane's brother – but appears to escape justice. But suffering both from a sense of guilt and horror at what his life has become, he decides to rid himself of the the thing that acts as a constant reminder – the portrait.
The title
It is interesting to note that whilst the title of the novel is The Picture of Dorian Gray, it is almost universally referred to amongst the general public as The Portrait of Dorian Gray – and with some justification. Because the painting is a portrait. The term picture is more ambiguous: it could mean 'the impression created by Dorian Gray' or 'the picture owned by Dorian Gray'. Whereas the whole shocking effect of the story is that the portrait ages horribly in the attic whilst Dorian in person retains his youthful good looks.
---
The Picture of Dorian Gray – study resources

The Picture of Dorian Gray – Oxford World Classics – Amazon UK

The Picture of Dorian Gray – Oxford World Classics – Amazon US

The Picture of Dorian Gray – Wordsworth Classics – Amazon UK

The Picture of Dorian Gray – Wordsworth Classics – Amazon US

The Picture of Dorian Gray – Penguin CLassics – Amazon UK

The Picture of Dorian Gray – Penguin CLassics – Amazon US

The Picture of Dorian Gray – York Notes (study aids) – Amazon UK

The Picture of Dorian Gray – Norton Critical edition – Amazon US

The Picture of Dorian Gray – Cliffs Notes (study aids) – Amazon UK

The Picture of Dorian Gray – BBC full-cast 2CD audio – Amazon UK

The Picture of Dorian Gray – BBC unabridged audio book – Amazon UK

The Picture of Dorian Gray – eBook versions at Gutenberg

The Picture of Dorian Gray – 2009 DVD film (Colin Firth) – Amazon UK

The Picture of Dorian Gray – BBC Oscar Wilde 3 DVDs – Amazon UK

The Picture of Dorian Gray – 1945 DVD (George Sanders) – Amazon UK
---
The Picture of Dorian Gray – plot summary
Lord Henry Wotton meets Dorian Gray in Basil Hallward's studio where he is having his portrait painted. He is struck by Dorian's youthful beauty, and preaches to him a philosophy of self-realisation (and self-indulgence) before Time ages him and his appetites wane. Dorian takes up these ideas enthusiastically, and wishes to remain as youthful as he appears in the very successful portrait, which he is given as a gift.
As a result of his desire to live life more fully, Dorian meets and falls in love with Sibyl Vane, a young actress. Her mother encourages the connection, but her brother is jealous of Sibyl's reputation and suspicious of Dorian's motives, because he comes from the upper class. However, it is revealed that Sibyl's father was 'a gentleman'.
Dorian wishes to show off Sibyl to his friends, but when they visit the theatre her acting is disastrously bad. She now believes that love for Dorian is her true vocation in life. Dorian feels humiliated by the episode and brusquely rejects her. He returns home to find that his portrait has changed for the worse.
Next day Lord Henry reports that Sibyl has committed suicide, and persuades Dorian that he can not be considered responsible for her death. Dorian hides the portrait in his attic and will not let Basil see his own work, knowing that the portrait will age whilst he continues to look young.
Dorian gives himself up to a life of self-gratification and debauchery, based on his reading of the Decadent writers and Lord Henry's philosophies. As the years go by he develops a scandalous reputation, whilst retaining his youthful looks. His friend Basil implores him to reform before it is too late – whereupon Dorian confronts him with the portrait, then kills him.
Dorian then blackmails an old college friend Alan Campbell to dispose of the evidence, which is successful. He feels free of any suspicion, until James Vane re-appears and threatens to kill him because of Sibyl's death. Vane pursues Dorian to his country estate, but he is shot by accident during a hunting party.
It is then revealed that Campbell has committed suicide – presumably to avoid some sort of scandal. Dorian feels relieved that he has completely escaped detection, and although other people's lives have been ruined, he is glad to look as youthful as ever.
Nevertheless he feels oppressed by feelings of guilt and wishes to reform. Feeling that the portrait has somehow cheated or deceived him, he resolves to destroy it – but destroys himself instead. In the final scene the painting has become young again, whilst Dorian is dead with a knife in his heart – a wrinkled, withered, and age-ravaged old man.
---

Mont Blanc – special Oscar Wilde edition
---
Principal characters
| | |
| --- | --- |
| Lord Henry Wotton | aesthete and wit |
| Basil Hallward | painter |
| Dorian Gray | wealthy and good-looking young man |
| Lady Agatha | Lord Henry's aunt |
| Lord George Fermor | Lord Henry's uncle |
| Margaret Devereux | Dorian Gray's attractive mother |
| Victoria | Lord Henry's wife |
| Sibyl Vane | a young actress |
| Mr Isaacs | Jewish impressario |
| James Vane | Sibyl's younger brother |
| Lord Radley | Dorian Gray's guardian |
| Lady Gwendolen | Lord Henry's sister |
| Victor | Dorian Gray's servant |
| Mrs Leaf | Dorian Gray's housekeeper |
| Alan Campbell | chemist friend of Dorian's |
| Lady Narborough | society hostess |
---
Film version
1976 TV version – Jeremy Brett and Sir John Gielgud
---
Further reading
Karl Beckson (ed), Oscar Wilde: The Critical Heritage, London: Routledge and Keegan Paul, 1970.
Richard Ellman, Oscar Wilde, London: Hamish Hamilton, 1987.
Regina Gagnier (ed), Collected Essays on Oscar Wilde, New York: G.K.Hall, 1971.
H. Montgomery Hyde, The Trials of Oscar Wilde, New York: Dover, 1973
Neil McKenna, The Secret Life of Oscar Wilde, London: Century, 2003.
Peter Raby, The Cambridge Companion to Oscar Wilde, Cambridge: Cambridge University Press, 1997.
Eve Kosofsky Sedgwick, Epistomology of the Closet, Berkeley and Los Angeles: University of Los Angeles Press, 1990.
John Sloan, Oscar Wilde, Oxford: Oxford University Press, 2003.
---
Film version
1945 Original movie trailer – George Sanders
© Roy Johnson 2011
---
More 19C Authors
More on literature
More on the novella
More on literary studies
More on short stories
---