tutorial, commentary, study resources, plot, and web links
The Portrait first appeared in Edith Wharton's collection of short fiction, The Greater Inclination and Other Stories published by Charles Scribner's in 1899. It is one of a numbers of stories Edith Wharton wrote on the relationship between art and life. She published a similar story The Verdict only a few years later.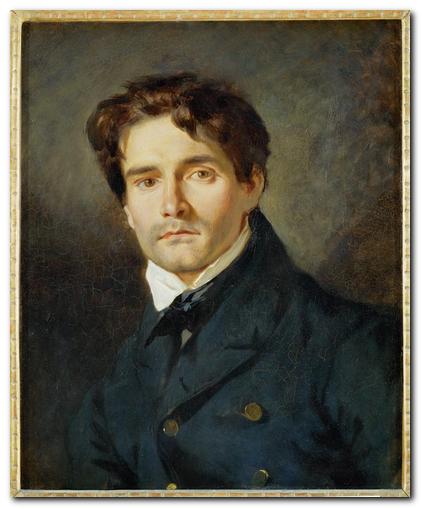 Leon Riesener – Eugene Delacroix (1798-1863)
---
The Portrait – critical comments
The story is not so much about painting as about Lillo's empathetic wish to protect Miss Vand's feelings. He knows he can capture Vand's villainous character but delays completing the face in the portrait. When confronted by Miss Vand and the incomplete work, he realises that she understands why it has not been finished – because Lillo does not want to reveal to her the corrupt side of a father on whom she dotes.
So he produces an uncritical and lifeless piece of work instead. This explains the mystery raised in the first part of the story – how could a talented painter produce such an unsuccessful piece of work?
In fact the story is split exactly into two in terms of structure. In part one the narrator presents the puzzle of Lillo's 'failed' portrait; then part two is a monologue in which Lillo (acting as a second narrator) reveals the reasons for his having deliberately created a bad painting, which he calls a 'lucid failure'.
---
The Portrait – study resources

Edith Wharton Collected Stories – Norton Critical – Amazon UK

Edith Wharton Collected Stories – Norton Critical – Amazon US

The Greater Inclination and Other Stories -Project Gutenberg

A Historical Guide to Edith Wharton – Amazon UK

The Cambridge Introduction to Edith Wharton – Amazon UK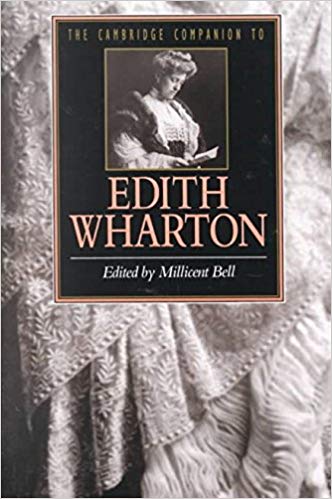 ---
The Portrait – story synopsis
Opinions are divided on the merits of fashionable portrait painter George Lillo: some think he is too negative, others think he is searchingly realistic. His portrait of the notorious Alonzo Vard is considered a puzzling failure. Lillo invites the narrator to dinner, where he explains the provenance of this work.
Lillo has come from Paris to New York in the hope of doing something 'big' to establish a critical success. He is impressed by Vard°s dramatic appearance and his scandalous reputation as a powerful man of public affairs. He approaches Vard's daughter, who worships her father and claims that all his finest qualities are only shown to her at home.
But when Lillo begins the portrait he realises that Vard is in fact shallow and vulgar, with no intellectual substance at all. He begins the portrait but is hesitant to present the truth because he doesn't want to offend the doting daughter, who protectively attends all her father's sittings.
Meanwhile Vard is involved in a political scandal which is reported by all the newspapers. On the day the news breaks, the sitting is interrupted by Vard's secretary, who has arranged for his escape via a back door. Vard refuses to take it and walks out with his daughter on his arm.
There is a trial, and Vard is exonerated. Miss Vard visits the studio and sees the unfinished portrait. Lillo realises that she knows why it is incomplete. Later he feels obliged to finish off the painting in an anodyne manner so as not to offend her. This explains how and why he came to produce such a bad portrait.
---
Principal characters
| | |
| --- | --- |
| George Lillo | a fashionable portrait painter |
| I | an un-named narrator – a friend of George Lillo |
| Alonzo Vard | a dubious businessman |
| Miss Vard | his devoted daughter |
---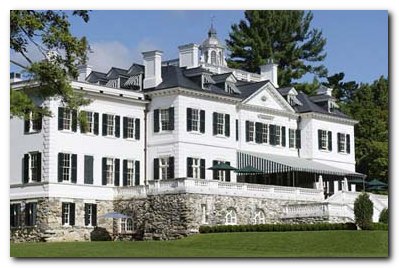 Edith Wharton's 42-room house – The Mount
---
Further reading
Louis Auchincloss, Edith Wharton: A Woman of her Time, New York: Viking, 1971,
Elizabeth Ammons, Edith Wharton's Argument with America, Georgia: University of Georgia Press, 1982, pp.222. ISBN: 0820305138
Janet Beer, Edith Wharton (Writers & Their Work), New York: Northcote House, 2001, pp.99, ISBN: 0746308981
Millicent Bell (ed), The Cambridge Companion to Edith Wharton, Cambridge: Cambridge University Press, 1995, pp.232, ISBN: 0521485134
Alfred Bendixen and Annette Zilversmit (eds), Edith Wharton: New Critical Essays, New York: Garland, 1992, pp.329, ISBN: 0824078489
Eleanor Dwight, Edith Wharton: An Extraordinary Life, New York: Harry N. Abrams, 1994, ISBN: 0810927950
Gloria C. Erlich, The Sexual Education of Edith Wharton, California: University of California Press, 1992, pp.223, ISBN: 0520075838
Susan Goodman, Edith Wharton's Women: Friends and Rivals, UPNE, 1990, pp.220, ISBN: 0874515246
Irving Howe, (ed), Edith Wharton: A collection of Critical Essays, London: University of North Carolina Press, 1986,
Jennie A. Kassanoff, Edith Wharton and the Politics of Race, Cambridge: Cambridge University Press, 2004, pp.240, ISBN: 0521830893
Hermione Lee, Edith Wharton, London: Vintage, new edition 2008, pp.864, ISBN: 0099763516
R.W.B. Lewis, Edith Wharton: A Biography, New York: Harper and Rowe, 1975, pp.592, ISBN: 0880640200
James W. Tuttleton (ed), Edith Wharton: The Contemporary Reviews, Cambridge: Cambridge University Press, 1992, pp.586, ISBN: 0521383196
Candace Waid, Edith Wharton's Letters from the Underworld, London: University of North Carolina Press, 1991,
Sarah Bird Wright, Edith Wharton A to Z: The Essential Reference to Her Life and Work, Fact on File, 1998, pp.352, ISBN: 0816034818
Cynthia Griffin Wolff, A Feast of Words: The Triumph of Edith Wharton, New York: Perseus Books, second edition 1994, pp.512, ISBN: 0201409186
---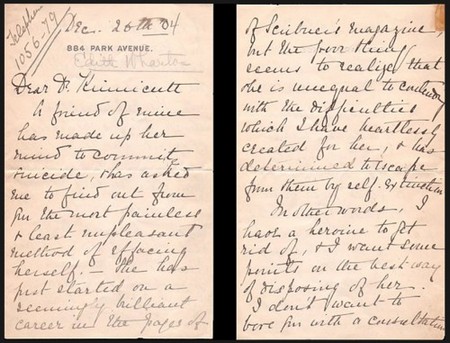 Edith Wharton's writing
---
Other works by Edith Wharton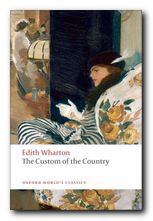 The Custom of the Country (1913) is Edith Wharton's satiric anatomy of American society in the first decade of the twentieth century. It follows the career of Undine Spragg, recently arrived in New York from the midwest and determined to conquer high society. Glamorous, selfish, mercenary and manipulative, her principal assets are her striking beauty, her tenacity, and her father's money. With her sights set on an advantageous marriage, Undine pursues her schemes in a world of shifting values, where triumph is swiftly followed by disillusion. This is a study of modern ambition and materialism written a hundred years before its time.

Buy the book from Amazon UK


Buy the book from Amazon US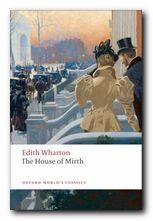 The House of Mirth (1905) is the story of Lily Bart, who is beautiful, poor, and still unmarried at twenty-nine. In her search for a husband with money and position she betrays her own heart and sows the seeds of the tragedy that finally overwhelms her. The book is a disturbing analysis of the stifling limitations imposed upon women of Wharton's generation. In telling the story of Lily Bart, who must marry to survive, Wharton recasts the age-old themes of family, marriage, and money in ways that transform the traditional novel of manners into an arresting modern document of cultural anthropology.

Buy the book from Amazon UK


Buy the book from Amazon US
---
Edith Wharton – web links
Edith Wharton at Mantex
Biographical notes, study guides to the major novels, tutorials on the shorter fiction, bibliographies, critiques of the shorter fiction, and web links.
The Short Stories of Edith Wharton
This is an old-fashioned but excellently detailed site listing the publication details of all Edith Wharton's eighty-six short stories – with links to digital versions available free on line.
Edith Wharton at Gutenberg
Free eTexts of the major novels and collections of stories in a variety of digital formats – also includes travel writing and interior design.
Edith Wharton at Wikipedia
Full details of novels, stories, and travel writing, adaptations for television and the cinema, plus web links to related sites.
The Edith Wharton Society
Old but comprehensive collection of free eTexts of the major novels, stories, and travel writing, linking archives at University of Virginia and Washington State University.
The Mount: Edith Wharton's Home
Aggressively commercial site devoted to exploiting The Mount – the house and estate designed by Edith Wharton. Plan your wedding reception here.
Edith Wharton at Fantastic Fiction
A compilation which purports to be a complete bibliography, arranged as novels, collections, non-fiction, anthologies, short stories, letters, and commentaries – but is largely links to book-selling sites, which however contain some hidden gems.
Edith Wharton's manuscripts
Archive of Wharton holdings at the Beinecke Rare Book and Manuscript Library
© Roy Johnson 2014
---
Edith Wharton – short stories
More on Edith Wharton
More on short stories
---