tutorial, commentary, study resources, plot, and web links
The Private Life was first published in The Atlantic Monthly in April 1892. Its next appearance in book form was as part of the collection The Private Life, published in London by Osgood, McIlvaine and in New York by Harper in 1893. It is one of a number of tales of James's late period in which he explored the relationship between writers, their work, and their personal lives.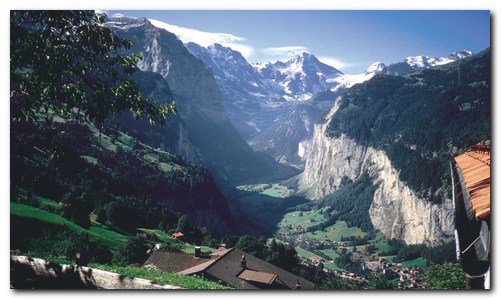 The Swiss Alps
---
The Private Life – critical commentary
We know that the origins of this tale lie in Henry James having admired then met Robert Browning (1812-1889) only to find that the celebrated poet, famous for his dense, complex, and highly intellectualised works, was something of a washout as a conversationalist. In other words, his talent went into his work – not into his public persona. James responded to this phenomenon by thinking of the public and private personae as two different people:.
This explained to the imagination the mystery: our delightful inconceivable celebrity was double, constructed in two quite distinct and 'water-tight' compartments – one of these figured by the gentleman who sat at a table all alone, silent and unseen, and wrote admirably deep and brave and intricate things; while the gentleman who regularly came forth to sit at a quite different table and substantially and promiscuously and multitudinously dine stood for its companion. They had nothing to do, the so dissimilar twins, with each other; the diner could exist but by the cessation of the writer, whose emergence, on his side, depended on his – and our! – ignoring the diner.
The Lord Mellifont character is almost the opposite. He is the public performer – 'the man whose whole personality goes forth so in representation and aspect and sonority and phraseology and accomplishment and frontage'. He is urbane and controlling; he sets the tone for everyone else and orchestrates their conversations and social interchanges. But he has no individual substance. He is an empty shell – so much so that when left alone he 'disappears' – literally, in Blanche Adney's experience on their excursion.
The weakness of these two similar conceits is that in neither case are the characteristics dramatised – despite James's urgings to himself in the notebooks "Dramatise it, dramatise it!" We are told (by the narrator) about Clare Vawdrey's greatness but not shown any evidence of it. We are told in the same way about Lord Mellifont's urbane and sophisticated public persona – but not given any dramatised evidence of it.
The ghost story
This tale is often classified as one of James's ghost stories. But its dramatic weakness also contributes to making the 'two' Clare Vawdreys and the 'disappearing' Mellifont both unconvincing, and actually unnecessary. It would be perfectly reasonable and persuasive to have a talented writer who does not shine socially, and the sort of pompous stuffed shirt we take Mellifont to be who is reduced to nothing when he is alone. James pulled off something of this sort in The Coxon Fund which he completed two years later.
---
The Private Life – study resources

The Complete Works of Henry James – Kindle edition – Amazon UK

The Complete Works of Henry James – Kindle edition – Amazon US

Complete Stories 1892—1898 – Library of America – Amazon UK

Complete Stories 1892—1898 – Library of America – Amazon US

The Private Life – Oxford Classics – Amazon UK

The Private Life – Oxford Classics – Amazon US

The Cambridge Companion to Henry James – Amazon UK

Henry James at Wikipedia – biographical notes, links

Henry James at Mantex – tutorials, biography, study resources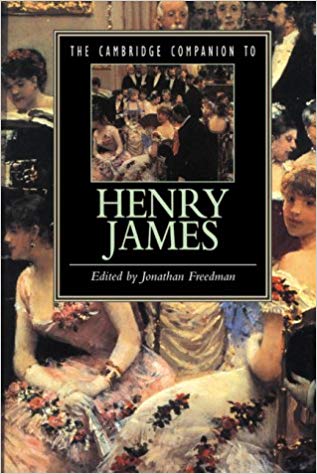 ---
The Private Life – plot summary
An un-named narrator recounts the annual holiday of a group of socialite London friends in Switzerland. He describes the celebrated novelist (and talker) Clarence ('Clare') Vawdrey, who takes a neutral attitude to all conversational topicsLady Mellifont is worried that her husband is missing with the slightly raffish actress Blanche Adney. However, Blanche eventually returns, hinting that something happened on their walk, whilst Lord Mellifont goes to dress for dinner.
Lord Mellifont is a host who sets and controls the tone of dinner and its conversations. Blanche |Adney hopes that Clare Vawdrey will write a play in which she will star as a tragic heroine. Vawdrey claims that he has written a 'magnificent passage' and the company clamour for him to read it after dinner. But when the performance is organised he can't remember a word, and even admits that there is no manuscript.
However, Blanche wants the narrator to search for anything that Vawdrey has written, and she takes the author onto the terrace, leaving the narrator free to search his hotel room. But when the narrator goes into Vawdrey's room the author is already there, writing in the dark., and he makes no response to the narrator's interruption.
Next day the narrator goes out walking, but after dinner he tells Blanche about his mysterious experience. She confirms that she was with Vawdrey on the terrace at the time the narrator saw him in his room. The narrator concludes that there are two Vawdreys – an empty public version, and a substantial private one.
Blanche also reveals that Lord Mellifont is the opposite – a man who has no substance when alone, only in his public persona. The narrator and Blanche then compare their theories. Blanche claims she is 'in love' with the real Clare Vawdrey, and she recounts how Lord Mellifont 'disappeared' when she was not there to create an audience for him on their recent excursion.
They meet Lord Mellifont who is out doing some watercolour painting. He presents a picture to Blanche. The narrator and Blanche plot to 'find' Mellifont and Vawdrey alone to test their theories. The narrator takes the painting for Lord Mellifont to sign, but he is intercepted by Lady Mellifont, who says she will arrange the signature for him – which he takes as a sign of her embarrassment on her husband's behalf.
He then goes off to take Vawdrey an umbrella. They shelter from a thunderstorm, and the narrator is very disappointed by the banal nature of Vawdrey's conversation. When they return to the hotel Blanche tells the narrator that she has been with the 'real' Vawdrey and has told him that she loves him. She also claims to have possession of the great part he has written for her – but when the party returns to London this doesn't appear to be the case.
---
The Private Life – principal characters
| | |
| --- | --- |
| I | the un-named narrator, a writer |
| Lord Mellifont | a charming socialite |
| Lady Mellifont | his timorous wife |
| Clarence ('Clare') Vawdrey | a celebrated writer |
| Blanche Adney | a comedy actress |
| Vincent Adney | her husband, a composer and violinist |
---
Ghost stories by Henry James

The Romance of Certain Old Clothes (1868)

The Ghostly Rental (1876)

Sir Edmund Orme (1891)

The Private Life (1892)

Owen Wingrave (1892)

The Friends of the Friends (1896)

The Turn of the Screw (1898)

The Real Right Thing (1899)

The Third Person (1900)

The Jolly Corner (1908)
---
Further reading
Biographical

Theodora Bosanquet, Henry James at Work, University of Michigan Press, 2007.

F.W. Dupee, Henry James: Autobiography, Princeton University Press, 1983.

Leon Edel, Henry James: A Life, HarperCollins, 1985.

Philip Horne (ed), Henry James: A Life in Letters, Viking/Allen Lane, 1999.

Henry James, The Letters of Henry James, Adamant Media Corporation, 2001.

Fred Kaplan, Henry James: The Imagination of Genius, Johns Hopkins University Press, 1999

F.O. Matthieson (ed), The Notebooks of Henry James, Oxford University Press, 1988.
Critical commentary

Elizabeth Allen, A Woman's Place in the Novels of Henry James London: Macmillan Press, 1983.

Ian F.A. Bell, Henry James and the Past, London: Palgrave Macmillan, 1993.

Millicent Bell, Meaning in Henry James, Cambridge (MA): Harvard University Press, 1993.

Harold Bloom (ed), Modern Critical Views: Henry James, Chelsea House Publishers, 1991.

Kirstin Boudreau, Henry James's Narrative Technique, Macmillan, 2010.

J. Donald Crowley and Richard A. Hocks (eds), The Wings of the Dove, New York: W.W. Norton and Company, 1978.

Victoria Coulson, Henry James, Women and Realism, Cambridge University Press, 2009.

Daniel Mark Fogel, A Companion to Henry James Studies, Greenwood Press, 1993.

Virginia C. Fowler, Henry James's American Girl: The Embroidery on the Canvas, Madison (Wis): University of Wisconsin Press, 1984.

Jonathan Freedman, The Cambridge Companion to Henry James, Cambridge University Press, 1998.

Judith Fryer, The Faces of Eve: Women in the Nineteenth Century American Novel, Oxford: Oxford University Press, 1976

Roger Gard (ed), Henry James: The Critical Heritage, London: Routledge, 1968.

Tessa Hadley, Henry James and the Imagination of Pleasure, Cambridge University Press, 2009.

Barbara Hardy, Henry James: The Later Writing (Writers & Their Work), Northcote House Publishers, 1996.

Richard A. Hocks, Henry James: A study of the short fiction, New York: Twayne Publishers, 1990.

Donatella Izzo, Portraying the Lady: Technologies of Gender in the Short Stories of Henry James, University of Nebraska Press, 2002.

Colin Meissner, Henry James and the Language of Experience, Cambridge University Press, 2009

John Pearson (ed), The Prefaces of Henry James, Pennsylvania State University Press, 1993.

Richard Poirer, The Comic Sense of Henry James, Oxford: Oxford University Press, 1967.

Hugh Stevens, Henry James and Sexuality, Cambridge University Press, 1998.

Merle A. Williams, Henry James and the Philosophical Novel, Cambridge University Press, 1993.

Judith Woolf, Henry James: The Major Novels, Cambridge University Press, 1991.

Ruth Yeazell (ed), Henry James: A Collection of Critical Essays, Longmans, 1994.
---
Other works by Henry James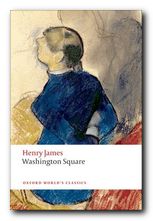 Washington Square (1880) is a superb early short novel, It's the tale of a young girl whose future happiness is being controlled by her strict authoritarian (but rather witty) father. She is rather reserved, but has a handsome young suitor. However, her father disapproves of him, seeing him as an opportunist and a fortune hunter. There is a battle of wills – all conducted within the confines of their elegant New York town house. Who wins out in the end? You will probably be surprised by the outcome. This is a masterpiece of social commentary, offering a sensitive picture of a young woman's life.


Buy the book from Amazon UK


Buy the book from Amazon US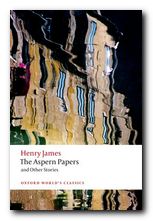 The Aspern Papers (1888) is a psychological drama set in Venice which centres on the tussle for control of a great writer's correspondence. An elderly lady, ex-lover of the writer, seeks a husband for her daughter. But the potential purchaser of the papers is a dedicated bachelor. Money is also at stake – but of course not discussed overtly. There is a refined battle of wills between them. Who will win in the end? As usual, James keeps the reader guessing. The novella is a masterpiece of subtle narration, with an ironic twist in its outcome. This collection of stories also includes three of his accomplished long short stories – The Private Life, The Middle Years, and The Death of the Lion.


Buy the book from Amazon UK


Buy the book from Amazon US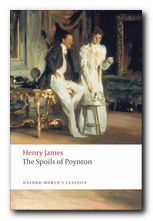 The Spoils of Poynton (1896) is a short novel which centres on the contents of a country house, and the question of who is the most desirable person to inherit it via marriage. The owner Mrs Gereth is being forced to leave her home to make way for her son and his greedy and uncultured fiancee. Mrs Gereth develops a subtle plan to take as many of the house's priceless furnishings with her as possible. But things do not go quite according to plan. There are some very witty social ironies, and a contest of wills which matches nouveau-riche greed against high principles. There's also a spectacular finale in which nobody wins out.


Buy the book from Amazon UK


Buy the book from Amazon US
---
Henry James – web links
Henry James at Mantex
Biographical notes, study guides, tutorials on the Complete Tales, book reviews. bibliographies, and web links.
The Complete Works
Sixty books in one 13.5 MB Kindle eBook download for £1.92 at Amazon.co.uk. The complete novels, stories, travel writing, and prefaces. Also includes his autobiographies, plays, and literary criticism – with illustrations.
The Ladder – a Henry James website
A collection of eTexts of the tales, novels, plays, and prefaces – with links to available free eTexts at Project Gutenberg and elsewhere.
A Hyper-Concordance to the Works
Japanese-based online research tool that locates the use of any word or phrase in context. Find that illusive quotable phrase.
The Henry James Resource Center
A web site with biography, bibliographies, adaptations, archival resources, suggested reading, and recent scholarship.
Online Books Page
A collection of online texts, including novels, stories, travel writing, literary criticism, and letters.
Henry James at Project Gutenberg
A major collection of eTexts, available in a variety of eBook formats.
The Complete Letters
Archive of the complete correspondence (1855-1878) work in progress – published by the University of Nebraska Press.
The Scholar's Guide to Web Sites
An old-fashioned but major jumpstation – a website of websites and resouces.
Henry James – The Complete Tales
Tutorials on the complete collection of over one hundred tales, novellas, and short stories.
Henry James on the Internet Movie Database
Adaptations of James's novels and stories for the cinema and television – in various languages. Full details of directors and actors, production features, film reviews, box office, and even quizzes.
© Roy Johnson 2013
---
More tales by James
More on literature
More on the novella
More on literary studies
More on short stories
---