tutorial, critical commentary, web links, and study resources
The Return: was completed in early 1897, while Conrad was writing the story Karain: A Memory. It was never published in magazine form; but was collected in Tales of Unrest, which appeared in 1898. The other stories in the collection were Karain: A Memory, The Idiots, An Outpost of Progress, and The Lagoon.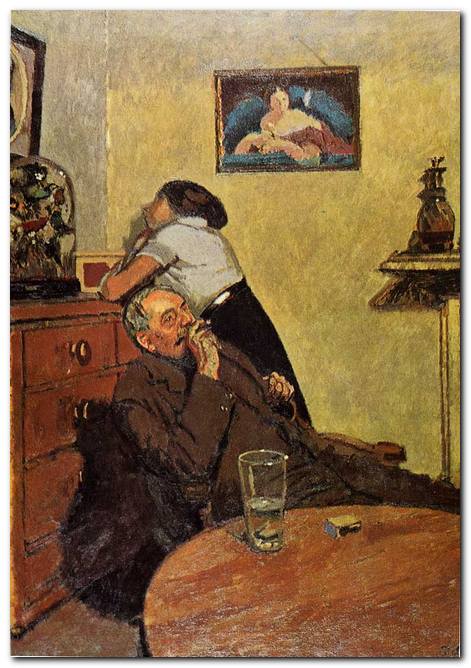 L'ennui – Walter Sickert (1860-1942)
Conrad's own comment on the story is that "[A]ny kind word about The Return (and there have been such words said at different times) awakens in me the liveliest gratitude, for I know how much the writing of that fantasy has cost me in sheer toil, in temper, and in disillusion." He also once remarked, acknowledging that he suffered while writing this psychological chef-d'oeuvre of introspection – "I hate it."
---
The Return – commentary
The most striking feature of this story is its similarity in subject and psychological intensity to the scene in The Secret Agent (written almost a decade later) when Adolf Verloc's wife Winnie realises that he husband is responsible for the death of her mentally-retarded brother Stevie. Verloc is so consumed by his own egotism that he fails to recognise the devastating effect this revelation has on her, and he pleads solipsistically that she should try to see things from his point of view.
Alvan Hervey the protagonist of The Return is a similar monster of smug, self-regarding egoism, and this unrelenting narrative is a superb study in the psychological ravages of jealousy. It explores with relentless force the kaleidoscopic intellectual and psychic responses to emotional shock – particularly the realignment of a sense of identity that is required .
Conrad's introductory notes to Tales of Unrest discuss the genesis of this tale in a curious mixture of metaphors:
The Return is a left-handed production. Looking through that story lately I had the material impression of sitting under a large and expensive umbrella in the loud drumming of a heavy rain-shower. … Mentally, the reading rendered me dumb for the remainder of the day, not exactly with astonishment but with a sort of dismal wonder … notwithstanding all its apparatus of analysis the story consists for the most part of physical impressions; impressions of sound and sight, railway station, streets, a trotting horse, reflections in mirrors and so on
It is almost as if Conrad is too embarrassed to discuss the real issue of the tale which is the shock of experiencing jealousy for the first time. His comments are also another reminder (if we need one) not to take what authors say about their own work too seriously – or as anything other than one opinion or interpretation.
It's also interesting to note that Conrad does not include the searing psychological pain of physical, sexual jealousy in Hervey's catalogue of distress – though at the end of the nineteenth century it is unlikely that explicit reference to such matters would have been acceptable by publishers.
Footnote
A curious feature of this tale is that it includes three expressions which are the titles of other literary works:
'another turn of the screw'
'a handful of dust'
'watch and ward'
Henry James's story The Turn of the Screw appeared in 1898, a year later than Conrad's tale. The term 'a handful of dust' crops up in T.S. Eliot's poem The Waste Land which appeared in 1922, and was also used as the title for Evelyn Waugh's novel of the same name in 1934. The term 'watch and ward' is a traditional expression which means a 'continuous watch or vigil'. It was used by Henry James for the title of his first short novel published as a serial in The Atlantic Monthly in 1871, then in book form in 1878.
---
The Return – study resources

Tales of Unrest – CreateSpace editions – Amazon UK

Tales of Unrest – CreateSpace editions – Amazon US

The Complete Works of Joseph Conrad – Kindle eBook

Tales of Unrest – eBook versions at Project Gutenberg

Joseph Conrad: A Biography – Amazon UK

The Cambridge Companion to Joseph Conrad – Amazon UK

Routledge Guide to Joseph Conrad – Amazon UK

Oxford Reader's Companion to Conrad – Amazon UK

Notes on Life and Letters – Amazon UK

Joseph Conrad – biographical notes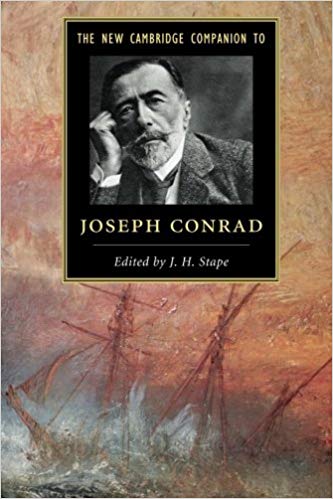 ---
The Return – principal characters
| | |
| --- | --- |
| Alvan Hervey | a worker in the City of London |
| — | his wife |
---
The Return – plot summary
Alvan Hervey is a very conventional person who works in the city of London and commutes from the suburbs. He marries a woman with very little personality and sponsors a literary-political magazine whose editor he regards as an 'ass'. The couple cultivate writers and establish a weekly causerie in French style. Their house is filled with comfortable furnishings and works of art.
On arriving home early from work one day, he finds a letter from his wife to say that she has left him and gone off with the editor. Hervey is overwhelmed by shock and outrage, and thinks it would have been preferable if she had died. He feels besmirched and humiliated by the passion that the experience raises in him.
He does not know how to understand or deal with the situation, and races through a cascade of different notions in his mind. He moves rapidly from feelings of injured pride, fear, and desolation, to anger, existential anguish, and despair.
Whilst he is in the middle of this powerful shock to his entire system of feeling and belief, his wife comes back to the house. She sits before him without speaking, whilst he asks her banal questions which do not reflect his true feelings. He is trapped in an attitude of false pride and bad faith.
She tells him her letter was a mistake. He criticises the editor, but then it transpires that she has intended going off with him but has changed her mind. He then gradually assumes a self-congratulatory and completely bogus attitude of magnanimity towards her. He thinks back to the occasion of his proposing to her and, lost in self-pity, fails to recognise a gesture of reconciliation she makes towards him.
When she offers to leave he stops her but, it is clear that she realises his protestations are no more than shallow self-obsession, and she regrets coming back to the house.
He starts to lecture her pompously on morality and duty – an appeal which gradually turns into self pity and hectoring condescension. Oppressed by his behaviour, she again tries to leave but he prevents her and accuses her of being mentally unhinged.
He rants on about public duty and his own merciful forgiveness until she begins to laugh hysterically. He throws a glass of water in her face and demands that she think of his feelings. Then he insists that they go down to dinner and argues that everything will be normal again.
When they go to dinner he is obsessed with concealing everything from the servants, and he realises that he does not know what is going on in his wife's mind. He thinks the same of the two servant girls, and sees all women as 'unknowable'.
He claims to love his wife, but she explains to him why he doesn't. At the end of the evening he works himself into a terminal frenzy, convincing himself that there is something deficient in his wife. So he challenges her oppressively, asking her if she is prepared to live with unanswered questions and lack of trust hanging over them. She is willing to do that, but he is not, so he leaves the house – never to return.
---
Joseph Conrad's writing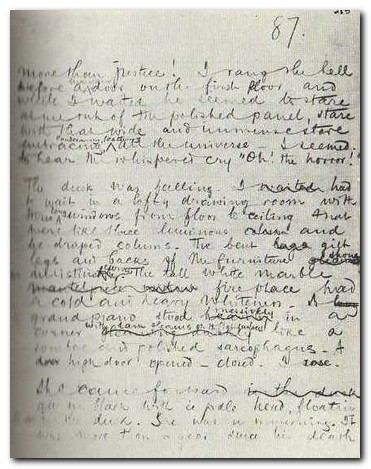 Manuscript page from Heart of Darkness
---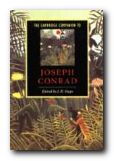 The Cambridge Companion to Joseph Conrad offers a series of essays by leading Conrad scholars aimed at both students and the general reader. There's a chronology and overview of Conrad's life, then chapters that explore significant issues in his major writings, and deal in depth with individual works. These are followed by discussions of the special nature of Conrad's narrative techniques, his complex relationships with late-Victorian imperialism and with literary Modernism, and his influence on other writers and artists. Each essay provides guidance to further reading, and a concluding chapter surveys the body of Conrad criticism.


Buy the book at Amazon UK


Buy the book at Amazon US
---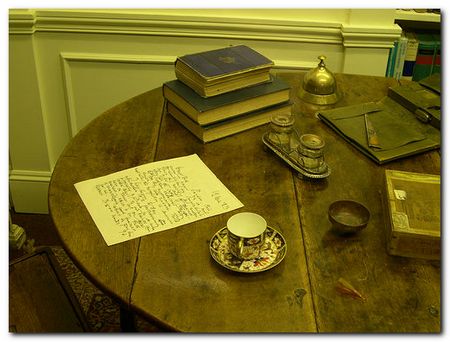 Joseph Conrad's writing table
---
Further reading

Amar Acheraiou Joseph Conrad and the Reader, London: Macmillan, 2009.

Jacques Berthoud, Joseph Conrad: The Major Phase, Cambridge: Cambridge University Press, 1978.

Muriel Bradbrook, Joseph Conrad: Poland's English Genius, Cambridge: Cambridge University Press, 1941

Harold Bloom (ed), Joseph Conrad (Bloom's Modern Critical Views, New Yoprk: Chelsea House Publishers, 2010

Hillel M. Daleski , Joseph Conrad: The Way of Dispossession, London: Faber, 1977

Daphna Erdinast-Vulcan, Joseph Conrad and the Modern Temper, Oxford: Oxford University Press, 1991.

Aaron Fogel, Coercion to Speak: Conrad's Poetics of Dialogue, Cambridge, Mass: Harvard University Press, 1985

John Dozier Gordon, Joseph Conrad: The Making of a Novelist, Cambridge, Mass: Harvard University Press, 1940

Albert J. Guerard, Conrad the Novelist, Cambridge, Mass: Harvard University Press, 1958

Robert Hampson, Joseph Conrad: Betrayal and Identity, Basingstoke: Macmillan, 1992

Jeremy Hawthorn, Joseph Conrad: Language and Fictional Self-Consciousness, London: Edward Arnold, 1979

Jeremy Hawthorn, Joseph Conrad: Narrative Technique and Ideological Commitment, London: Edward Arnold, 1990

Jeremy Hawthorn, Sexuality and the Erotic in the Fiction of Joseph Conrad, London: Continuum, 2007.

Owen Knowles, The Oxford Reader's Companion to Conrad, Oxford: Oxford University Press, 1990

Jakob Lothe, Joseph Conrad: Voice, Sequence, History, Genre, Ohio State University Press, 2008

Gustav Morf, The Polish Shades and Ghosts of Joseph Conrad, New York: Astra, 1976

Ross Murfin, Conrad Revisited: Essays for the Eighties, Tuscaloosa, Ala: University of Alabama Press, 1985

Jeffery Myers, Joseph Conrad: A Biography, Cooper Square Publishers, 2001.

Zdzislaw Najder, Joseph Conrad: A Life, Camden House, 2007.

George A. Panichas, Joseph Conrad: His Moral Vision, Mercer University Press, 2005.

John G. Peters, The Cambridge Introduction to Joseph Conrad, Cambridge: Cambridge University Press, 2006.

James Phelan, Joseph Conrad: Voice, Sequence, History, Genre, Ohio State University Press, 2008.

Edward Said, Joseph Conrad and the Fiction of Autobiography, Cambridge Mass: Harvard University Press, 1966

Allan H. Simmons, Joseph Conrad: (Critical Issues), London: Macmillan, 2006.

J.H. Stape, The Cambridge Companion to Joseph Conrad, Cambridge: Cambridge University Press, 1996

John Stape, The Several Lives of Joseph Conrad, Arrow Books, 2008.

Peter Villiers, Joseph Conrad: Master Mariner, Seafarer Books, 2006.

Ian Watt, Conrad in the Nineteenth Century, London: Chatto and Windus, 1980

Cedric Watts, Joseph Conrad: (Writers and their Work), London: Northcote House, 1994.
---
Other writing by Joseph Conrad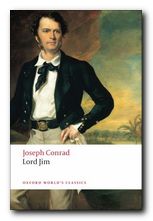 Lord Jim (1900) is the earliest of Conrad's big and serious novels, and it explores one of his favourite subjects – cowardice and moral redemption. Jim is a ship's captain who in youthful ignorance commits the worst offence – abandoning his ship. He spends the remainder of his adult life in shameful obscurity in the South Seas, trying to re-build his confidence and his character. What makes the novel fascinating is not only the tragic but redemptive outcome, but the manner in which it is told. The narrator Marlowe recounts the events in a time scheme which shifts between past and present in an amazingly complex manner. This is one of the features which makes Conrad (born in the nineteenth century) considered one of the fathers of twentieth century modernism.


Buy the book from Amazon UK


Buy the book from Amazon US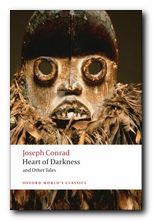 Heart of Darkness (1902) is a tightly controlled novella which has assumed classic status as an account of the process of Imperialism. It documents the search for a mysterious Kurtz, who has 'gone too far' in his exploitation of Africans in the ivory trade. The reader is plunged deeper and deeper into the 'horrors' of what happened when Europeans invaded the continent. This might well go down in literary history as Conrad's finest and most insightful achievement, and it is based on his own experiences as a sea captain. This volume also contains 'An Outpost of Progress' – the magnificent study in shabby cowardice which prefigures 'Heart of Darkness'.


Buy the book from Amazon UK


Buy the book from Amazon US
---
Joseph Conrad links
Joseph Conrad at Mantex
Biography, tutorials, book reviews, study guides, videos, web links.
Joseph Conrad – his greatest novels and novellas
Brief notes introducing his major works in recommended editions.
Joseph Conrad at Project Gutenberg
A major collection of free eTexts in a variety of formats.
Joseph Conrad at Wikipedia
Biography, major works, literary career, style, politics, and further reading.
Joseph Conrad at the Internet Movie Database
Adaptations for the cinema and television – in various languages. Full details of directors and actors, production notes, box office, trivia, and quizzes.
Works by Joseph Conrad
Large online database of free HTML texts, digital scans, and eText versions of novels, stories, and occasional writings.
The Joseph Conrad Society (UK)
Conradian journal, reviews. and scholarly resources.
The Joseph Conrad Society of America
American-based – recent publications, journal, awards, conferences.
Hyper-Concordance of Conrad's works
Locate a word or phrase – in the context of the novel or story.
© Roy Johnson 2013
---
More on Joseph Conrad
Twentieth century literature
Joseph Conrad complete tales
---