glamorous illustrated guide to modern web design
The Smashing Book is an offshoot of a web site that offers daily, sometimes twice daily articles on the very latest trends in web design. Some are about graphics and getting the best visual effects; some are tutorials on the latest developments in cascading style sheets; and others are on the golden rules for success as a freelance web designer. In other words, if you want to keep abreast of what's happening in web design, it's a site you should have on your favourites list.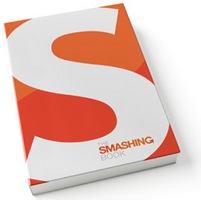 Spurred on by the success of the site in the last year or so, the owners have decided to publish a book which encapsulates all their best design principles. I immediately thought it would be a collection of the 'best of' articles they have published. But no, it's more a condensation of their general wisdom – and is much better for that. A chapter on 'Best Design Features 2009' would be out of date before the book came into your hands. .
As the authors say 'The book contains no lists of links or aggregated content. It has ten carefully prepared, written, and edited stories that are based upon topic suggestions and wishes of Smashing Magazine's readers'. All the links and resources are available online.
The advice is pitched at what I would call intermediate-to-advanced level. It's aimed at web designers, doesn't include any coding details, and focuses on notions of good practice. Elegant solutions for common problems are offered on almost every page. The book has also been written by a group of professional designers – so they know what they're talking about.
The first chapter deals with the subtleties of interface design, then the next does the same thing with style sheets. They cover fundamental topics such as page size, base fonts, interactivity via links, and best screen colours. It reminded me of Yale University's excellent Web Style Guide which takes a similar approach of concentrating on general design principles.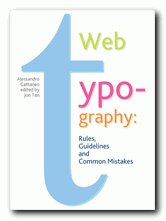 They cover fixed page width versus fluid pages and even fluid grid layout systems. Some of these techniques (such as 'text-zooming') require both a knowledge of CSS and some mathematical calculations to get the proportions right. There's a rock-solid chapter on typography which goes through all the basic details of presenting text on screen and ends by showing how good typography in page layout can be seen as a form of user interface design.
On usability the point is made again and again that everything should be subordinated to the user's needs – and these might not be the same as the designer's preferences. The chapter on colour profits from the book's high quality production values, and site optimization has plenty of free downloadable software listed to analyse your site and improve its performance.
The later sections on branding and marketing are full of advanced promotional strategies, some of which will cost you money or time – or both. Even blogging or Twittering take time if you hope to develop a regular following.
The last part of the book is in many ways the most fascinating. It's a forum of specialist web designers answering questions on day-to-day business strategies – how to get started, what they see as the latest developments, what software to use, and favourite approaches to design. I was delighted to read that so many of them recommended the .same content management system I have just chosen for my latest project (WordPress) and speaking as both a designer and a client of agencies, their advice struck me as sound.
Smashing Magazine is an interesting success story in its own right, and I was glad to see that the co-owners included a chapter on its genesis. There was no magic formula for its success. They stuck to design principles in which they believed, expected little, and worked hard. The site succeeded because they delivered high quality content on a regular basis – meaning an essay length illustrated tutorial almost every day.
The only thing they seem to have done wrong is not make their book available via Amazon – but you can order it directly here.
© Roy Johnson 2010
---
Sven Lennartz and Vitaly Friedman, The Smashing Book, Smashing Media: Lubeck, 2009, pp.311, ISBN: B003CH11BU
---
More on web design
More on digital media
More on technology
---