tutorial, commentary, study resources, and web links
The Son's Veto was first published as a serial in the London Illustrated News in 1891 and then later collected in Life's Little Ironies (1894). It is a story dealing with three themes that occur throughout the whole of Thomas Hardy's work – as a writer of short stories, as a novelist, and even as a poet. The themes are marriage, social class, and education.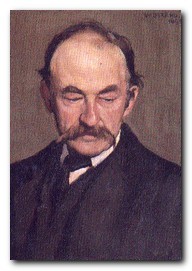 Thomas Hardy
Hardy himself had relatively modest social origins, and despite being a gifted youngster, he did not follow the traditional upper class educational path of public school followed by Oxford or Cambridge. Instead, he trained as a draughtsman and worked for his living in architectural practices before becoming a writer. His marriage to Emma Gifford was not a happy one, and following his wife's death a second marriage (to a woman forty years younger) was no more successful. He became celebrated as a writer, but was always very conscious of the possibilities of 'downward class mobility'.
---
The Son's Veto – critical commentary
Marriage
There are any number of injudicious, difficult, and failed marriages in Hardy's work. It was a subject dear to his heart, since he felt that his own marriage to Emma Gifford had run onto the rocks of boredom and indifference once it had passed beyond its early days of romance.
Sophy at nineteen has a proposal of marriage from Sam the gardener which she refuses, but thinks is reasonable. She explains to Twycott 'It would be a home for me', which illustrates her social vulnerability. However, Twycott then proposes to her. She does not love him, but respects him and is flattered by an offer from someone she considers 'august' – that is, of higher social status.
But Twycott is twice her age; he dies first; and although he leaves provision for Sophy in his will, none of his financial affairs are made accessible to her. On his decease, his son Randolph becomes his principal legatee.
When Sophy (as a widow) receives a second proposal of marriage from Sam, she will have to forfeit her house if she accepts, and by implication her income as well. In other words, despite having moved upwards in the social class system on her marriage to Twycott, she becomes vulnerable to possible downward social mobility on his death.
The fact that Sam makes a success of his fruit and vegetable business merely reinforces the sad irony in the story. Sophy would have been socially secure in accepting his offer of marriage, if she had not been emotionally bullied by her own son.
Education
To become a vicar in the Church of England is to join the upper echelons of the Establishment, even at a modest level. A home and an income are provided for a minister of the church, and in addition it is common for the fees of a private education to be paid for any children.
Reverend Twycott has no children with his first wife, but when he marries Sophy they have a son Randolph, who is privately educated – first at a public school, then at Oxford University.
Thomas Hardy knew the value of education – particularly as one of the few mechanisms (along with marriage) to upward social mobility. And he knew how difficult it was to gain access to higher education for people of lower class origin – no matter how talented. Jude the Obscure is a novel devoted to this subject (along with the theme of injudicious marriage).
But Hardy also realised that absorbing the cultural values of an upper class institution such as a university might create social tensions. Randolph Twycott is upper middle class by birth, because his father is a vicar; but his mother remains an uneducated woman of humble origins.
The son chooses to adopt a snobbish sense of superiority over his mother – illustrated in the story by her trivial lapses in English grammar, which he corrects. But more seriously he maintains a completely groundless sense of emotional superiority over her by his tyrannical refusal to accept her proposed marriage to Sam.
His formal education has done nothing to develop his sense of humanity or common decency. He might be clever enough to graduate from Oxford, but he has no common respect for his own mother.
Class
On what is Randolph's claim to superiority based? For this we need to step back once again to the basis of his parent's marriage in class terms. Twycott marries his servant Sophy, and in doing so he knows he is 'committ[ing] social suicide'. That's because as a minister and a member of the upper middle class, he would be expected to choose a wife at a comparable level in class terms.
He marries Sophy more or less in secret, then gets round the problem of social stigma by moving away from the rural community in which his ministry is located (in Aldbrickham) to a new living in an obscure part of south London.
This illustrates another feature of social life of which Hardy was acutely aware – the differences between rural and urban life. Twycott knows that in a village or town everybody's social status will be known to other inhabitants, whereas he enjoys London for its 'freedom and domestic privacy' where the parishioners will not know his wife's origins.
They were, however, away from every one who had known her former position; and also under less observation from without than they would have to put up with in any country parish.
Randolph is privately educated and develops into a snob and prig. But he is Twycott's inheritor, and Sophy knows that she will lose all claims to her house and her income if she marries Sam. She does not like her isolated life in London, and Randolph is therefore condemning her to a sort of living death by forbidding her to escape it by marrying Sam.
---
The Son's Veto – study resources

Life's Little Ironies – Oxford World Classics edition – Amazon UK

Life's Little Ironies – Oxford World Classics edition – Amazon US

Life's Little Ironies – Wordsworth Classics edition – Amazon UK

The Complete Works of Thomas Hardy – Kindle eBook

Life's Little Ironies – eBook versions at Project Gutenberg

Life's Little Ironies – audiobook version at Project Gutenberg

The Cambridge Companion to Thomas Hardy – Amazon UK

The Complete Critical Guide to Thomas Hardy – Amazon UK

Authors in Context – Thomas Hardy – Amazon UK

Oxford Reader's Companion to Hardy – Amazon UK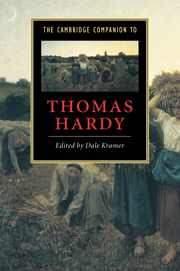 ---
The Son's Veto – plot summary
Part I. Sophy is working as a servant to rural vicar Reverend Twycott when she receives a proposal of marriage from gardener Sam Hobson, but she doesn't accept him. When she injures her foot in a fall down stairs, she thinks she will have to leave the vicarage, but Reverend Twycott (recently widowed) suddenly realises her worth and proposes to her, an offer which she accepts. Feeling that he has committed 'social suicide' by marrying a servant, Twycott moves to a new 'living' in south London. They have a son, Randolph, who is sent to public school in preparation for Oxford or Cambridge, prior to taking up the ministry.
Part II. When Twycott dies, Sophy lives in a small house he had the foresight to provide for her. She is bored by the eventlessness of her existence, and estranged from her son, who has adopted a superior and critical attitude to his uneducated mother. Eventually she meets Sam again when he is transporting vegetables to Covent Garden market. She tells him she is unhappy and wishes she were living back in the countryside.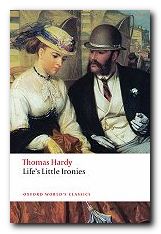 Part III. Their relationship comes to life again, and Sam proposes marriage to her for a second time. She accepts in principle, even though by doing so she would lose the home and the living Twycott has provided for her. But she needs time to break the news to her son. When she does so, he forbids her to marry Sam because the shame of it would downgrade him in the eyes of his friends. Sophy asks Sam to wait, and he does so for five years, after which he repeats his offer. Sophy renews her appeal to Randolph, who is now an undergraduate at Oxford. He forces her kneel down and swear that she will never marry Sam, claiming that he does this to honour the memory of his father. Five years later Sam has become a prosperous greengrocer. He stands in his shop doorway as Sophy's funeral procession passes by on its way to her home village. Randolph who has now become a priest scowls at Sam from the mourner's coach.
---
Principal characters
| | |
| --- | --- |
| Reverend Twycott | widowed vicar in Wessex |
| Sophy Twycott | his parlourmaid, then second wife |
| Randolph Twycott | their son, a public school boy |
| Sam Hobson | a gardener, then shopkeeper |
---
[eshop_show_product id='7934′ form='yes']
---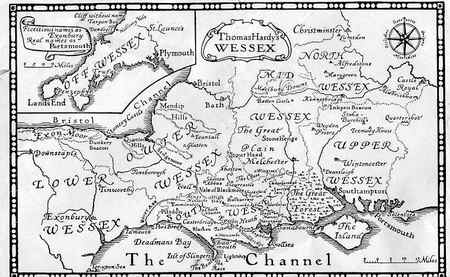 Hardy's WESSEX
---
Further reading

John Bayley, An Essay on Hardy, Cambridge: Cambridge University Press, 1978.

Penny Boumelha, Thomas Hardy and Women: Sexual Ideology and Narrative Form, Brighton: Harvester, 1982.

Kristin Brady, The Short Stories of Thomas Hardy, London: Macmillan, 1982.

Raymond Chapman, The Language of Thomas Hardy, London: Macmillan, 1990.

R.G.Cox, Thomas Hardy: The Critical Heritage, London: Routledge and Keegan Paul, 1970.

James Gibson (ed), The Complete Poems of Thomas Hardy, London, 1976.

P. Ingham, Thomas Hardy: A Feminist Reading, Brighton: Harvester, 1989.

P.Ingham, The Language of Class and Gender: Transformation in the English Novel, London: Routledge, 1995,

Michael Millgate, Thomas Hardy: A Biography Revisited, Oxford: Clarendon Press, 2006. (This is the definitive biography.)

R. Morgan, Women and Sexuality in the Novels of Thomas Hardy, London: Routledge, 1988.

F.B. Pinion, A Thomas Hardy Companion, London: Macmillan, 1968.

Norman Page, Thomas Hardy, London: Routledge & Keegan Paul, 1977.

Richard H. Taylor, The Personal Notebooks of Thomas Hardy, London, 1978.

Merryn Williams, A Preface to Hardy, London: Longman, 1976.
---
Hardy's study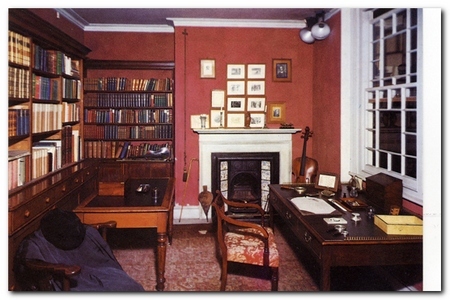 reconstructed in Dorchester museum
---
Other works by Thomas Hardy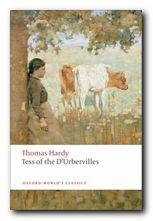 Tess of the d'Urbervilles (1891) is probably the most popular of Hardy's late, great novels. The sub-title is 'A Pure Woman', and it is a story which explores the tragic consequences of a young milkmaid who becomes the victim of the men she encounters. First she falls for the spiritual but flawed Angel Clare, and then the physical but limited Alec Durberville takes advantage of her. This novel has some of the most beautiful and the most harrowing depictions of rural working conditions which reveal Hardy as a passionate advocate for those who work the land. It also has a wonderfully symbolic climax at Stonehenge on Salisbury Plain. There is poetry in almost every page.


Buy the book at Amazon UK


Buy the book at Amazon US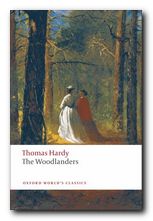 The Woodlanders (1887) Giles Winterbourne, an honest woodsman, suffers with the many tribulations of his selfless love for Grace Melbury, a woman above his station in this classic tale of the West Country. She marries the new doctor, Edred Fitzpiers, but leaves him when she learns he has been unfaithful. She turns instead to Giles, who nobly allows her to sleep in his house during stormy weather, whilst he sleeps outside and brings on his own death. It's often said that the hero of this novel is the woods themselves – so deeply moving is Hardy's account of the timbered countryside which provides the backdrop for another human tragedy and a study of rural life in transition.


Buy the book at Amazon UK


Buy the book at Amazon US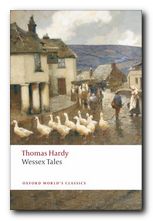 Wessex Tales Don't miss the skills of Hardy as a writer of shorter fictions. None of his short stories are really short, but they are beautifully crafted. This is the first volume of his tales in which he was seeking to record the customs, superstitions, and beliefs of old Wessex before they were lost to living memory. Yet whilst dealing with traditional beliefs, they also explore very modern concerns of difficult and often thwarted human passions which he developed more extensively in his longer works.


Buy the book at Amazon UK


Buy the book at Amazon US
---
Thomas Hardy – web links

Thomas Hardy at Mantex
Biographical notes, study guides to the major novels, book reviews. bibliographies, critiques of the shorter fiction, and web links.

The Thomas Hardy Collection
The complete novels, stories, and poetry – Kindle eBook single file download for £1.29 at Amazon.

Thomas Hardy at Project Gutenberg
A major collection of free eTexts in a variety of digital formats.

Thomas Hardy at Wikipedia
Biographical notes, social background, the novels and literary themes, poetry, religious beliefs and influence, biographies and criticism.

The Thomas Hardy Society
Dorset-based site featuring educational activities, a biennial conference, a journal (three times a year) with links to the texts of all the major works.

The Thomas Hardy Association
American-based site with photos and academic resources. Be prepared to search and drill down to reach the more useful materials.

Thomas Hardy on the Internet Movie Database
Adaptations for the cinema and television – in various languages. Full details of directors, actors, production features, box office, film reviews, and even quizzes.

Thomas Hardy – online literary criticism
Small collection of academic papers and articles 'favoring signed articles by recognized scholars and articles published in peer-reviewed sources'.

Thomas Hardy's Wessex
Evolution of Wessex, contemporary reviews, maps, bibliography, links to other web sites, and history.
© Roy Johnson 2012
---
More on Thomas Hardy
More on the novella
More on literary studies
More on short stories
---