tutorial, study guide, commentary, further reading, web links
A Laodicean (1860-1861) was first published as a serial in Harper's New Monthly Magazine and subsequently in novel form by Sampson Low in 1881. It bears two sub-titles – The Castle of the de Stancys and A Story of To-Day. It is one of Thomas Hardy's lesser-known novels, but it incorporates many of his personal interests – particularly architecture and the effects of modern technology. It is one of the earliest novels you are likely to come across that features electrical telegraphy (the telegram) as part of the plot.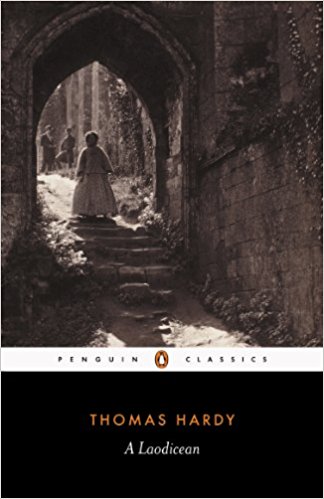 ---
A Laodicean – commentary
The sensation novel
Hardy wrote in the wake of the 'sensation novel' that had been popularised by writers such as Wilkie Collins and Mary Elizabeth Braddon in the middle of the nineteenth century. Hardy never exploited to a similar extent the sensationalist elements of plotting that they had developed – but neither was he averse to including them as an obvious encouragement to gain readers and popular acclaim.
These elements show up more obviously in his weaker novels that do not have the compensating powerful psychological insights and credible dramas that pervade his greatest works.
A Laodicean includes the following typical elements of the sensation novel in its plotting:
sex outside marriage
illegitimacy
personation
theft
blackmail
forgery
William de Stancy has had an illicit sexual relationship in his earlier life. This has led to the birth of his son, who is therefore illegitimate. But the son goes under the name of William Dare (with 'De Stancy' tattooed on his chest) which is a form of 'personation' – someone masquerading under a false identity.
Dare steals George Somerset's correspondence in order to become his assistant on the castle restoration project. He then steals the plans to form an alliance with the rival architect Havill. Meanwhile he is blackmailing his own father. He not only drains de Stancy of money to fund his self-indulgent life style, but he threatens to reveal the truth of their relationship, which would ruin Captain de Stancy's social reputation and marriage prospects (which is eventually what happens).
On top of all that, Dare is guilty of forgery on two counts. He sends a telegram to Paula Power demanding money which purports to come from George Somerset. Then he forges a photograph that is constructed to show Somerset in a state of intoxication.
These are the stock-in-trade elements of the sensation novel, and it is interesting to note that Hardy relies on them more extensively than he does in his more serious novels, for which he is quite rightly better known.
Plotting
There are a number of issues and details in the narrative that are either unexplained or not followed up, once having been introduced. For instance there are two related issues at opposite ends of the novel.
In the first, George Somerset falls into the tower pit on one of his early visits to the castle. Whilst there he notices carvings in the wall:
Among these antique inscriptions he observed two bright and clean ones, consisting of the words 'De Stancy' and 'W. Dare' crossing each other at right angles. From the state of the stone they could not have been cut more than a month before
There are only two people in the novel who know the relationship between De Stancy and Dare, and those are the two individuals themselves. At that point neither of them have had access to the castle. Hardy clearly inserts George's observation into the text to create a little mystery, but no subsequent explanation is given for how the names got there. Moreover, the incident and its implications are never mentioned again throughout the whole of the novel.
We know that as a result of an illness, Hardy was forced to complete the novel by dictation rather than longhand composition, and he may have simply forgotten this detail.
But in the second example at the other end of the novel Abner Power threatens to expose William Dare and his creation of a bogus telegram and a faked photograph to smear the reputation of George Somerset. Dare counters this attack by saying he will reveal Power's role in the fabrication of an explosive device for a group of revolutionaries.
The result of this confrontation is a stalemate which does not affect the plot in any way. More importantly however, no explanation is given for how either of these characters came to have detailed knowledge of the other's doings.
There are also ambiguities or elisions in the plot that seem to suggest that Hardy himself was not sure about the logic and coherence of his story. The destruction by fire of the castle contents at the close of the novel are the work of an arsonist described as a 'flitting' figure, who is not named.
This term 'flitting' immediately suggests a female – who might be Charlotte, putting an end to the burden of family history before she retires into a convent. But this would be uncharacteristic of such an honest, principled, and self-effacing young woman.
The other suspect – with a powerful motive of resentment – would be Dare, who we know has been denied his ambition to become a genuine de Stancy, and is still in the vicinity at the time. But it is hard to believe that a penniless and unscrupulous confidence trickster would burn paintings by Vandyck, Kneller, Tintoretto, Titian, and Giorgione when he could just easily steal and sell them.
Hardy does not seem to have made up his mind on this issue, and is content to leave an ambiguous, unresolved mystery hovering over the uncharacteristically 'happy ending' to the novel.
The basic plot is quite reasonable. An indecisive young woman is caught between competing interests – her instinct for love and a desire for social advancement. But the events of the narrative are stretched out to aesthetically unacceptable lengths. Perhaps this is a case where serial magazine publication worked against the best interests of the author. Hardy met his monthly quotas, but the net result is a novel that very few people bother to read – and one cannot blame them.
Wessex
Hardy makes very little effort to root the events of A Laodicean in a realistic manner. It seems that the location of de Stancy castle might be anywhere in southern England. It is certainly within easy reach of London by train.
But the local town of Markton in the novel is not mentioned in any of the other 'Wessex' works that constitute his essential oeuvre. Hardy was of course at liberty to produce fiction which stood independently of his other major productions. But the fictional world of 'Wessex' that he created in novels stretching from Under the Greenwood Tree (1872) to Jude the Obscure (1895) is of such power and is so vividly realised that it forms a gravitational field of an enduring intensity that affects judgements of all his works.
Structure
There are at least three major structural weaknesses in the narrative. The first is that the sub-plot of the villainous William Dare is set up successfully enough in the opening part of the story. Dare infiltrates George Somerset's professional and romantic endeavours; he steals his designs for the rival architect Havill; and he has a secret desire to become a legitimate de Stancy. Indeed, he even has the name tattooed on his chest.
Yet in the middle sections of the novel, this Dare sub-plot disappears completely. The story switches to Somerset's frustrations in trying to wring an emotional response out of the seemingly coquettish Paula Power. This section of the novel also embodies another subsidiary plot weakness – the over-elaborated passages of the theatricals and George's adolescent torments of jealousy.
But these weaknesses pale into insignificance compared with the endlessly repetitive will-she-won't-she pursuit of Paula by de Stancy during their excursion around Europe.
It is clear that Hardy wishes to show Paula under enormous pressure. George Somerset has been maligned by both Dare's bogus telegram asking for money and the faked photograph apparently showing him in a state of intoxication. Paula is also being offered marriage into a family of pedigree. She will become Lady de Stancy if only she says "Yes".
Dramatically, this is a credible plot, but de Stancy's pursuit of Paula and her refusal to yield to his entreaties goes on and on, from one town to another, with no change, no development, and no new arguments – until the reader could be excused for losing the will to live.
It is astonishing to realise that only a few years before, Hardy had written a work as psychologically insightful as The Return of the Native (1878) and only a few years hence he was to produce his all-inclusive masterpiece The Mayor of Castebridge (1886) which bears fruitful comparison with King Lear in terms of universal scope and tragic intensity.
---
A Laodicean – study resources

A Laodicean – Penguin Classics – Amazon UK

A Laodicean – Penguin Classics – Amazon US

A Laodicean – Wordsworth Classics – Amazon UK

A Laodicean – Wordsworth Classics – Amazon US

The Complete Works of Thomas Hardy – Kindle eBook
Cambridge Companion to Thomas Hardy – Amazon UK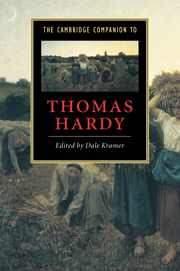 ---
A Laodicean – plot summary
Book the First. George Somerset
I.   George Somerset is refreshing his studies of English Gothic architecture under pressure from his father, a painter and academician.
II.   George comes across a modern chapel built in an ugly style. A baptism ceremony is taking place, but the attractive young celebrant refuses to go into the pool. He follows a telegraph wire that leads him to an old castle.
III .   Next day he looks over Castle de Stancy and its ancient contents. The ancestral portraits are decaying.
IV.   Charlotte de Stancy shows him round the castle and relates its history. It was bought by engineer John Power and is now being restored by his daughter. Paula Power has had a telegraph line installed and has contact with contemporary culture. The two young women are close friends.
V .   Next day George is invited to lunch with Sir William de Stancy (the previous owner) in his modern suburban villa. Sir William is obsessed with frugality and 'luck' He has lost all his money by extravagance and bad investments.
VI.   The following day George meets William Dare who wishes to photograph the castle. He then encounters the Baptist minister who is berating Paula theologically.
VII .   George debates biblical niceties with the minister, who gives up the argument. Paula speaks positively on Mr Woodwell's behalf, and afterwards the two men are reconciled.
VIII.   George has lunch at the castle. He gets into an argument with fellow architect Mr Havill. There is general agreement that Mr Dare is an unreliable entity.
IX.   George falls into a pit in the castle turret, where he sees Dare's name recently carved into the wall. Paula asks him to supervise the castle restoration. He proposes a competition with Mr Havill.
X.   Paula takes him round the castle whilst they discuss plans – without Havill. George moves to lodge in local village Markton.
XI.   Paula creates a studio for George in the castle. He feels more powerfully drawn to her – even though she appears enigmatic and even contradictory.
XII.   George goes to inspect Mr Power's famous railway tunnel. He meets Paula there, and they are frightened by trains travelling up and down the line. Dare steals George's correspondence and puts himself forward as his assistant.
XIII.   Paula holds a dinner party which George does not attend. She changes her mind about creating a Greek courtyard – then invites him to a garden party.
XIV.   An anonymous newspaper article appears, accusing Paula of desecrating the castle and its historic value. She tells George she wishes she were a de Stancy. They are spied on by Dare.
XV.   At the garden party George sacks Dare for idleness, then shelters from a rainstorm in a hut with Paula, to whom he declares his love.
Book the Second. Dare and Havill
I.   Dare finds Havill's notebook containing the draft of the newspaper article. They then spy on George and Paula in the hut. Dare proposes a pact between them to steal George's designs and cause trouble between George and Paula..
II.   Dare calls at Havill's office and helps to bamboozle one of his creditors. Dare and Havill copy George's designs in his studio. They then dine together, staying overnight at an inn.
III.   Havill wakes in the night and discovers Dare is carrying a gun. Dare then takes a close interest in an army brigade that arrives in the town.
IV.   George meets Charlotte with her brother Captain de Stancy and gives him Dare's photo to show to the police. De Stancy is shocked on recognising Dare, and burns the photo.
V.   Captain de Stancy meets Dare, his illegitimate son, who is blackmailing him. Dare proposes that de Stancy should marry Paula and reclaim the castle and estates for the de Stancy family – of which he considers himself a member. However, de Stancy has taken a vow of adult celibacy.
VI .   The architecture competition is a tie. Dare explains to Havill his plan to bring Paula and de Stancy together. He discovers that Paula will look her most attractive when taking morning exercises in her private gymnasium.
VII.   Dare takes de Stancy to the gymnasium, where he is enchanted by the sight of Paula exercising.
Book the Third. De Stancy
I.   William de Stancy immediately becomes a changed man. He abandons his vows of teetotalism and avoiding women. He wants his sister Charlotte to help him in his pursuit of Paula, and he takes a sudden interest in the family history.
II.   William visits the castle and shows off his (very recently acquired) knowledge of the de Stancy family to Paula. Dare arrives, and they plan to make copies of all the family portraits.
III.   The copying begins, but William wants a portrait of Paula herself, which she refuses. Havill goes bankrupt and his wife dies. Paula is persuaded to split the project into two parts out of sympathy for Havill.
IV.   Havill has pangs of conscience and resigns from the project. Dare and de Stancy fear that the return of Somerset will spoil their plans.
V.   George wonders if his own family has a 'pedigree'. When he goes to recover a genealogical document from the bank he sees Paula collecting a jewelled necklace.
VI.   George follows Paula to the Markton Hunt Ball. Charlotte is taken home in a faint when she sees Somerset. George learns that there are to be theatricals (Love's Labour's Lost) for which he designed the costumes.
VII.   George returns to the castle, but he jealously objects to Paula taking an active part in the theatricals.
VII.   He is further distressed when parts are changed and romantic scenes from Romeo and Juliet are interpolated.
IX.   A mysterious stranger enters, makes enquiries about Paula and de Stancy, then pays people to applaud them. George reproaches Paula for taking part in the final love scene in the play.
X.   Next day Paula hires a professional actress to take her part. After the performance she introduces the mysterious stranger as her uncle Abner Power – which gives George further cause for jealous worry.
XI.   Paula's engagement is announced in a newspaper – but she denies it to George. She plans a trip to Nice. George discovers that the newspaper announcement was placed there by her uncle Abner.
Book the Fourth. Somerset, Dare, and de Stancy
I.   George and Paula exchange telegraph messages and letters. He continues to plead for signs of affection, and she continues to refuse.
II.   Abner Power wishes to influence his niece. George wants to visit her in Nice. She eventually stops writing to him – so he sends a message demanding to know what is happening.
III.   When he learns that de Stancy is also visiting Nice, George is inflamed with jealousy and immediately sets off to join them. The party has moved on to Monte Carlo, so he follows them there.
IV.   In the Casino George meets William Dare who tries to borrow money from him, which he refuses to do. Dare despatches a bogus telegram to Paula, claiming to be from Somerset and asking for money to pay a gambling debt.
V.   Paula despatches de Stancy with the money for Somerset. Dare turns up to collect it, but de Stancy refuses to hand it over.
Book the Fifth. De Stancy and Paula
I.   De Stancy joins Paula in Strazbourg where he returns the money. He declares his passion for her.
II.   They move on to Baden where de Stancy pesters Paula for attention and the reciprocation of his feelings. She refuses him, but he is supported by her uncle Abner.
III.   Dare catches up with de Stancy in Karlsruhe, flush with a recent gambling success. De Stancy advises him to return to England.
IV.   Paula asks to see Dare, who smears Somerset by implication then produces the doctored photograph apparently showing Somerset drunk.
V.   Somerset arrives and is treated coldly by Paula, who now accepts de Stancy as a potential suitor instead. Dare departs for England.
VI.   Somerset and Paula meet again by accident in Heidelberg, and they part with cold misunderstanding of each other.
VII.   Paula chooses to walk up a long hill with de Stancy, who continues to harass her with emotional demands. She continues to equivocate.
VIII.   The party sail down the Rhein on a pleasure boat. Paula and de Stancy discuss their relationship, and there are further supplications and equivocations.
IX.   De Stancy continues to court Paula as they journey through northern Europe. Somerset writes to say that he wishes to resign from the castle restoration project.
X.   Charlotte becomes ill in Amiens. Abner Power arrives from Paris saying that the proposed marriage must not go ahead. De Stancy harasses Paula yet again, then receives notice of his father's death. Paula finally accepts him.
XI.   Dare checks on the marriage preparations and makes veiled blackmail threats. Abner Power arrives to expose the truth about Dare. But Dare counter-attacks with a history of Power's making an explosive device for revolutionaries. They threaten each other with guns, then agree to call it quits. Abner Power disappears again.
XII.   Somerset meets Charlotte, who tells him about about the fake telegram. He goes next day to challenge Dare, but en route hears that the marriage has just taken place. He goes on holiday to Normandy.
XIII.   Charlotte is suspicious regarding Dare and uncovers the truth about the bogus photograph. Although she is in love with Somerset herself, she feels she ought to give the information to Paula.
XIV.   Charlotte reveals the truth to Paula on her wedding day. Paula threatens to have Dare arrested. When. De Stancy protests he is forced to admit that Dare is his son. The marriage is called off.
Book the Sixth. Paula
I.   Paula sets off for Normandy in search of Somerset. She traces him to Lisieux, where she just misses his departure for Caen.
II.   In the next town she meets Somerset's father. When they move on to Etretat, George is seen in a dance hall. Paula feels she has been humiliating herself, and vows to go back home.
III.   Next day the two parties meet by accident. Paula re-appoints Somerset as architect, but does not reveal what she knows. George becomes ill. Paula visits him they are reconciled, and agree to marry.
IV.   A few weeks later Paula and Somerset return to Markton. De Stancy meets Dare, and they bemoan their separate lots.
V.   Charlotte retreats to a nunnery, and a fire consumes the contents of the castle. Paula and Somerset agree to build a new home alongside the ruins.
---
A Laodicean – characters
| | |
| --- | --- |
| George Somerset | a young architect |
| John Power | railway engineer, who bought the de Stancy estate |
| Paula Power | his daughter, current owner of the estate |
| Captain William de Stancy | a middle-aged bachelot |
| Charlotte de Stancy | Paula's friend |
| William Dare | de Stancy's illegitimate son |
| Mr Woodwell | a local Markston minister |
| Mr Havill | a local Markston architect |
| Mrs Goodman | Paula's aunt and chaperon |
| Abner Power | Paula's uncle |
© Roy Johnson 2017
---
More on Thomas Hardy
More on the novella
More on literary studies
More on short stories
---