tutorial, commentary, study resources, and web links
The Spoils of Poynton (1896) is a short novel which James wrote in his late period, following the catastrophe of his excursion into the theatre, just before the composition of What Masie Knew, The Wings of the Dove and The Golden Bowl. It was first serialised in the Atlantic Monthly under the title of The Old Things then extensively revised by James for publication as a single volume in 1897.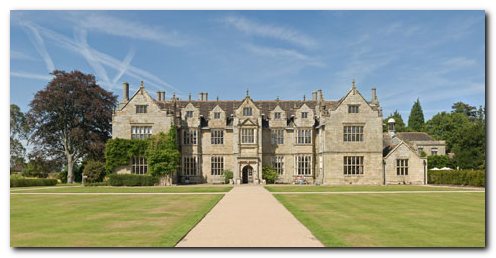 Wakehurst Place Mansion
Even though the novel ostensibly concerns a battle of wills over the possession of a beautiful contry house and its collection of antiques and furnishings, there is very little description of these objects themselves. They are merely presented (and accepted) as 'wonderful'. Nevertheless, James includes a delicate sprinkling of very witty observations about good taste (and lack of it) in the decoration of houses. This was an interest he shared with his friend and fellow-novelist Edith Wharton, whose seminal work on the subject, The Decoration of Houses (1897) was published at exactly the same time as The Spoils of Poynton.
---
The Spoils of Poynton – critical commentary
One of the most striking features of The Spoils of Poynton is its similarity to Jane Austen's Mansfield Park (1814). Both are about the forces competing for moral dominance focussed on the possession of a country house. Both feature heroines who are young, relatively poor, and who uphold scrupulous, even fastidious standards of rectitude which cause them to put themselves under a great deal of emotional stress.
Fleda Vetch is separated from her family, and lives under the bounty of Mrs Gereth, just as Fanny Price lives with her richer uncle and aunt Bertram at Mansfield Park. Fleda is much of the time secretly in love with her protectress's son Owen, as is Fanny with Edmund Bertram.
Both Owen Gereth and Edmund Bertram are unaware that they are selflessly loved and protected by the heroine of the narrative, and meanwhile make relationships with other women who are morally suspect (Mona Brigstock and Mary Crawford respectively).
Both heroines choose to keep their feelings hidden from others, and endure enormous amounts of self-sacriifice and denial in order to protect the object of their affections. Both of them maintain incredibly high standards of moral scruple in the face of other characters tempting them to do otherwise.
In both cases an inheritance and rise in social position is at stake. The stories are variations of the Cinderella theme. But the difference is that Fanny Price eventually gets her man, whereas Fleda Vetch waits too long and loses both her man, Owen Gereth, and the treasures of Poynton Park, which goes up in flames.
---
The Spoils of Poynton – study resources

The Spoils of Poynton – Oxford Classics – Amazon UK

The Spoils of Poynton – Oxford Classics – Amazon US

The Spoils of Poynton – Penguin Classics – Amazon UK

The Spoils of Poynton – Penguin Classics – Amazon US

The Spoils of Poynton – Kindle eBook edition

The Spoils of Poynton – (unabridged) Audio book

The Spoils of Poynton – eBook editions at Gutenberg

The Spoils of Poynton – Video film (5 disk boxed set)

The Cambridge Companion to Henry James – Amazon UK

Henry James at Wikipedia – biographical notes, links

Henry James at Mantex – tutorials, biography, study resources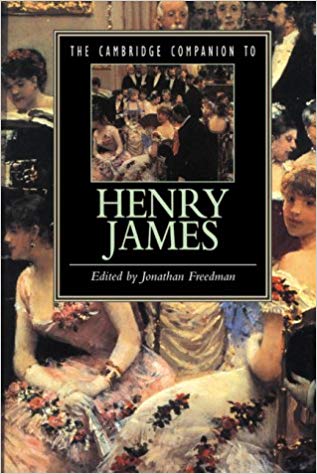 ---
The Spoils of Poynton – plot summary
Mrs Adela Gereth has lovingly nurtured a collection of art objects and furnishings in a grand old house at Poynton Park, but when her husband dies the property is inherited by her naive son Owen. She fears he will marry someone with no taste and the spirit of the house will become neglected or even violated. She befriends the sensitive and intelligent Fleda Vetch to share her concerns. But Owen becomes engaged to Mona Brigstock, who has no feeling for aethetic beauty at all, and who merely sees Poynton as a material acquisition. Fleda is in love with Owen, but conceals the fact.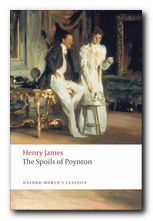 When Mona demands that Mrs Gereth vacate Poynton as a condition of her marrying Owen, Fleda feels divided loyalties between helping Owen or his mother. Mrs Gereth goes to live at Ricks, a much smaller house which has been allocated to her, but she also takes all the best items from the collection at Poynton. Mona threatens to call off the marriage to Owen unless the goods are returned. Owen asks Fleda to negotiate with his mother for the return of the goods. She perversely dissimulates her love of Owen to Mrs Gereth in order to preserve what she perceives to be his 'honour'. However, Mrs Gereth devines the truth of the matter and offers to hand over Poynton and its contents if Fleda will marry Owen.
Mona meanwhile delays the marriage and her mother Mrs Brigstock discovers that Owen has fallen in love with Fleda. Owen and Fleda eventually declare their love for each other, but she insists that Mona must first give him up voluntarily, so that he does not break his promise to marry her.
Knowing that her son and Fleda are in love and likely to marry, Mrs Gereth returns the 'spoils' to their spiritual home at Poynton. But Mona takes that as a signal for action, and holds Owen to his promise. They marry quickly, secretly, in a registry office.
Mrs Gereth and Fleda go to live at a much-improved Ricks, whilst Mona and Owen leave Poynton to go on a long vacation in India. Fleda eventually receives a letter from Owen offering to let her select a small momento from the objects at Poynton – but when she arrives there to do so, she finds that the house and its contents have been destroyed in a fire.
---
Principal characters
| | |
| --- | --- |
| Mrs Adela Gereth | a strong-minded widow in her 50s who collects beautiful objects |
| Owen Gereth | her well-intentioned but naive son |
| Fleda Vetch | a plain but intelligent young woman |
| Mrs Brigstock | owner of Waterbath |
| Mona Brigstock | her vulgar and greedy eldest daughter |
| Maggie | Fleda's married sister |
| Colonel Gereth | Mrs Gereth's brother-in-law |
| Waterbath | a country house full of vulgar objects |
| Poynton Park | a Jacobean house with a collection of beautiful objects |
| Cadogan Place | temporary London home for Mrs Gereth |
| Ricks | permanent alternative home for Mrs Gereth |
---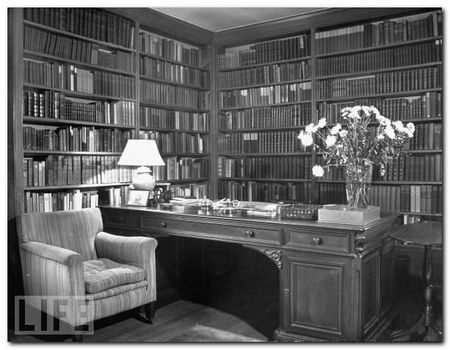 Henry James's study
---
Further reading
Biographical

Theodora Bosanquet, Henry James at Work, University of Michigan Press, 2007.

F.W. Dupee, Henry James: Autobiography, Princeton University Press, 1983.

Leon Edel, Henry James: A Life, HarperCollins, 1985.

Philip Horne (ed), Henry James: A Life in Letters, Viking/Allen Lane, 1999.

Henry James, The Letters of Henry James, Adamant Media Corporation, 2001.

Fred Kaplan, Henry James: The Imagination of Genius, Johns Hopkins University Press, 1999

F.O. Matthieson (ed), The Notebooks of Henry James, Oxford University Press, 1988.
Critical commentary

Elizabeth Allen, A Woman's Place in the Novels of Henry James London: Macmillan Press, 1983.

Ian F.A. Bell, Henry James and the Past, London: Palgrave Macmillan, 1993.

Millicent Bell, Meaning in Henry James, Cambridge (MA): Harvard University Press, 1993.

Harold Bloom (ed), Modern Critical Views: Henry James, Chelsea House Publishers, 1991.

Kirstin Boudreau, Henry James's Narrative Technique, Macmillan, 2010.

J. Donald Crowley and Richard A. Hocks (eds), The Wings of the Dove, New York: W.W. Norton and Company, 1978.

Victoria Coulson, Henry James, Women and Realism, Cambridge University Press, 2009.

Daniel Mark Fogel, A Companion to Henry James Studies, Greenwood Press, 1993.

Virginia C. Fowler, Henry James's American Girl: The Embroidery on the Canvas, Madison (Wis): University of Wisconsin Press, 1984.

Jonathan Freedman, The Cambridge Companion to Henry James, Cambridge University Press, 1998.

Judith Fryer, The Faces of Eve: Women in the Nineteenth Century American Novel, Oxford: Oxford University Press, 1976

Roger Gard (ed), Henry James: The Critical Heritage, London: Routledge, 1968.

Tessa Hadley, Henry James and the Imagination of Pleasure, Cambridge University Press, 2009.

Barbara Hardy, Henry James: The Later Writing (Writers & Their Work), Northcote House Publishers, 1996.

Richard A. Hocks, Henry James: A study of the short fiction, New York: Twayne Publishers, 1990.

Donatella Izzo, Portraying the Lady: Technologies of Gender in the Short Stories of Henry James, University of Nebraska Press, 2002.

Colin Meissner, Henry James and the Language of Experience, Cambridge University Press, 2009

John Pearson (ed), The Prefaces of Henry James, Pennsylvania State University Press, 1993.

Richard Poirer, The Comic Sense of Henry James, Oxford: Oxford University Press, 1967.

Hugh Stevens, Henry James and Sexuality, Cambridge University Press, 1998.

Merle A. Williams, Henry James and the Philosophical Novel, Cambridge University Press, 1993.

Judith Woolf, Henry James: The Major Novels, Cambridge University Press, 1991.

Ruth Yeazell (ed), Henry James: A Collection of Critical Essays, Longmans, 1994.
---
Other works by Henry James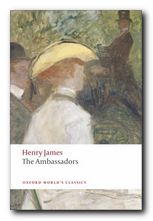 The Ambassadors (1903) Lambert Strether is sent from America to Paris to recall Chadwick Newsome, a young man who is reported to be compromising himself by an entanglement with a wicked woman. However, Strether's mission fails when he is seduced by the social pleasures of the European capital, and he takes Newsome's side. So a second ambassador is dispatched in the form of the more determined Sarah Pocock. She delivers an ultimatum which is resisted by the two young men, but then an accident reveals unpleasant truths to Strether, who is faced by a test of loyalty between old Europe and the new USA. This edition presents the latest scholarship on James and includes an introduction, notes, selected criticism, a text summary and a chronology of James's life and times.


Buy the book at Amazon UK


Buy the book at Amazon US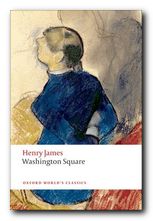 Washington Square (1880) is a superb early short novel, It's the tale of a young girl whose future happiness is being controlled by her strict authoritarian (but rather witty) father. She is rather reserved, but has a handsome young suitor. However, her father disapproves of him, seeing him as an opportunist and a fortune hunter. There is a battle of wills – all conducted within the confines of their elegant New York town house. Who wins out in the end? You will probably be surprised by the outcome. This is a masterpiece of social commentary, offering a sensitive picture of a young woman's life.


Buy the book from Amazon UK


Buy the book from Amazon US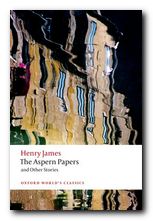 The Aspern Papers (1888) is a psychological drama set in Venice which centres on the tussle for control of a great writer's correspondence. An elderly lady, ex-lover of the writer, seeks a husband for her daughter. But the potential purchaser of the papers is a dedicated bachelor. Money is also at stake – but of course not discussed overtly. There is a refined battle of wills between them. Who will win in the end? As usual, James keeps the reader guessing. The novella is a masterpiece of subtle narration, with an ironic twist in its outcome. This collection of stories also includes three of his accomplished long short stories – The Private Life, The Middle Years, and The Death of the Lion.


Buy the book from Amazon UK


Buy the book from Amazon US
---
Henry James – web links

Henry James at Mantex
Biographical notes, study guides, tutorials on the Complete Tales, book reviews. bibliographies, and web links.

The Complete Works
Sixty books in one 13.5 MB Kindle eBook download for £1.92 at Amazon.co.uk. The complete novels, stories, travel writing, and prefaces. Also includes his autobiographies, plays, and literary criticism – with illustrations.

The Ladder – a Henry James website
A collection of eTexts of the tales, novels, plays, and prefaces – with links to available free eTexts at Project Gutenberg and elsewhere.

A Hyper-Concordance to the Works
Japanese-based online research tool that locates the use of any word or phrase in context. Find that illusive quotable phrase.

The Henry James Resource Center
A web site with biography, bibliographies, adaptations, archival resources, suggested reading, and recent scholarship.

Online Books Page
A collection of online texts, including novels, stories, travel writing, literary criticism, and letters.

Henry James at Project Gutenberg
A major collection of eTexts, available in a variety of eBook formats.

The Complete Letters
Archive of the complete correspondence (1855-1878) work in progress – published by the University of Nebraska Press.

The Scholar's Guide to Web Sites
An old-fashioned but major jumpstation – a website of websites and resouces.

Henry James – The Complete Tales
Tutorials on the complete collection of over one hundred tales, novellas, and short stories.

Henry James on the Internet Movie Database
Adaptations of James's novels and stories for the cinema and television – in various languages. Full details of directors and actors, production features, film reviews, box office, and even quizzes.
© Roy Johnson 2011
---
More on Henry James
More on literature
More on the novella
More on literary studies
More on short stories
---