tutorial, commentary, study resources, and web links
The Story in It first appeared in Anglo-American Magazine in January 1902, It is collected in Volume XI of The Complete Tales of Henry James (Rupert Hart-Davis) 1964.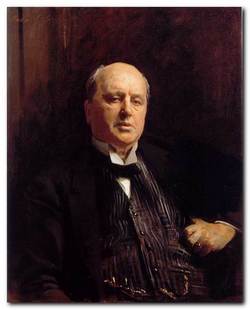 Henry James – portrait by John Singer Sargeant
---
The Story in It – commentary
This is the story of a small and undramatic romance; it's a story in which the characters discuss romance as the subject matter of fiction; and it's a story which rather cleverly reflects upon itself in quite a modern manner.
Maude Blessingbourne has a crush on Colonel Voyt, and although she is not aware of it, she is staying with his clandestine lover Mrs Dyott. This accounts for the tension and the rivalry between the two women. When Colonel Voyt arrives for the first visit, Maude bolts upstairs to change her dress – which turns out to be the prettiest Mrs Dyott has ever seen her wearing.
Against Colonel Voyt's objections Maude very passionately defends her argument that it is possible to make fictional drama out of virtue. This alerts Mrs Dyott to the true state of Maude's feelings for the Colonel.
And although Mrs Dyott's and Colonel Voyt's behaviour is the conventional subject of fiction (illicit sexual relations) Maude's story of quiet unspoken love is of no less interest to a writer skilful enough to make something of it – which is precisely what James does.
The story is therefore very modern in its spirit – in the sense that it comments ironically on its own subject. Another way of looking at it is that Henry James is demonstrating his skills as an author and simultaneously revealing the mechanisms by which his narratives are constructed. Fifty years later Vladimir Nabokov was doing the same thing in stories such as The Vane Sisters.
In fact James is well known as a novelist who can spin gold out of straw or generate drama out of scenes that are apparently static and lacking in any drama – as he does when describing the arrival of Colonel Voyt at Mrs Dyott's house:
They met, as it were, twice: the first time while the servant was there and the second as soon as he was not. The difference was great between the two encounters, though we must add in justice to the second that its marks were at first mainly negative. This communion consisted only in their having drawn each other for a minute as close as possible—as possible, that is, with no help but the full clasp of hands. Thus they were mutually held, and the closeness was at any rate such that, for a little, though it took account of dangers, it did without words
---
The Story In It – study resources

The Complete Works of Henry James – Kindle edition – Amazon UK

The Complete Works of Henry James – Kindle edition – Amazon US

Complete Stories 1898—1910 – Library of America – Amazon UK

Complete Stories 1898—1910 – Library of America – Amazon US

The Story in It – Digireads reprint edition – Amazon UK

The Story in It – eBook at Project Gutenberg

The Story in It – read the story on line

The Cambridge Companion to Henry James – Amazon UK

The Prefaces of Henry James – Introductions to his tales and novels

Henry James at Wikipedia – biographical notes, links

Henry James at Mantex – tutorials, biography, study resources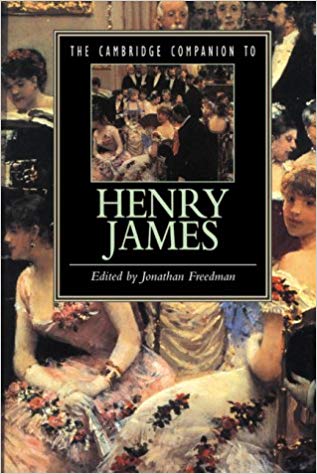 ---
The Story in It – plot summary
Part I. Mrs Dyott and her friend the widow Mrs Maude Blessingbourne engage in subdued rivalry on a wet afternoon. Colonel Voyt and arrives and whilst Mrs Blessingbourne is out of the room he asks Mrs Dyott about a letter he sent earlier in the day, which she has burned – the implication being that it is compromising in nature.
Part II. When Mrs Blessingbourne returns they discuss French novels as distinct from English and American, and theories of drama in relation to moral and aesthetic values. The exchanges are mainly couched in the style of Wildean epigrams and paradoxes. Voyt appears to be flirting with Maude, who vigorously defends an argument that it is possible for a woman to be both good and romantic.
Part III. When Colonel Voyt has left Mrs Dyott challenges Maude about her theories and her behaviour. Maude reveals that she has a passion for someone who does not know about or share her feelings – and that is an example of goodness and romance combined.
A few days later Captain Voyt arranges to visit Mrs Dyott alone – confirming that they have an illicit relationship. She tells him that Maude is in love with him. Their own relationship is likened to the subject matter of drama and fiction, but they opine that Maude's 'shy romance' could not be the material of any drama. As Colonel Voyt puts it: "Who but a duffer…would see the shadow of a 'story' in it?"
---
Principal characters
| | |
| --- | --- |
| Mrs Dyott | woman in illicit relationship with Colonel Voyt |
| Mrs Maude Blessingbourne | her friend, a widow |
| Colonel Voyt | a Tory member of parliament |
| Mrs Voyt | his wife |
---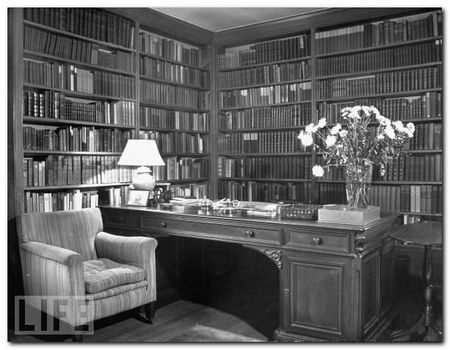 Henry James's study
---
Further reading
Biographical

Theodora Bosanquet, Henry James at Work, University of Michigan Press, 2007.

Philip Horne (ed), Henry James: A Life in Letters, Viking/Allen Lane, 1999.

Henry James, The Letters of Henry James, Adamant Media Corporation, 2001.

Fred Kaplan, Henry James: The Imagination of Genius, Johns Hopkins University Press, 1999
Critical commentary

Millicent Bell, Meaning in Henry James, Cambridge (MA): Harvard University Press, 1993.

Kirstin Boudreau, Henry James's Narrative Technique, Macmillan, 2010.

Daniel Mark Fogel, A Companion to Henry James Studies, Greenwood Press, 1993.

Jonathan Freedman, The Cambridge Companion to Henry James, Cambridge University Press, 1998.

Richard A. Hocks, Henry James: A study of the short fiction, New York: Twayne Publishers, 1990.

Colin Meissner, Henry James and the Language of Experience, Cambridge University Press, 2009

John Pearson (ed), The Prefaces of Henry James, Pennsylvania State University Press, 1993.
---
Other works by Henry James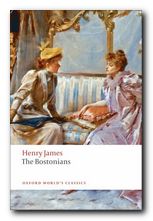 The Bostonians (1886) is a novel about the early feminist movement. The heroine Verena Tarrant is an 'inspirational speaker' who is taken under the wing of Olive Chancellor, a man-hating suffragette and radical feminist. Trying to pull her in the opposite direction is Basil Ransom, a vigorous young man from the South to whom Verena becomes more and more attracted. The dramatic contest to possess her is played out with some witty and often rather sardonic touches, and as usual James keeps the reader guessing about the outcome until the very last page.


Buy the book at Amazon UK


Buy the book at Amazon US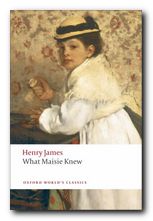 What Masie Knew (1897) A young girl is caught between parents who are in the middle of personal conflict, adultery, and divorce. Can she survive without becoming corrupted? It's touch and go – and not made easier for the reader by the attentions of an older man who decides to 'look after' her. This comes from the beginning of James's 'Late Phase', so be prepared for longer and longer sentences. In fact it's said that whilst composing this novel, James switched from writing longhand to using dictation – and it shows if you look carefully enough – part way through the book.


Buy the book at Amazon UK


Buy the book at Amazon US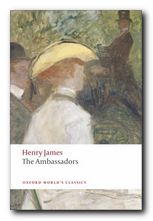 The Ambassadors (1903) Lambert Strether is sent from America to Paris to recall Chadwick Newsome, a young man who is reported to be compromising himself by an entanglement with a wicked woman. However, Strether's mission fails when he is seduced by the social pleasures of the European capital, and he takes Newsome's side. So a second ambassador is dispatched in the form of the more determined Sarah Pocock. She delivers an ultimatum which is resisted by the two young men, but then an accident reveals unpleasant truths to Strether, who is faced by a test of loyalty between old Europe and the new USA. This edition presents the latest scholarship on James and includes an introduction, notes, selected criticism, a text summary and a chronology of James's life and times.


Buy the book at Amazon UK


Buy the book at Amazon US
---
Henry James – web links

Henry James at Mantex
Biographical notes, study guides, tutorials on the Complete Tales, book reviews. bibliographies, and web links.

The Complete Works
Sixty books in one 13.5 MB Kindle eBook download for £1.92 at Amazon.co.uk. The complete novels, stories, travel writing, and prefaces. Also includes his autobiographies, plays, and literary criticism – with illustrations.

The Ladder – a Henry James website
A collection of eTexts of the tales, novels, plays, and prefaces – with links to available free eTexts at Project Gutenberg and elsewhere.

A Hyper-Concordance to the Works
Japanese-based online research tool that locates the use of any word or phrase in context. Find that illusive quotable phrase.

The Henry James Resource Center
A web site with biography, bibliographies, adaptations, archival resources, suggested reading, and recent scholarship.

Online Books Page
A collection of online texts, including novels, stories, travel writing, literary criticism, and letters.

Henry James at Project Gutenberg
A major collection of eTexts, available in a variety of eBook formats.

The Complete Letters
Archive of the complete correspondence (1855-1878) work in progress – published by the University of Nebraska Press.

The Scholar's Guide to Web Sites
An old-fashioned but major jumpstation – a website of websites and resouces.

Henry James – The Complete Tales
Tutorials on the complete collection of over one hundred tales, novellas, and short stories.

Henry James on the Internet Movie Database
Adaptations of James's novels and stories for the cinema and television – in various languages. Full details of directors and actors, production features, film reviews, box office, and even quizzes.
© Roy Johnson 2012
---
More tales by James
More on literature
More on the novella
More on literary studies
More on short stories
---