tutorial, commentary, study resources, plot, and web links
The Touchstone was published in 1900, and was Edith Wharton's first novella. It's an amazingly accomplished piece, considering that she did not think she had matured as a writer until more than a decade later, when she published Ethan Frome (1911), which she described as marking the end of her 'apprenticeship' as a writer.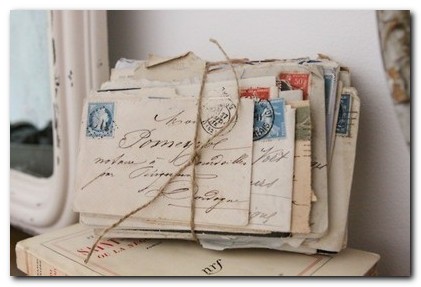 Margaret Aubyn's letters
---
The Touchstone – critical commentary
Context
Edith Wharton was a great friend of Henry James, who had written a number of stories dealing with the relationship of authors to society in general, and the problems of biographical revelations in particular. James's stories generally put the case for the right of authors to retain an autonomous degree of control over the details of their private lives, and he often depicts those who would reveal intimate aspects of a writer's biography as sneaks, gossip-mongers, and prying busybodies. The most celebrated case of this kind is his novella The Aspern Papers (1888).
Edith Wharton follows this line of argument in The Touchstone. There is never any doubt in Glennard's mind that by releasing Margaret Aubyn's letters to the public, he is betraying both her and the one-sided relationship they had in the past. Moreover, he makes the decision to publish for rather dubious motives – because he needs the money in order to marry Alexa Trent, from whom he conceals the fact that the letters were written to him.
However, this view of publishing biographical materials is countered by Flamel's view that to do so in the case of Margaret Aubyn would be a public service – because she is an important and renowned figure, and because no personal harm can be done to her since she is now dead. At first this appears to be a slippery, diabolical argument leading Glennard into a Faustian pact with his publisher, from which he profits again and again. Hence the dramatic significance of the royalty cheque he receives and his attempt to salve his conscience by paying Flamel a commission fee.
The reader is given ever reason to think that Flamel has underhand motives and is paving his way to seduce Alexa – but in fact he refuses the fee, and turns out to have acted honourably all along, even to the extent of going to live abroad, with the implication that he has been in love with Alexa but is sacrificing his own interests out of respect for hers.
The novella
The basic requirements of the novella form are that it should be short, concentrated, centred on a single theme, with few characters, and tightly focused in terms of time scale, characters, and location. The Touchstone fulfils all these requirements. It has three principal characters, the drama is centred upon Glennard's moral struggle in his dealings with the other two – and his past relationship with Margaret Aubyn, who is a very good example of a character exerting influence from beyond the grave. And the letters themselves form an appropriate symbol of the central issue of the story – the revelation of biographical information about a well-known writer.
There is more than a hint that Margaret Aubyn is a thinly veiled portrait of Edith Wharton herself. And it's also interesting to note that she publishes a volume with the title Pomegranate Seed – which Edith Wharton was to do herself when she wrote a story with that title thirty years later.
---
The Touchstone – study resources

Edith Wharton Stories 1891-1910 – Norton Critical – Amazon UK

Edith Wharton Stories 1891-1910 – Norton Critical – Amazon US

The Touchstone – eBook format at Project Gutenberg

The Touchstone – AudioBook format at Gutenberg

The Touchstone – paperback edition – Amazon UK

A Historical Guide to Edith Wharton – Amazon UK

The Cambridge Introduction to Edith Wharton – Amazon UK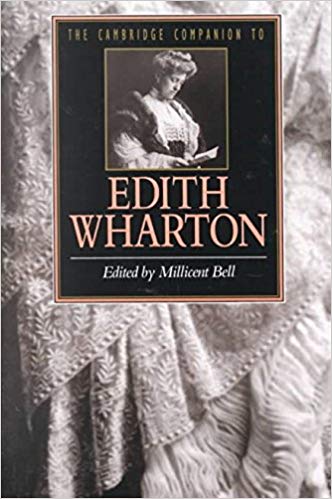 ---
The Touchstone – plot synopsis
Part I.   New York lawyer Stephen Glennard sees a request for information relating to famous novelist Margaret Aubyn. He is in possession of hundreds of her letters written at a time when she was in love with him but when he was unable to reciprocate her feelings. He feels financially pinched and does not have enough money to marry Alexa Trent.
Part II.   He has been in love with Alexa for two years, and Margaret Aubyn has been dead for three. Glennard met Margaret Aubyn when he was at university, and after her husband died Glennard moved to work in New York, which is when her correspondence began. She decided to move to London, from where she continued her eloquent and vivid sequence of letters. Glennard realises that he is in possession of a rich seam of materials.
Part III.   Alexa reports that her aunt has invited her to live abroad in Europe for two years. This is to relieve the financial burden on her family which Alexa creates as the eldest unmarried daughter. Glennard tries to persuade her to marry him instead, and live frugally.
Part IV.   Glennard feels vaguely guilty that he has been standing in the way of Alexa finding a husband who can support her. His friend Flamel confirms that a collection of Margaret Aubyn's letters would be very valuable to a publisher. Glennard plans to invest any money he might raise from such a sale.
Part V.   One year later Glennard is married to Alexa, they are living in the suburbs, and his investments are doing very well. Flamel has helped him to edit the letters, and their publication is a big success. Yet Glennard feels oppressed by a sense of regret that he has somehow betrayed Margaret Aubyn. He is worried that Alexa might discover his secret that the letters were written to him, and he is anxious about his pact with Flamel.
Part VI.   Margaret Aubyn's letters are discussed by a group of people on Flamel's yacht, following which Alexa asks Glennard to buy her a copy of the Letters. Alexa appears to have closer and closer ties with Flamel.
Part VII.   Alexa knows that Glennard was acquainted with Margaret Aubyn in his earlier university days. Glennard invites Flamel to dinner, where this connection is revealed. Glennard is anxious about how much his wife and Flamel know respectively about each other's knowledge of the situation.
Part VIII.   Glennard is so worried about what Alexa might discover that he decides to move back into to New York so that he will have less personal contact with her because of social life in the city. A royalty cheque appears as a result of the publishing success, and he feels more guilty than ever. Friends report on a public reading of the Letters at the Waldorf Hotel. Glennard suspects that Flamel might have revealed his secret to Alexa.
Part IX.   Glennard gives Alexa the chance to discover his secret by letting her see a letter from his publisher. Alexa meanwhile continues to have more and more private meetings with Flamel.
Part X.   Time goes on, and Glennard still does not discuss his guilty secret with Alexa, as a consequence of which they begin to drift further and further apart. He sees a picture of Margaret Aubyn in a magazine and begins to imaginatively re-live their relationship.
Part XI.   Glennard goes to the cemetery and scatters flowers on Margaret Aubyn's grave.
Part XII.   Glennard's morbid connection with Margaret Aubyn continues and leads him into a solitary way of life. But he is suddenly shocked to encounter Alexa and Flamel together in an out-of-the-way part of Manhattan. He sends Flamel a cheque as commission for his part in placing the letters with a publisher. When Flamel pays him a surprise visit, Glennard reveals that the letters were written to him, and he lies to Flamel, claiming that Alexa was aware of the fact. Flamel rejects his arguments and his action as insulting, and tears up the cheque.
Part XIII.   Glennard wonders if Alexa does not realise the letters were written to him, and he begins to value her again. He challenges her in a jealous outburst over her meeting with Flamel, who she tells him is leaving for Europe. She also reveals her distaste for the letters and the 'inheritance' they provided for the establishment of their marriage. She argues that the money should be repaid. Glennard asks her if Flamel is leaving because he loves Alexa, and he admits that he has deceived Flamel, who has behaved honourably throughout the episode.
Part XIV.   Alexa makes sacrifices and they live frugally. Glennard calculates that it will take two years to repay the money. He is tortured by his inability to make amends to the dead Margaret Aubyn, and he wallows in self-pity. However, Alexa argues that Margaret Aubyn has given him the opportunity to 'discover himself', even if it was via a base action on his part.
---
The Touchstone – principal characters
| | |
| --- | --- |
| Stephen Glennard | a New York lawyer |
| Alexa Trent | his fiancé, and later his wife |
| Mrs Margaret Aubyn | a celebrated novelist, his former lover |
| Barton Flamel | a rich aesthete and collector |
---
Video documentary
---
Further reading
Louis Auchincloss, Edith Wharton: A Woman of her Time, New York: Viking, 1971,
Elizabeth Ammons, Edith Wharton's Argument with America, Georgia: University of Georgia Press, 1982, pp.222. ISBN: 0820305138
Janet Beer, Edith Wharton (Writers & Their Work), New York: Northcote House, 2001, pp.99, ISBN: 0746308981
Millicent Bell (ed), The Cambridge Companion to Edith Wharton, Cambridge: Cambridge University Press, 1995, pp.232, ISBN: 0521485134
Alfred Bendixen and Annette Zilversmit (eds), Edith Wharton: New Critical Essays, New York: Garland, 1992, pp.329, ISBN: 0824078489
Eleanor Dwight, Edith Wharton: An Extraordinary Life, New York: Harry N. Abrams, 1994, ISBN: 0810927950
Gloria C. Erlich, The Sexual Education of Edith Wharton, California: University of California Press, 1992, pp.223, ISBN: 0520075838
Susan Goodman, Edith Wharton's Women: Friends and Rivals, UPNE, 1990, pp.220, ISBN: 0874515246
Irving Howe, (ed), Edith Wharton: A collection of Critical Essays, London: University of North Carolina Press, 1986,
Jennie A. Kassanoff, Edith Wharton and the Politics of Race, Cambridge: Cambridge University Press, 2004, pp.240, ISBN: 0521830893
Hermione Lee, Edith Wharton, London: Vintage, new edition 2008, pp.864, ISBN: 0099763516
R.W.B. Lewis, Edith Wharton: A Biography, New York: Harper and Rowe, 1975, pp.592, ISBN: 0880640200
James W. Tuttleton (ed), Edith Wharton: The Contemporary Reviews, Cambridge: Cambridge University Press, 1992, pp.586, ISBN: 0521383196
Candace Waid, Edith Wharton's Letters from the Underworld, London: University of North Carolina Press, 1991,
Sarah Bird Wright, Edith Wharton A to Z: The Essential Reference to Her Life and Work, Fact on File, 1998, pp.352, ISBN: 0816034818
Cynthia Griffin Wolff, A Feast of Words: The Triumph of Edith Wharton, New York: Perseus Books, second edition 1994, pp.512, ISBN: 0201409186
---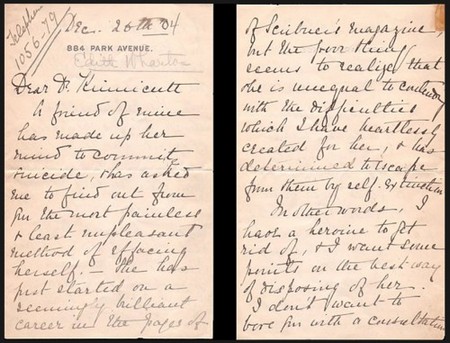 Edith Wharton's writing
---
Other works by Edith Wharton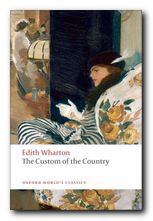 The Custom of the Country (1913) is Edith Wharton's satiric anatomy of American society in the first decade of the twentieth century. It follows the career of Undine Spragg, recently arrived in New York from the midwest and determined to conquer high society. Glamorous, selfish, mercenary and manipulative, her principal assets are her striking beauty, her tenacity, and her father's money. With her sights set on an advantageous marriage, Undine pursues her schemes in a world of shifting values, where triumph is swiftly followed by disillusion. This is a study of modern ambition and materialism written a hundred years before its time.


Buy the book from Amazon UK


Buy the book from Amazon US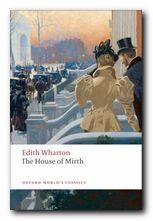 The House of Mirth (1905) is the story of Lily Bart, who is beautiful, poor, and still unmarried at twenty-nine. In her search for a husband with money and position she betrays her own heart and sows the seeds of the tragedy that finally overwhelms her. The book is a disturbing analysis of the stifling limitations imposed upon women of Wharton's generation. In telling the story of Lily Bart, who must marry to survive, Wharton recasts the age-old themes of family, marriage, and money in ways that transform the traditional novel of manners into an arresting modern document of cultural anthropology.


Buy the book from Amazon UK


Buy the book from Amazon US
---
Edith Wharton – web links
Edith Wharton at Mantex
Biographical notes, study guides to the major novels, tutorials on the shorter fiction, bibliographies, critiques of the shorter fiction, and web links.
The Short Stories of Edith Wharton
This is an old-fashioned but excellently detailed site listing the publication details of all Edith Wharton's eighty-six short stories – with links to digital versions available free on line.
Edith Wharton at Gutenberg
Free eTexts of the major novels and collections of stories in a variety of digital formats – also includes travel writing and interior design.
Edith Wharton at Wikipedia
Full details of novels, stories, and travel writing, adaptations for television and the cinema, plus web links to related sites.
The Edith Wharton Society
Old but comprehensive collection of free eTexts of the major novels, stories, and travel writing, linking archives at University of Virginia and Washington State University.
The Mount: Edith Wharton's Home
Aggressively commercial site devoted to exploiting The Mount – the house and estate designed by Edith Wharton. Plan your wedding reception here.
Edith Wharton at Fantastic Fiction
A compilation which purports to be a complete bibliography, arranged as novels, collections, non-fiction, anthologies, short stories, letters, and commentaries – but is largely links to book-selling sites, which however contain some hidden gems.
Edith Wharton's manuscripts
Archive of Wharton holdings at the Beinecke Rare Book and Manuscript Library
© Roy Johnson 2014
---