tutorial, characters, video, resource materials
The Trial is Kafka's one indisputably successful novel – a haunting and original study in existential anxiety, paranoia, and persecution. Joseph K is accused one day of being guilty – but not told what crime he has committed. He wrestles hopelessly with legal officials and a nightmare-like court which acts on arbitrary rules, striving to find justice. In the end he fails, only to be killed 'like a dog'. Kafka gave expression to modern anxiety three decades before most people even started feeling it. This is a novel which stands outside literary norms – a superb achievement of literary modernism. Be prepared for black humour as well as mind-bending contradictions and deeply etched literary expressionism.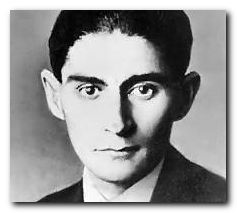 Franz Kafka
---
The Trial – plot summary
Joseph K is a senior bank clerk who lives in lodgings. On his thirtieth birthday he is unexpectedly arrested by two unidentified agents for an unspecified crime. The agents do not name the authority for which they are acting. He is not taken away, however, but left at home to await instructions from the Committee of Affairs.
K goes to visit the magistrate, but instead is forced to have a meeting with an attendant's wife. Looking at the Magistrate's books, he discovers a cache of pornography.
He returns home to find Fräulein Montag, a lodger from another room, moving in with Fräulein Bürstner. He suspects that this is to prevent him from pursuing his affair with the latter woman. Yet another lodger, Captain Lanz, appears to be in league with Montag.
Later, in a store room at his own bank, K discovers the two agents who arrested him being whipped by a flogger for asking K. for bribes, as a result of complaints K. previously made about them to the Magistrate. K. tries to argue with the flogger, saying that the men need not be whipped, but the flogger cannot be swayed. The next day he returns to the store room and is shocked to find everything as he had found it the day before, including the Whipper and the two agents.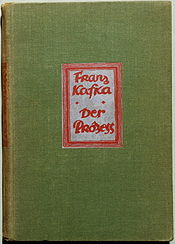 K is visited by his uncle, who is a friend of a lawyer. The uncle seems distressed by K's predicament. At first sympathetic, he becomes concerned K is underestimating the seriousness of the case. The uncle introduces K to an advocate, who is attended by Leni, a nurse, who K's uncle suspects is the advocate's mistress. K. has a sexual encounter with Leni, whilst his uncle is talking with the Advocate and the Chief Clerk of the Court, much to his uncle's anger, and to the detriment of his case.
K visits the advocate and finds him to be a capricious and unhelpful character. He returns to his bank but finds that his colleagues are trying to undermine him.
K is advised by one of his bank clients to visit Titorelli, a court painter, for advice. Titorelli has no official connections, yet seems to have a deep understanding of the process. K learns that, to Titorelli's knowledge, not a single defendant has ever been acquitted. He sets out what K's options are, but they all consist merely of delaying tactics to stretch out his case as long as possible before the inevitable 'Guilty' verdict.
K decides to take control of his own life and visits his advocate with the intention of dismissing him. At the advocate's office he meets a downtrodden individual, Block, a client who offers K some insight from a client's perspective. Block's case has continued for five years and he appears to have been virtually enslaved by his dependence on the advocate's meaningless and circular advice. The advocate mocks Block in front of K for his dog-like subservience.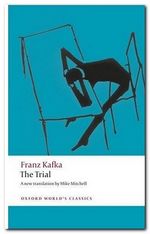 K is asked to tour an Italian client around local places of cultural interest, but the Italian client short of time asks K. to tour him around only the cathedral, setting a time to meet there. When the client doesn't show up, K explores the cathedral which is empty except for an old woman and a church official. K decides to leave as a priest K notices seems to be preparing to give a sermon from a small second pulpit, lest it begin and K be compelled to stay for its entirety. Instead of giving a sermon, the priest calls out K's name, although K has never known the priest. The priest works for the court, and tells K a fable, (which has been published separately as 'Before the Law') that is meant to explain his situation, but instead causes confusion, and implies that K's fate is hopeless.
Over the course of the year, the stress of the case weighs on K He begins a gradual decline from confident to a nervous state similar to that of the client Block, and those of other broken defendants he meets in the explosively hot law offices. At the bank, he is humiliated by his inability to handle an important client as he is constantly exhausted from worry.
On the last day of K's thirtieth year, two men arrive to execute him. He offers little resistance, suggesting that he has realised this as being inevitable for some time. They lead him to a quarry where he is expected to kill himself, but he cannot. The two men then execute him by plunging a knife into his heart.
---
Study resources

The Trial – Oxford World Classics – Amazon UK

The Trial – Oxford World Classics – Amazon US

The Trial – Penguin Modern Classics – Amazon UK

The Trial – Penguin Modern Classics – Amazon US

The Trial – Dover Thrift – Amazon UK

The Trial – Dover Thrift – Amazon US

The Trial – Everyman's Library Classics – Amazon UK

The Trial – Everyman's Library Classics – Amazon US

The Trial – eBook formats at Project Gutenburg

The Trial – Orson Welles' 1967 film version – Amazon UK

The Trial – Cliffs Notes – Amazon UK

The Trial – audioBook at Project Gutenberg

The Trial – book review

The Trial – as a graphic novel

Kafka: A Short Introduction – book review

The Trial – 1992 film version by Harold Pinter

The Cambridge Companion to Kafka – Amazon UK
---
Principal characters
| | |
| --- | --- |
| Joseph K | a senior bank clerk |
| Fraulein Burstner | a boarder in the same house as K |
| Fraulein Montag | a friend of Fraulein Burstner |
| Frau Grubach | proprietress of the house where K lives |
| Uncle Karl | K's uncle and former guardian |
| Herr Huld | a pompous and pretentious lawyer |
| Leni | Herr Huld's seductive nurse |
| Vice-President | K's rival at the bank |
| President | the manager of the bank |
| Rudi Block | an accused man, former grain-dealer |
| Titorelli | a court painter |
---
Kafka's writing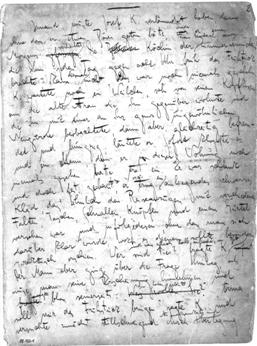 a page of Kafka's manuscript
---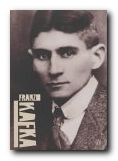 Franz Kafka: Illustrated Life This is a photographic biography that offers an intimate portrait in an attractive format. A lively text is accompanied by over 100 evocative images, many in colour and some previously unpublished. They depict the author's world – family, friends, and artistic circle in old Prague – together with original book jackets, letters, and other ephemera. This is an excellent starting point for beginners which captures fin de siecle Europe beautifully.

Buy the book at Amazon UK


Buy the book at Amazon US
---
The Trial – film version
Orson Welles wrote and directed (and acted in) a magnificent film version of The Trial in 1962. It's a faithful dramatisation of the novel which captures perfectly the brooding, nightmarish world of the original. Much of it was filmed in the old French government buildings of the Quai d'Orsay before it was transformed into the present museum.
A young Anthony Perkins gives a superb, haunting performance as the angst-ridden protagonist, Joseph K. The rest of the cast features female icons from the 1960s including Jeanne Moreau, Elsa Martinelli, and Romy Schneider. Welles' favourite actor Akim Tamiroff is also on hand, and Welles himself plays the Advocate. This is a film which is very faithful to the original novel. It begins with Orson Wells providing voice-over to a comic-book version of the parable 'Before the Law'.
---
Film version cast list
| | |
| --- | --- |
| Anthony Perkins | Joseph K |
| Jeanne Moreau | Fraulein Burstner |
| Romy Schneider | Leni |
| Elsa Martinelli | Hilda |
| Orson Welles | The Advocate |
| Akim Tamiroff | Bloch |
| Madeleine Robinson | Frau Grubach |

See reviews of the film at the Internet Movie Database
---
Photomontage
Kafka, family photos, and old Prague
---
Further reading

Jeremy Adler, Franz Kafka (Overlook Illustrated Lives), Gerald Duckworth, 2004.

Mark Anderson. Kafka's Clothes: Ornament and Aestheticism in the Habsburg Fin de Siecle, Oxford: Clarendon Press, 1992

Louis Begley, The Tremendous Words I have Inside my Head: Franz Kafka: A Biographical Essay, Atlas Illustrated editions, 2008.

Harold Bloom, Franz Kafka: Modern Critical Essays, New York: Chelsea House, 1986.

Harold Bloom, Franz Kafka (Bloom's Major Novelists), Chelsea House Publishers, 2003.

Elizabeth Boa, Kafka: Gender, Class, and Race in the Letters and Fictions, Oxford: Clarendon Press, 1996.

Max Brod, Franz Kafka: A Biography, Da Capo Press, 1995.

Max Brod (ed), The Diaries of Franz Kafka, Schoken Books, 1988.

Elias Canetti, Kafka's Other Trial: The Letters to Felice, Schocken Books, 1989.

Stanley Corngold, Lambent Traces: Franz Kafka, Princeton University Press, 2006.

W.J. Dodd (ed), Kafka: The Metamorphosis, The Trial, and The Castle, London: Longman, 1995.

Carolin Duttlinger, Kafka and Photography, Oxford: Oxford Universit Press, 2007.

Angel Flores (ed), The Kafka Debate, New York: Gordian Press, 1977.

Sander Gilman, Franz Kafka (Critical Lives), Reaktion Books, 2007.

Sander Gilman, Franz Kafka: The Jewish Patient, London: Routledge, 1995.

Ronald Gray, Kafka: A Collection of Critical Essays, Prentice Hall, 1962.

Ronald Hayman, A Biography of Kafka, London: Weidenfeld & Nicolson, 2001.

Franz Kafka, The Blue Octavo Notebooks, Exact Change, 1998.

Franz Kafka, The Trial (Complete Audiobooks), Naxos Audiobooks, 2007.

David Zane Mairowitz, Introducing Kafka, Icon Books, 2007.

Julian Preece (ed), The Cambridge Companion to Kafka, Cambridge University Press, 2002.

Ronald Spiers, and Beatrice Sandberg, Franz Kafka, London: Macmillan, 1997.

Walter H. Sokel, The Myth of Power and the Self: Essays on Franz Kafka, Wayne State University Press, 2001.

Ritchie Robertson, Kafka: A Very Short Introduction, Oxford University Press, 2004.

Ritchie Robertson, Kafka: Judaism, Politics, and Literature, Clarendon Press, 1987.

James Rolleston (ed), A Companion to the Works of Franz Kafka, Camden House, 2006.

Michael Wood, Franz Kafka (Writers and Their Work), Northcote House, 1998.
---

Mont Blanc – special Franz Kafka edition
---
Other works by Franz Kafka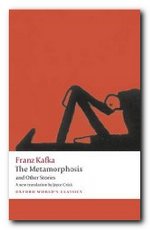 Metamorphosis (1915) is truly one of Kafka's masterpieces – a stunning parable which lends itself to psychological, sociological, or existential interpretations. It's the tale of a man who wakes up one morning and finds himself transformed into a giant insect. His family are horrified, gradually disown him, and he dies of neglect, with a rotting apple lodged in his side. Franz Kafka is one of the most important and influential fiction writers of the early twentieth century. He was a novelist and writer of short stories whose works came to be regarded as one of the major achievements of twentieth century literature.

Buy the book at Amazon UK


Buy the book at Amazon US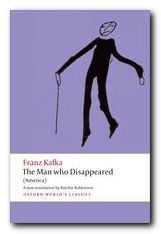 Amerika (also known as The Man who Disappeared) is Kafka's first attempt at a novel. He is renowned for documenting the horrors of modern life, but Kafka also had a lighter and amusing side. This is incomplete, like so much else he wrote. It's the story of Karl Rossmann who after an embarrassing sexual misadventure is expelled from his European home and goes to live in an imaginary United States (which of course Kafka had never visited). In fact it's a reverse 'Rags to Riches' story, because Karl starts his engagement with the American Dream quite successfully – but by the end of the novel he is destitute. The story is deeply symbolic – as usual – and an interesting supplement to the central texts. The first chapter is frequently anthologised as 'The Stoker'.


Buy the book at Amazon UK


Buy the book at Amazon US
---
Franz Kafka – web links

Franz Kafka at Mantex
Biographical notes, book reviews and study guides on the major works, video presentations and documentaries, adaptations for cinema and television, and links to Kafka archives.

Franz Kafka at Project Gutenberg
A major collection of free eTexts in a variety of formats – in both English and German.

Franz Kafka at Wikipedia
Biographical notes, social background, survey of the stories and novels, publishing history, translations, critical interpretation, and extensive bibliographies.

Franz Kafka at the Internet Movie Database
Adaptations for the cinema and television – in various languages. Full details of directors, actors, production features, box office, film reviews, and even quizzes.

Kafka in Love
Video photomontage featuring portraits of Kafka, his friends and family, and locations in Prague – with a rather schmaltzy soundtrack in Yiddish and English.

Kafka-Metamorphosis
A public Wiki dedicated to Kafka and his work, featuring the short stories, interpretations, and further web links.

Kafka Society of America
Academic group with annual meetings and publications. Also features links to other Kafka-related sites

Oxford Kafka Research Centre
Academic group based at Oxford University that tracks current research and meetings. [Doesn't seem to have been updated since 2012.]

The Kafka Project
Critical editions and translations of Kafka's work in several languages, plus articles, literary criticism, bibliographies.

Tribute to Franz Kafka
Individual fan site (created by 'Herzogbr') featuring a collection of texts, reviews, and enthusiast essays. Badly in need of updating, but contains some interesting gems.

Finding Kafka in Prague
Quirky compilation of photos locating Kafka in his home town – with surrealist additions and weird sound track.

Who Owns Kafka?
Essay by Judith Butler from the London Review of Books on the contentious issues of ownership of Kafka's manuscripts where they are currently held in Israel – complete with podcast.

The Kafka Archive – latest news
Guardian newspaper report on the suitcase full of Kafka and Max Brod's papers released by Israeli library.

Franz Kafka: an illustrated life
Book review of a charming short biography with some unusual period photos of Kafka and Prague.
© Roy Johnson 2010
---
More on Franz Kafka
More on the novella
More on literary studies
More on short stories
---