tutorial. commentary, study resources, and web links
The Velvet Glove was first published in the English Review in March 1909. It was collected into Volume XII of The Complete Tales of Henry James.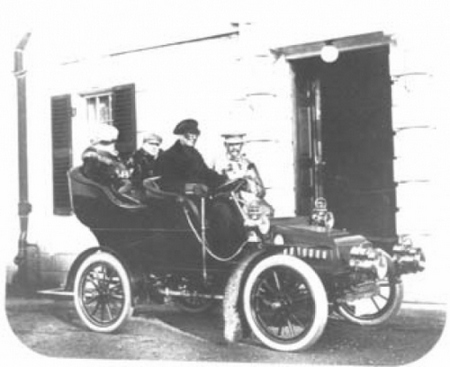 Henry James and Edith Wharton go motoring
---
The Velvet Glove – critical commentary
The biographical reading
Most commentators see this story as a thinly veiled allusion to Henry James's relationship with his friend and fellow American novelist Edith Wharton. She like him was an expatriate who spent most of her life living in Europe (Paris in her case). She was very successful as a novelist (in fact she earned more than James from her writing) and in 1905 she had a bestseller with her novel The House of Mirth.
She was also well known for touring in her glamorous series of large automobiles – each of which she named after one of George Sand's lovers. In fact James had toured France with her by car in 1904. But in 1907 she wrote The Fruit of the Tree, and James was asked to write a preface for it – though not by Wharton personally. James found the situation embarrassing, because he thought the novel was not successful. So, although a great friend and admirer, he turned down the opportunity out of artistic scruple.
Henry James and Edith Wharton
There is a very famous anecdote regarding James, Wharton, and motoring which is designed to throw an amused glance over the prolixity of his literary style. Around the turn of the century, James stopped producing his works by handwriting: instead, he dictated them to a stenograher, which makes this story all the more credible. It comes from Wharton's autobiography, A Backward Glance (1934).
The most absurd of these episodes occurred on another rainy evening when James and I chanced to arrive at Windsor long after dark. […] While I was hesitating and peering out into the darkness James spied an ancient doddering man who had stopped in the rain to gaze at us. 'Wait a moment, my dear—I'll ask him where we are'; and leaning out he signalled to the spectator.

'My good man, if you'll be good enough to come here, please; a little nearer—so,' and as the old man came up: 'My friend, to put it to you in two words, this lady and I have just arrived here from Slough; that is to say, to be more strictly accurate, we have recently passed through Slough on our way here, having actually motored to Windsor from Rye, which was our point of departure; and the darkness having overtaken us, we should be much obliged if you would tell us where we now are in relation, say, to the High Street, which, as you of course know, leads to the Castle, after leaving on the left hand the turn down to the railway station.'

I was not surprised to have this extraordinary appeal met by silence, and a dazed expression on the old wrinkled face at the window; nor to have James go on: 'In short' (his invariable prelude to a fresh series of explanatory ramifications), 'in short, my good man, what I want to put to you in a word is this: supposing we have already (as I have reason to think we have) driven past the turn down to the railway station (which in that case, by the way, would probably not have been on our left hand, but on our right) where are we now in relation to…'

'Oh, please,' I interrupted, feeling myself utterly unable to sit through another parenthesis, 'do ask him where the King's Road is.'

'Ah—? The King's Road? Just so! Quite right! Can you, as a matter of fact, my good man, tell us where, in relation to our present position, the King's Road exactly is?'

'Ye're in it', said the aged face at the window.
---
The Velvet Glove – study resources

The Complete Works of Henry James – Kindle edition – Amazon UK

The Complete Works of Henry James – Kindle edition – Amazon US

Complete Stories 1898—1910 – Library of America – Amazon UK

Complete Stories 1898—1910 – Library of America – Amazon US

The Complete Tales (Vol 12) – Paperback edition

Selected Tales – Penguin Classics edition – Amazon UK

The Velvet Glove – eBook formats at Project Gutenberg

The Cambridge Companion to Henry James – Amazon UK

Henry James at Wikipedia – biographical notes, links

Henry James at Mantex – tutorials, biography, study resources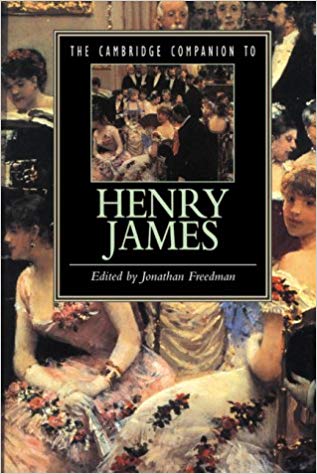 ---
The Velvet Glove – plot summary
Part I. John Berridge is a successful novelist and playwright. His work The Heart of Gold is enjoying a pan-European success. He mingles with upper-class society at sculptor Gloriani's studio in Paris, where an English lord asks him for his opinion on a book written by a friend. Berridge speculates imaginatively about the lives of the people at the party, and unobtrusively watches a beautiful woman across the room during a Wagner recital.
Part II. The English lord introduces him to the beautiful woman, who is a princess. Berridge thinks of her as 'Olympian' in her beauty and grandeur of demeanour. The lord then produces the novel by his friend Amy Evans, which turns out to be the pen name of the Princess. The Top of the Tree is a florrid romance. The princess seeks out Berridge, promises to replace the book with her latest work, The Velvet Glove, and invites him to a private supper.
Part III. They are driven off together in her large automobile, surrounded by the romantic glamour of Paris at night. Berridge is flattered by her attentions, but then it turns out that she wants him to write a preface for her latest book to help her gain prestige in the literary world. He is deeply shocked at this, and refuses, saying her he will not see her again. He tells her that she does not need commercial success, because she herself embodies the very thing she is writing about – "Princess you are Romance!"
---
Principal characters
| | |
| --- | --- |
| John Berridge | novelist and playwright |
| — | an English lord |
| The Princess | romantic novelist ('Amy Evans') |
| — | a great contemporary dramatist |
---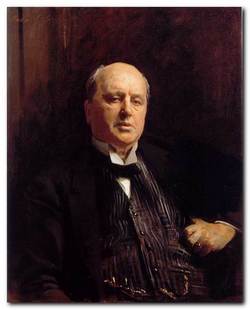 Henry James – portrait by John Singer Sargeant
---
Further reading
Biographical

Theodora Bosanquet, Henry James at Work, University of Michigan Press, 2007.

Leon Edel, Henry James: A Life, HarperCollins, 1985.

Henry James, The Letters of Henry James, Adamant Media Corporation, 2001.

F.O. Matthieson (ed), The Notebooks of Henry James, Oxford University Press, 1988.
Critical commentary

Ian F.A. Bell, Henry James and the Past, London: Palgrave Macmillan, 1993.

Millicent Bell, Meaning in Henry James, Cambridge (MA): Harvard University Press, 1993.

Kirstin Boudreau, Henry James's Narrative Technique, Macmillan, 2010.

Daniel Mark Fogel, A Companion to Henry James Studies, Greenwood Press, 1993.

Jonathan Freedman, The Cambridge Companion to Henry James, Cambridge University Press, 1998.

Barbara Hardy, Henry James: The Later Writing (Writers & Their Work), Northcote House Publishers, 1996.

Richard A. Hocks, Henry James: A study of the short fiction, New York: Twayne Publishers, 1990.

John Pearson (ed), The Prefaces of Henry James, Pennsylvania State University Press, 1993.

Ruth Yeazell (ed), Henry James: A Collection of Critical Essays, Longmans, 1994.
---
Other works by Henry James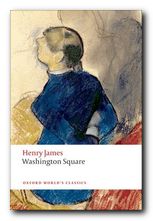 Washington Square (1880) is a superb early short novel, It's the tale of a young girl whose future happiness is being controlled by her strict authoritarian (but rather witty) father. She is rather reserved, but has a handsome young suitor. However, her father disapproves of him, seeing him as an opportunist and a fortune hunter. There is a battle of wills – all conducted within the confines of their elegant New York town house. Who wins out in the end? You will probably be surprised by the outcome. This is a masterpiece of social commentary, offering a sensitive picture of a young woman's life.


Buy the book from Amazon UK


Buy the book from Amazon US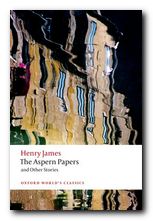 The Aspern Papers (1888) is a psychological drama set in Venice which centres on the tussle for control of a great writer's correspondence. An elderly lady, ex-lover of the writer, seeks a husband for her daughter. But the potential purchaser of the papers is a dedicated bachelor. Money is also at stake – but of course not discussed overtly. There is a refined battle of wills between them. Who will win in the end? As usual, James keeps the reader guessing. The novella is a masterpiece of subtle narration, with an ironic twist in its outcome. This collection of stories also includes three of his accomplished long short stories – The Private Life, The Middle Years, and The Death of the Lion.


Buy the book from Amazon UK


Buy the book from Amazon US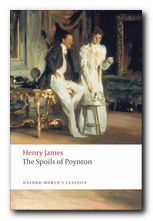 The Spoils of Poynton (1896) is a short novel which centres on the contents of a country house, and the question of who is the most desirable person to inherit it via marriage. The owner Mrs Gereth is being forced to leave her home to make way for her son and his greedy and uncultured fiancee. Mrs Gereth develops a subtle plan to take as many of the house's priceless furnishings with her as possible. But things do not go quite according to plan. There are some very witty social ironies, and a contest of wills which matches nouveau-riche greed against high principles. There's also a spectacular finale in which nobody wins out.


Buy the book from Amazon UK


Buy the book from Amazon US
---
Henry James – web links

Henry James at Mantex
Biographical notes, study guides, tutorials on the Complete Tales, book reviews. bibliographies, and web links.

The Complete Works
Sixty books in one 13.5 MB Kindle eBook download for £1.92 at Amazon.co.uk. The complete novels, stories, travel writing, and prefaces. Also includes his autobiographies, plays, and literary criticism – with illustrations.

The Ladder – a Henry James website
A collection of eTexts of the tales, novels, plays, and prefaces – with links to available free eTexts at Project Gutenberg and elsewhere.

A Hyper-Concordance to the Works
Japanese-based online research tool that locates the use of any word or phrase in context. Find that illusive quotable phrase.

The Henry James Resource Center
A web site with biography, bibliographies, adaptations, archival resources, suggested reading, and recent scholarship.

Online Books Page
A collection of online texts, including novels, stories, travel writing, literary criticism, and letters.

Henry James at Project Gutenberg
A major collection of eTexts, available in a variety of eBook formats.

The Complete Letters
Archive of the complete correspondence (1855-1878) work in progress – published by the University of Nebraska Press.

The Scholar's Guide to Web Sites
An old-fashioned but major jumpstation – a website of websites and resouces.

Henry James – The Complete Tales
Tutorials on the complete collection of over one hundred tales, novellas, and short stories.

Henry James on the Internet Movie Database
Adaptations of James's novels and stories for the cinema and television – in various languages. Full details of directors and actors, production features, film reviews, box office, and even quizzes.
© Roy Johnson 2012
---
More tales by James
More on literature
More on the novella
More on literary studies
More on short stories
---