tutorial, characters, resources, video, further reading
The Wings of the Dove (1902) is one of James's late, great masterpieces. Quite apart from the famous baroque prose style, it features many of his recurrent themes. American innocence pitched against European cunning. The plot is a complex love triangle which strains at the limits of what is morally acceptable. Even for modern readers, the scheming and motivations will seem quite shocking.
The heroine Kate Croy is in love with a man who hasn't enough money to offer her a fashionable marriage. She thinks she can enhance her lover's financial prospects by pushing him into the arms of a rich American heiress who is dying – but she doesn't count on the unexpected results.
The setting is a Venice that includes the usual correlatives of disease and death. And a social depth which is more-than-usually concerned with issues of money, social status, and class mobility. Be prepared for long and complex sentences which strain many readers' patience.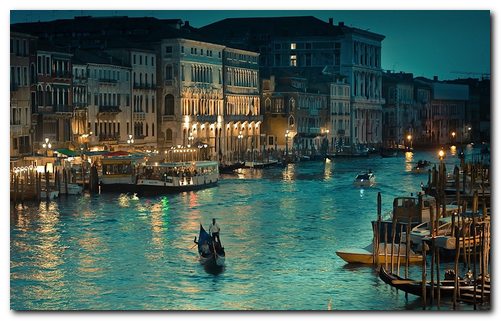 Venice
---
The Wings of the Dove – plot summary
Kate Croy and Merton Densher are two engaged Londoners who desperately want to marry but have very little money. Kate is constantly put upon by family troubles, and is now living with her domineering aunt, Maud Lowder. Into their world comes Milly Theale, an enormously rich young American woman who had previously met and fallen in love with Densher, though she didn't reveal her feelings. Her travelling companion and confidante, Mrs. Stringham, is an old friend of Maud's. Kate and Aunt Maud welcome Milly to London, and the American heiress enjoys great social success.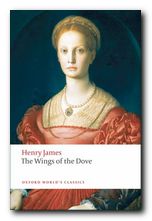 With Kate as a companion, Milly goes to see an eminent physician, Sir Luke Strett, because she's afraid that she is suffering from an incurable disease. The doctor is noncommittal but Milly fears the worst. Kate suspects that Milly is deathly ill. After the trip to America where he had met Milly, Densher returns to find the heiress in London. Kate wants Densher to pay as much attention as possible to Milly, though at first he doesn't quite know why. Kate has been careful to conceal from Milly (and everybody else) that she and Densher are engaged.
With the threat of serious illness hanging over her, Milly decides to travel to Venice with Mrs. Stringham. Aunt Maud, Kate and Densher follow her. At a party Milly gives in her Venice palazzo (the older Palazzo Barbaro, called "Palazzo Leporelli" in the novel), Kate finally reveals her complete plan to Densher: he is to marry Milly so that, after her presumably soon-to-occur death, Densher will inherit the money they can marry on. Densher had suspected this was Kate's idea, and he demands that she consummate their affair before he'll go along with her plan.
Aunt Maud and Kate return to London while Densher remains with Milly. Unfortunately, the dying girl learns from a former suitor of Kate's about the plot to get her money. She "turns her face to the wall" and grows very ill. Densher sees her one last time before he leaves for London, where he eventually receives news of Milly's death.
Milly does leave him a large amount of money despite everything. But Densher won't touch the money, and he won't marry Kate unless she also refuses the bequest. Conversely, if Kate chooses the money instead of him, Densher offers to make the bequest over to her in full. The lovers part on the novel's final page with a cryptic exclamation from Kate: "We shall never be again as we were!"
---
Study resources

The Wings of the Dove – Oxford World Classics – Amazon UK

The Wings of the Dove – Oxford World Classics – Amazon US

The Wings of the Dove – Wordsworth Classics – Amazon UK

The Wings of the Dove – Wordsworth Classics – Amazon US

The Wings of the Dove – Penguin Classics – Amazon UK

The Wings of the Dove – Norton Critical Editions – Amazon UK

The Wings of the Dove – 1997 film adaptation on DVD

The Wings of the Dove – eBook version at Project Gutenberg

The Wings of the Dove – authoritative text

The Wings of the Dove – audioBook at LibriVox

The Cambridge Companion to Henry James – Amazon UK

Henry James – biographical notes

Henry James at Wikipedia – biographical notes, links

Henry James at Mantex – tutorials, web links, study resources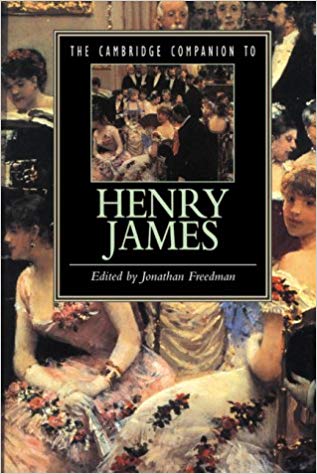 ---
Principal characters
| | |
| --- | --- |
| Kate Croy | a talented but scheming young woman |
| Merton Densher | a Fleet Street journalist with aspirations |
| Milly Theale | an American orphan and heiress |
| Aunt Maude Lowder | Kate's aunt, who maintains her – at a price |
| Susan Stringham | a Vermont widow and companion to Milly |
| Lord Mark | a fortune-hunting aristocrat who Maude 'intends' for Kate |
---
The Wings of the Dove – film version
1997 film adaptation
This is a lush and beautiful film version of the novel from director Iain Softley. His London scenes are successful, but the film really comes alive visually in Venice, though it has to be said that the explicit sexual content is somwhat at odds with Jame's original text, where everything is implied and suggested rather than made overt. Helena Bonham Carter gives a typically pouting and sexy performance as the emotionally scheming Kate Croy, and Alison Elliot is convincingly consumptive as the heiress Milly Theale. Even the costumes were nominated for an Academy award in this outstanding production which captures faithfully the spirit of the original novel.

See reviews of the film at the Internet Movie Database
---
Further reading
Biographical

Theodora Bosanquet, Henry James at Work, University of Michigan Press, 2007.

F.W. Dupee, Henry James: Autobiography, Princeton University Press, 1983.

Leon Edel, Henry James: A Life, HarperCollins, 1985.

Philip Horne (ed), Henry James: A Life in Letters, Viking/Allen Lane, 1999.

Henry James, The Letters of Henry James, Adamant Media Corporation, 2001.

Fred Kaplan, Henry James: The Imagination of Genius, Johns Hopkins University Press, 1999

F.O. Matthieson (ed), The Notebooks of Henry James, Oxford University Press, 1988.
Critical commentary

Elizabeth Allen, A Woman's Place in the Novels of Henry James London: Macmillan Press, 1983.

Ian F.A. Bell, Henry James and the Past, London: Palgrave Macmillan, 1993.

Millicent Bell, Meaning in Henry James, Cambridge (MA): Harvard University Press, 1993.

Harold Bloom (ed), Modern Critical Views: Henry James, Chelsea House Publishers, 1991.

Kirstin Boudreau, Henry James's Narrative Technique, Macmillan, 2010.

J. Donald Crowley and Richard A. Hocks (eds), The Wings of the Dove, New York: W.W. Norton and Company, 1978.

Victoria Coulson, Henry James, Women and Realism, Cambridge University Press, 2009.

Daniel Mark Fogel, A Companion to Henry James Studies, Greenwood Press, 1993.

Virginia C. Fowler, Henry James's American Girl: The Embroidery on the Canvas, Madison (Wis): University of Wisconsin Press, 1984.

Jonathan Freedman, The Cambridge Companion to Henry James, Cambridge University Press, 1998.

Judith Fryer, The Faces of Eve: Women in the Nineteenth Century American Novel, Oxford: Oxford University Press, 1976

Roger Gard (ed), Henry James: The Critical Heritage, London: Routledge, 1968.

Tessa Hadley, Henry James and the Imagination of Pleasure, Cambridge University Press, 2009.

Barbara Hardy, Henry James: The Later Writing (Writers & Their Work), Northcote House Publishers, 1996.

Richard A. Hocks, Henry James: A study of the short fiction, New York: Twayne Publishers, 1990.

Donatella Izzo, Portraying the Lady: Technologies of Gender in the Short Stories of Henry James, University of Nebraska Press, 2002.

Colin Meissner, Henry James and the Language of Experience, Cambridge University Press, 2009

John Pearson (ed), The Prefaces of Henry James, Pennsylvania State University Press, 1993.

Richard Poirer, The Comic Sense of Henry James, Oxford: Oxford University Press, 1967.

Hugh Stevens, Henry James and Sexuality, Cambridge University Press, 1998.

Merle A. Williams, Henry James and the Philosophical Novel, Cambridge University Press, 1993.

Judith Woolf, Henry James: The Major Novels, Cambridge University Press, 1991.

Ruth Yeazell (ed), Henry James: A Collection of Critical Essays, Longmans, 1994.
---
Other works by Henry James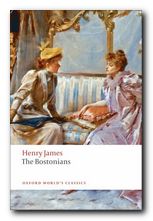 The Bostonians (1886) is a novel about the early feminist movement. The heroine Verena Tarrant is an 'inspirational speaker' who is taken under the wing of Olive Chancellor, a man-hating suffragette and radical feminist. Trying to pull her in the opposite direction is Basil Ransom, a vigorous young man from the South to whom Verena becomes more and more attracted. The dramatic contest to possess her is played out with some witty and often rather sardonic touches, and as usual James keeps the reader guessing about the outcome until the very last page.

Buy the book at Amazon UK


Buy the book at Amazon US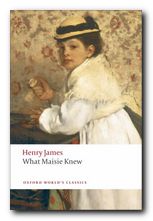 What Masie Knew (1897) A young girl is caught between parents who are in the middle of personal conflict, adultery, and divorce. Can she survive without becoming corrupted? It's touch and go – and not made easier for the reader by the attentions of an older man who decides to 'look after' her. This comes from the beginning of James's 'Late Phase', so be prepared for longer and longer sentences. In fact it's said that whilst composing this novel, James switched from writing longhand to using dictation – and it shows if you look carefully enough – part way through the book.

Buy the book at Amazon UK


Buy the book at Amazon US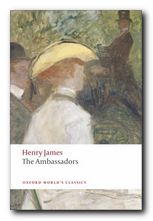 The Ambassadors (1903) Lambert Strether is sent from America to Paris to recall Chadwick Newsome, a young man who is reported to be compromising himself by an entanglement with a wicked woman. However, Strether's mission fails when he is seduced by the social pleasures of the European capital, and he takes Newsome's side. So a second ambassador is dispatched in the form of the more determined Sarah Pocock. She delivers an ultimatum which is resisted by the two young men, but then an accident reveals unpleasant truths to Strether, who is faced by a test of loyalty between old Europe and the new USA. This edition presents the latest scholarship on James and includes an introduction, notes, selected criticism, a text summary and a chronology of James's life and times.


Buy the book at Amazon UK


Buy the book at Amazon US
---
Henry James – web links

Henry James at Mantex
Biographical notes, study guides, tutorials on the Complete Tales, book reviews. bibliographies, and web links.

The Complete Works
Sixty books in one 13.5 MB Kindle eBook download for £1.92 at Amazon.co.uk. The complete novels, stories, travel writing, and prefaces. Also includes his autobiographies, plays, and literary criticism – with illustrations.

The Ladder – a Henry James website
A collection of eTexts of the tales, novels, plays, and prefaces – with links to available free eTexts at Project Gutenberg and elsewhere.

A Hyper-Concordance to the Works
Japanese-based online research tool that locates the use of any word or phrase in context. Find that illusive quotable phrase.

The Henry James Resource Center
A web site with biography, bibliographies, adaptations, archival resources, suggested reading, and recent scholarship.

Online Books Page
A collection of online texts, including novels, stories, travel writing, literary criticism, and letters.

Henry James at Project Gutenberg
A major collection of eTexts, available in a variety of eBook formats.

The Complete Letters
Archive of the complete correspondence (1855-1878) work in progress – published by the University of Nebraska Press.

The Scholar's Guide to Web Sites
An old-fashioned but major jumpstation – a website of websites and resouces.

Henry James – The Complete Tales
Tutorials on the complete collection of over one hundred tales, novellas, and short stories.

Henry James on the Internet Movie Database
Adaptations of James's novels and stories for the cinema and television – in various languages. Full details of directors and actors, production features, film reviews, box office, and even quizzes.
© Roy Johnson 2010
---
More on Henry James
More on literature
More on the novella
More on literary studies
More on short stories
---