major novels and film adaptations
Thomas Hardy is one of the few writers (D.H.Lawrence was another) who made a significant contribution to English literature in the form of the novel, poetry, and the short story. His writing is full of delightful effects, beautiful images and striking language. He creates unforgettable characters and orchestrates stories which pull at your heart strings. It has to be said that he also relies on coincidences and improbabilities of plot which (though common in the nineteenth century) some people see as weaknesses. However, his sense of drama, his powerful language, and his wonderful depiction of the English countryside make him an enduring favourite.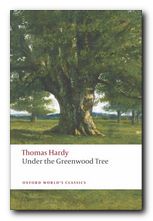 Under the Greenwood Tree (1872) was Hardy's first success as a novelist. It's a light and gentle evocation of pastoral life. It depicts the world of an agricultural Britain which Hardy saw being transformed by the industrial revolution. Modern readers might find the love interest a bit soppy, but the picture of the Melchester church musicians and their resistance to change is touchingly humorous. It enabled Hardy to express his affection and love for the Wessex countryside. Structurally divided into Winter, Spring, Summer, Autumn, it follows the natural rhythms of the earth and of rural society. There's none of the acute conflict, the psychological drama, or the tragedy of the later novels. This is one for either the complete beginner to Hardy, or for devotees who wish to flesh out their knowledge of the early stages of his career.


Buy the book at Amazon UK


Buy the book at Amazon US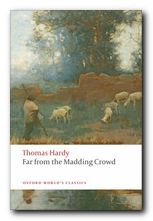 Far from the Madding Crowd (1874) was the first of Hardy's novels to apply the name of Wessex to the landscape of south west England, and the first to gain him widespread popularity as a novelist. Heroine and estate-owner Bathsheba Everdene is romantically involved with three very different men. The dashing Sergeant Troy, who is handsome but unreliable; Farmer Boldwood, who is honourable but middle-aged; and man-of-the-soil Gabriel Oak, who is worthy and prepared to bide his time. The conflicts between them and the ensuing drama has lots of plot twists plus a rich picture of rural life.


Buy the book at Amazon UK


Buy the book at Amazon US
Far from the Madding Crowd – DVD John Schlesinger's film adaptation (1967) has an outstanding sound track by Richard Rodney Bennett, and stalwart performances from an all star cast of Julie Christie as Bathsheba, Alan Bates as Gabriel Oak, Terence Stamp as Sergeant Troy, and Peter Finch as Boldwood – plus delicious a country bumpkin role for Freddy Jones. The film was shot by Nicolas Roeg (director of his own films Don't Look Now and Bad Timing) and the screenplay was written by novelist Frederic Raphael. This film is a visual treat which has stood the test of time.


Buy the DVD at Amazon UK


Buy the DVD at Amazon US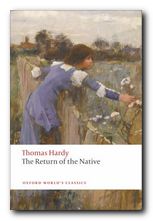 The Return of the Native (1878) It's often said that this is one of the most Hardyesque of all the novels. There are some stand-out characters: Eustacia Vye, a heroine who patrols the moors looking out for her man through a telescope; Clym Yeobright, a hero who can't escape his mother's influence; and Diggory Ven, an itinerant trader who wanders in and out of the story covered in red dye. Improbable coincidences and dramatic ironies abound – and over it all presides the brooding presence of Egdon Heath. But underneath the melodrama, there are profound psychological forces at work. You need to be patient. This is one for Hardy enthusiasts – not beginners. This edition, unlike any other currently available, retains the text of the novel's first edition, without the later changes that substantially altered Hardy's original intentions.


Buy the book at Amazon UK


Buy the book at Amazon US
The Oxford World Classics are the best editions of Hardy's work. They are largely based on the most accurate versions of the texts; and they feature introductory essays, a biography, explanatory notes, textual variants, a bibliography of further reading, and in some cases missing or deleted chapters. They are also terrifically good value.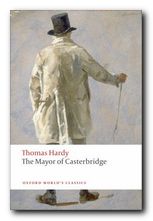 The Mayor of Casterbridge (1886) is probably Hardy's greatest work – a novel whose aspirations are matched by artistic shaping and control. It is the tragic history of Michael Henchard – a man who rises to civic prominence, but whose past comes back to haunt him. This is not surprising, because he sells his wife in the opening chapter. When she comes back unexpectedly, he is trapped between present and past. He is also locked into a psychological contest with an alter-ego figure with whom he battles both metaphorically and realistically. Henchard falls in the course of the novel from civic honour and commercial greatness into a tragic figure, a man defeated by his own strengths as much as his weaknesses. There are strong echoes of King Lear here, and some of the most dramatic and psychologically revealing scenes in all of Hardy's work.


Buy the book at Amazon UK


Buy the book at Amazon US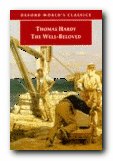 The Well Beloved (1892) is set in the stone quarries of Portland Bill – one of the strangest parts of Hardy's Wessex. But the logical link is with the sculptor hero of this tale who rather improbably falls in love with a woman, her daughter, and her grand-daughter at twenty year intervals on the implausible pretext that they look similar. This seems like blatant authorial wish-fulfilment on Hardy's part (and he did eventually marry a woman forty years his junior). It's one for specialists – or the psychiatrist's couch. This Penguin Classics edition of the work includes an earlier version of the same novel.


Buy the book at Amazon UK


Buy the book at Amazon US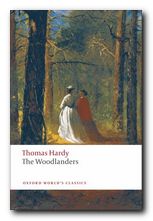 The Woodlanders (1887) Giles Winterbourne, an honest woodsman, suffers with the many tribulations of his selfless love for Grace Melbury, a woman above his station in this classic tale of the West Country. She marries the new doctor, Edred Fitzpiers, but leaves him when she learns he has been unfaithful. She turns instead to Giles, who nobly allows her to sleep in his house during stormy weather, whilst he sleeps outside and brings on his own death. It's often said that the hero of this novel is the woods themselves – so deeply moving is Hardy's account of the timbered countryside which provides the backdrop for another human tragedy and a study of rural life in transition.


Buy the book at Amazon UK


Buy the book at Amazon US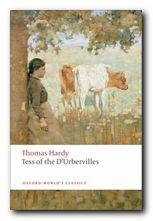 Tess of the d'Urbervilles (1891) is probably the most popular of Hardy's late, great novels. The sub-title is 'A Pure Woman', and it is a story which explores the tragic consequences of a young milkmaid who becomes the victim of the men she encounters. First she falls for the spiritual but flawed Angel Clare, and then the physical but limited Alec Durberville takes advantage of her. This novel has some of the most beautiful and the most harrowing depictions of rural working conditions which reveal Hardy as a passionate advocate for those who work the land. It also has a wonderfully symbolic climax at Stonehenge on Salisbury Plain. There is poetry in almost every page.


Buy the book at Amazon UK


Buy the book at Amazon US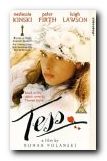 Tess: DVD Roman Polanski's film version of Tess of the D'Urbervilles (1979) was shot in Brittany rather than England – to get round the extradition laws between the UK and the US from which he has been in exile since 1977, after jumping bail when charged with raping a 13 year old girl. It is beautifully faithful to the original novel and particularly unsparing in its depiction of country life as hard manual work – which would have pleased Hardy. The centrepiece is an outstanding performance by seventeen year old Natassia Kinski (Klaus Kinski's daughter) who was Polanski's lover at the time. She is astoundingly beautiful without seeming to ever realise it, which is exactly one of the causes of Tess's downfall in the novel.


Buy the DVD at Amazon UK


Buy the DVD at Amazon US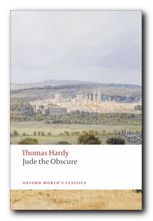 Jude the Obscure is Hardy's last major statement before he gave up writing novels for good. Hero Jude is intellectually ambitious but held back by his work as stonemason and his dalliance with earthy Arabella. When he meets his spiritual soulmate Sue Brideshead, everything seems set fair for success – except that she is capricious and sexually repressed. Jude struggles to do the right thing – but the Fates are against him. The outcome is heart-rendingly bleak and tragic. This novel reveals the deep-seated social and sexual tensions in Hardy – himself a self-made man from a humble background.


Buy the book at Amazon UK


Buy the book at Amazon US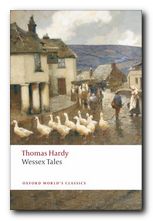 Wessex Tales Don't miss the skills of Hardy as a writer of shorter fictions. None of his short stories are really short, but they are beautifully crafted. This is the first volume of his tales in which he was seeking to record the customs, superstitions, and beliefs of old Wessex before they were lost to living memory. Yet whilst dealing with traditional beliefs, they also explore very modern concerns of difficult and often thwarted human passions which he developed more extensively in his longer works.


Buy the book at Amazon UK


Buy the book at Amazon US
---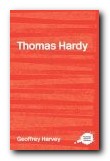 The Complete Critical Guide to Thomas Hardy is a good introduction to Thomas Hardy criticism. It includes a potted biography of Hardy, an outline of the stories, novels, and poetry, and pointers towards the main critical writings – from the early influential full length study by D.H. Lawrence to critics of the present day. It also includes a thorough bibliography which covers biography, criticism in books and articles, plus pointers towards specialist Hardy journals. Recommended for anyone making a serious study of Hardy.


Buy the book at Amazon UK


Buy the book at Amazon US
---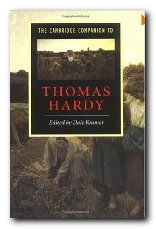 The Cambridge Companion to Thomas Hardy offers commissioned essays from an international team of contributors, comprising a general overview of all Hardy' s work and specific demonstrations of Hardy's ideas and literary skills. Individual essays explore Hardy's biography, aesthetics, his famous attachment to Wessex, and the impact on his work of developments in science, religion and philosophy in the late nineteenth century. Hardy's writing is also analysed against developments in contemporary critical theory and issues such as sexuality and gender. The volume also contains a detailed chronology of Hardy's life and publications, and a guide to further reading.


Buy the book at Amazon UK


Buy the book at Amazon US
---
Thomas Hardy – web links

Thomas Hardy at Mantex
Biographical notes, study guides to the major novels, book reviews. bibliographies, critiques of the shorter fiction, and web links.

The Thomas Hardy Collection
The complete novels, stories, and poetry – Kindle eBook single file download for £1.29 at Amazon.

Thomas Hardy at Project Gutenberg
A major collection of free eTexts in a variety of digital formats.

Thomas Hardy at Wikipedia
Biographical notes, social background, the novels and literary themes, poetry, religious beliefs and influence, biographies and criticism.

The Thomas Hardy Society
Dorset-based site featuring educational activities, a biennial conference, a journal (three times a year) with links to the texts of all the major works.

The Thomas Hardy Association
American-based site with photos and academic resources. Be prepared to search and drill down to reach the more useful materials.

Thomas Hardy on the Internet Movie Database
Adaptations for the cinema and television – in various languages. Full details of directors, actors, production features, box office, film reviews, and even quizzes.

Thomas Hardy – online literary criticism
Small collection of academic papers and articles 'favoring signed articles by recognized scholars and articles published in peer-reviewed sources'.

Thomas Hardy's Wessex
Evolution of Wessex, contemporary reviews, maps, bibliography, links to other web sites, and history.
© Roy Johnson 2009
---
More on Thomas Hardy
More on the novella
More on literary studies
More on short stories
---