a selection of web-based archives and resources
This short selection of Thomas Hardy web links offers quick connections to resources for further study. It's not comprehensive, and if you have any ideas for additional resources, please use the 'Comments' box below to make suggestions.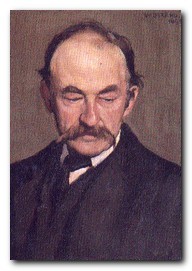 Thomas Hardy – web links

Thomas Hardy at Mantex
Biographical notes, study guides to the major novels, book reviews. bibliographies, critiques of the shorter fiction, and web links.

The Thomas Hardy Collection
The complete novels, stories, and poetry – Kindle eBook single file download for £1.29 at Amazon.

Thomas Hardy at Project Gutenberg
A major collection of free eTexts in a variety of digital formats.

Thomas Hardy at Wikipedia
Biographical notes, social background, the novels and literary themes, poetry, religious beliefs and influence, biographies and criticism.

The Thomas Hardy Society
Dorset-based site featuring educational activities, a biennial conference, a journal (three times a year) with links to the texts of all the major works.

The Thomas Hardy Association
American-based site with photos and academic resources. Be prepared to search and drill down to reach the more useful materials.

Thomas Hardy on the Internet Movie Database
Adaptations for the cinema and television – in various languages. Full details of directors, actors, production features, box office, film reviews, and even quizzes.

Thomas Hardy – online literary criticism
Small collection of academic papers and articles 'favoring signed articles by recognized scholars and articles published in peer-reviewed sources'.

Thomas Hardy's Wessex
Evolution of Wessex, contemporary reviews, maps, bibliography, links to other web sites, and history.
---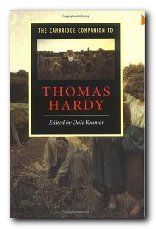 The Cambridge Companion to Thomas Hardy offers commissioned essays from an international team of contributors, comprising a general overview of all Hardy' s work and specific demonstrations of Hardy's ideas and literary skills. Individual essays explore Hardy's biography, aesthetics, his famous attachment to Wessex, and the impact on his work of developments in science, religion and philosophy in the late nineteenth century. Hardy's writing is also analysed against developments in contemporary critical theory and issues such as sexuality and gender. The volume also contains a detailed chronology of Hardy's life and publications, and a guide to further reading.
© Roy Johnson 2010
---
More on Thomas Hardy
More on the novella
More on literary studies
More on short stories
---