tutorial, commentary, study resources, plot, and web links
To Please His Wife first appeared in Black and White magazine for June 1891 and was later collected in the first edition of Life's Little Ironies published by Osgood, McIlvane in 1894. Hardy sold the rights to the story outright for £50 to the American publisher S.S.McLure. The weekly magazine Black and White also published work by Robert Louis Stevenson, Henry James, Bram Stoker, H.G. Wells, and Arthur Conan Doyle.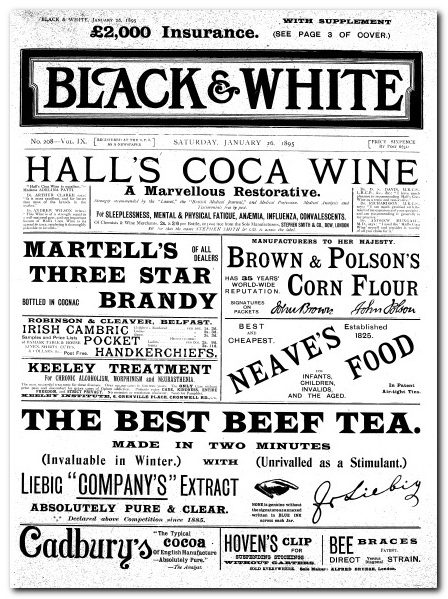 ---
To Please his Wife – critical commentary
Structure
The tale is structured on a series of parallels or twinnings. The protagonist Jolliffe is attracted to two women at the same time, the friends Emily and Joanna, who are forced into rivalry with each other. Both the two women are shopkeepers, and eventually live opposite each other in the town, and both have two sons. Joanna's sons both disappear at sea, whilst Emily's sons are going on to university.
Even one of Thomas Hardy's favourite plot devices (the letter which is not delivered) is used twice here. Joanna writes to Jolliffe revealing her lack of passion for him. But when she goes to deliver the letter, her competitive spirit is inflamed when she sees Jolliffe kissing Emily. Jolliffe (who knows nothing about her letter) then writes to Joanna in his turn, asking to be released from the engagement, but she insists on the marriage going ahead. So – two people enter a marriage, even though we know that both of them secretly wish to be released from it.
Education
This is almost a primitive folk tale, but Hardy's regular preoccupation with class, social status, and education all play a vital part in events. Joanna envies Emily's rise in social status within the town. Emily's sons, coming from a more prosperous family, will naturally go on to university, and thence to the 'professions', which at that time were the Church, the Law, and Medicine.
Joanna is fueled by envy and a competitive spirit regarding her former rival. But it is not for her own comfort and luxury that she spurs Jolliffe on to make more money; it is for the finance that will provide an education for her sons. That of course is the major tragedy of the story: it is Joanna's ambition that drives to their (presumed) deaths both her husband and the very two sons she wishes to prosper. And just to rub in the tragic irony (of which Hardy was so fond) the name of the ship on which Jolliffe and his two sons set sail, never to return, is Joanna.
---
To Please His Wife – study resources

Life's Little Ironies – Oxford World Classics edition – Amazon UK

Life's Little Ironies – Oxford World Classics – Amazon US

Life's Little Ironies – Wordsworth Classics – Amazon UK

The Complete Works of Thomas Hardy – Kindle eBook

Life's Little Ironies – eBooks at Project Gutenberg

Life's Little Ironies – audiobook at Project Gutenberg

The Cambridge Companion to Thomas Hardy – Amazon UK

The Complete Critical Guide to Thomas Hardy – Amazon UK

Authors in Context – Thomas Hardy – Amazon UK

Oxford Reader's Companion to Hardy – Amazon UK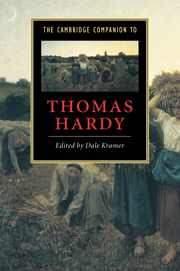 ---
To Please his Wife – plot synopsis
Part I   Shipwreck survivor captain Shadrack Jolliffe arrives back in his home town of Havenpool ( Poole, Dorset) where he rapidly enchants Emily Henning, a solicitor's daughter. However, her friend Joanna Phippard just as rapidly supersedes her in his affections. Jolliffe proposes marriage to Joanna and becomes engaged to her. She however, is not deeply in love with him, and writes him a letter, releasing him from his promise of marriage. But when she goes to deliver the letter, she sees Jolliffe withEmily. He is explaining to her that he feels confused, but then kisses her passionately, which inflames Joanna's jealousy. Jolliffe then writes to Joanna asking her to release him from his promise of marriage, but when he meets her to discuss the matter she insists on maintaining the engagement, and he agrees as a man of 'honour'.
Part II   Jolliffe marries Joanna, they have two sons, and they run a grocery shop, without much success. Meanwhile Emily marries Mr Lester, an older and more prosperous man. She too has two sons, and rises successfully in society. Joanna feels envy and rivalry towards Emily. Jolliffe admits that he is not a success in business and goes back to sea. He returns with money, but not enough for Joanna, who wants her sons to be well educated. But the only way they can make more money is for her sons to go to sea with their father – which they do, sinking all their savings into the enterprise.
Part III   The sons and father are a long time at sea, and Joanna's business collapses completely. Socially thriving Emily takes pity on her and offers her accommodation. Six years later Joanna thinks she hears her husband and sons returning in the middle of the night, but when she gets up nobody is there. The implication is that they will never return.
---
To Please his Wife – principal characters
| | |
| --- | --- |
| Captain Shadrack Jolliffe | a simple sailor |
| Emily Henning | an accountant's daughter |
| Joanna Phippard | Emily's friend, a socially ambitious woman |
| Mr Lester | a thriving merchant, Emily's husband |
---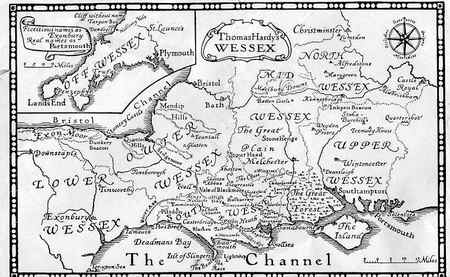 Hardy's WESSEX
---
Further reading

John Bayley, An Essay on Hardy, Cambridge: Cambridge University Press, 1978.

Penny Boumelha, Thomas Hardy and Women: Sexual Ideology and Narrative Form, Brighton: Harvester, 1982.

Kristin Brady, The Short Stories of Thomas Hardy, London: Macmillan, 1982.

L. St.J. Butler, Alternative Hardy, London: Macmillan, 1989.

Raymond Chapman, The Language of Thomas Hardy, London: Macmillan, 1990.

R.G.Cox, Thomas Hardy: The Critical Heritage, London: Routledge and Keegan Paul, 1970.

Ralph W.V. Elliot, Thomas Hardy's English, Oxford: Basil Blackwell, 1984.

James Gibson (ed), The Complete Poems of Thomas Hardy, London, 1976.

Florence Emily Hardy, The Life of Thomas Hardy, London: Macmillan, 1962. (This is more or less Hardy' s autobiography, since he told his wife what to write.)

P. Ingham, Thomas Hardy: A Feminist Reading, Brighton: Harvester, 1989.

P.Ingham, The Language of Class and Gender: Transformation in the English Novel, London: Routledge, 1995,

Michael Millgate, Thomas Hardy: His Career as a Novelist, London: Bodley Head, 1971.

Michael Millgate, Thomas Hardy: A Biography Revisited, Oxford: Clarendon Press, 2006. (This is the definitive biography.)

Michael Millgate and Richard L. Purdy (eds), The Collected Letters of Thomas Hardy, Oxford: Clarendon Press, 1978-

R. Morgan, Women and Sexuality in the Novels of Thomas Hardy, London: Routledge, 1988.

Harold Orel (ed), Thomas Hardy's Personal Writings, London, 1967.

F.B. Pinion, A Thomas Hardy Companion, London: Macmillan, 1968.

Norman Page, Thomas Hardy, London: Routledge & Keegan Paul, 1977.

Rosemary Sumner, Thomas Hardy: Psychological Novelist, London: Macmillan, 1981.

Richard H. Taylor, The Personal Notebooks of Thomas Hardy, London, 1978.

Merryn Williams, A Preface to Hardy, London: Longman, 1976.
---
Hardy's study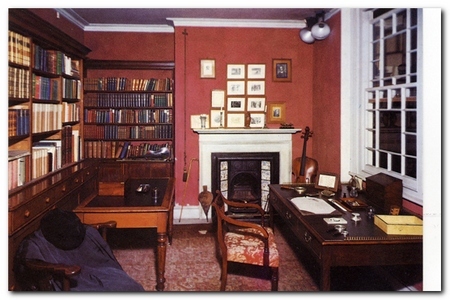 reconstructed in Dorchester museum
---
Other works by Thomas Hardy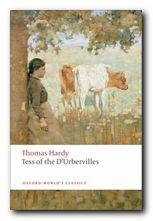 Tess of the d'Urbervilles (1891) is probably the most popular of Hardy's late, great novels. The sub-title is 'A Pure Woman', and it is a story which explores the tragic consequences of a young milkmaid who becomes the victim of the men she encounters. First she falls for the spiritual but flawed Angel Clare, and then the physical but limited Alec Durberville takes advantage of her. This novel has some of the most beautiful and the most harrowing depictions of rural working conditions which reveal Hardy as a passionate advocate for those who work the land. It also has a wonderfully symbolic climax at Stonehenge on Salisbury Plain. There is poetry in almost every page.


Buy the book at Amazon UK


Buy the book at Amazon US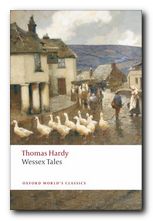 Wessex Tales Don't miss the skills of Hardy as a writer of shorter fictions. None of his short stories are really short, but they are beautifully crafted. This is the first volume of his tales in which he was seeking to record the customs, superstitions, and beliefs of old Wessex before they were lost to living memory. Yet whilst dealing with traditional beliefs, they also explore very modern concerns of difficult and often thwarted human passions which he developed more extensively in his longer works.


Buy the book at Amazon UK


Buy the book at Amazon US
---
Thomas Hardy – web links
Thomas Hardy at Mantex
Biographical notes, study guides to the major novels, book reviews. bibliographies, critiques of the shorter fiction, and web links.
The Thomas Hardy Collection
The complete novels, stories, and poetry – Kindle eBook single file download for £1.29 at Amazon.
Thomas Hardy at Project Gutenberg
A major collection of free eTexts in a variety of digital formats.
Thomas Hardy at Wikipedia
Biographical notes, social background, the novels and literary themes, poetry, religious beliefs and influence, biographies and criticism.
The Thomas Hardy Society
Dorset-based site featuring educational activities, a biennial conference, a journal (three times a year) with links to the texts of all the major works.
The Thomas Hardy Association
American-based site with photos and academic resources. Be prepared to search and drill down to reach the more useful materials.
Thomas Hardy on the Internet Movie Database
Adaptations for the cinema and television – in various languages. Full details of directors, actors, production features, box office, film reviews, and even quizzes.
Thomas Hardy – online literary criticism
Small collection of academic papers and articles 'favoring signed articles by recognized scholars and articles published in peer-reviewed sources'.
Thomas Hardy's Wessex
Evolution of Wessex, contemporary reviews, maps, bibliography, links to other web sites, and history.
© Roy Johnson 2014
---
More on Thomas Hardy
More on the novella
More on literary studies
More on short stories
---