secret refugee escape co-ordinator Marseilles 1940-1941
Varian Fry saved the lives of hundreds of refugees during the second world war in what was virtually a one-man rescue operation. He's been called the 'American Schindler', and the list of people he helped to escape from the Nazis (and from the French Vichy government) ranges from Hannah Arendt, via Marc Chagall and Max Ernst, to Arthur Koestler, Wanda Landowska, Jacques Lipchitz, and Max Ophuls. His story reads like the script to a Hollywood thriller, with romantic heroes perilously outwitting spies, double agents, and the police.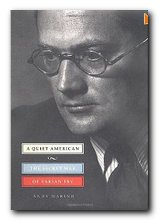 Andy Marino sprints through the early years of Fry's biography, but emphasises his scholarly background in classics at Harvard and his left-wing sympathies. Fry seemed destined for an academic career, but as a result of an undergraduate prank he ended up in journalism, working for various liberal political causes. Then at the age of only thirty-two he was recruited into a job that would change his life.
Fry was despatched from America as the agent of an Emergency Rescue Committee which was set up in New York. His task was to co-ordinate efforts to help prominent artists and intellectuals to escape along the various routes which led from the south of France to the Atlantic and onward transit to America. The money that funded the Committee was coming from wealthy sponsors in the United States, and they drew up lists of those who were deemed worthy of assistance.
The story is one of Fry's selfless devotion to a righteous cause, assisting those in danger – yet what is most astonishing is the fact that the Committee had right from the start an overtly elitist ethos. Only the most 'important', famous, and favoured individuals were to be helped in their attempt to escape. Not for one moment was a general concern for refugees considered.
But it is to Fry's credit that when faced with the task of distributing assistance, he broadened his remit. He was in something of a cleft stick, because the Americans would only grant entry visas to 'people of exceptional talent', but he found other countries in Latin-America, North Africa, and the middle East who would accept those who were not famous writers and Nobel Prize winners.
There is a useful account of the events leading up to the outbreak of the second world war, reminding us of Hitler's ruthless progress to dictatorship, Stalin's equally corrupt power-mongering, and the apathy of western European democracies. When France collapsed abjectly before the Nazi onslaught, millions of refugees were squashed into the parts of south-east France which were not (at first) occupied.
After the preliminaries, the story switches to the lives of those who were being threatened – people such Fritz Werfel and his mercurial wife Alma Mahler, Walter Mehring, and Walter Benjamin. They are surrounded by refugees suffering poverty, deracination, and persecution – many of them driven to the point of suicide.
The first part of Andy Marino's account provides a kaleidoscopic vision of (largely German) refugees fleeing in all directions to escape the persecution of the Nazis. A number of refugee biographies are woven into the story, which backskips into the 1920s and 1930s to show the intellectual and social pedigree of writers such as Werfel, Leon Feuchtwanger, and Heinrich Mann.
Set against the collapse of France in 1940, he sketches the debacle with the verve of a good novelist:
As their train made its way south the Werfels would have seen from their window a fair proportion of the ten million French people on the move. Most went on foot, and the rest were inching their way forward on anything that had wheels—bicycles, carts, tractors, autos, trucks, buses, prams, even resurrected tumbrels from an earlier age. They were ladened and barnacled to within a straw's weight of collapse with bodies and possessions—those pathetic keepsakes of lost domesticity—which were both discarded as they lost their relevance to the new reality of unending heat, hunger, and danger. The roadsides were festooned with an honour guard of abandoned vehicles, their doors hanging open like the mouths of dead men.
All of these characters eventually converge in Marseilles, where Varian Fry arrives with $3,000 taped to his leg and lists of people to save, but no clear idea of the task he has undertaken. He thought he would be there for about three weeks.
The Nazis in France did not have to do all the dirty work of pursuing these refugees and anti-fascists. The appallingly anti-semitic French Vichy government was eager to do its work for it. Many people were hunted down and handed over to the Gestapo under Article 19 of the Armistice 'agreement' ('surrender on demand') and the government even introduced emergency laws revoking people's citizenship. People could become stateless overnight, with no 'papers' to protect them.
The unknown refugees of the early pages of this account begin to re-emerge in the second part of the book as assistants to Fry – like the characters in a large scale well-plotted Victorian novel. Fry ran his operations from a room in the Hotel Splendide in Marseilles, supplying false papers and passports which were printed in Bordeaux under the very eyes of the Nazis. He was acting illegally, and was even rebuked by his own US diplomatic services for doing so. However, he lied to them that everything was in order – and carried on with his mission.
He was assisted by Dr. Otto Albert Hirschmann, a young multilingual Jew from Berlin who had changed his name to Albert Hermant, but who was known to Fry as 'Beamish' because of his smile and irrepressible good spirits. Beamish's principal role was to mix with Marseilles gangsters and to launder money at illegally high rates to avoid official scrutiny. Another helper was Charlie, a roguish young Virginian who 'married' several Jewish women in order to gain qualification for an American exit visa – to save them from the many concentration camps dotted along the coast.
It is amazing to think that what are now major French tourist resorts – Agde, St Cyprian, Argeles – were only seventy years ago an area where the French government imprisoned its own citizens along with refugees. Even children had their own concentration camp at Rivesaltes. In the camps the inmates would either die of starvation, be handed over to the Gestapo for execution, or packed off in trains to the gas chambers in Auschwitz and elesewhere.
Fry personally escorted the distinguished group of Heinrich Mann's family, Franz Werfel, and Alma Mahler across the border into Spain. The refugees had to walk over the Pyrenees: Fry took Alma Mahler's mountain of luggage which contained music scores by her dead husband Gustav, the original manuscript of Bruckner's Third Symphony, and her third husband's latest novel.
Despite all his meticulous planning, there were terrible setbacks for Fry. Some of his earliest 'customers' actually wrote back to him on postcards, thanking him for arranging their escape – and thereby betrayed all the secrets of his operations to the police.
Shortly after the disaster of a mass escape of refugees on a boat that turned out to be a fictitious scam, Fry took over the spacious Villa Air-Bel on the outskirts of Marseilles. Unfortunately, this had the effect of attracting the Dada poet Andre Breton, Russian novelist Victor Serge, and art collector Peggy Guggenheim where bohemian parties and loose behaviour attracted the attention of the police.
Fry and his team made detailed inspections and reports on many of the one hundred and twenty concentration camps the Vichy government created in the unoccupied zone, but their evidence of atrocious conditions was ignored. He appealed to the authorities in Vichy, but he was turned down. Even his own government regarded him as a troublemaker at a time when America was making diplomatic efforts to stay out of the war.
Fry's problems were intensified when the rescue committee in New York sent a blundering and arrogant Ernest Hemingway-like figure to replace him. Fry dug in his heels and resisted the move, carrying on with his work. With all land borders closing down, he established new escape routes via sea to Casablanca, Dakar, and even Martinique.
Meanwhile relations with his wife Eileen back in America were becoming strained. She was defending him to an ever more critical Relief Committee, but complaining to him that his letters were rather practical and unloving. She also hinted that she had fears he might be involved in gay liaisons – of which there were clear signs in his weekend trips with younger male colleagues. She wittily alluded to these as possible Death in Venice episodes. But he reassured her that there was no time for that sort of thing, and that he had merely visited brothels a few times. It is hardly surprising that the marriage did not survive the war.
As 1941 rolled on and the Vichy regime became more overtly pro-fascist, some of the first refugees to reach America only brought fresh worries to Fry and the Committee. Walter Mehring for instance had immediately on landing in New York secured a well-paid job in the Hollywood film studios, but instead of repaying the 31,000 Francs he had been lent for living expenses, he bought a flashy new Packard Roadster and drove up and down Sunset Boulevard, showing off.
The Vichy clampdown intensified and finally resulted in Fry being arrested and expelled from France. By October 1941 he himself was back in New York – and there was no hero's welcome waiting for him. The Rescue Committee rapidly dissociated itself from him, and his marriage fell apart. He took up the position of editor on The New Republic where he wrote articles warning America about what we now call the Holocaust.
And curiously enough, the remainder of his life tailed away in a series of failures. He tried journalism, did some spells of teaching, and went into psycho-analysis. He even bought a television production company and ran that for a while – but it went bankrupt. He ended up working for Coca Cola – until he was eventually sacked. A second marriage produced three children, and appeared to be successful – but that too ended up in divorce, followed by a confused reconciliation, shortly before his early death in 1967.
The tragectory of Fry's life was a steep arc, peaking in this extraordinary period of just over a year in which he felt himself living to full capacity twenty-four hours a day. He helped countless numbers of people to escape the gas chambers, and he worked tirelessly for no profit to himself except the feeling that he had done the right thing. Amazingly, it has taken the intervening half century for his story to become more widely known.

Buy the book at Amazon UK

Buy the book at Amazon US
© Roy Johnson 2013
---
Andy Marino, A Quiet American: The Secret War of Varian Fry, New York: St Martin's Press, 1999, pp.403, ISBN: 031220356X
---
More on biography
More on literary studies
More on the arts
---