Hogarth Press first edition book jacket designs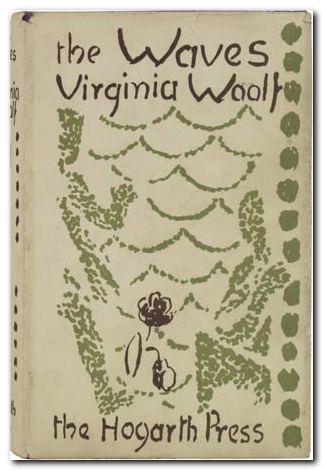 Virginia Woolf, The Waves (1931) Cover design by Vanessa Bell.
"Customarily, Virginia Woolf composed in longhand, writing in ink with an old-fashioned straight pen on the right-hand page of a manuscript book bound for her by the press. She reworked each page as she went, writing for two hours or more in the mornings. In the afternoons she would type up the morning's work, usually making only minor corrections or changes. When she had completed the first draft of the novel, represented by a holograph and a slightly edited typescript, she would then retype the book from the beginning, making whatever revisions she felt necessary, sometimes scrapping whole sections and rewriting them in markedly different ways. The final shaping of the book took place in this stage. The resulting typescript, probably bearing the marks of further revisions in ink, was given to Leonard for his critical reading.

After this, Virginia would sometimes, as she did with The Waves, have a press secretary retype the text into a copy which she corrected for errors before sending it to R. & R. Clark to be set and printed. At some point either after the proofs were corrected or after each book was published, Virginia would destroy her typescripts, saving only the holograph copy, probably feeling … that it best represented her initial creative impulses and so was important to keep as a record of her artistic struggles. The Waves, however, is unique among her novels because she completely rewrote it from scratch, starting over with a new holograph version and resulting typescript. The two existing holographs … total 399 and 347 pages respectively."
J.H. Willis Jr, Leonard and Virginia Woolf as Publishers: The Hogarth Press 1917-1941
---
Hogarth Press studies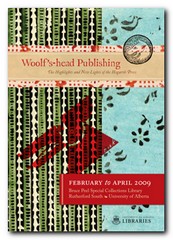 Woolf's-head Publishing is a wonderful collection of cover designs, book jackets, and illustrations – but also a beautiful example of book production in its own right. It was produced as an exhibition catalogue and has quite rightly gone on to enjoy an independent life of its own. This book is a genuine collector's item, and only months after its first publication it started to win awards for its design and production values. Anyone with the slightest interest in book production, graphic design, typography, or Bloomsbury will want to own a copy the minute they clap eyes on it.

Buy the book at Amazon UK


Buy the book at Amazon US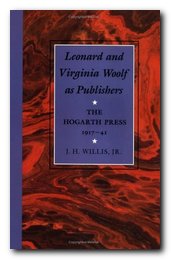 Leonard and Virginia Woolf as Publishers: Hogarth Press, 1917-41 John Willis brings the remarkable story of Leonard and Virginia Woolf's success as publishers to life. He generates interesting thumbnail sketches of all the Hogarth Press authors, which brings both them and the books they wrote into sharp focus. He also follows the development of many of its best-selling titles, and there's a full account of the social and cultural development of the press. This is a scholarly work with extensive footnotes, bibliographies, and suggestions for further reading – but most of all it is a very readable study in cultural history.

Buy the book at Amazon UK


Buy the book at Amazon US
© Roy Johnson 2005
---