Hogarth Press first edition book jacket designs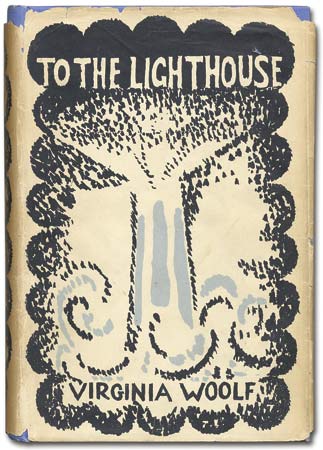 Virginia Woolf, To the Lighthouse (1927) Cover design by Vanessa Bell.
"Advance sales totaled over 1,600 copies, more than twice the number for Mrs Dalloway. Virginia's mood at the time expressed itself in her gaily ironic joke with Vita Sackville-West. When Vita returned from her second trip to Persia, she found a copy of To the Lighthouse waiting for her, inscribed by Virginia, "In my opinion the best novel I have ever written". It was a bound dummy copy, with blank pages. Leonard Woolf, anticipating both an artistic and a commercial success for To the Lighthouse, ordered 3,000 copies printed by R. & R. Clark (a thousand more than Mrs Dalloway) and quickly ordered another 1,000 copies in a second impression. The novel outsold her previous fiction. The American publisher of Hogarth Press books, Harcourt Brace, printed 4,000 copies initially (almost twice the number of copies for Mrs Dalloway). American readers had begun to take notice of Woolf's novels."
J.H. Willis Jr, Leonard and Virginia Woolf as Publishers: The Hogarth Press 1917-1941
---
Hogarth Press studies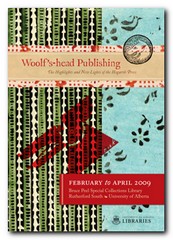 Woolf's-head Publishing is a wonderful collection of cover designs, book jackets, and illustrations – but also a beautiful example of book production in its own right. It was produced as an exhibition catalogue and has quite rightly gone on to enjoy an independent life of its own. This book is a genuine collector's item, and only months after its first publication it started to win awards for its design and production values. Anyone with the slightest interest in book production, graphic design, typography, or Bloomsbury will want to own a copy the minute they clap eyes on it.

Buy the book at Amazon UK


Buy the book at Amazon US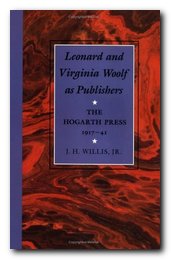 Leonard and Virginia Woolf as Publishers: Hogarth Press, 1917-41 John Willis brings the remarkable story of Leonard and Virginia Woolf's success as publishers to life. He generates interesting thumbnail sketches of all the Hogarth Press authors, which brings both them and the books they wrote into sharp focus. He also follows the development of many of its best-selling titles, and there's a full account of the social and cultural development of the press. This is a scholarly work with extensive footnotes, bibliographies, and suggestions for further reading – but most of all it is a very readable study in cultural history.

Buy the book at Amazon UK


Buy the book at Amazon US
© Roy Johnson 2005
---